BurgerBase
BurgerBase Address - 82 Ilford Lane, Ilford, London, IG1 2LA
Website: https://www.burger-base.co.uk
Opening Hours: Mon-Sun 11:00-23:00
BurgerBase has officially landed in London. As you can see, Ilford Lane has become the first London branch to have this burger joint. For this month, I've teamed up with 'BurgerBase' to offer a discount, with this promotional code by quoting "ADILMUSA1" in any of their stores. You will get 15% off your order valid until (31st May 2021).
Having already launched in Manchester and Leicester, this franchise expansion only means they will grow even bigger. As well as having a mouthwatering menu, they have their next store all lined up in Green Street, Forest Gate, which is ready to launch next month.
Menu
The Halal brand not only sells burgers to its customers. Also, it has a range of wraps, sandwiches and salad bowls which includes a Chicken Blazzer Salad for just £4.49.
You can find a mixture of Veg and Non-Veg options for those looking for a healthier option. Furthermore, you can find a range of cuisines across the globe, such as Mexican Burgers, Moroccan Wrap, Louisana Wrap or Thai Wrap.
The sides have a great selection of food, which was one of my favourite meals. You can grab various fries or wings, which you can find on their menu. The most recommended one to me was the meaty magic fries, which I must say went down a treat. The dessert and shakes were so good with three flavoured Tiramisu to choose from, and the shakes you have four flavours to indulge in.
Experience
Over the weekend, I was invited to the new pre-launch opening of Burgerbase. It was the day before the official opening date on March 15th. When I arrived, I was greeted nicely by the owner, who asked me to sit wherever I wanted. We both had a little chat about what food is good and made sure my experience was smooth. This new McDonald-inspired-looking halal joint is based in Ilford.
I usually do a bit of research before heading over. I had the menu picked out. Therefore, I didn't waste much time deciding what I wanted. As I ordered my choice of meal at the reception, I had some time to record and look around the place. The hallway is very long as you go towards the tills, you have a small section for kids, and on the side, you have four different large tubs which provide sauces. You can tell it has been inspired by McDonald's as the colourful theme and design matches it.
The wait for our food was around 15-20 mins. However, I was given a heads-up since they were filming inside the kitchen. I didn't mind waiting, as I got to take some videos of the interiors before grabbing our food to photograph them. Bearing in mind that with the lockdown still in place, I only took photos of the food inside. Then once I was finished, I decided to pack up everything and eat at home.
What I ordered from BurgerBase:
Chicken Flamor
Chicken Blazzer Salad
Meaty Magic Fries
Mozzarella Sticks
BB Bites
Ferrero Rocher & Lotus Biscoff Tiramisu
Shakes Caramel + Strawberry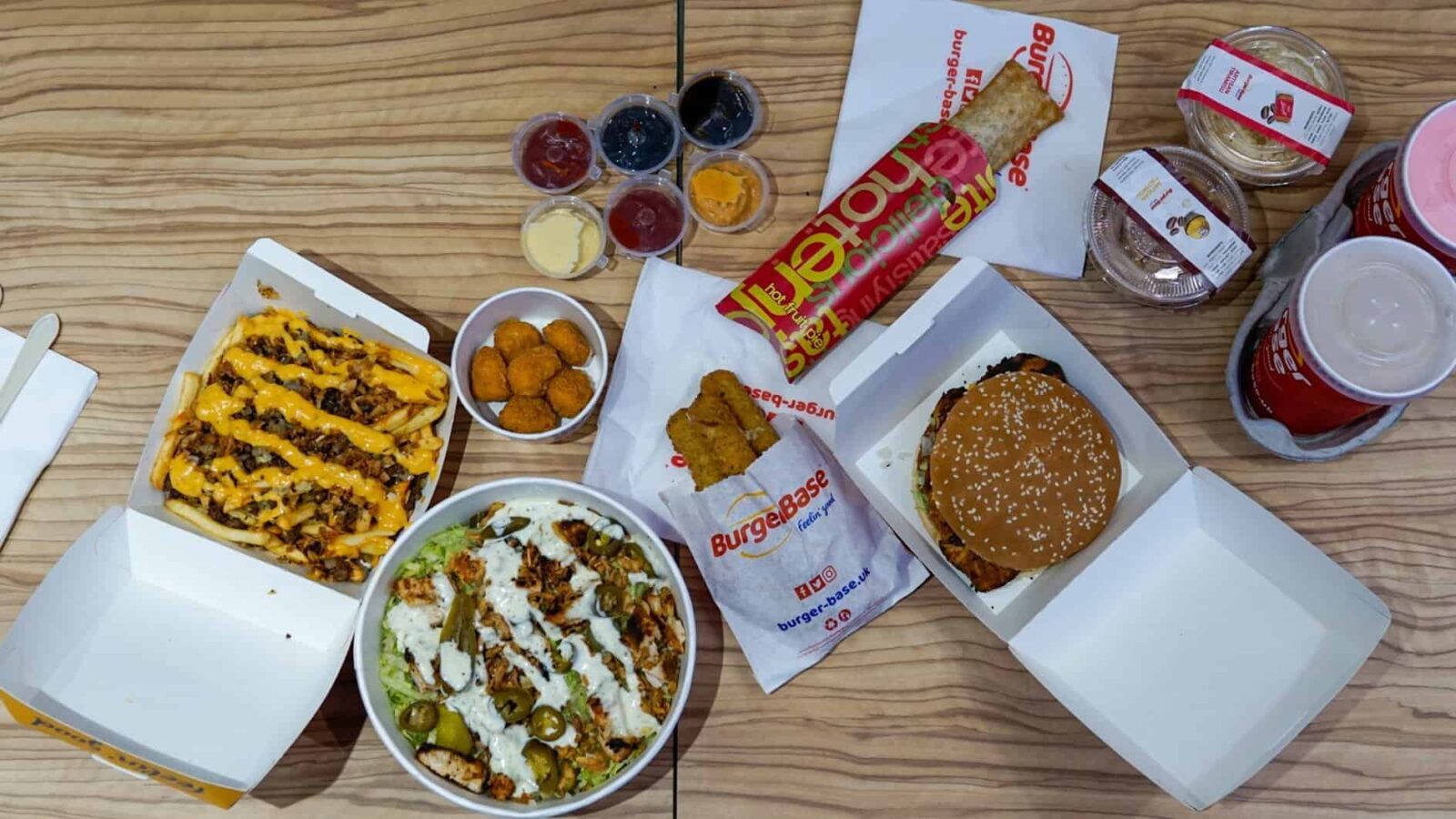 Chicken Flamor £3.99
Chicken Flamor is one of the three grilled burgers available. This burger was tasty but could have had extra sauces added, again personal preference, which I did after having a few bites. I was told it was one of the most popular burgers on their menu, and it was worth the treat.
Fresh chicken fillet, cheese lettuce, onion, tomato, American mustard, magic onion sauce and toasted sesame sauce.
Meaty Magic Fries £2.99
They were delicious since I prefer french fries over steak chips. However, I was recommended these meaty fries by the owner being the popular dish, so I thought why not give it a go? Having shared this with my parents and wife at home. It was indulged and finished by the four of us, so to me, it was a winning dish.
French fries, with 100% prime beef pucks with caramelised onions smashed in, peri-peri seasoning and big base sauce.
BB Bites £1.99
You have a choice of Classic, BBQ, Thai Sweet Chili or Frank's Hot Sauce with the bites. I opted for the classics as I felt the others might not taste good or be spicy.
Apple Pie 99p
As I saw this on the menu, it brought back memories of when I used to have this at McDonald's all the time. It still tasted the same, and the packaging was very similar too. The crunchy outer layer with melting hot apple pie inside was so yummy.
BaseShakes £1.69 (Regular size) Caramel and Strawberry
The shakes you have four different options to choose from these are 'Caramel', 'Vanilla', 'Strawberry' and 'Chocolate'. I opted for Carmel, and my wife chose Strawberry. Both were good, but I think Vanilla and Chocolate would have been a better choice. However, I felt like trying a different flavour at the point of order, so perhaps next time.
Mozzarella Sticks £2.49 5pc
As part of the sides on the menu, they were simply delicious and cheesy. You get five pieces inside, enough to share around with the family.
Chicken Blazzer Salad £4.49
If you're looking for a healthier meal, then this will be your best bet. As well as the chicken salad, there is a Veg Salad. I thought this was a good option to have on their menu, especially with the white sauce spread on top. It felt like halal guys all over again.
Fresh chicken fillet, lettuce, onion, tomato, crispy onion, jalapeno, pickle, Bianche sauce
Tiramisu £2.99
For dessert, they have Tiramisu or BB Swirly which is ice cream with chocolate sprinkles. I opted for the Tiramisu which was a delight to have to be soft and creamy. The flavours you can choose from are 'Ferror Rocher,' 'Oreo' and 'Lotus Biscoff'.
Food: 7 out of 10
Service: 10 out of 10
Price: 9 out of 10
Experience: 10 out of 10
Presentation: 8 out of 10
Overall Rating: I've given Burger Base an 8.8 out of 10.
Conclusion
Ilford Lane has got even busier with plenty of fast-food restaurants available on one road. If you are looking for an alternative to McDonald's then BurgerBase will satisfy your appetite. Not only that, they have a self-service machine, where you can order your food from a human-size tablet and collect your order at the till.
Overall, the food was delicious, especially the chicken salad and meaty magic fries. The sides went down well with the family as those who tried them enjoyed it. The burger could have had more sauce added for extra taste, as it was a bit dry but overall satisfying. They have a section for Kids called 'Jolly Meal' which you would have as a Happy Meal in McDonald's. It's a nice family-friendly environment, where you can bring kids to play and dine.
Service and experience here were welcoming and helpful as they assisted us with everything we needed. Finally, the presentation was as good as most of the meals, I thought the meaty fries and salad were the most picturesque ones. I would suggest this place as there are various burgers to try out and at a good price.
You may also enjoy reading my other reviews:
https://adilmusa.com/archies-manchester-arndale/
Disclaimer: I have been gifted all food ordered in this post in exchange for social coverage