Burj Al Arab & Madinat Jumeriah – Dubai
What would you do on the last day of your holiday? Relax, right? Not me as I went to tick off as many places as I could including visiting Burj Al Arab.
Last Day in Dubai
On my last day in the Middle East, I spent time going through my list ticking almost everything I wanted to do during my short stay. I visited as many attractions as possible such as Burj Al Arab and lots of eatery spots as I could from my huge list of things to do in Dubai.
Hotel in Dubai
The hotel I stayed at during my short stay was 'Arabian Park Hotel' in Bur Dubai. The room was reasonable with a TV, double sized bed and bathroom. Barely spent time at the hotel so as long as the bed was comfortable it did the job. A convenient location as everything was fairly close to the main attractions. I highly recommend staying around this area as you're close to old Dubai and the main city.
I started my day having my breakfast at the Cocoa Room, you can find my review here. You should definitely check this place out as the food looked amazing and tasted pretty great too. Once I was done with my breakfast and ticked off to another place from my foodie tour.
Madinat Jumeirah
I went down to Madinat Jumeirah as I explored the magical scenery by the river and the busy souk Madinat. Capturing those traditional boats cruising by looked picture perfect and romantic. Inside this very busy Souk Market, you will find so many stunning gifts, clothes, souvenirs, arts & crafts. Besides those items, you can dine at a restaurant with a view or check out Madinat Jumeirah theatre for live dazzling performances.
Jumeirah Beach
After exploring around for a short period, I went for a walk down to Jumeirah Beach, since it was nearby. This beach was really busy that day, as it was their weekend. All the beaches I walked past were packed out with plenty of people enjoying the sun and with their families/friends.
Here I captured the ever so stunning landmark in Dubai, the 'Burj Al Arab' from the front view and side of the beach. Words cannot be described as how spectacular it looks up close and in reality. When I visited this spot it was blocked off as there were metal fences all around. Therefore, the public was not allowed to go beyond a certain point, but you could take pictures from a distance, which the pictures I took were the closest I got to the Burj Al Arab.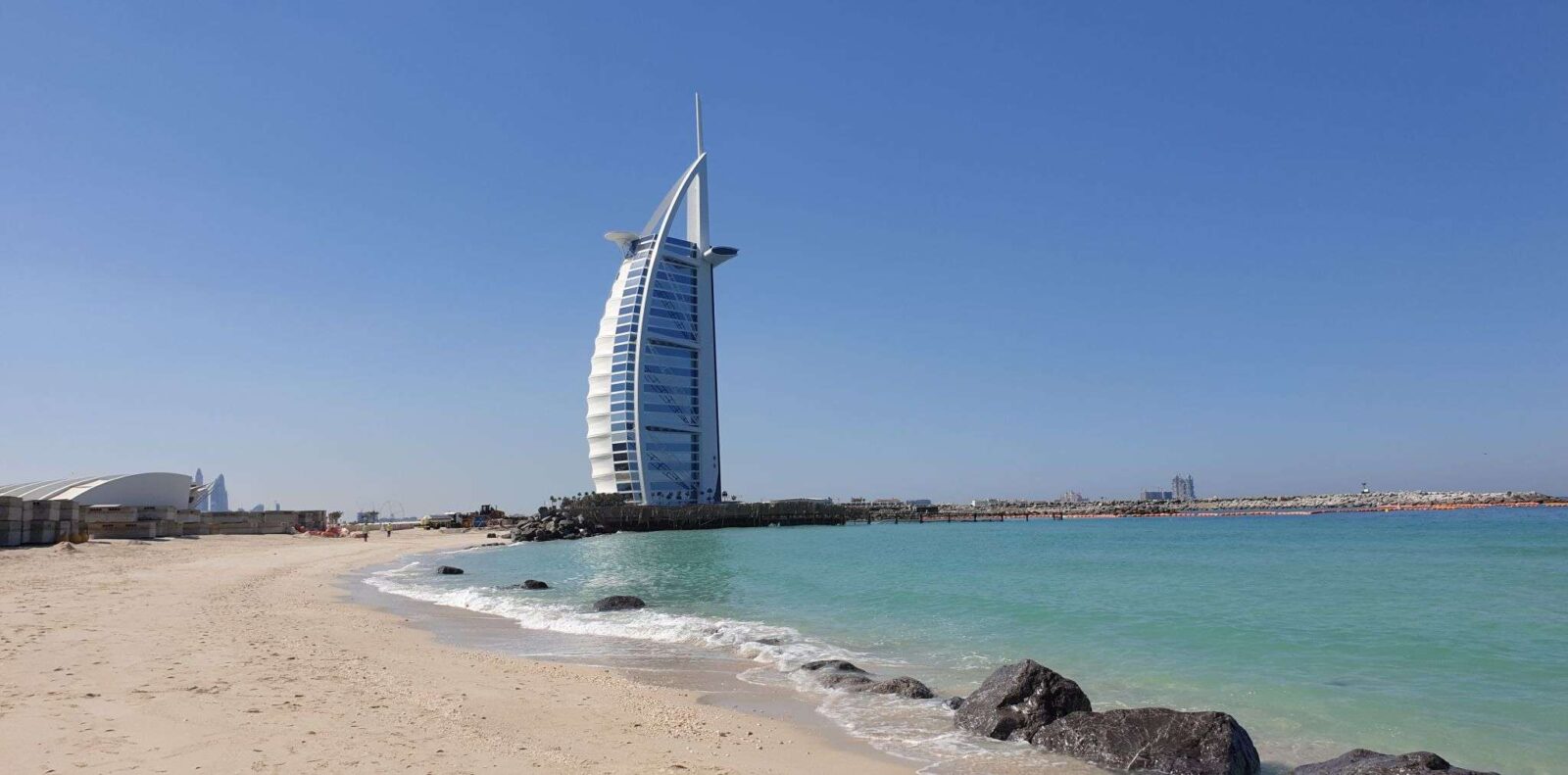 Jumma Prayers
As it was on a Friday, a weekend in the Middle East and Friday prayers to attend. Thankfully wherever you are in Dubai there is always a mosque to go to, so I found a nearby mosque towards Kite Beach. The beautiful mosque below was where I prayed my Friday Jumma prayers, after heading off to have some lunch at Salt.
As I explored Kite beach, I noticed the 'Human Slingshot' which you can see clips on my YouTube video. It's as simple as the name of the activity, where you go with head gear and wrap up, once you are ready. One of the members pulls yourself to the starting position, before you let you go at full speed. This was one activity I would have loved to try out, but maybe another time if I had more time. It looked like a really fun experience for 30 seconds or so, just like the ZipWire experience I went on last year.
Dubai Marina
Bluewaters Island
As I was running out of time, there was no time to waste. As it was time to tick off another spot from my long list of places to visit, I took a UBER straight to Dubai Marina. I admired and captured some of these gorgeous buildings above for a few moments, before heading to my next destination which was the newly built Bluewaters Island.
This very spot reminded me of London, as the wheel looked quite like the London eye. Huge and can be seen from a distance as you walk across the bridge, filled with lots of stunning food scenes as well. There was a bit of Singapore with those treetops looking around the shops.
Atlantis The Palm
As you walk by the lake, you see lots of speedboats, and large party cruises enjoying themselves with loud music being played. Provide you with a lively atmosphere around the Bluewaters island. On the other side there is a beach, where you can relax and enjoy some activities or food whilst soaking in the sun.
My final destination was a quick visit around 'Atlantis' before it turned dusk and time to pack my bags and head back to London. Hence, I just walked around the mall, and spotted the aquarium, which I've seen many times on Dubai's Instagram pages.
However, as I went to the Dubai Mall aquarium with time restrictions, I did not bother and went exploring further ahead instead, where I spotted plenty of shops and games area. Outside the game area, I got to see people surfing at one of the water parks in Dubai. It looked fun to watch as people were slipping and showing up to do all sorts on their surfboard.
Once I watched and captured some bits of that, I went back outside and noticed a Nasimi beach, that looked pretty lively as people were dancing around to good live music with DJs playing all kinds of music. From there on, it was time to say goodbye to Dubai and have one last meal at Slider Station before heading back to the hotel, grabbing my bags and then heading off to the airport.
Conclusion
I was completely shattered after such an overwhelming day visiting so many places. However, I truly loved my experience travelling abroad alone for the first time. It was amazing. Dubai is a place you can visit over and over again as there is so much to see and do, you could never get bored. The only concern would be the expense as it's not cheap at all.
Thanks for reading and witnessing my journey to Dubai throughout. I really hope you enjoyed these magical moments and gained some wonderful insights on where to visit for your next trip. Now then, I hope you're ready for the spectacular city of Abu Dhabi Vlog and posts.
Make sure to subscribe to my YouTube channel since the last Middle East tour in Abu Dhabi Vlog will be up on my channel very soon.
Adil Musa