My Salah Mat
My Salah Mat is the ideal gift to give young ones for this coming Eid celebration, Birthdays or any other occasion. You can take and use this mat indoors and outdoors, as it folds into a small size, where you can enjoy praying your salah in your comfort. This interactive salah mat will teach children the basics and makes the deen fun to learn.
My Salah Mat £47.99
Teach your children the beauty of salah in a fun & interactive way. You can purchase your Salah Mat here.
Anyone above 3+ can use this prayer mat, teaching you many things like how to do wudhu (the ritual washing before daily prayer), and learning the call to prayer (Adhaan). Learning Surah's from the Quran as well as how to pray duas. This mat also, tells you where the exact salah position and the prayer timing are and so many more interactive actions are available from this mat.
If you prefer to hear different languages other than English. They do have fifteen other speaking languages to choose from including Arabic, Urdu, Turkish, Spanish and much more.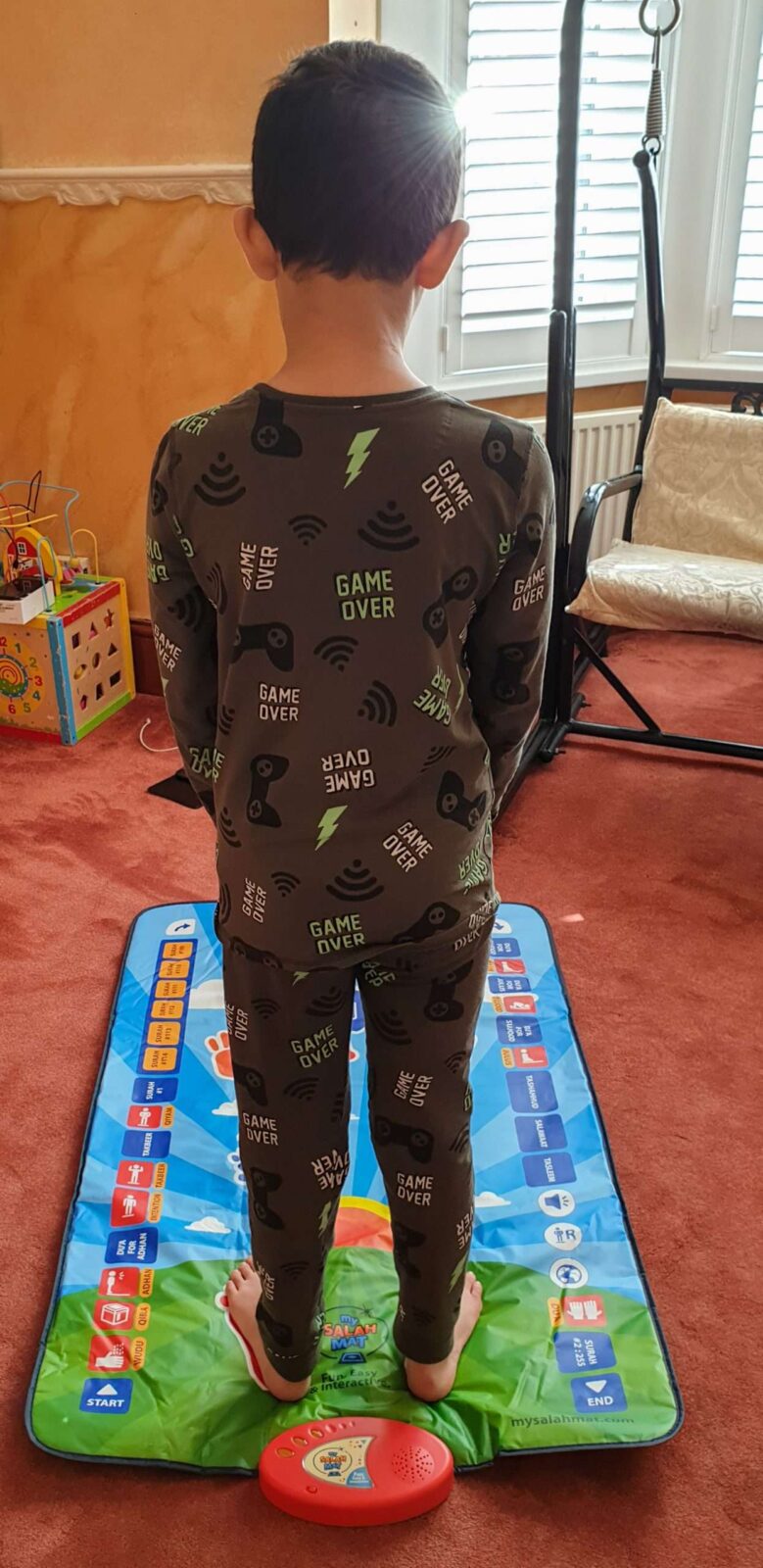 What's in the Box? (My Salah Mat)
Free 20 pages activity book
Booklet for parents (Success with My Salah Mat)
Instruction Manual
Interactive Prayer Mat
Require's 3 x AA size battery (not included in the box)
The great thing about this is a waterproof mat, so if you're worried about children spilling water or water catching on. They have it covered with waterproof resistance. The activity book includes a word search, colouring and so much more, which would keep the children occupied for a while. The booklet shows parents what they can expect from the prayer mat. Finally, make sure to have spare AA batteries around as you will need these to make the mat last longer.
Development for Children
Furthermore, there are key elements that children can benefit from this interactive prayer mat, as many other people would agree on too.
These are:
The knowledge will expand on Islam
The understanding will improve
The language will be picked up as they hear it continuously
Their thinking and problem-solving skills improve benefitting them in school
Spiritual and moral improves
Self-help & adaptive
CONCLUSION
I think this would be a perfect gift for any parent looking to teach their children about Islam. This mat is a fun way of learning and makes them engaged more. Us adults growing up, we never had any of these Islamic products to enjoy, so for the future generation growing up, this is perfect. As we have so many Islamic products around, especially this interactive prayer mat is so ideal for the young generation, as it teaches them the basic knowledge they need as they grow older.
I thought the price of £47.99 is worth it. If you look at it in the longer term since it benefits any child regardless of your own or nieces and nephews. They can learn so much from this prayer mat if they start to use it more often.
I hope you've found this blog post useful enough and that I've provided good insight to consider your next gift for children. If you're looking for your next gift idea for this upcoming eid or birthday celebration for children then you know where to look.
You may also find reading the Eid Party review useful as well: