Pachamama Bar & Kitchen
Pachamama Address: 18 Thayer Street, London, W1U 3JY
Tel: +44 (0)20 7935 9393
Nearest Tube Station: Bond Street Station (Central Line)
Pachamama bar and kitchen is a Peruvian-inspired bar & restaurant based in Marylebone off Bond Street Station. You will find people purposing and gathering with friends and families enjoying themselves with good food freshly made from their kitchen. After a visit, you can always go down Oxford Street for some shopping haul down the road. There serve brunch, lunch, tea, and drinks seven days a week. This is a place definitely worth checking out for its fabulous interior design, although their sister company 'Chicama' based in the west of London has an extra special flowery twist with their interior with Chelsea Flower Show this week.
Menu
Pachamama ranges from various dishes like seafood, vegetarian options, waffles, gluten-free, mocktails and cocktails. All this can be found on the menus on their homepage. After a brief conversation and a few cancellations in visiting this restaurant, over the weekend I finally made the time to go and visit to check out their brunch menu. Although it was a struggle to get hold of someone to join me as I had a last-minute dropout, I only got a friend who I met previously at a food blogger event to join.
Following some thoughts and a glance at the menu. I and my friend finally decided to choose what we wanted. We both started off with some starters, in which we chose the same herbed potato chips priced at £3.50 and then a Hot Smoked Salmon priced at £12. I sure did enjoy the chips and salmon, worth trying either or another option there have for chips, but I was eagerly waiting for the waffles to arrive as that's what I originally came for. As there looked amazing on Instagram and through other pictures,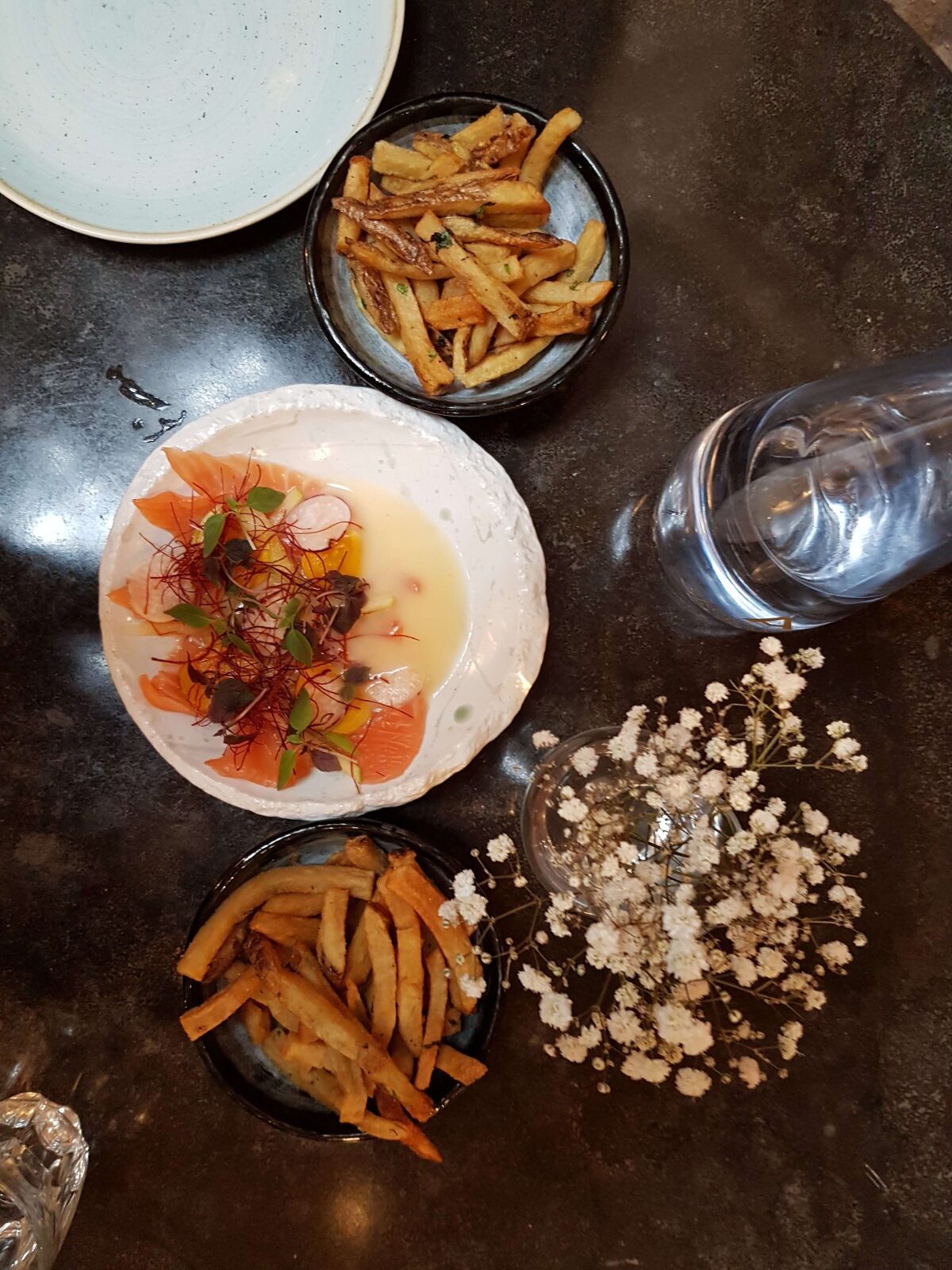 For the waffles I opted for the Quinoa Waffle filled Peruvian chocolate, toasted quinoa ice cream, cacao crumb. Therefore, my friend decided on a different waffle which included English berries, organic ginger yoghurt, seeds and yacon syrup.
Waffles
Both of these waffles above are priced at £9 each, which is quite reasonable seeing as there are based in Central London. Both looked incredible and definitely worth Instagramming to share with my followers. I loved how my waffle looked with the chocolate and ice cream! A Mouthwatering dish is as good as it looks.
Finally, after having our little brunch, we ended our few hour's visits with a very delightful English breakfast, which looked very really fancy and one of my favourites from the day.
Conclusion
Overall experience I felt it was really nice, I thoroughly enjoyed my time the service was really good since there had staffs asking if we required anything else whilst having our food. The atmosphere and environment at Pachamama were really friendly people. I felt the food was pretty good, although I preferred the waffle to the starters.
Finally, the pricing I would say it was reasonable seeing as it's based in Central London and there tend to range around that price. I definitely recommend this place to be checked this place out if you're around Oxford Circus, Bond Street area.
Food: 7.5/10 (price usually tends to add up to £30 or more depending on how much you order)
Service: 7.5/10
Atmosphere: 8/10
Price: 7/10
Experience: 8.5/10
Overall: 7.7/10
Coming here in a pair or group is probably an ideal spot for a social gathering.
Adil Musa
Disclaimer: This was an invite directly from Pachamama to try out their brunch menu.