Scene Dining Indian Street Kitchen
Scene Dining Address: 4a Leftbank Irwell Square Spinningfields, Manchester, M3 3AN
Telephone: 0161 839 3929
Nearest Station: Salford Central
Earlier in September, whilst staying two nights in Manchester as a food blogger. I visited Scene Dining in Manchester as I had a list of food places to visit thanks to some of your suggestions on Instagram. Therefore, after I finished work at the Etihad Stadium, I went to visit Scene's Indian Kitchen for late evening dinner, a well-known halal restaurant based in Spinningfields.
On a Monday evening, luckily I did not require to reserve a spot as it was just before peak time when people tend to arrive and places are fully booked. Hence, I managed to get a seat without any booking.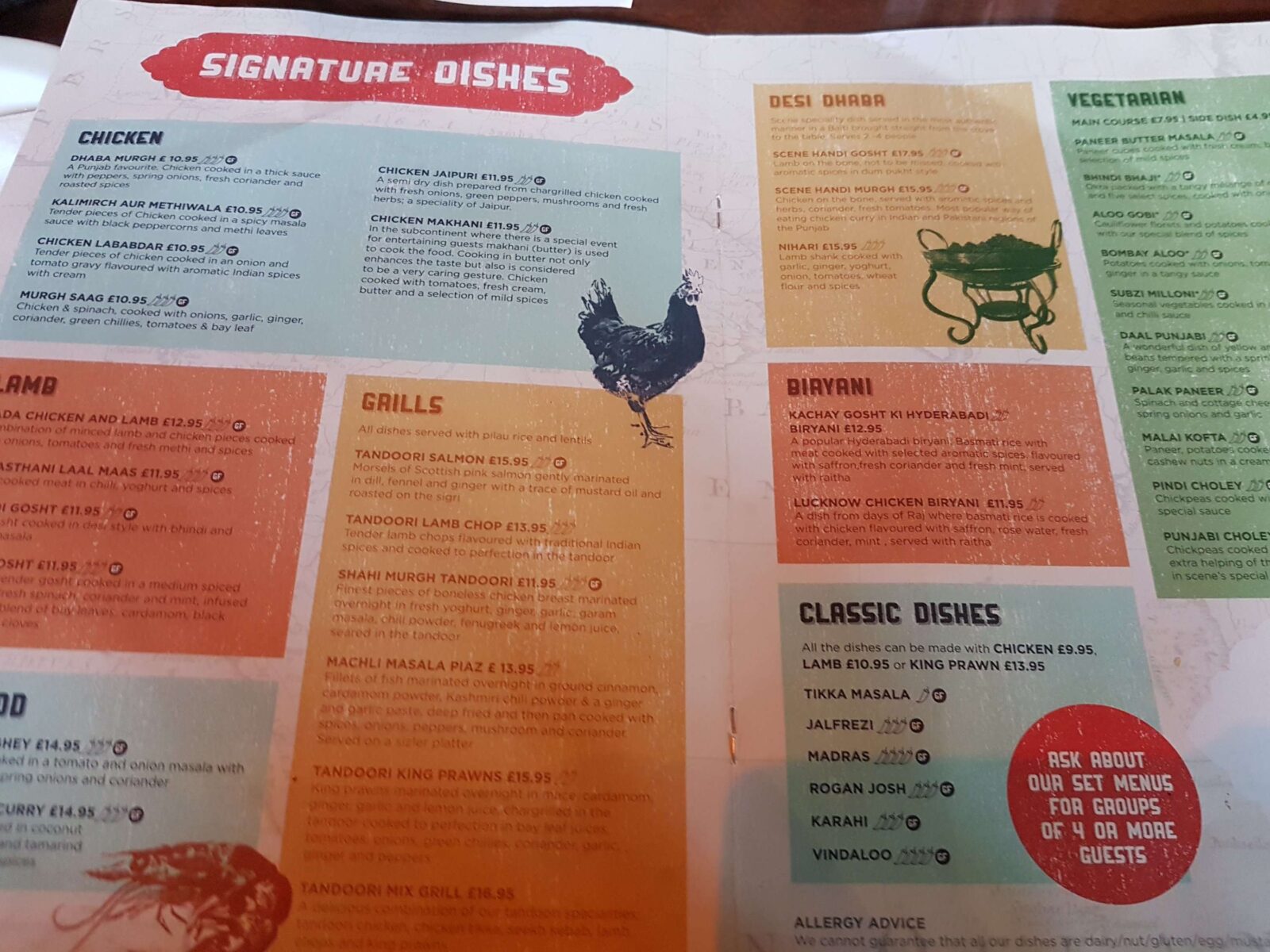 Atmosphere
The atmosphere and seating area were good. As you can have various cultural backgrounds around in this restaurant, whether it be a group of friends or families or people from work. You can tell it's a go-to place, whether it be after work or a meal out with friends or family.
Menu
The tables are nice indoor and outdoor, after skimming through the evening menu and looking through Instagram images for inspiration on what to pick. I eventually ordered Makhani Chicken with a couple of butter naan for the sides. Whilst that was being prepared the starters arrived, where you're given a typical Indian chutney sauce and poppadoms for starters.
One thing I was not aware of or was mentioned that they charge you for starters too, like the Pappadoms 80p and the chutney sauces £1.95.
After 10-15minutes resisting not eating the starters, I can gather a picture of the whole meal together on the table. The Makhani Chicken with my butter naan arrived, I have to say it was amazing, loved the taste as good as it looked.
The Makhani Chicken was a delight with the butter naan, the taste was divine and it fills you up, for me this and the starters was enough to keep me full for the night. Consequently, I did not order anything further as this was more than enough to fill a person up.
Here is the outcome for my food below as I resisted capturing the shot below.
At Scene's Indian Kitchen, there is also a separate menu for both lunch and evening at this restaurant depending on when you arrive here. I arrived here in the evening so I was given an evening menu to pick from, which had more options than the Lunch menu.
The price came up to be just over £20 for my whole meal including mains and starters.
Conclusion
Ratings
Food: 8/10
Service: 8/10
Atmosphere: 8.5/10
Price: 7/10
Experience: 8.5/10
The overall experience at Scene Dining, although I did not have everything on the menu, going by what I had with the starters and mains I give Scene's an 8 out of 10. If you want to go with your friends just chill. There is a shisha lounge at the front entrance, which tends to be quite busy and full of energy.
Times: Mon-Fri Lunch 12pm–3pm
Evenings Mon-Wed 4pm-11pm
Thanks for reading my blog post. Let me know in the comment section below if you have been to Scene's Indian Kitchen and have had other dishes or their desserts. I will try their delicious looking desserts next time I'm around up north in Manchester as I was quite full up from having the Makhani Chicken.
All their meat is Halal.
Follow me on Instagram if you're not already @adilmusa1
Adil Musa