Taj Mahal
Ever been to a better place than witnessing the iconic Taj Mahal…..
During my last few days left in India, I managed to take a long 3 and half hour drive to Agra from Delhi. As it's impossible not to go that far and not see the Taj Mahal right?. Therefore, myself, my wife, my sister and the kids went in a 7 seater car to Agra. As we arrived outside the building, we had to take a rickshaw to the ticketing office, as it was too busy in the surrounding area.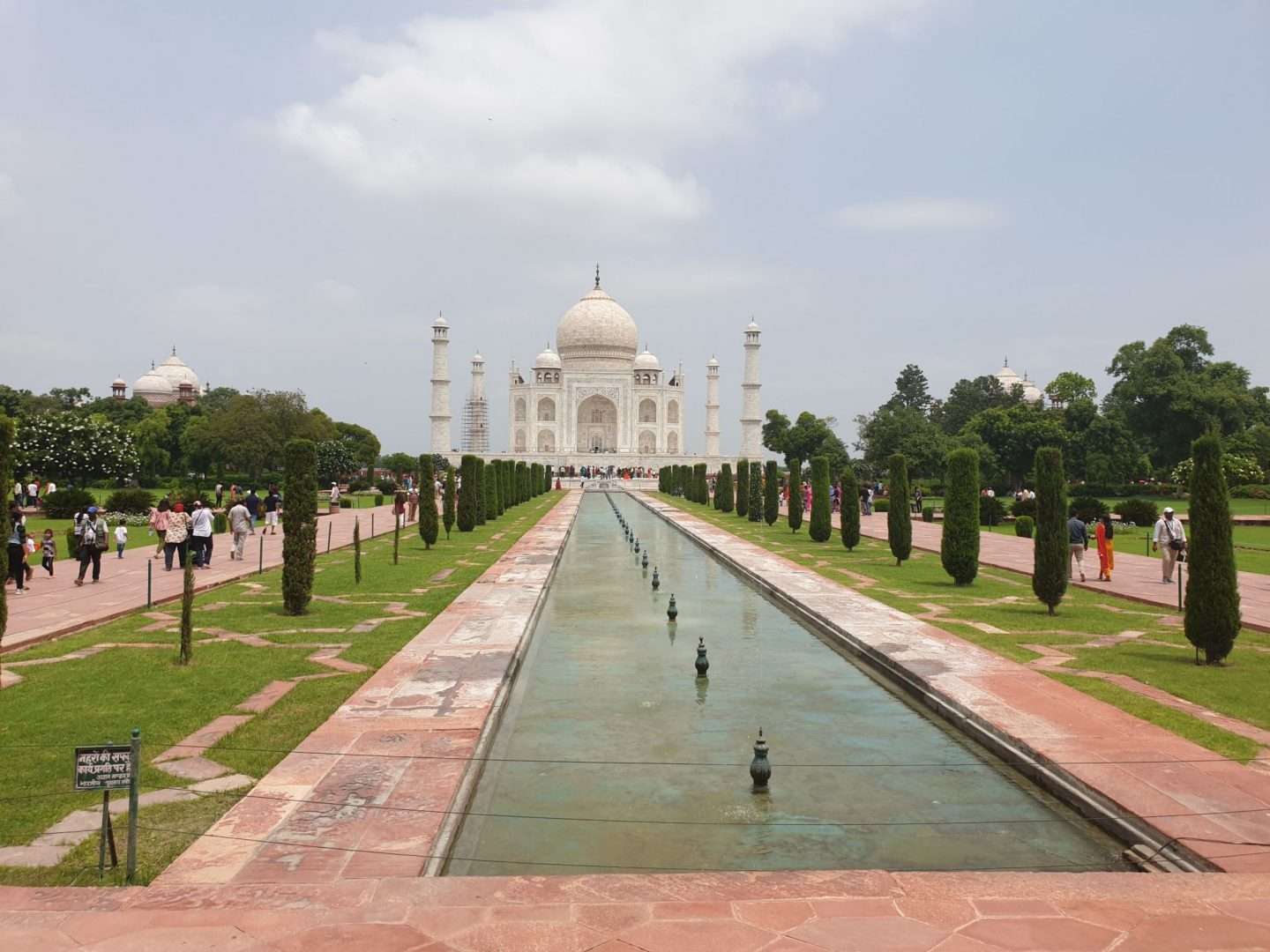 Ticket Entrance
Foreigners: 1,100 rupees
Indian Residents: 50 rupees
As you can see if you don't have an OCI or an Indian passport. You're paying a greater amount compared to Indian Residents. However, don't let that make you reconsider as the experience is something special and one to cherish for a lifetime.
Experience
Even though we arrived at 11 am, the ticket office for the tourist line was pretty empty. As I expected it to be pretty packed and busy, especially visiting this location in August, since it's summer holiday in most countries. Now it was time to explore the magnificent building. When we arrived, we were asked by a few haggles for tourists pictures albums and a few selling magnets. However, there is nothing to be afraid of, as you can just say 'no' and continue your journey.
The building below is the entrance towards the Taj Mahal. As we hired a tour guide, he took us to the side of this building and told us some history of this architecture. The building looked fantastic, so before heading in, we snapped a few group shots of ourselves.
Taj Mahal
As we entered, I was stunned by the spectacular Taj Mahal. It looked unreal like a picture from a book. People crowded the entrance by taking selfies/photos/video's you name it. I couldn't help myself with such excitement by either recording the moment or taking pictures.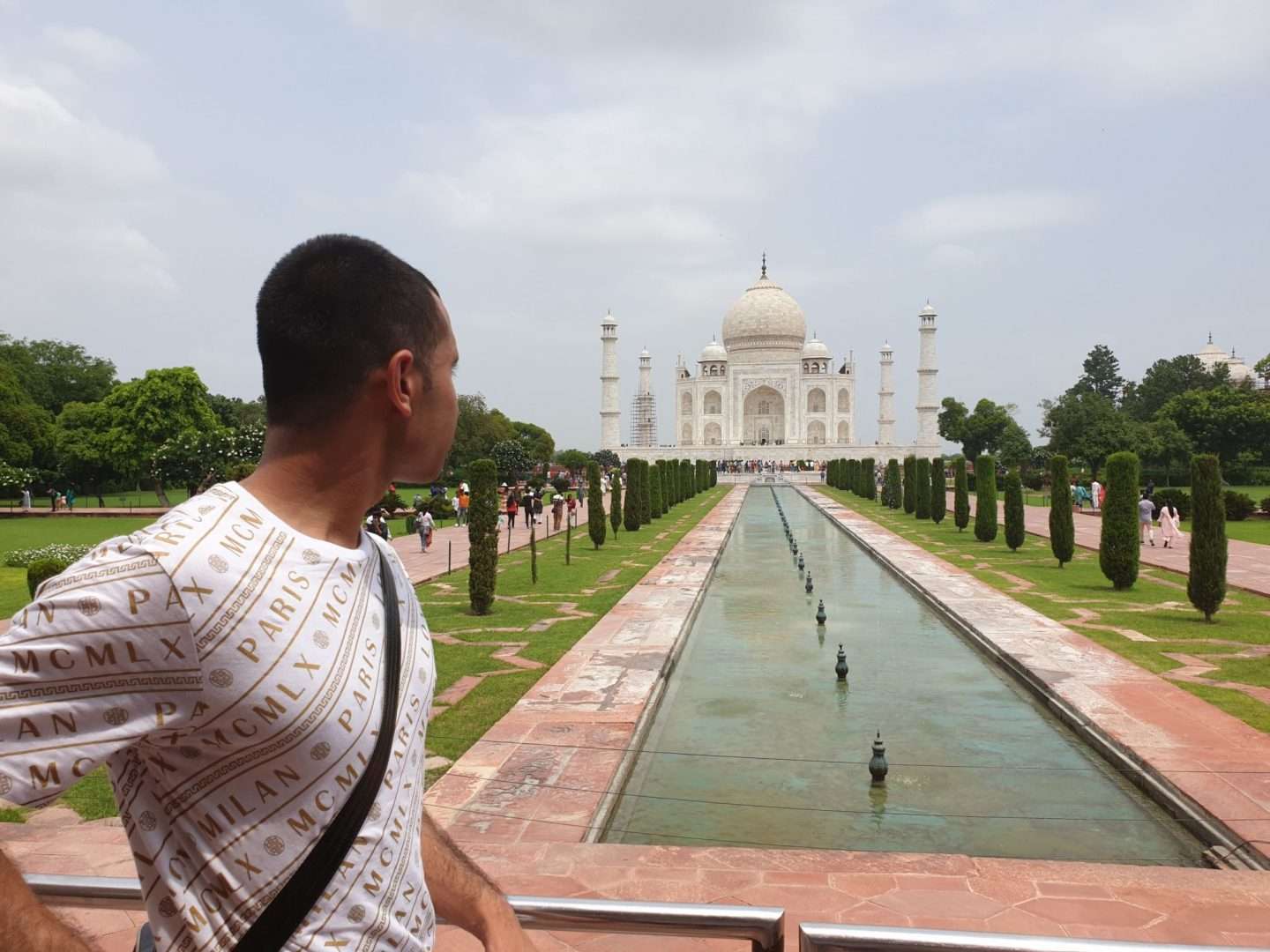 History of Taj Mahal
As we walked ahead, I continued to record and snap more pictures. As the tour guide told us some quick facts and history of how the Taj Mahal was built. A funny thing, which I saw and noticed was when people outside the Indian origin visited. The people there would start to crowd them and take selfies as they had never seen anyone like them before.
Taj Mahal was built as the final resting place for Mumtaz Mahal, the third wife of Mughal Emperor Shah Jahan.
It took roughly up to 20 years to build this stunning building starting in 1632 and ending in 1653
The whole structure is made of white marble
Construction of the Taj Mahal cost roughly 32 million Indian rupees to build
There were over a thousand elephants used to transport heavy materials and supplies for construction.
Walking around this place even in monsoon season it was boiling. I was sweating and at times I couldn't bear the heat whilst walking. All of us felt like leaving the place or going into the shade it was that hot. As we walked up the stairs to see inside the Taj Mahal. We saw the beautiful gardens surrounding from the other side of the entrance. Everything looked so green and lovely seeing people walking around, enjoying themselves by the benches.
Instagram Tip
A tip for the photographers, if you can get a free space. I recommend taking a photo just behind the Taj, so you can have an amazing framing shot of the Taj. One thing I couldn't do was they were far too many people and the people with me didn't have the patience to wait so we skipped it. The picture will do wonders for your gram or anywhere else you share online.
Above is the Kau Ban Mosque, which you can see, whilst you walk around the top of the Taj Mahal. The design and structure are simply beautiful. Every corner is something special but it does not come close to seeing the main attraction of India.
As we were done exploring around this place. The tour guide took us to another place, showcasing how the Taj was built and still being rebuilt. This was where all the workers were putting their hard work in to play outside the souvenir shop. As we went inside we were shown models and displays behind the scenes of the Taj Mahal. However, we did go on to buy a few souvenirs just for memories.
Mughal Darbaar
After exploring around the Taj Mahal, it was time for lunch, my favourite part of the day. I was quite disappointed with the food as it wasn't as good as I thought. Below is the location where we ate called 'Mughal Darbar' where I believe every tourist that visits the Taj Mahal are bought there. I noticed many other tourists who were nearby were dining there too.
I ordered the chicken steak with chips. It didn't taste that good at all, quite bland to be fair. We had ordered Mixed Sizzler and Chicken Manchurian as well as some other dishes from their menu.
Conclusion
The overall experience was good since the service was reasonable and it was clean with the atmosphere seeming fine. The price range here was around 500 rupees so in pounds, it would be around £7-£10 per dish. This does seem pricey for Indian residents but I guess tourists would say it's cheaper than the UK. However, maybe due to the food choices I did not enjoy it here as much.
That's all folks!
Thanks for reading and taking the time out to read my short journey to Agra, India. I truly enjoyed my experience here in Agra as I couldn't get enough of the Taj Mahal site. I hope you've enjoyed all the images shared and read the experience written. There will be a vlog from Agra, so you can check it out on my YouTube channel later this week.
If you haven't done so already please do 'SUBSCRIBE' on my YouTube or follow my Instagram for the upcoming posts.
You can also catch some of the story highlights on my Instagram page if you prefer those. However, until then I shall see use in the next blog post. ?
Let me know your thoughts and what you would like to see next.