48 Hours in Delhi, India
During the summer, I went back to India for my big day, but after that day. I managed to visit a couple of stunning locations, which were the Taj Mahal in Agra and the city of Delhi. In this post, I will be showcasing all the things I managed to see and do during my short stay in Delhi.
When we arrived it was late at night. What better way to start our journey in Delhi than by going to the ever so popular 'BBQ Nation'. A buffet filled with so many curries, soups, desserts, starters and many more. I will perhaps write a separate blog post making a comparison from one city in Gujarat to here. As I've now tried BBQ Nation in two locations in India this year.
Hotel
The hotel I stayed at was called "Hotel Almati Inn" quite close to Delhi airport. The hotel was convenient and comfortable as we didn't require to travel too far when we left the city. I thought the rooms were clean and pretty decent to stay in for 3 nights. For me, I only required a place somewhere nice and comfy to stay as the majority of the day is usually spent outdoors exploring.
Day Experience at Agra
The first morning and plan was a trip to Agra to see the beautiful Taj Mahal. I will be writing a separate blog post for this, so look out for it. As this took us just over 3 hours to drive, we spent the entire day in Agra until late evening. We decided to return to Delhi and have some time to explore this city, where we first went to see the Delhi Amusement Park in Kalindi Kunj.
As I had thought the Delhi Eye (Ferris Wheel) was located here, but by not reading or seeing other posts it seems like it was closed a couple of years ago. However, on the plus side, we did see a lot of dancing fountains and walked around the garden, seeing as we came so far. There are a few things you can explore here such as water parks, family rides, 6D cinema, and a dedicated kid's zone.
Qutub Minar
That ended a tiring day, where we decided to eat at Pizza Hut on the way back to the hotel, seeing as I missed UK food. The next morning it was a full-on day visiting as many places as we could in Delhi. My first stop was to see Qutub Minar architecture. There were so many historical building sites and spots to capture on camera all around this spot. Tourists would be bound to love the site. However, the image below is one of the tallest buildings in Delhi called 'Qutb Minar'. This is one of the main attractions in Delhi, which you could possibly not miss out on.
Cost
The cost of getting in here is cheaper for Indian residents as compared to overseas people.
Indian residents 30 rupees
500 rupees for tourists without Indian ID.
Location: Mehrauli, New Delhi, Delhi 110030, India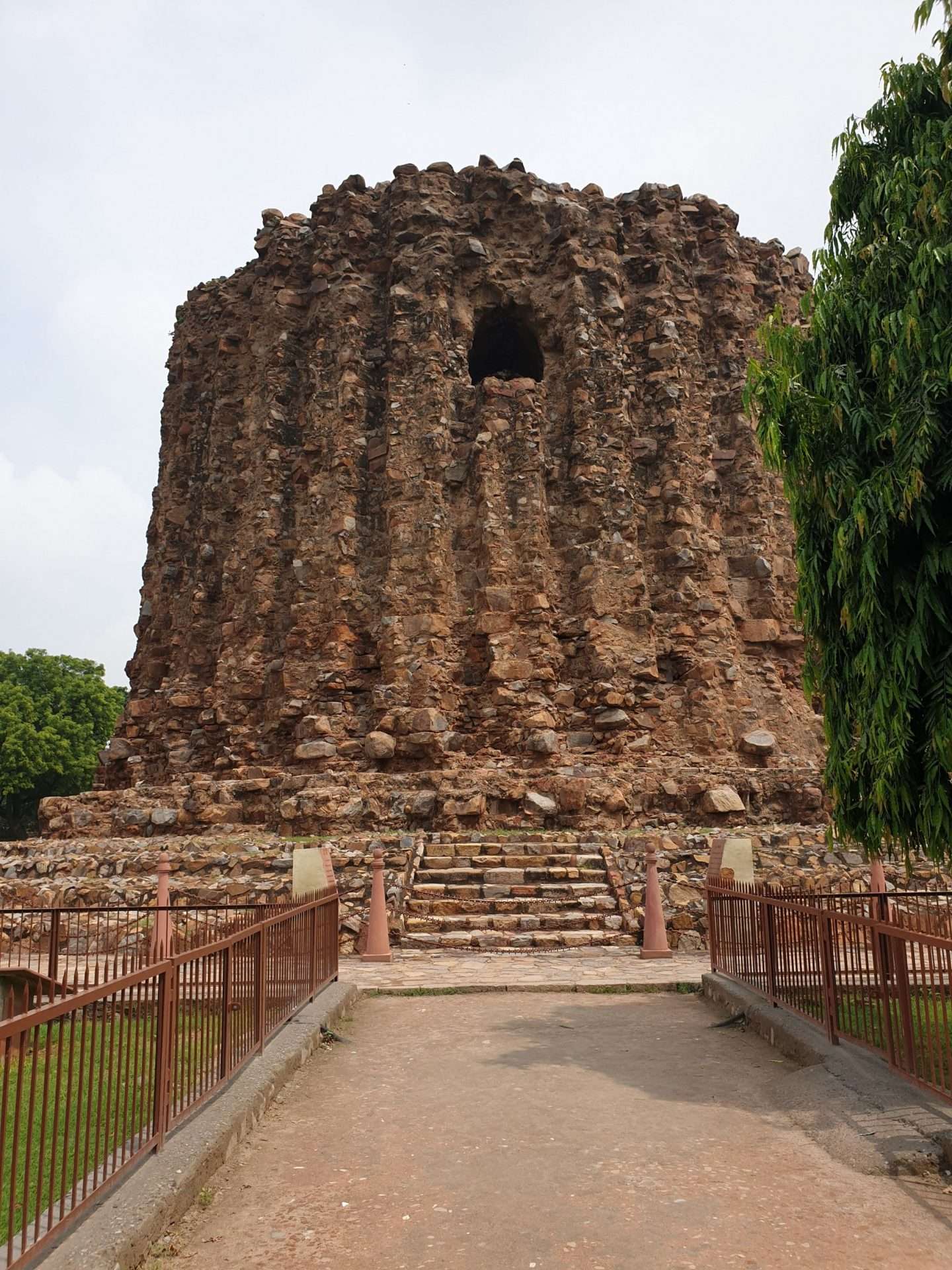 National Rail Museum
This place was pretty cool to explore, especially with the old-style buildings. Many photographers and tourists would admire this spot as there are lots to capture and read up on. After looking around the different sites here at Qutb Minar, it was time to head over to our next destination which was the 'National Rail Museum'. This was a short stay as they weren't much to see but a little enjoyment for my nephews.
This attraction was ideal for kids as we saw lots of transport models in the museum. We even rode on the trains called 'Joy Train' which run every hour, which has an additional cost which you pay at the entrance if you wish to go on. They do have a cafe in the middle if you wish to grab a snack or feel peckish. The price ranges are different depending on the activities you are willing to do or visit.
Cost
Entrance costs:
50 rupees on weekdays or 100 rupees on weekends for adults.
Kids 10 rupees on weekdays and 20 on weekends.
Location: Chanakyapuri, New Delhi, Delhi 110021, India
Humayun Tomb
Our next stop was to see the replicate architecture of the Taj Mahal, which was truly magical to see and on top of my list of things to see. This was called the 'Humayun Tomb', a building built by Hamida Banu Begum. it was built to house the mortal remains of Humayun, the second Mughal Emperor of India. I could not express myself any further but I was shocked at how stunning the building looked from every angle. This place is a must-see if you ever visit India for tourists or Indian resident people.
Here you will find 150 graves inside the tomb and the surrounding garden. Also, if you go around the Humayun Tomb, you will see many other monuments such as the tomb of Isa Khan. Bu Halima's Garden looks beautiful when on top of the Humayun Tomb. There are plenty of other monuments if you have the time to look, but as we wanted to see other places in Delhi. I just captured and spent most of our time in and around the Humayun Tomb surroundings.
Cost:
250 rupees for foreigners or if you an Indian resident 10 rupees
Location: Mathura Road Opposite, Hazrat Nizamuddin Aulia Dargah, Nizamuddin, New Delhi, Delhi 110013, India
Jama Masjid
After experiencing such a stunning architectural place, our final attraction was the magnificent 'Jama Masjid'. I believe the majority of people have seen this mosque on TV or elsewhere. Always packed out with visitors and worshippers enjoying themselves. The place where Muslims gather for their daily Jumma prayer, known as Friday Mosque, is translated from Arabic.
The mosque can be located near the red fort. People of all religions can visit and capture the picturesque building. However, please be aware that they do not allow digital cameras unless you pay 300 rupees. However, you can go through security if you are just using your phone.
The mosque is open daily from sunrise until sunset, except from noon until 1.30 p.m. when prayers are held. I would recommend going early morning if you are an early riser, as you can beat the crowds before they arrive. The photography you can get here is beyond incredible, but it becomes hard when people are already turning up.
Ambience Mall (Chillis & VR Park)
As it was getting dark, I only had to wander around the surroundings of the mosque and then the main entrance. Therefore, capturing and recording the above is all I was able to manage. Whilst we were exploring around Delhi, our last and final destination was Ambience Shopping Mall, where we had our last dinner here at Chillis and had a bit of fun with the games at the VR Park.
Chili's Grill & Bar
At Ambience Mall, you were filled with so many restaurants to choose from such as Pizza Express, Punjabi by Nature, Jamie's Italian, Taco Bell, Chicago Pizza, Subway and many more. However, as we were craving a burger and were willing to try something new, Chilli's was our go-to place.
What I ordered
Craft Burgers Bites Chicken Patty, whilst my sister ordered the veggie version of it. Just to compare the difference, however, we both preferred the chicken as the taste was not that great with the veg.
Mocktail
However, I did order the mocktail which was amazing called 'Blue Pacifico'. It's a blend of sweet & sour, Pineapple & Virgin Curacao refreshing you the Hawaiian way. Also, my nephew ordered the 'Evolution' mocktail which was a mix of passion fruit, pineapple, sweet & sour secrets reminiscent of the origin. Both of these were so good that everyone on the table had a sip of it and enjoyed the taste.
On The Table
As well as the crafted burgers and chips on the table, we had the 'Pulled Chicken Burger'. A burger filled with spicy cream sauce, pickled onion slaw, pico de gallo & chipotle in a buttered toasted bun. One of the new sets of burgers on their menu looked pretty reasonable but tasted delicious.
The 'Burrito' was the food on the table, you can't go to a Mexican place and not try their traditional food out right?! This was pulled chicken stuffed with Chipotle rice, pico de gallo, corn salsa, mixed cheese, guacamole, sour cream, garlic aioli & chipotle aioli. Burrito is served with black beans & chipotle aioli. Now, this was delightful, it went down well amongst ourselves.
Conclusion
Overall, I felt it was a mixed bag experience, we had to ask the owners for the certificate whether it was halal, which they eventually provided. Although the burgers were quite dry to eat, especially the veg as it did go down well. However, the mocktails were delicious and probably the highlight of our meal.
Food: 5/10
Service: 8/10
Atmosphere: 7/10
Price: 8/10
Experience: 7/10
Presentation: 6/10
Overall: 6.8/10
I was impressed by how good and clean this mall was in India. It felt like I was home, as the shops were just like UK brands and had a nice chilled vibe to end our Delhi trip. The food at Chillis was fairly reasonable, although I felt the burgers were quite dry. I did enjoy their mocktails were colourful and the taste was so good, but overall I was quite satisfied compared to other spots I went to in India.
Lotus Temple
On the way back to Delhi airport we had a couple of hours to explore. Therefore, what better place than to visit the Lotus Temple, which looks just like the building in Sydney, Australia. The garden and the surroundings were truly beautiful to walk through as you can see below. I recommend checking it out and there is also a museum on the side of this building which has a history and some knowledge of all religions. Inside the temple, they had hourly
Thanks for reading and taking the time to read my journey in Delhi, India. Truly enjoyed exploring this city as I got to see so many locations across New Delhi. I hope you've enjoyed the images and my experience. I've now uploaded a new vlog from this city, so you can check it out on my YouTube channel?
If you haven't done so already please do 'SUBSCRIBE' on my YouTube or follow my Instagram for the upcoming posts.
You can also catch some of the story highlights on my Instagram page if you prefer those. However, until then I shall see use in the next post!?
Adil Musa