Apple Butter Cafe
Apple Butter Cafe Address: 32-34 Monmouth St, West End, London WC2H 9HA
Website: https://applebuttercafe.com/
Nearest Station: Covent Garden (Piccadilly Line)
Tel: 020 3019 7474
Apple Butter Cafe in Seven Dials is newly opened, which was the highlight of the weekend this week.
I took my Mrs to a famous tourist and favourite spot of mine in London's Covent Garden. As we were kindly invited to a lovely meal at 'Apple Butter Cafe. We had a quick look around Covent Garden before we set off to a newly opened all-day cafe serving some delicious Middle-Eastern inspired desserts, cakes and pastries.
This cafe has its very own apple tree inside, hence the name of this spot. You can have a look below at how beautifully created indoor garden interiors are. The tree itself will have you snapping away and dining in the perfect location in the heart of London.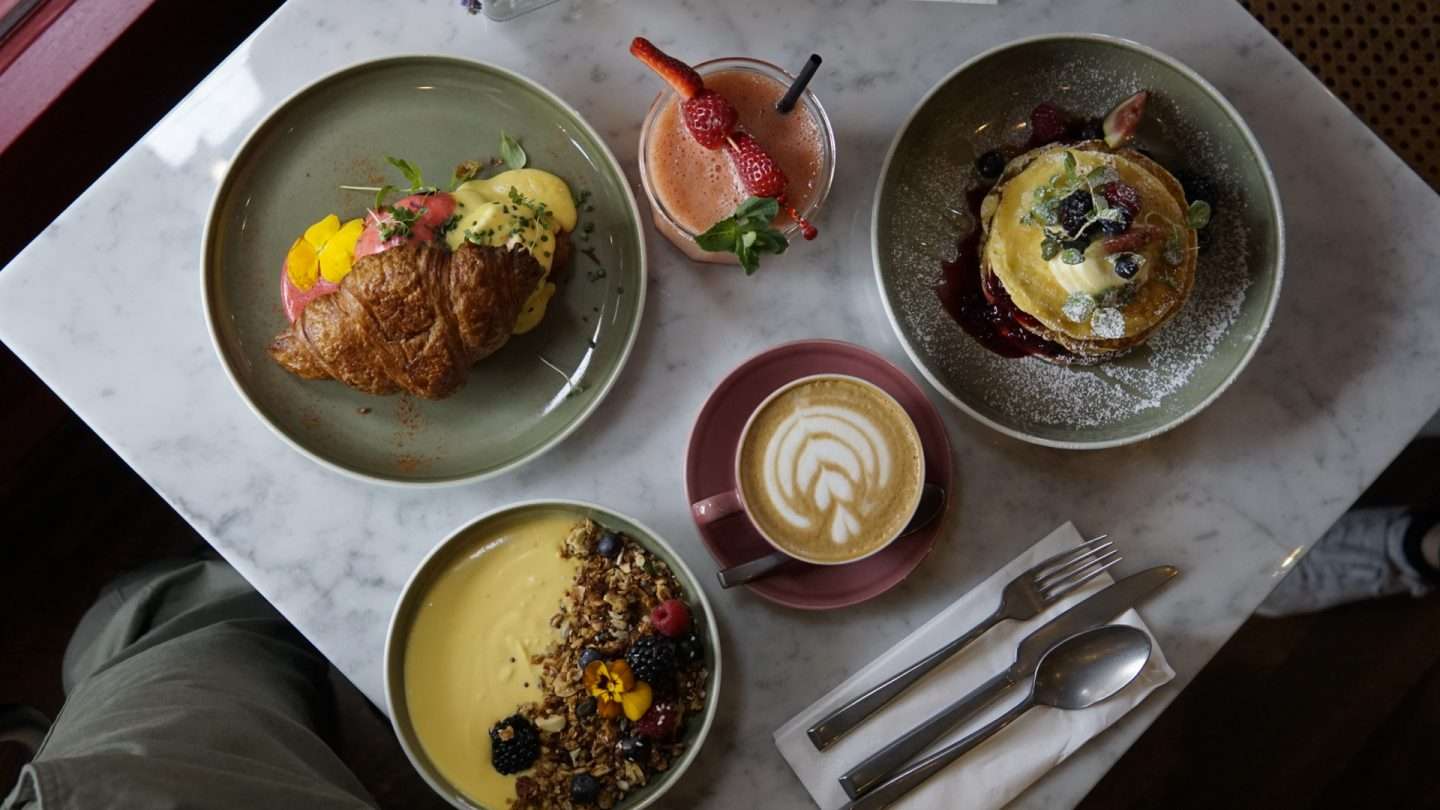 Menu
Their menus will have you spoilt for choice, with so many mouth-watering options from their all-day breakfast, sandwiches, salad, desserts and much more. You won't be disappointed. I must recommend the Eggs Florentine with Croissant, the taste of this was truly amazing.
As we arrived at the cafe, we were seated by the window. This was all set up and ready for us as the PR team booked ourselves in beforehand. Here we had a choice of 2 dishes and a drink per person. I did some research, which had my eye on three dishes. Therefore, I didn't waste time at all looking at the menu. Although my Mrs had a quick look deciding if she wanted anything else, in the end, she opted with what I had already chosen plus a smoothie.
As we waited for our food to arrive, I recorded some clips of the stunning interiors. By the time I was done recording the drinks arrived at our table. It was the Spanish Latte that I ordered and my Mrs went for the Tropical Crush Smoothie. Both looked appetising as you can see below.
Spanish Latte £7.50
As we waited for our main course, I decided to get my camera out and started to shoot different angled shots of the drinks to share on my blog. Once the meal arrived, it was time for the eyes and the lens to eat first. I took as many shots as I could, so I can decide the top few shots to feature on my Instagram page.
What I ordered
Mango Smoothie Bowl
Egg Florentine
Pancakes
Spanish Latte
Tropical Crush Smoothie
The Mango smoothie was our favourite dish because I loved the taste of yoghurt and oats together, an ideal healthy-looking dish. However, I did prefer Egg Florentine over the rest of the dishes ordered due to the looks and flavouring. The pancakes were my Mrs cravings, ever since she saw them online, but due to how sweet they were it was a challenge to complete it.
Just take a look at how good the spread looked? It makes me hungry all the time looking at it.
Mango Smoothie Bowl
Mango smoothie had granola, coconut yoghurt, mango and fresh berries sprinkled. The colours and taste were super yummy, definitely a feature to have. I wouldn't mind having this for breakfast a couple of times a week.
Egg Florentine
This dish was a favourite of mine and came with croissant, which was filled with spinach, beetroot hollandaise, classic hollandaise and runny poached eggs. Truly enjoyed the taste of the filling inside along with the eggs. The croissants were nice and soft, as well as the presentation I found to be beautiful.
Pancakes
This looked amazing but was super duper sweet. I had a couple of bites and felt like I would not be able to finish this. Ideal for pancake day but since that has passed, it was fine for two people to share. Perhaps next time I'll be able to post this for pancake day.
The Apple (Dessert)
WOW! Where do I start, this apple dessert going by the name of the café was truly an eye-catching one. The white chocolate surrounding the chocolatey apple had to be cracked open, which eventually opens up beautifully with apple mousse filling. Every season the filling changes with the season, which sounds like a brilliant idea and something for everyone to look forward to each season.
I loved it and ever since I saw it online, I had my eye on this for some time too. Recommend choosing this dessert, as it's something different compared to the usual Lebanese dessert people have.
Conclusion
Overall, a wonderful experience with quirky interiors, which will bring your attention to the huge apple tree inside. The food was just scrumptious, beside the pancake being too sweet, everything we had totally finished. The service was good as everything came at a good time and we were treated well. The price is on the pricey side, but shouldn't put you off from visiting this cool place. The presentation was somewhat amazing to me, as everything just looked so good to shoot and eat.
I would come again to try out other dishes but two dishes and dessert were enough for me this time around.
You can have a look behind the scenes from this cafe on my Instagram.
Food: 9 out of 10
Service: 9 out of 10
Price: 7 out of 10
Experience: 10 out of 10
Presentation: 10 out of 10
Overall: I've given this cafe a 9 out of 10.
Thanks for reading my blog post. I hope you've enjoyed reading this new Middle-Eastern brunch spot review. Let me know where you would like to see me review next.
ADIL MUSA
Disclaimer: This invitation meal was given as complimentary in exchange for social coverage. All views and opinions are my own.