Magical Christmas Lights Display in London
One thing that comes to mind in December is the London Christmas Light displays. With the holiday season upon us with only two weeks to go until 2021. A year that has been a rollercoaster and one we never expected for sure. This month lifts a lot of people's spirit and mood as the holiday season arrives leading up to Christmas day and New Years. However, this year it's different seeing as the majority of England have been placed under Tier 3 restrictions, making restaurants, cinemas and museums having to shut down.
I'll be showcasing in this post most of the Christmas light displays in London, which I've been to see already. You can find other places listed at the end too, which also have lots of other nice spots for Christmassy pictures.
Carnaby Street – Carnaby St, Soho, London W1F 9PS
This month, I managed to visit some stunning London Christmas displays and captured them all for my blog as well as Instagram. I started by wandering around Carnaby Street, as those were the first lights to switch on. Unlike last year, where thousands of people gathered for the switch on. This time all the lights switched on as soon as it was dusk on their specific dates. The magical Christmas lights displayed all around the city on shopfronts and around the street are one joyous moment to witness.
Leadenhall Market – Gracechurch St, Langbourn, London, EC3V 1LT
The Leadenhall Market has become quite a hit with people as they have a wonderful tree and now with festive snowfalls every hour from 11-4 pm every day till 23rd December.
Regent Street & Oxford Street
Side by side, these lights have been sparkly and magical each year. Regent streets with their angels have always been enjoyable to walk through whilst you shop around after dusk. Fun fact: Every Saturday until the end of December, Regent Street will be closed for pedestrians to shop all they want for Christmas without any traffic.
Oxford Street has dedicated its LED lights to the heroes of the NHS, as people can nominate key workers to have their names displayed on LED lights.
Annabel Mayfair – 46 Berkeley Square, Mayfair, London, W1J 5AT
At one of the most creative displays each season, these guys at Annabel tend to wow everyone. For this Christmas, they created this stunning art display with live ballet dancers displayed through the window. I must say it took me 15-20mins minutes to get this shot as people were walking past or taking photos of the front continuously.
Royal Arcade – 28 Old Bond St, Mayfair, London W1S 4DR
As you walk off Bond Street, you will find this pretty little spot called the 'Royal Arcade' filled with shops, but the decor is what caught my eye.
South Molton Street
As you come out of Bond Street Station and turn left, you find these large arches which turn blue at night.
Burlington Arcade – 51 Piccadilly, Mayfair, London, W1J 0QJ
This pathway is picturesque as you can imagine, with mini trees across the path and red disco balls. You will find this near to Fortnum & Mason, which has another stunning display.
Fortnum & Mason – 181 Piccadilly, St. James's, London W1A 1ER
Fortum and Mason have another creative piece from the festive Christmas display you'll see in London. Also, when you go inside with lots of surprises.
Covent Garden
Covent Garden is truly special every year, as one of the largest trees on display is placed here. Always a favourite place to come back each year, as they never disappoint with their disco ball interiors inside and their enormous Christmas tree. This year they have Lego themed displays all around the area, which even includes Super Mario and Santa Lego.
Bond Street – 175-177 New Bond St, Mayfair, London, W1S 4RN
Lastly, leaving probably my favourite colourful display on Bond Street as 'Cartier', they have stunned people with their red gift wrap and panther display. This spot is filled with instagrammers and people taking shots constantly, so it was a test of patience as I had to wait for 15-20 mins to capture a near to empty shot of the shop. Opposite Cartier they have a mini Christmas tree which looks picturesque alongside the shop. I can add Tiffany to the list who has a nice neon light display.
The main roads have colourful blue lights displaying across the whole path, a nice drive-through view for those passing.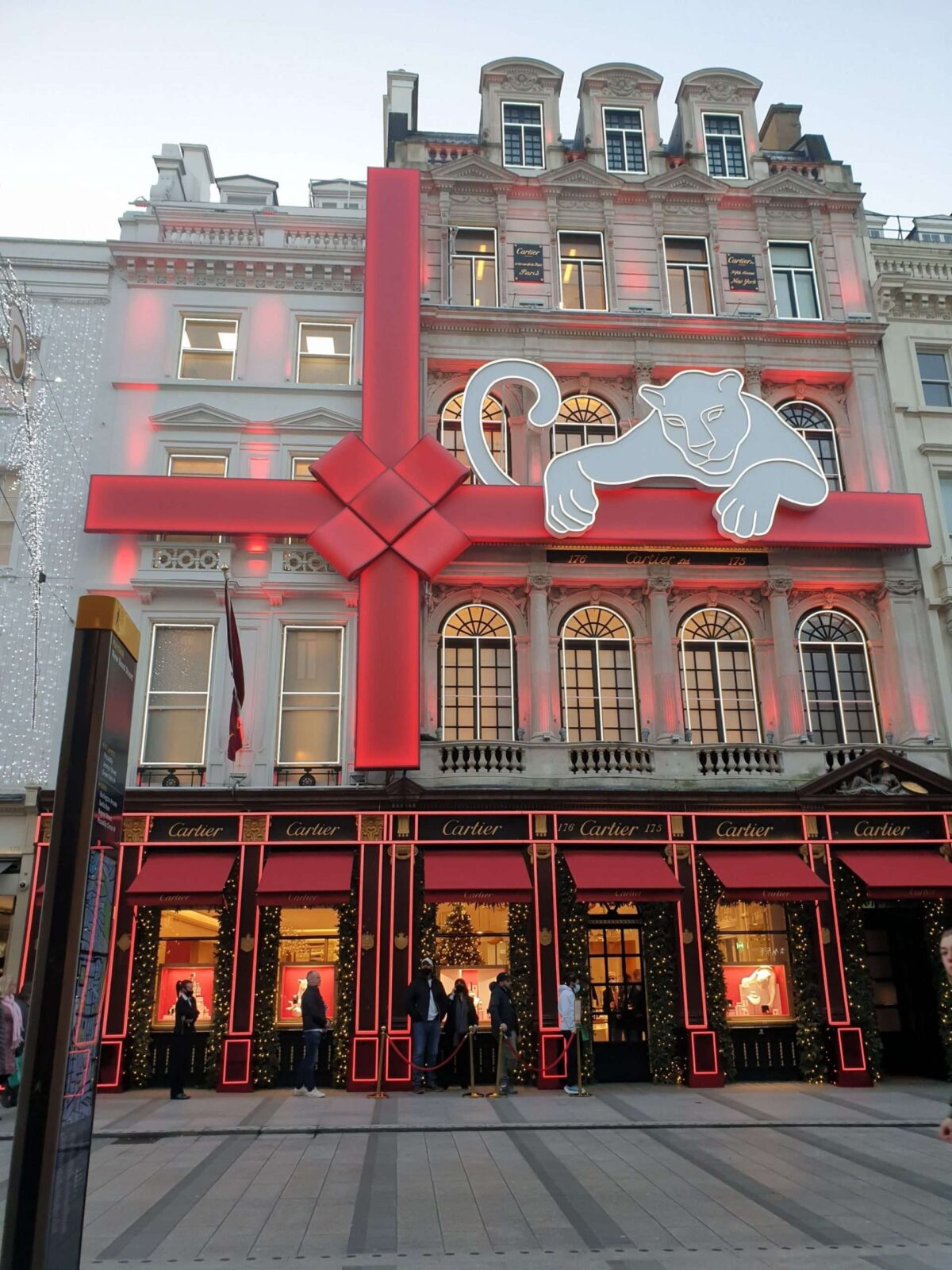 You can find other spectacular Christmas displays across London towns such as:
King's Cross
7 Dials
King's Road
Wembley Park
Canary Wharf
South Bank
Trafagular Square
Kew Gardens
I hope you've enjoyed the London Christmas displays posted here, as much I've enjoyed exploring around London capturing as many displays as possible. You can check out this vertical YouTube video I've uploaded here.
What are your favourite Christmas displays of the year? I would probably say mine would be Covent Garden and Bond Street as those seem to be magical this year. The Christmas season is always the best time, as London sure looks festive around this time of the year.
If you wish to collaborate, invitation, or PR enquiries etc please email [email protected]
Instagram: @adilmusa1
Twitter: @adil_Musa1
YouTube: @adilmusa1
Adil Musa