Dishoom
Address: 7 Boundary St, Hackney, London, E2 7JE
Website: https://www.dishoom.com/shoreditch/
Nearest Station: Shoreditch High Street (Overground) or Liverpool Street
A trendy yet still buzzing Indian restaurant called 'Dishoom'. Finally, I managed to visit this Indian restaurant in good time with 'Eat Out to Help Out Scheme' nearly ending, it was the perfect time to order any good dishes.
The branch in Shoreditch is just one of many others around the UK, including Manchester, Birmingham and Scotland. The decor is full of luxurious details as inspired as in India, with antique furniture, Hindi words and some retro adverts.
The interiors have a feel of an Indian feel with nice vintage decor and photographs of places/families from India.
Another restaurant ticked off during the 50% off 'Eat Out to Help Out' Scheme as I went through to different restaurants each week throughout this discounted month.
Experience
The first time arriving, I went without booking, yes perhaps a rookie mistake. However, luckily it wasn't too bad compared to what others had experienced although waiting for a table was an hour. We managed to get into the bar section within 20 mins of standing in the queue. Me and my Mrs ordered Mocktails to pass the time. At Dishoom, I felt the service was super speedy, which is always good. As they took our orders within minutes, the food arrived hot and fresh in good time and within 10 minutes everything was on our table.
Another restaurant ticked off during the 50% off 'Eat Out to Help Out' Scheme as I went through to different restaurants each week throughout this discounted month.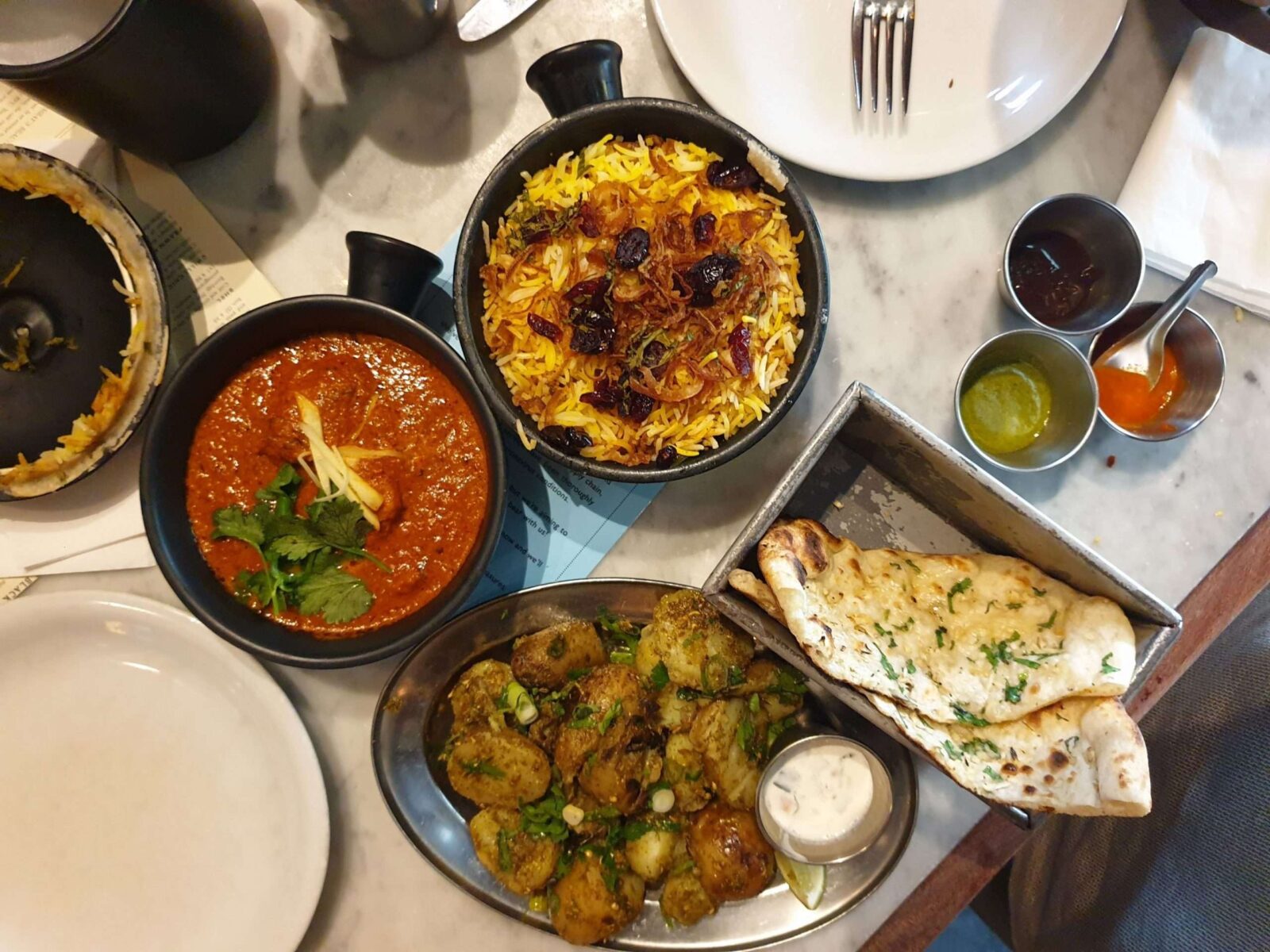 Whilst having a look online for what seems nice to take photos of, I eventually managed to opt for Passionfruit Sharbat, which was refreshing. The other drink we ordered was Alfatoon Colada this was Pineapple and coconut cream with a little coriander, chai syrup, and lime juice, garnished with coconut flakes, sweet and frothy.
Main Meal
After waiting patiently for our table for 2 for an hour, it was time to sit and take our orders. I heard Gunpowder Potatoes from their starter menu was supposed to be good so, I ordered one of those. Alongside two main dishes, which were more than enough to fill us up.
Gunpowder potatoes were a hit, and I recommend it to anyone dining here. I'm usually not a person who eats potato much, but this dish tasted amazing. This potato had brown skin, smoky-grille, tossed with butter, crushed aromatic seeds and green herbs.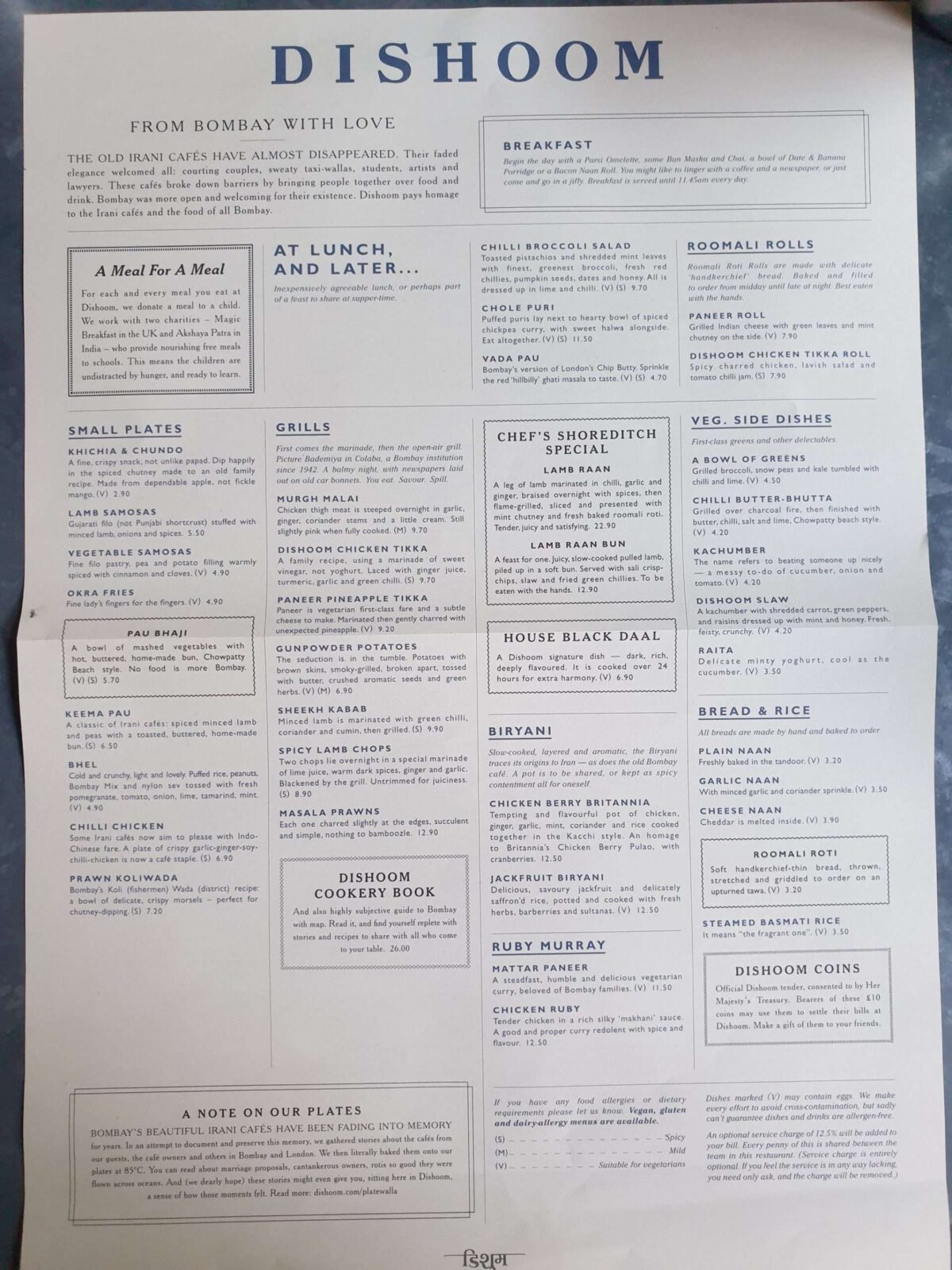 Chicken Berry Britannia Biryani £12.50
This tempting and flavourful pot of chicken, ginger, garlic, mint, coriander and rice cooked together in the Kacchi style. A homage to Britannia's Chicken Berry Pulao, with cranberries. This chicken biryani was super yummy and tasty, came in an extremely hot pot traditional style, berries were a nice touch to the rice I thought.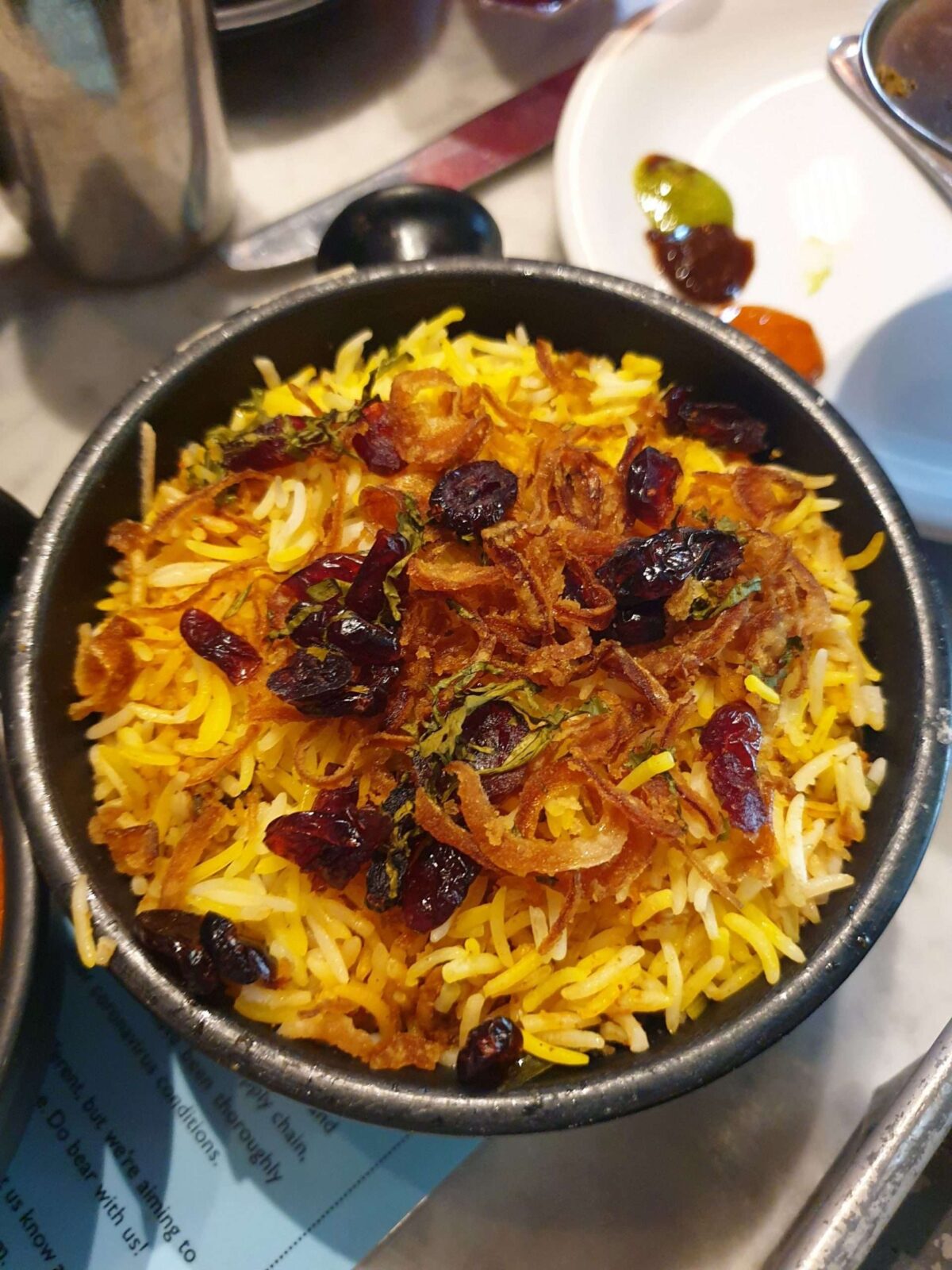 Chicken Ruby £12.50
Butter Chicken but named differently. This tender chicken was done in a rich silky 'Makhani' sauce. A good and proper curry redolent with spice and flavour. The aromatic butter based tomato cream seasoned with spices and herbs smell had me wanting more. The boneless chicken and sweetness of the gravy were so good, but we had three different dishes. The rest I had to take home. Another dish, I certainly would recommend too if you enjoy your chicken dishes.
Along with this curry dish, we had the Garlic Naan £3.50 to dip into this meal. The naan was cooked within seconds in searing hot tandoori ovens.
Chocolate Chai £3.50
After finishing our meals, I had my eye on the chocolate chai, as I saw how nice it looked online. Therefore, I had this yummy chocolate chai, in other words, called 'Hot Chocolate', which was a treat after having three dishes.
Food: 9 out of 10
Service: 10 out of 10
Price: 7 out of 10
Experience: 8 out of 10
Presentation: 9 out of 10
Overall: I've given this Indian restaurant an 8.6 out of 10.
Conclusion
The overall experience of the food and experience was exceptional. The food tasted outstanding and a good amount was served. The service was well organised, as people queuing up were ordered to wait for a certain amount of time for a table. By then you were able to go into the bar section for drinks until they called upon your name to have a seat. We didn't wait too long before ordering as well, as the food was served in a quick session. Seeing that everything was 50% off, it was an ideal time to choose whatever food we wanted as each dish was half-priced. The seating area at the front entrance was something to look forward to, with comfortable seats and in summer outdoors it's perfect.
The presentation of the food here was impressive. I enjoyed photographing away the food served. It looked mouthwatering as I'm sure you all can agree with me on that one too. Our total price came to be £34 for all of the above you saw, which on an ordinary day what we ordered would have been near towards £100 mark. I felt it was a win-win and taking advantage of this scheme which ends in a few days on 31st August. I'm glad I managed to go here, as I would 100% recommend it to anyone and would come back for more.
Thanks for reading my blog post on Dishoom. I hope you've enjoyed reading this review. This meal was not complimentary, all opinions written on my own. Let me know where you would like to see me review next on the blog.
ADIL MUSA
Disclaimer: All opinions and reviews here are my own, this meal was not complimentary.