Eid Party Gifts
Eid Party
If you're looking for great ideas for the upcoming Ramadan/Eid/Hajj/Umrah/Aqeeqah celebration for your homes or outdoors. You don't have to look much further as these guys at the 'Eid Party' have you covered. Instead of searching for separate items from eBay or Amazon, you can pretty much find most items in one place.
Muslim Celebration
This year for Ramadan, I've decided to collaborate with the wonderful people behind 'Eid Party'. They have the most amazing products just for those special occasions. Each year they come out with new ranges whether it be for Ramadan or Eid or just a celebration. They have truly gone from strength to strength with customers all over the world, advertising on Islam Channel.
To celebrate the blessed month and Eid. Decorating and reminding the close ones, why we celebrate is the perfect example and a way to have the younger siblings and children get excited about the upcoming festival. When thinking about where to buy such items and get into the spirit, Eid Party is your one-stop shop to buy all your wonderful ideas for your homes.
Product Selection
Here at Eid Party, you can find a huge range of items such as balloons, banners, decors, food trays and much more. I highly recommend checking out their website for their latest products. You won't be disappointed and will make you come back for more each year. They have been going on for 6 years and are still going strong with new products and ideas every year.
Helping out a good friend with this review and posting it on social media. I decided to pick some of the most fab products from their site to order from and from 'Eid Party', which made my room look nice. I even managed to get assistance from my little niece. As and my niece got involved in unpacking the gifts and blew up all the balloons in my room. Below you will see all the items I decided to opt for, giving you some inspiration on what you could order as well.
Rose Gold's "Ramadan Mubarak" Foil Letter Balloons – £8.49
The balloons are the perfect way to celebrate and welcome the upcoming festival, making the household look more peaceful during the blessed month and day.
Ten Gold Glitter Crescent Moon & Mosque Cocktail Sticks – £4.99
Looking to decorate your cupcakes, cakes or other items, you can add to its creation with these beautiful gold glitter sticks.
Gold Metallic Arabic Eid Mubarak Food Serving Tray – £28.49
This gold metallic Arabic serving tray is ideal for serving families and guests with a larger portion of snacks and food.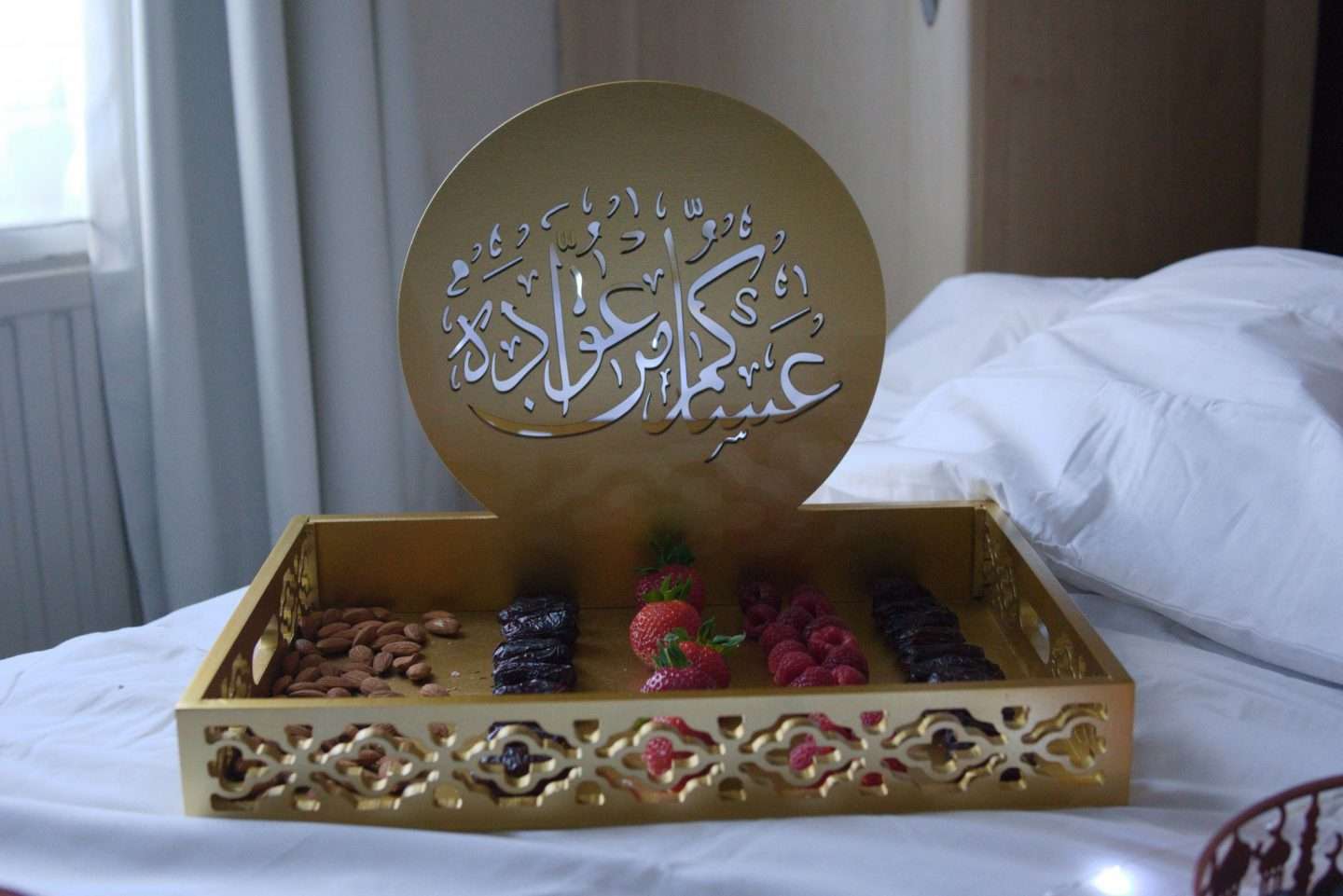 Eid Mubarak Pot Candle Electric Candles – £19.49
These electric pot candles come with pebbles when bought and are the perfect decoration for your garden or home with these lights.
Copper Metal Eid Moon & Star Food Serving Tins – £28.49
This cute copper metal serving tin is ideal for serving guests, as they will be amazed and will give compliments on how good they look.
Paper Hanging Lantern Decorations – £6.49
These paper lanterns are an amazing prop to have when decorating for Eid.
Gold Lettering Card Pennant Bunting – £5.99
You can hang these gold lettering cards for the perfect Eid occasion.
Ten Micro Fairy Lights and Jar Lights in White – £5.49
These fairy lights are quite magical and ideal, as they truly light up your room.
Masjid Al-Haram Mecca Mosque 3D Puzzle –£21.99
Get together with your small siblings and nephews/nieces to play to recreate this stunning 3D puzzle of the holy Mecca.
Blue Ramzaan Kareem Gift Bags – £6.49
These gift bags are ideal for placing your small or medium-sized gifts in a bag for Eid presents.
Conclusion
I hope you have found this post useful and will have provided you with lots of great ideas to celebrate the upcoming Eid celebration or any other Islamic special occasions. I found there are plenty of items to choose from to celebrate and have children involved. The great thing about the Eid Party is the fact you will find everything in one place. That's why they have certainly filled in a great gap that was missing for a while.
If you wish to find a discount code on any product, use 'Eid10' for a 10% discount on your next purchase through their website.
What do you think of these great gift ideas? Plenty of gifts and celebration decor to order from here 🙂
Do you have a tradition every Eid? Any suggestions for the perfect Eid party? I would love to hear your thoughts or in my latest Instagram post.
Adil Musa
Disclaimer: I was gifted with these products. Opinions are my own.