Tresind Restaurant – Dubai
Tresind Address: Level 2, VOCO Hotel, Sheikh Zayed Road,
Dubai
Tel:+971-43080440/+971-564209754
Website: https://www.tresind.com/en
During my stay in Dubai, I had a huge list of restaurants that I wanted to cover. Tresind restaurant was one of them. So after my short 12-hour visit to Abu Dhabi, I was craving some fine Indian dining after 3-4 days of not having any Indian food. I went straight to dine at Tresind restaurant for late-night dinner.
I felt this place would do me just fine since this place is known to be the best Indian cuisine in Dubai. The unique experience did not disappoint as it was pretty special and the food portion was a lot for one person.
Tresind, the name is a unique one as the first part is taken from the French word 'Tres', which means 'very' and the ending of the name 'Ind' is taken from the start of 'India'. By taking a look at the options on the menu here, you can say it is 'very Indian'.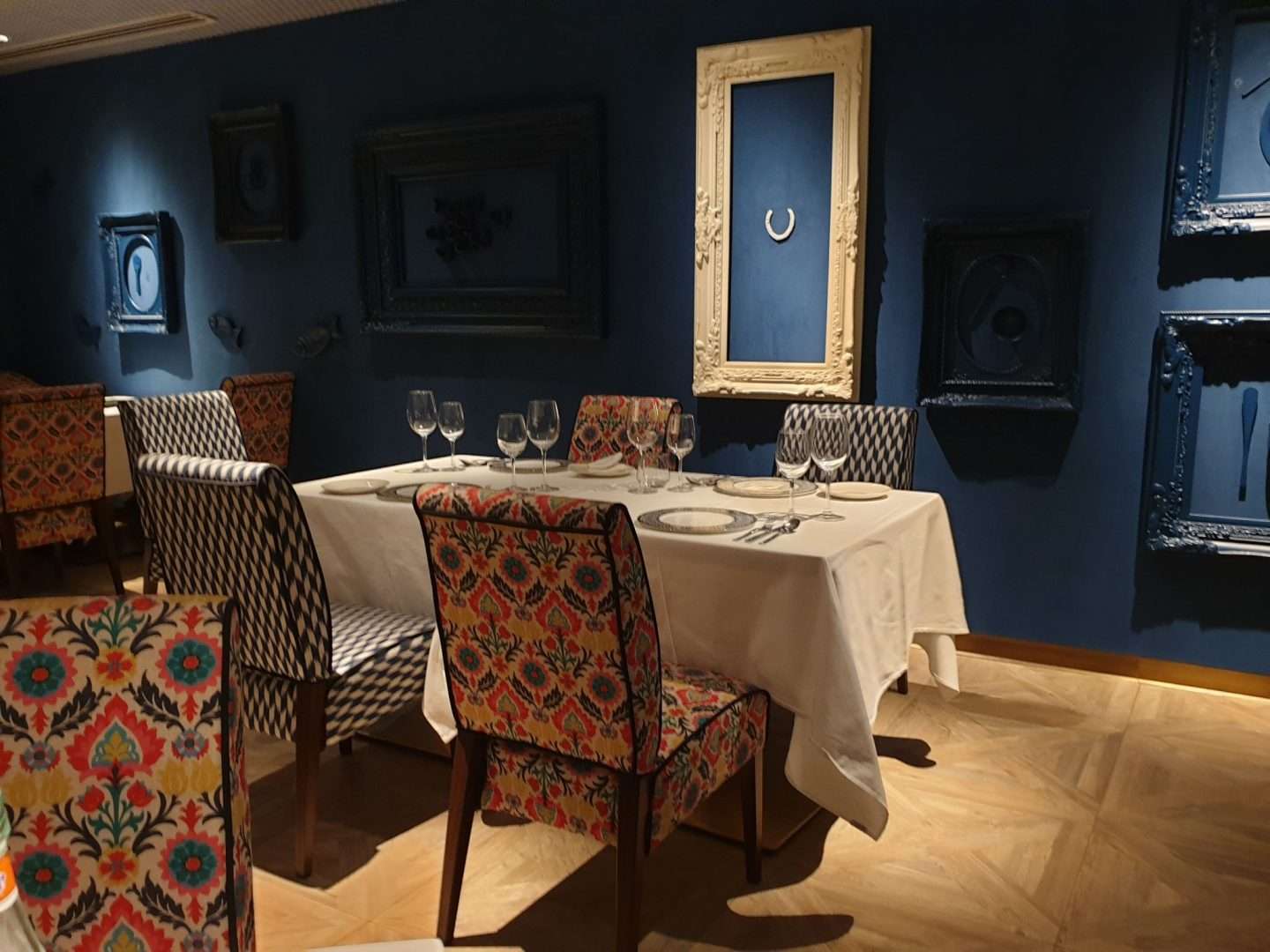 Experience
The chef of the restaurant Himanshu Saini has truly transformed traditional Indian cuisine into a modernist Indian fine dining, bringing innovation into a traditional recipe with extraordinary taste, presentation and luxury.
This place is not a place to rush your meal as you enjoy and take your time with each meal. People spend hours and hours here enjoying their meals and interactive experiences, the rooms have such an elegant touch to it and have plenty of space around the main restaurant.
They also have a private room, where they can cater for larger groups of up to 18 in a private room.
Here you can witness live food shows and other interactive experiences for the guests. At the restaurant, you can experience a dull light with comfortable sitting chairs/sofas making the vibe just like the traditional culture of India.
Food at Tresind
I was warmly greeted by the friendly staff at the reception when I arrived, who escorted me to my table. I had a look around at the main course menu and starters, there were so many mouth-watering options to choose from but the prices looked high.
The main course dishes range from 130+ Dirhams, which seems like a lot when converting to pounds, as it's £27 for just one dish. However, after some time I opted for the delicious looking Lamb Chops, Chicken Biryani and a bottle of water. I can't complain about the size of the dishes, especially with the Biryani as you could easily share between two people if you didn't have a big appetite.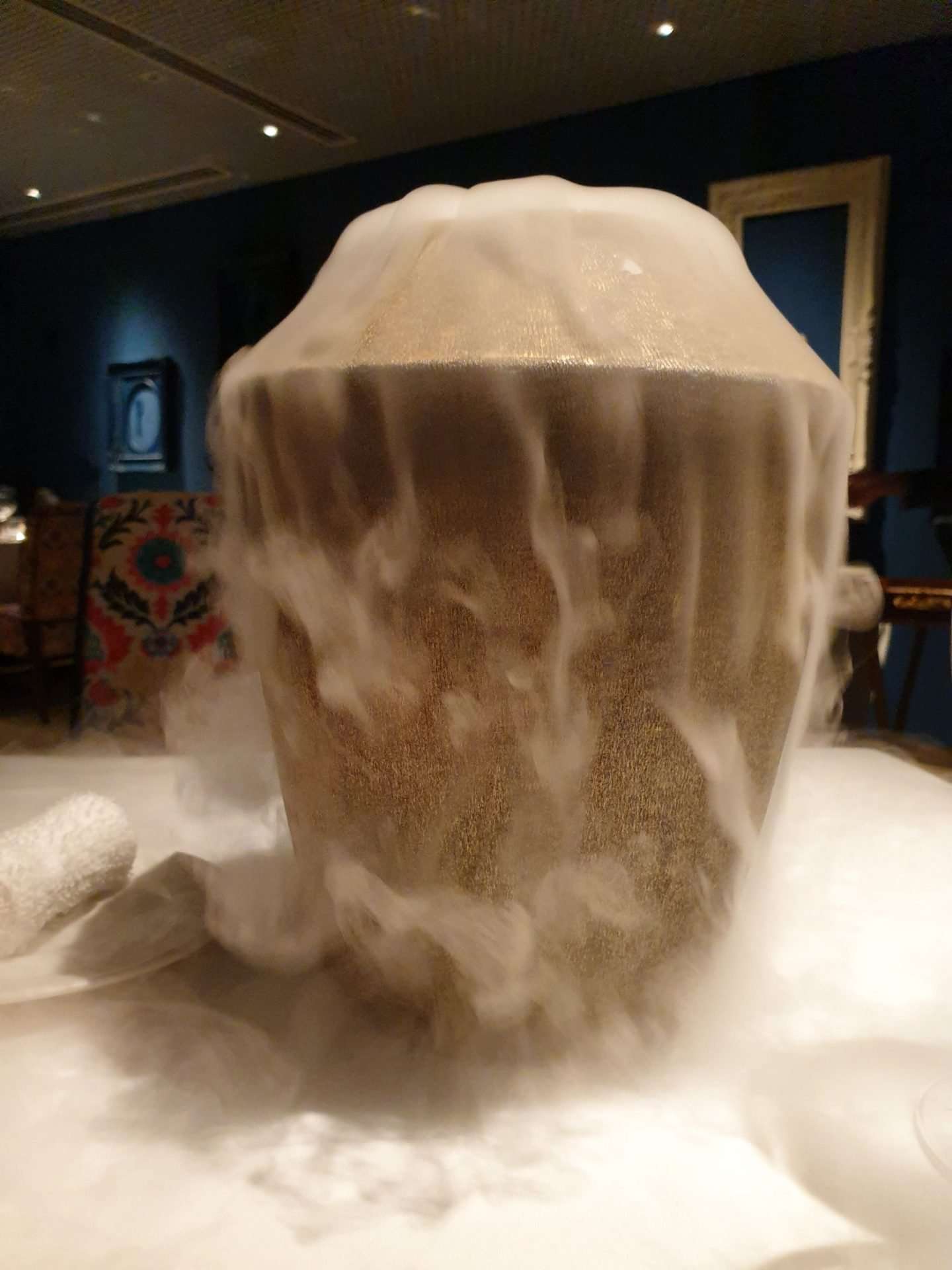 Once your senses come to life with the above, refresh aromatherapy. You are provided with a box filled with small snacks for starters. It contained four small sections filled with various different snacks, like Gol Gappay, Fried Lady Finger, Vegetable Sushi and Vegetable Pie. One great thing about this restaurant was the fact the chef explains all the starters and their specialities.
The food you order is always served on a trolley as per each course, and you usually see the chef delivering your food to the table. This provides the customer with a personal touch about your experience here at the restaurant.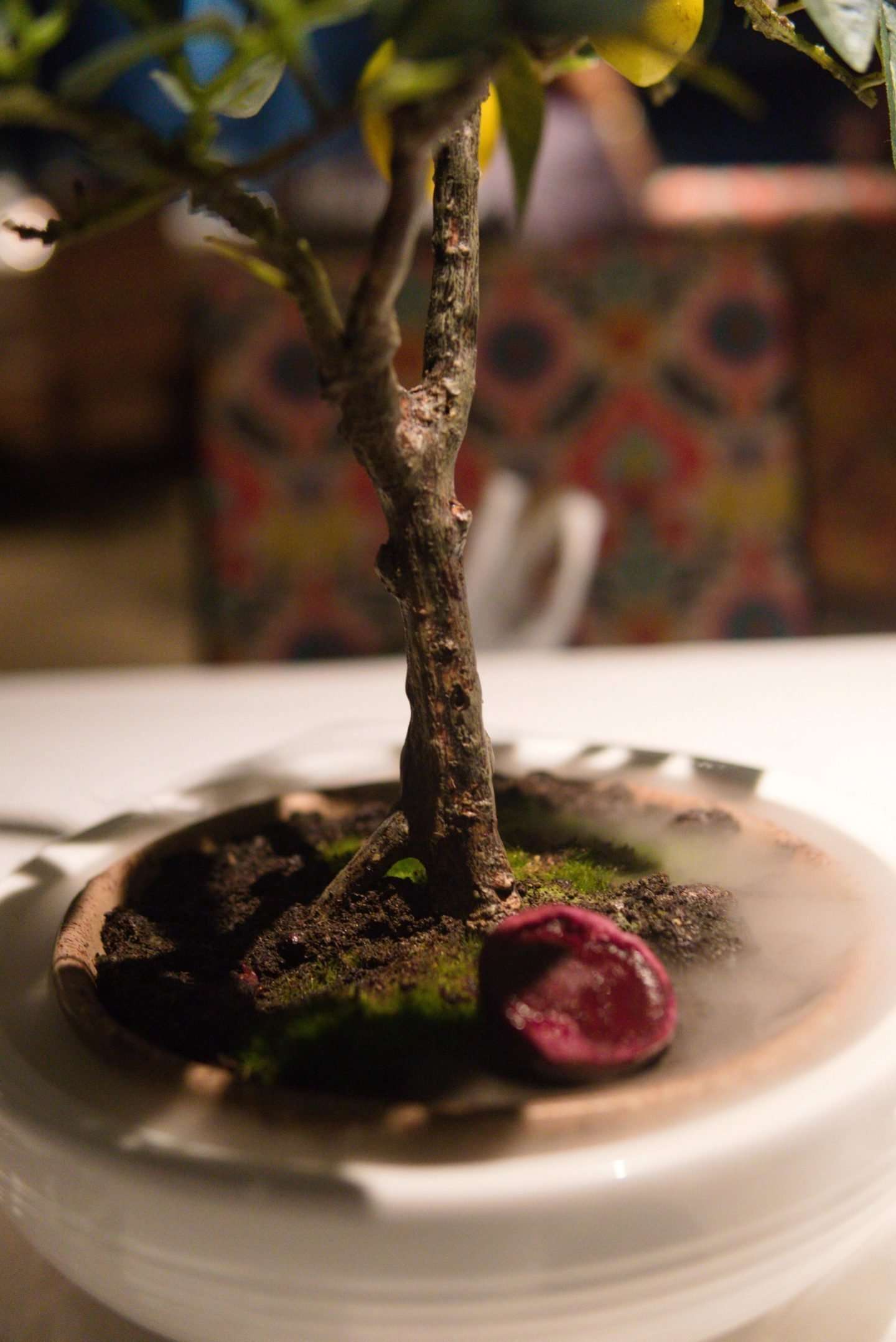 Once you are fully satisfied with the starters, they come to your table with another refreshing aromatic. This makes you ready and prepped to eat your main course meals. I thought this was pretty cool as the smoke was floating all around the table, something new that I've experienced before and it made my taste bud come to sense.
Chicken Biryani – 140AED
The Chicken Biryani was so nice, the flavour and taste were divine. Chicken Biryani was filled with chicken pieces, coriander leaves and chicken masala. I wish I had more space in my tummy at that time, but I was way too full from trying other dishes they provided me with. Although I felt this would have been a perfect dish to share, as I was on my own it was far too much for me.
Tandoori Lamb Chops – 130AED
Tandoori Lamb Chops were the juiciest and most delicate looking item on my table. By seeing this dish on Instagram, it made me opt for these, although I do love a lamb chop either way.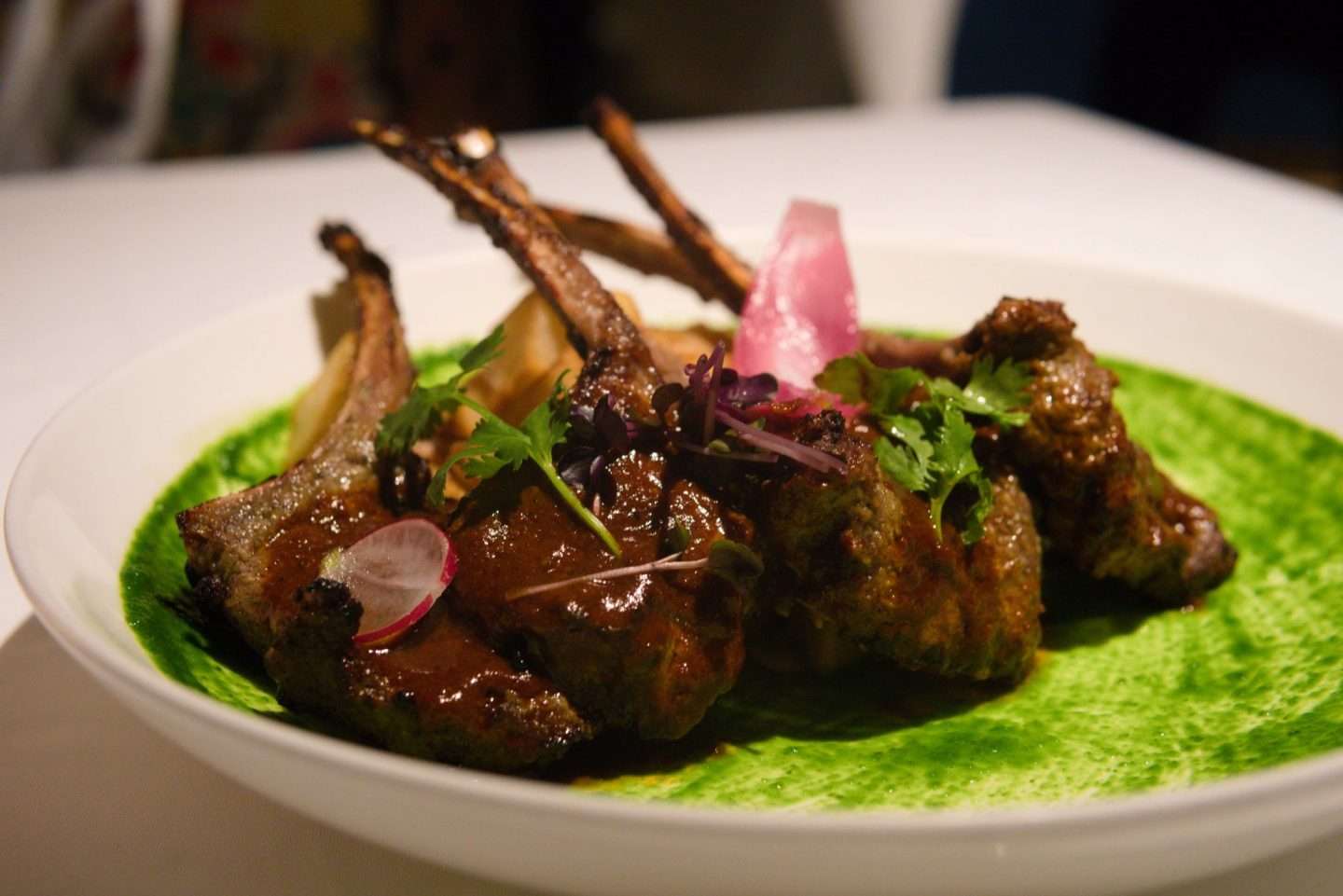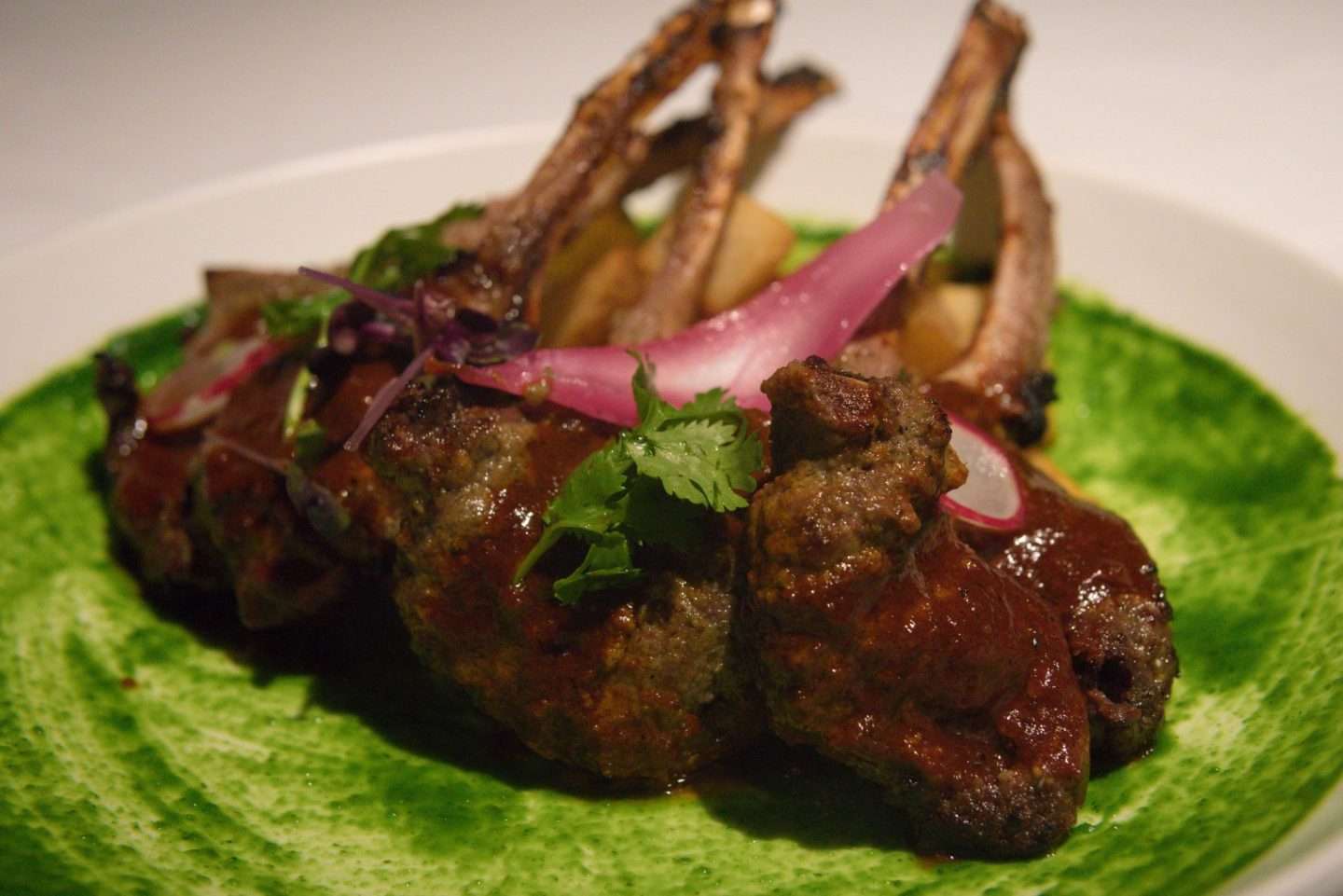 Chettinad Chicken Curry
This Chettinad Chicken Curry is one of the most famous dishes known in the South Indian state. The dish was a delightful combination with a hint of spices and the aroma.
The presentation of the dish was a unique one, something I've not seen before, as it came in a coconut filled with onions and parsley enhancing the taste. The dish also came with 'Appam' which is a special bread from Kerala, India. Basically, Black Bread is made up of Black Thai Rice.
Volcanic Lava Lamp Mocktail (Passion Fruit & Mango)
Wow! Where do I start with this scientific experiment called 'The Science Lab' I was in for a surprise as I wasn't expecting this to arrive at my table. This lava lamp mocktail is a very popular item here and most people opt for the experience.
What they do is put dry ice in a giant beaker in front of you. Then pour liquid, which makes the smoke come out and bubbles burst at the bottom of the beaker. To finish the touch they add berries, which you can choose from. They had a selection of flavours to choose from, but I was provided with 'Passion Fruit & Mango'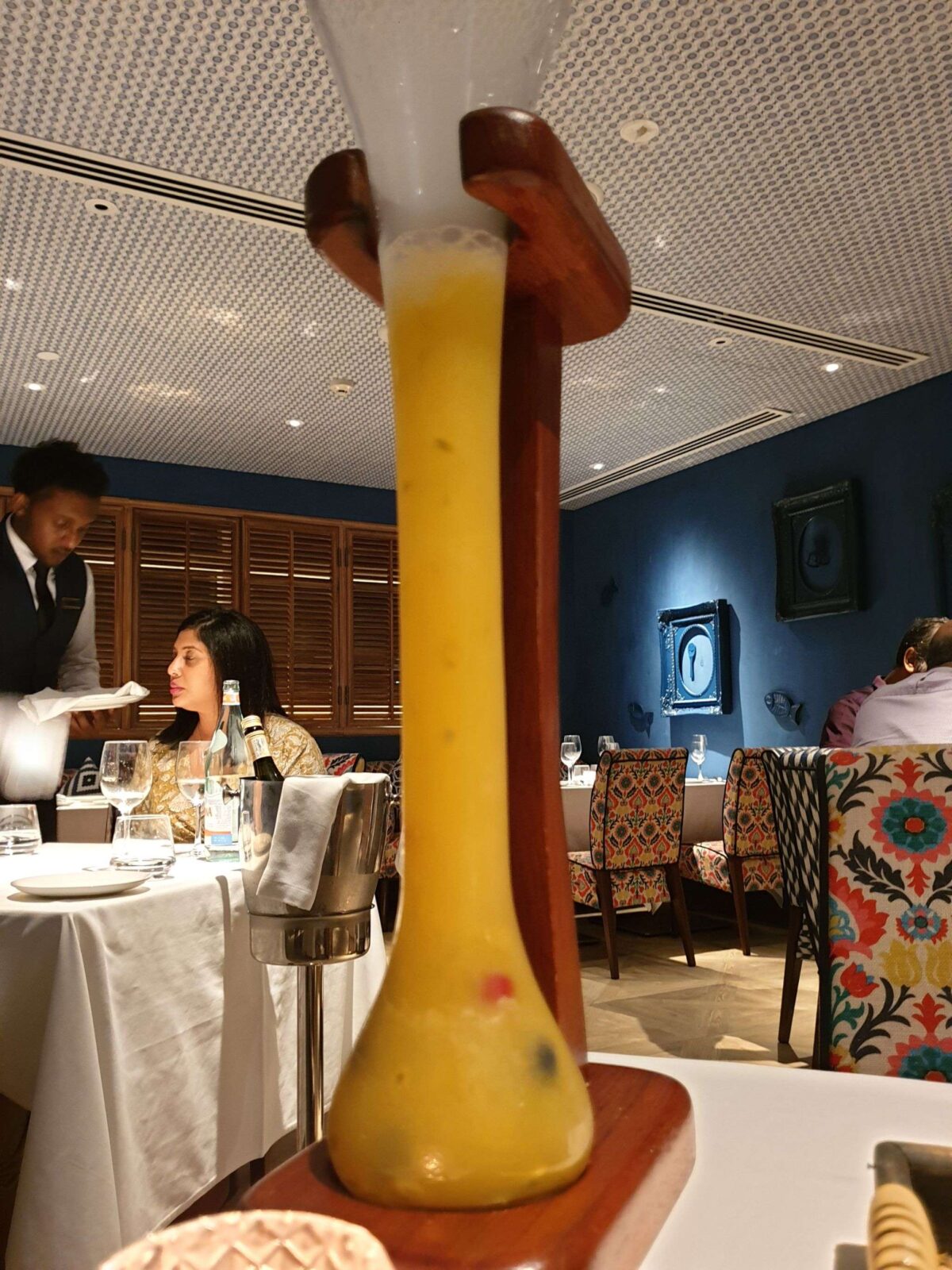 Main Courses and Appetisers
To conclude my meal they gave the above leave plates, which contained chocolates and sweet mint as an appetiser. Knowing me as a chocolate lover that I've always been, the right-hand side plate was finished in a flash.
Conclusion
This place combines science and food. I would certainly recommend this place, as you're truly treated to an exquisite experience by highly skilled trained chefs. I felt this restaurant would be ideal for dining with a group or as a couple. Here you tend to find a modern twist of Indian flavour with the food they serve.
The highlight of mine at this place was the lava lamp mocktail experiment. This made me excited as I was well and truly surprised by them. This Science Lab drink felt like I was back in science class with an experiment being held on your table with smoke and bubbles bursting.
I thought to myself this place was expensive, but if you share the food with others or as a couple it probably would have worked out cheaper. However, the atmosphere I found was quite lively until it was starting to get late, but you can see customers being treated to live interactive food shows at their tables.
The presentation of the food was simply stunning just as I like it to be. You tend to find this place fully packed with people all around the world. I would recommend making a reservation beforehand if you are coming in a group. Nevertheless, I prepared myself beforehand and made a reservation whilst I was in the taxi, just to be on the safe side.
Cost
The total bill came to 361 AED, including a service charge of 29.50 AED. The total in pounds would have been £77 for just one person. For luxury dining, it was extremely high and expensive. Hence, I most probably wouldn't recommend coming here on your own. As it would do a lot of damage to your wallet. However, experiencing the cuisine with friends/family/couples once in a while is a good idea.
At the moment, with the holy month of Ramadan going on, they have a set menu for 179 AED for Iftar. Looking from others experiences, I can only imagine having your Iftar here would have been an unforgettable one.
Opening Hours:
Mon – Sun 12:00 – 15:00 & 17:00-23:30
Food: 8 out of 10
Pricing: 6 out of 10
Atmosphere: 8 out of 10
Presentation: 8.5 out of 10
Experience: 8.5 out of 10
Overall, I gave this place a rating of 7.8 out of 10.
Thanks for reading my post from Tresind, Dubai. I hope you enjoyed the images and review from here. I well and truly enjoyed my unique Indian cuisine experience here, since I simply cannot stay away from the traditional back home food wherever I go.
Have you been to Tresind in Dubai? Leave a comment below and share your experience from here.
Adil Musa
Disclaimer: I was provided with a few complimentary dishes but the rest was paid for and all views/opinions are my own.