Knowsley Safari Zoo (Prescot)
Knowsley Safari Address: Prescot, Knowsley, Merseyside, L34 4AN
During my holiday experience in the North West and Scotland with my family. Time sure does fly by so quickly, therefore I'll try to post as much as I can over the next few weeks depending on my energy.
You can check out my Vlog from my visit to Knowsley Safari which includes an amazing show by the Sea Lion.
Safari Park Experience
One day whilst staying over in the North West of England. I picked out activities, which we could do that day and suitable for kids and for us adults too. Also, a few people did recommend that I check this place out, so I went ahead booked for the family. This
was located
in Liverpool a nice family trip out in the wild park was a well-spent day.
A road trip from Blackburn to Knowsley Safari took us up to an hour. The day started off driving through the park and watching the wild animals out on the fields from our cars. We saw the likes of Rhinos, Ostrich, Zebras, Buffalos, Camels and many more animals.
They were times, where we saw animals walking past cars, running, eating food off people's car's bonnet
.
Drive-Thru Safari
There are two parts to this Safari, one on foot and the other whilst driving. The first part of your day consists of a drive-through of 30 odd minutes. As you watch wild animals walking/running out on the field freely, ensure you stay in your cars. After you drive past the fields, you then go on foot, witness other animals and enjoy a small theme park. My sister bought her kids tokens for a few rides, which allows one adult to go on for free. Therefore, I took that advantage and went on some of the rides with my nephews. There were roller coasters, pirate ships and train rides across the park, which we went on and enjoyed.
We even noticed 2-3 baboons sitting on cars, whilst they were driving. At times it is dangerous as they usually tend to damage cars by breaking side mirrors, etc. Therefore, we avoided going to that area full of baboons. All in all, it was a really nice experience to see various wild animals.
Zebra
As you drove past certain areas of the field you noticed a group of Zebra's together. Not too far from them, I noticed an ostrich running around freely and searching for food. Both minding their own business and on the other side of the field, you see other animals.
Camels
They were wild, they sat in the middle of the road or walked along the cars. There was one moment, where I captured one of the camels walking and then as soon as they noticed food on the bonnet of a car, it ran to have some. Eventually, it got told off by the zookeeper.
Tortoise
The tiny tortoise had a little home of his own and could be seen on foot. As well as this beautiful looking peacock, which was literally walking around all over the theme park. This caught everyone's eye as it was just wandering around freely.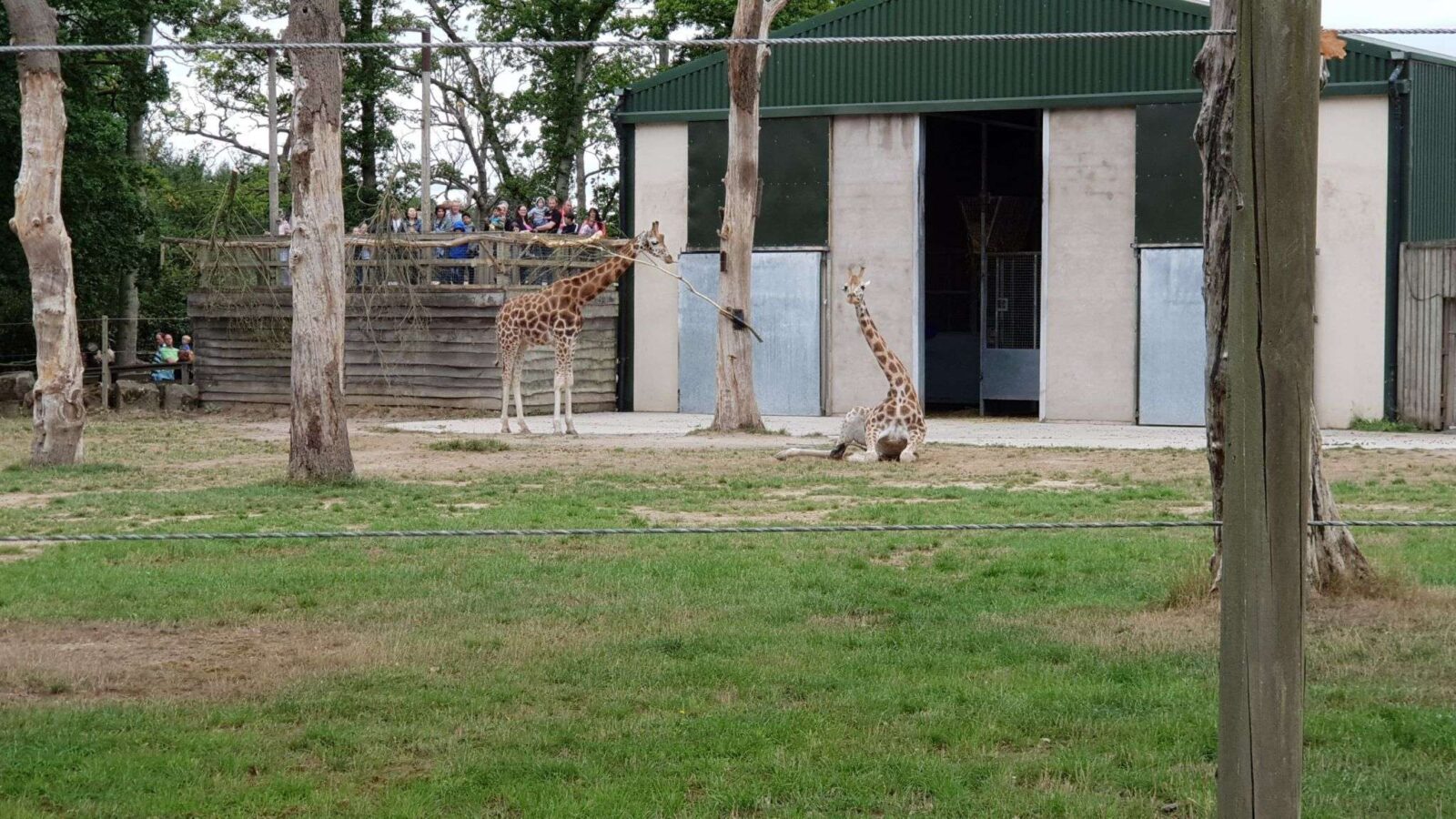 How nice do the giraffe's look? I couldn't help but capture such nice pictures of them. Near the giraffe's home, there were some famous Meerkats wandering around in and out of their homes. Pretty cute!
On our way around the park whilst driving, we spotted a couple of Rhino's running wild. I noticed one of them protecting their son from another animal as parents would do. Chasing away the other animal who was trying to get close to the baby Rhino. Also, saw the zookeeper calling the baby rhino for some medical treatment.
Sea Lion Show at Knowsley Safari
We noticed a couple of tigers, laying around, but it was probably that time of the day when they doze off. The closest we got to them was when we drove past them, as on foot they were way too far away to see. However, my personal favourite part of this trip was watching the live show. As they put on a great performance with their tricks and entertainment for the people. You can catch some of the live action, including an amazing jump from these animals to touch a red ball.
I would recommend going if there isn't one nearby as it was an enjoyable day out especially with my nephews. They truly enjoyed themselves on the rides and seeing the wild animals was a really nice experience with them.
Thanks for reading my blog post, hope you enjoyed my YouTube Vlog too! Feel free to subscribe and leave your comments with your thoughts! 🙂
Have you ever been to Knowsley Safari? I would love to hear your experience and thoughts.
Keep a lookout for my next few posts, as they will include my short trips to Glasgow and Edinburgh.
Adil Musa