The Banc
Banc Address: 261 – 263 West Green Road
London, N15 3BH
Tel: 0208888 8898
Website: http://www.thebanc.co.uk
Nearest Station: Seven Sisters (Overground or Underground)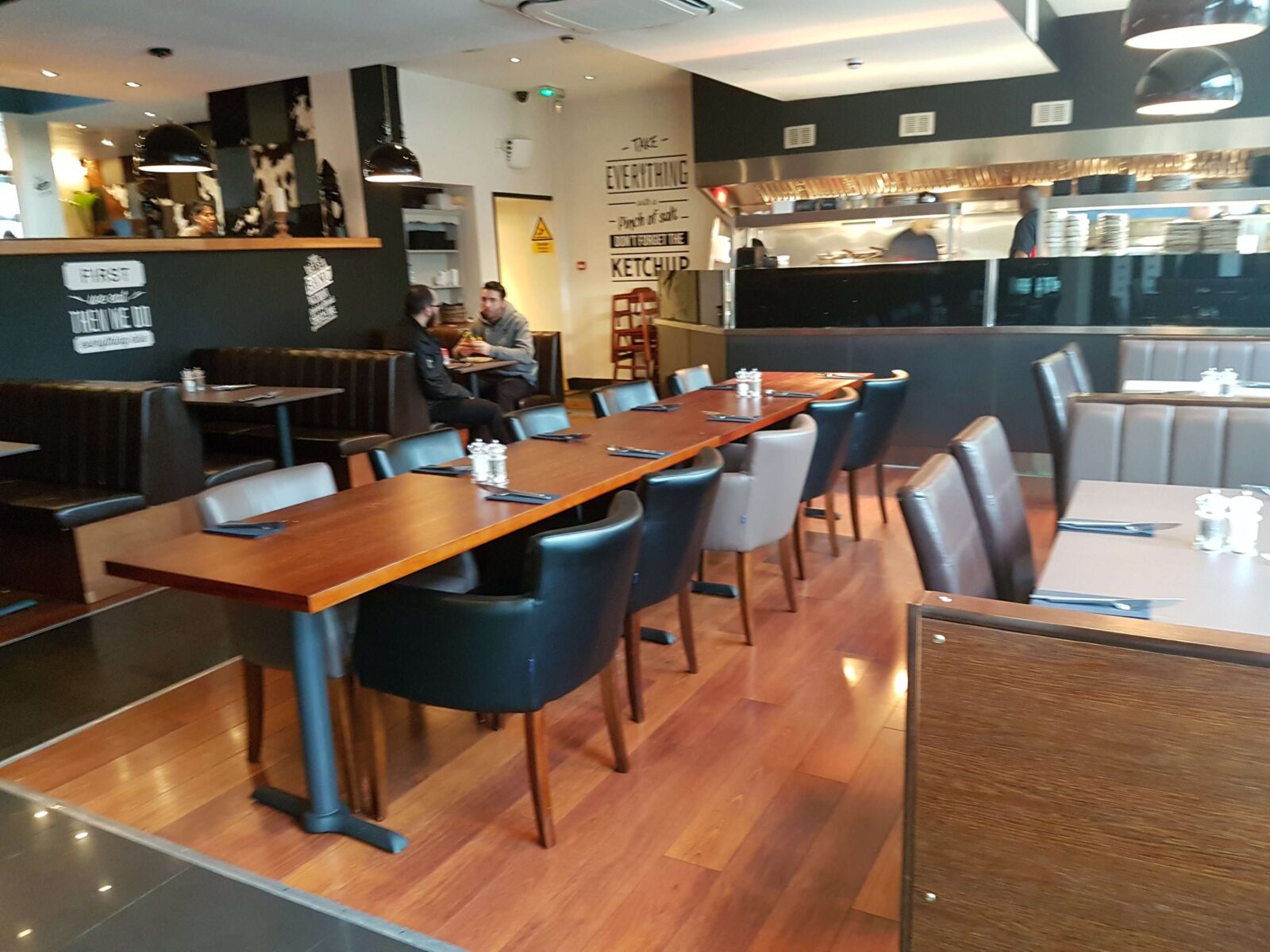 THE BANC LOCATED IN NORTH LONDON AND OWNED BY TWO FRIENDS. A FRIENDLY ENVIRONMENT & PROBABLY ONE OF THE BEST PLACES TO TRY FOR STEAKS AND BURGERS.
After communicating with such down to earth owners of The Banc. Over the weekend, I made time to travel down from East London to Seven Sisters in North London with my brother in law via the tube. Although travelling there by car is quicker, since if you travel by tube, which in our instance we did, you will have to walk approx. 10 minutes from Seven Sisters station to reach this restaurant.
Experience
However, the restaurant surrounding area is pretty nice, as you have a local park just opposite this restaurant if you feel as if you want to go for a walk in the park after having a big nice meal here.
As we walked in I found it to be quite a busy and nice environment, which is always a good sign. Furthermore, the vibe around this restaurant is ideal with plenty of families and couples gathered having meals together. Luckily enough, as we visited The Banc during the afternoon period roughly after 2 pm, we managed to get a spare table next to a window to capture those good moments of these amazing food selection.
One of the co-owners welcomed us, as we took our seats and checked what was ideal to have from their menu. As a keen photographer and foodie, I just could not wait to take pictures of all the amazing food, although my bro in law could not wait to dig in as he had to be a bit patient with me.
First, we got started off with mocktail drinks. I opted for the *Mango Colada* and my brother in law chose Tropical Cooler both priced at £5 each. After having a sip of the Mango Colada, I truly was amazed how refreshing this Mocktail tasted. This surely had to be one of my favourite Mocktails for sure, instantly I thought this Mango Colada would be such an ideal drink to make and have for Iftar when the month of Ramadan arrives soon.
Mango Colada (£5) + Tropical Cooler (£5)
Whilst we waited for our main course meal to arrive in one piece, we got given a starter with a couple of pieces of bread and hummus to dip on top to give that an extra flavour. Once we had finished it was over to all of our delicious main courses we picked.
The T-bone steak priced at £23 was a delightful looking steak. This was prepared medium rare and soft since it was really easy to cut through with a steak knife and not too chewy. The steak had included on top some french beans & cherry tomatoes, mushrooms and green peppercorn gravy served with a choice of hand-cut chips as we had a choice of having chips or mash. I opted for chips for this steak and then mash potato with the mixed grill.
Although my brother in law wanted the steak to be spicier, it was just about right, as I personally do not enjoy spicy food but then other people do.
As everything came one after another, if you scroll down you will see our food art at the end of this post. Below was the Mixed Grill filled with mashed potato, green peppercorn and tomato priced at £14.90.
This mixed grill included various items such as the chicken thigh, lamb fillet & two lamb chops with mash, served with French beans & cherry tomatoes. I opted for this as I had in mind it would be sizzling but this still looked the part, with the chicken pieces mixed with the chewy lamb chops. I really enjoyed eating the mashed potato as it was soft and healthy.
Mixed Grill (£14.90)
*Caesar Salad*, I thought was a real good choice from my brother in law. This had given me a good idea to take a similar looking dish for lunch to work. I'm always undecided and find it difficult to choose from various dishes. I usually get bored of the same dishes, but this looked like a brilliant idea, especially when it's a healthy dish and an ideal food to have when you're based in an office environment.
This stunning looking salad was prepared amazingly. I loved how the presentation was done as it made the image I took look powerful. This Caesar salad priced at £9.50 is definitely my recommendation for you all to choose from their menu.
Caesar Salad (£9.50)
Next on the table were the Chicken Wings priced at £6 cooked with BBQ sauce. These are not your ordinary wings from a chicken shop, but delightful sides to have with or after your main meal giving you that extra taste of BBQ.
Chicken Wings (£6)
Lastly, I ordered one of the beef burgers called Deluxe Burger. This insanity, looking burger, was truly a beast and hard to finish. As good as it tasted it sure looked appealing as shown below. This burger had various toppings inside. This included melted Stilton cheese, turkey bacon, onion rings, mushrooms, mixed salad, Jalapeno, tomato and lettuce.
Deluxe Beef Burger (£9.50)
Leaving the best spread of the day until last this was our food spread. Saturday was surely a big food feast between the two of us. These dishes varied from healthy, steaks, burgers, chicken and chips. I would like to thank Fabio and his team for such great treatment and service on our visit.
Much appreciated for organising this for us.
All the menu items from The Banc restaurant are listed here with a range of various dishes they have and pricing.
The Banc do not the only service for their food and drink, but Shisha as well for those who love and enjoy Shisha. After our meals, we did go down to check out how the atmosphere was around the Shisha lounge and ordered an 'Iron Bru' flavour Shisha as well as these two refreshing Egyptian Tea & Spiced Chai for the two of us as shown below.
Conclusion
Overall, thoughts were as good as the food presentation, drinks, service and the atmosphere. This was as expected seeing other reviews before our visit. However, I truly enjoyed my whole afternoon experience at The Banc. The staff and Fabio were helpful and made sure everything was okay with me. I have to say though that day was truly an eventful and busy one, as I had to rush from one event to another.
Opening Hours:
Mon – Thu 17:00 – 23:00
Fri – Sat 12:00 – 00:00
Sun 12:00 – 23:00
Food: 8 out of 10
Pricing: 8 out of 10
Atmosphere: 8 out of 10
Presentation: 8 out of 10
Experience: 8.5 out of 10
Overall, I will give this place a rating of 8.9 out of 10
I would definitely come again and recommend it to anyone looking for a halal spot in town. As it's a very friendly and nice family vibe inside. If you have families or friends who live within the Tottenham area or even if you are around London, worth a visit.
All their meats are Halal as stated on their menu.
Be sure to enter our collaboration competition on my Instagram page from Friday.
The two also own Tarshish a Turkish and Mediterranean grill, and a local breakfast cafe called Banc Brasserie.
Much appreciated.
Adil Musa
Disclaimer: I was invited to review this place