Band of Burgers
Band of Burgers Address: 154 Hoe St, Walthamstow, London E17 4QH
Telephone: 020 3674 6106
Nearest Station: Walthamstow Central Station
Band of Burgers – Walthamstow Branch
The ever-so-popular halal burgers have now landed in Walthamstow called 'Band of Burgers'. After venturing and starting at Brick Lane and Camden, they have now ventured out to the busy streets of Walthamstow. Not many miles away from where I live, so I decided to drive down to try out their new branch.
Since opening a week ago, I kindly got an invite here this weekend to try out their newly launched menu. Before they expand their menu with a wider range of food in a few weeks. As I took my brother-in-law and sister last time, I decided to treat my little nephew with me this time. Even though I had done my research on the menu beforehand, I already knew what I wanted to order for myself.
However, my nephew went for a chicken burger called 'Chick on Fire' and a mango madness drink. The shop isn't too huge, but there are plenty of tables to cater for large families/friends or couples. The interior decor is quite nice as they have a sink and the room in the way of a rain forest themed, you also find an arcade game next to it. I don't think the arcade game worked when I visited. I noticed the street fighter logo on top, so those who are fans of this classic game, get yourself down and play when it eventually turns on.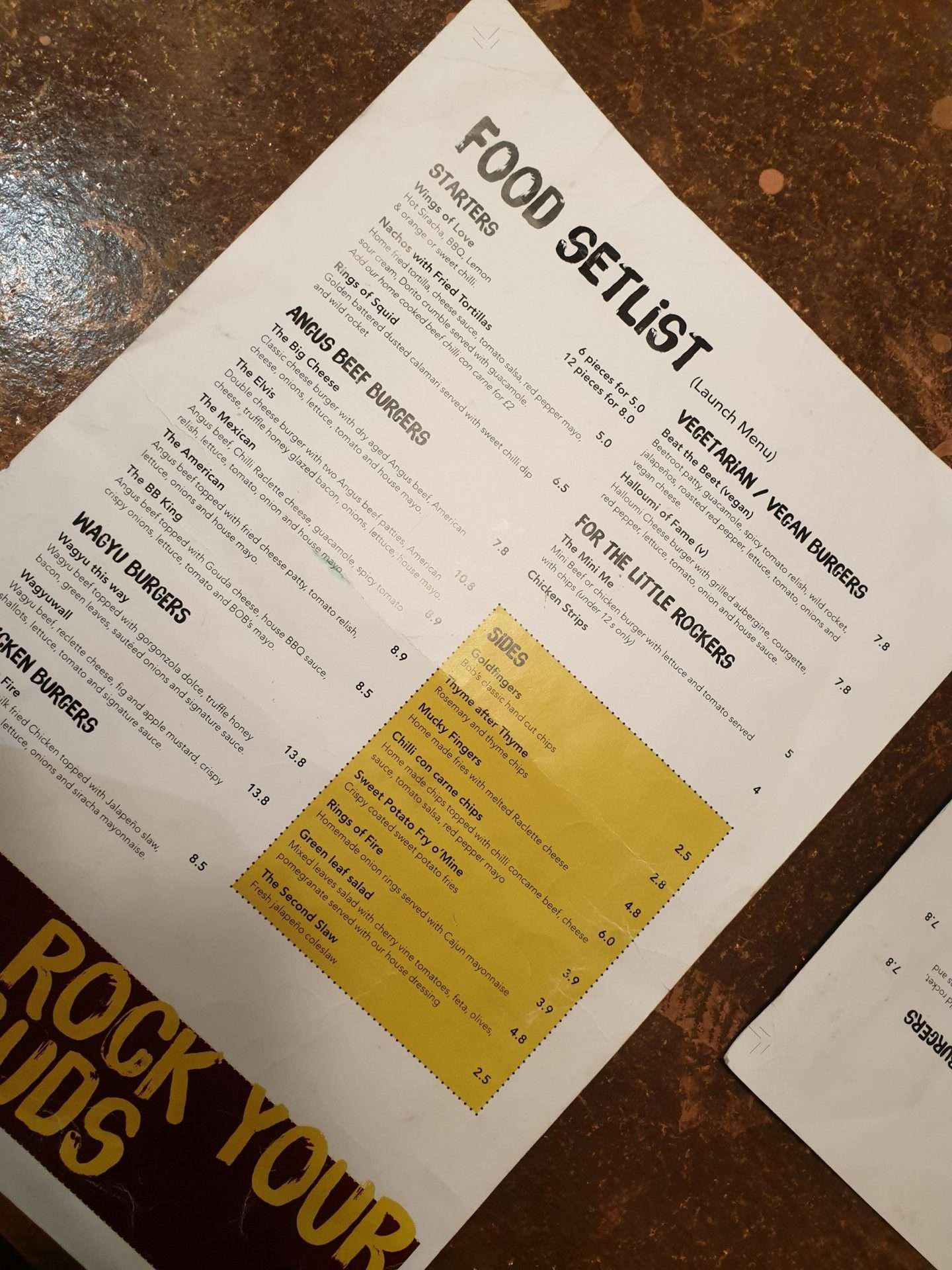 What did I order? It was the mouthwatering 'The Elvis' burger that was filled with two Angus beef burgers topped with cheese slices on top. It also includes truffle honey glazed bacon, onions, lettuce, and house mayo. For my sides I ordered 'Mucky Fingers' it was chips filled with melted cheese, Mmm! and for the drink, I had the 'Strawberry Fields Forever.
As we waited for our orders to be ready, the owner came down to me and showed me how the Elvis was made which looked good, and got my taste buds ready to eat when it arrived. It wasn't too long as we probably waited for around 10 minutes for the food to arrive, as we sipped on our drinks which came to us first.
Mocktails
Once our main food came, it was time for the camera to eat first. I managed to capture the food as many times as I could for that perfect shot before we tucked into our food. As we eagerly waited, we made sure everything was okay and the way we wanted it, which was nice as they took care of us.
I felt the 'Elvis' burger was nice but filling that burger alone could fill your stomach up, but the flavours and taste were pretty good. I wasn't too fond of the mucky finger chips, but probably due to being so full from the burger I couldn't finish them. However, the strawberry cheesecake dessert was yummy. I just can't leave without having the dessert 🙂
My nephew thought the chicken burger was pretty reasonable too, although he gave it a 5/6 out of 10, which I would say is a pretty honest answer. Seeing as he has always loved and ordered chicken burgers each place visited.
Burgers
Dessert
For the time being, they only have cheesecake available on their dessert menu. Therefore I had to choose between the flavour of Strawberry or Lotus, where I went with the Strawberry as I knew that it would look and taste better for me. My 10-year-old nephew thought the same too as we tucked into this delicious dessert.
Food: 6/10
Service: 9/10
Atmosphere: 6/10
Price: 5/10
Experience: 8/10
Presentation: 7/10
Overall Rating: 6.8/10
Overall, the experience was a nice Saturday evening to spend with my nephew, as we had a lot of fun together. The food was nice and filling for both of us. We both loved the strawberry cheesecake as it was delightful to eat after our meal. The service and atmosphere were good as it was quite busy even at 6 pm as the rush usually turns up after 8 pm. I would say the price is affordable depending on what you order and how many of you turn up.
My experience was great as I was pleased with everything, having the extra time to shoot and go around the shop, etc. The presentation was debatable as it was messy but it did not take away from the fact it tasted really good. The owner Zeeshan was really kind and nice who treated us with such respect and a humble manner.
It's nice to see Walthamstow has so many options available to choose from in terms of a halal burger joint.
Hope you enjoyed reading this review. Be sure to check out my page for a behind-the-scenes shoot.
Disclaimer: I was invited to review the launch of the new branch