Band of Burgers
Band of Burgers Address: 154 Hoe St, Walthamstow, London E17 4QH
Telephone: 020 3674 6106
Nearest Station: Walthamstow Central Station
Band of Burgers – Walthamstow Branch
The ever so popular halal burgers have now landed in Walthamstow called 'Band of Burgers'. After venturing and starting at Brick Lane and Camden, they have now ventured out to the busy streets of Walthamstow. Not many miles away from where I live, so I decided to drive down to try out their new branch.
Since opening a week ago, I kindly got an invite here this weekend to try out their newly launched menu. Before they expand their menu with a wider range of food in a few weeks. As I took my brother in law and sister last time, I decided to treat my little nephew with me this time. Even though I had done my research on the menu beforehand, I already knew what I wanted to order for myself.
However, my nephew went for a chicken burger called 'Chick on Fire' and a mango madness drink. The shop isn't too huge, but there are plenty of tables to cater for large families/friends or couples. The interior decor is quite nice as they have a sink and the room in the way of a rain forest themed, you also find an arcade game next to it. I don't think the arcade game worked when I visited. I noticed the street fighter logo on top, so those who are fans of this classic game, get yourself down and play when it eventually turns on.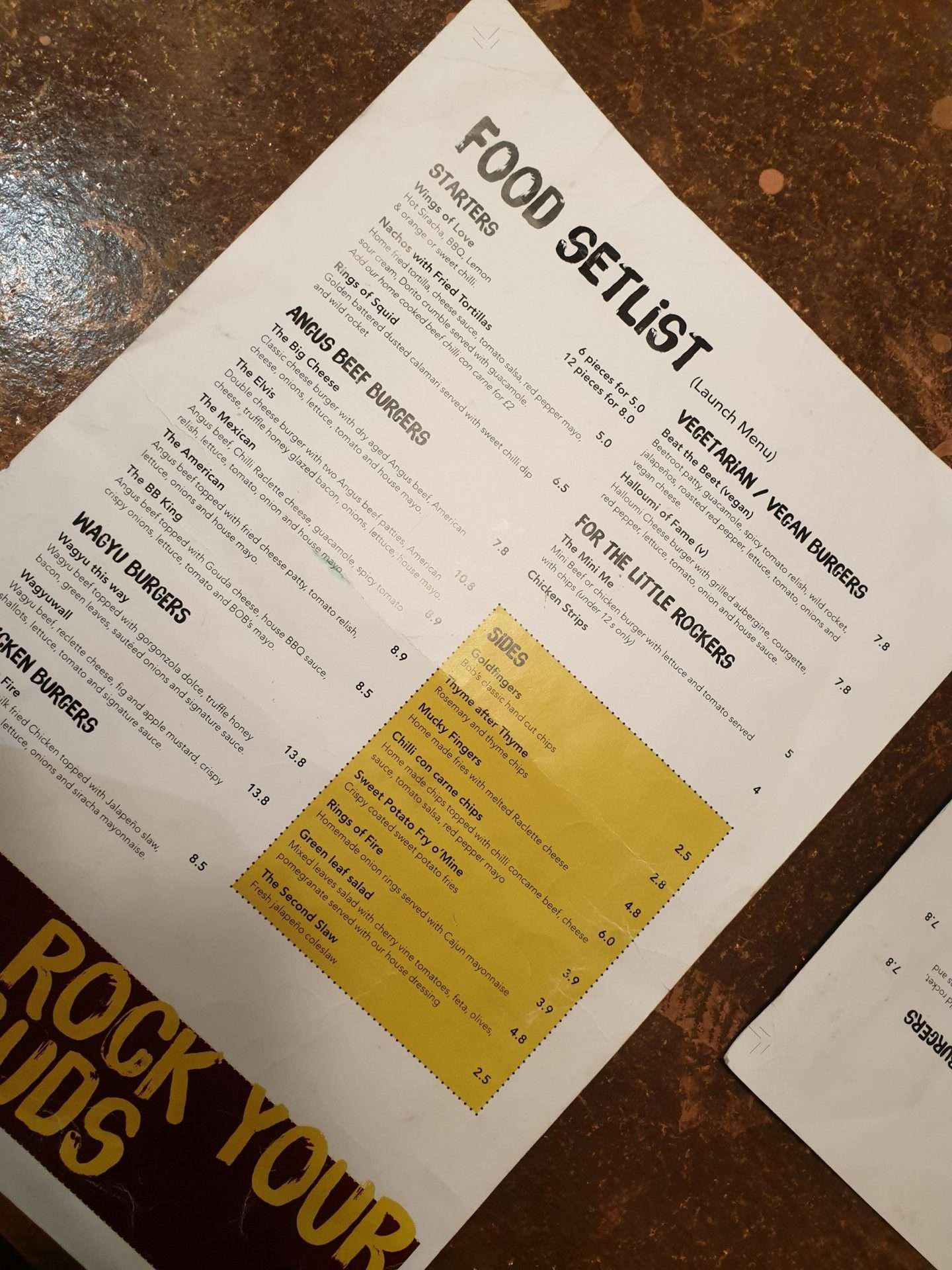 What did I order? It was the mouthwatering 'The Elvis' burger was filled with two Angus beef burgers topped with cheese slices on top. It also includes truffle honey glazed bacon, onions, lettuce and house mayo. For my sides I ordered 'Mucky Fingers' it was chips filled with melted cheese, Mmm! and for the drink, I had the 'Strawberry Fields Forever'.
As we waited for our orders to be ready, the owner came down to me and showed me how the Elvis was made which looked good and got my taste buds ready to eat when it arrived. It wasn't too long as we probably waited for around 10 minutes for the food to arrive, as we sipped on our drinks which came to us first.
Mocktails
Once our main food came, it was time for the camera to eat first. I managed to capture the food as many times as I could for that perfect shot before we tucked into our food. As we eagerly waited, we made sure everything was okay and the way we wanted it, which was nice as they took care of us.
I felt the 'Elvis' burger was nice but filling that burger alone could fill your stomach up, but the flavours and taste were pretty good. I wasn't too fond of the mucky finger chips, but probably due to being so full from the burger I couldn't finish them. However, the strawberry cheesecake dessert was yummy. I just can't leave without having the dessert 🙂
My nephew thought the chicken burger was pretty reasonable too, although he gave it a 5/6 out of 10, which I would say is a pretty honest answer. Seeing as he has always loved and ordered chicken burgers each place visited.
Burgers
Dessert
For the time being they only have cheesecake available on their dessert menu. Therefore I had to choose between the flavour of Strawberry or Lotus, where I went with the Strawberry as I knew that it would look and taste better for me. My 10 year old nephew thought the same too as we tucked into this delicious dessert.
Food: 6/10
Service: 9/10
Atmosphere: 6/10
Price: 5/10
Experience: 8/10
Presentation: 7/10
Overall Rating: 6.8/10
Overall, the experience was nice Saturday evening to spend with my nephew, as we had a lot of fun together. The food was nice and filling for both of us. We both loved the strawberry cheesecake as it was delightful to eat after our meal. The service and atmosphere were good as it was quite busy even at 6 pm as the rush usually turns up after 8 pm. I would say the price is affordable depending on what you order and how many of you turn up.
My experience was great as I was pleased with everything, having the extra time to shoot and go around the shop etc. The presentation was debatable as it was messy but it did not take away from the fact it tasted really good. The owner Zeeshan was really kind and nice who treated us with such respect and humble manner.
It's nice to see Walthamstow has so many options available to choose from in terms of a halal burger joint.
Hope you enjoyed reading this review. Be sure to check out my page for a behind the scenes shoot.
Disclaimer: I was invited to review the launch of the new branch
Brick Lane Branch
Address: 22 Osborn St, Whitechapel E1 6TD
Opening Times: 12pm-11pm
Website: www.bandofburgers.co.uk
Nearest Tube: Aldgate East Station
Band of Burgers has run since 2015 in Camden and is now their newly opened Brick Lane. They offer a wide choice of burgers, with veggie options or choosing your own concept, which allows you to make your very own burger. This place has grown ever since, as you can tell with their second branch opening a perfect place for tourists and halal foodies.
After ordering and trying one of their burgers via UberEATS. The BOB restaurant invited me to try their new branch in Brick Lane. In the image below, you can see their set main menu, as you can see plenty to pick from when it comes to burgers, steaks and sides. Whether you are vegetarian or a meat lover there have you covered on the menu. Zoom into the image to have a closer look.
After meeting and speaking to Zeeshan who really looked after me, my sister and bro in law with his great speedy service. Much appreciated, so we first chose our non-alcoholic mocktails mojito's where we chose Passionfruit and Strawberry Fields Forever between the three of us.
Then came our Signature Steaks called 'Sirloin' meat served with green leaf garnish, roasted tomato, and a choice of mushroom sauce. We all loved dipping into the mushroom sauce that sure was a treat as it had its soft cheesy taste to it. The steak was pretty soft and easily chewed, personally not a steak person but felt it was good enough to share it around.
Starting off with burgers from top to bottom, 'Sexy Mexican Maid' was chosen by my sister as she preferred chicken burgers that were spicy, so what's included inside?
Jalapenos
Chili Cheese
Spicy Tomato Relish
Guacamole
What my brother in law ordered was 'The Tapenado', which was another chicken steak burger. Served with Olive Oil, sun-dried Tomato Tapenade and wild rocket.
Finally what I had been the in-demand popular 'Big Love Wagyu Burger', which was really filling and huge as I was struggling to finish it all but still grateful as it sure tasted exotic. If you are looking to order this burger, then make sure you have not eaten beforehand as this will fill you up and be sure to have plenty of liquid on the side, as you will feel thirsty pretty quickly.
What's included in the Wagyu Burger? A homemade premium Wagyu beef burger filled with:
Red Onion Marmalade
Maple Glazed Turkey Bacon
Melted Monterey Jack Cheese served with Bone Marrow
The sides we chose, as seen from the images above were 'Mucky Fingers', which were homemade fries with white truffle oil and parmesan cheese. Also, we had 'Goldfingers' these were BOB's classic chips and lastly we opted for 'Sweet Potato Fry O'Mine'.
To close our meal we had a really nice dessert which called 'Churros with Gelato' this plate we shared around between the three of us and I must say it was my highlight of the night.
The presentation was appealing with a combination of two flavours 'Roasted Peanut Butter' or 'Madagascan Vanilla'. Although these are well-known and famous in Winter Wonderland. I suppose when Winter Wonderland's not open, these churros are worth trying, as the churros were really soft on the inside and crispy from the out. We thoroughly enjoyed our churros with gelato for dessert.
Overall, I have to thank Zeeshan and his team at Band of Burgers for his welcoming experience, preparing and making sure everything was fine for us. If you have not checked out 'Band of Burgers' in either place. Go check them out! They will be having new desserts menu pretty soon.
Food: 5/10
Service: 9/10
Atmosphere: 7/10
Price: 6/10
Experience: 9/10
Presentation: 7/10
Overall: 7.1/10
Thanks for reading this post at the Band of Burgers restaurant in Brick Lane. Feel free to leave your thoughts and comments in the comments section below. Also below you will see the original review from Band of Burgers via UberEATS.
UberEATS
Buy yourself a treat delivered straight to your office's with £5 off your order. Use the promo code 'eats-adilm841ue' via UberEATS app. Servicing the zone 1 London area, however, with a firm focus on expanding reach throughout London and eventually the UK, orders can be placed between hours of 11 am and 11 pm.
The UberEATS app detects your place to pinpoint your local restaurants and you then simply choose your restaurant. The cost of your meal will depend on your choice of restaurant. Like Uber, you can track where your driver is at with your delivery. You could also rank your driver and rate the food with a simple time-saving thumbs up or down.
Office lunch point of view, this is an ideal way to grab yourself lunches for the team or just to treat yourself. For many restaurants, the app is a great way of reaching regular customers on a daily basis, but it also allows potential new clients in their area an easy, hassle-free way of trying their products.
On Friday, I decided not to take home-cooked food to work as I usually tend to do for lunch. Whilst I was still deciding on what to have for lunch, I saw a post on Instagram that was offering a 20% off order with UberEATS.
So I went on UberEATS website, surfing around to see what's available to have around my workplace in St Paul's, London. After thinking about what could be bought, I saw the newly opened Halal Burger place-based in Brick Lane. I've seen people posting their images all over social media about this place. I thought to myself what better way to end the week than trying out their burgers for a lunchtime treat.
After deciding for some time over which two different burgers to have, whether it would be Voodoo Chili Burger or Halloumi of Fame. I did eventually opt for the 'Halloumi of Fame' Burger, as I felt the presentation would look good and taste better.
What I was most impressed by was their presentation on this burger. It looked so appetising, I would say it is a well worth popular Burger if you're struggling to decide what to have on their menu.
What included in my Halloumi of Fame burger?
Inside Halloumi of Fame there was:
Halloumi cheese layered with grilled aubergine,
Courgette
Red peppers topped with cheddar cheese
House mayo
Lettuce
Tomato
Onion
Gherkins
If you've not checked them out and are always undecided what to have. You can always find a whole range of UberEATS restaurants closest to your offices in Central here. Enter your details and see what's available to you.
Although you may have to be nearby to buy from BOB. It is worth checking Band of Burgers, as there is plenty of mains and sides to choose from as shown below.
That's all for the Band of Burgers Review.
Much appreciated for taking the time out to read my blog post.
Adil Musa