Top Tips For Alton Towers Resort
Alton Towers Address: Farley Ln, Alton, Stoke-on-Trent, ST10 4DB
Website: https://www.altontowers.com/
Ever tried the most thrilling ride of your life? At Alton Towers Resort, you can expect many epic rides, which will give you an adrenaline rush. After, the winter lockdown ended. The theme park was eagerly waiting for people to come back and enjoy UK's biggest theme park.
Hence, last month in September myself and my partner went on a mini staycation over in Manchester from London. This cut the journey to Alton Towers short, where it took an hour and a half to arrive at the standard car park. Luckily, we decided to visit off-peak on a Wednesday, where there were no school holidays and people were at work, so queue time for rides was minimal.
Despite the little scare of showers on the forecast, the day turned out to be brilliant and was warm all day. The atmosphere was great, especially at the Oktoberfest festival area. I will share my top tips to make most of the day worthwhile and my experience.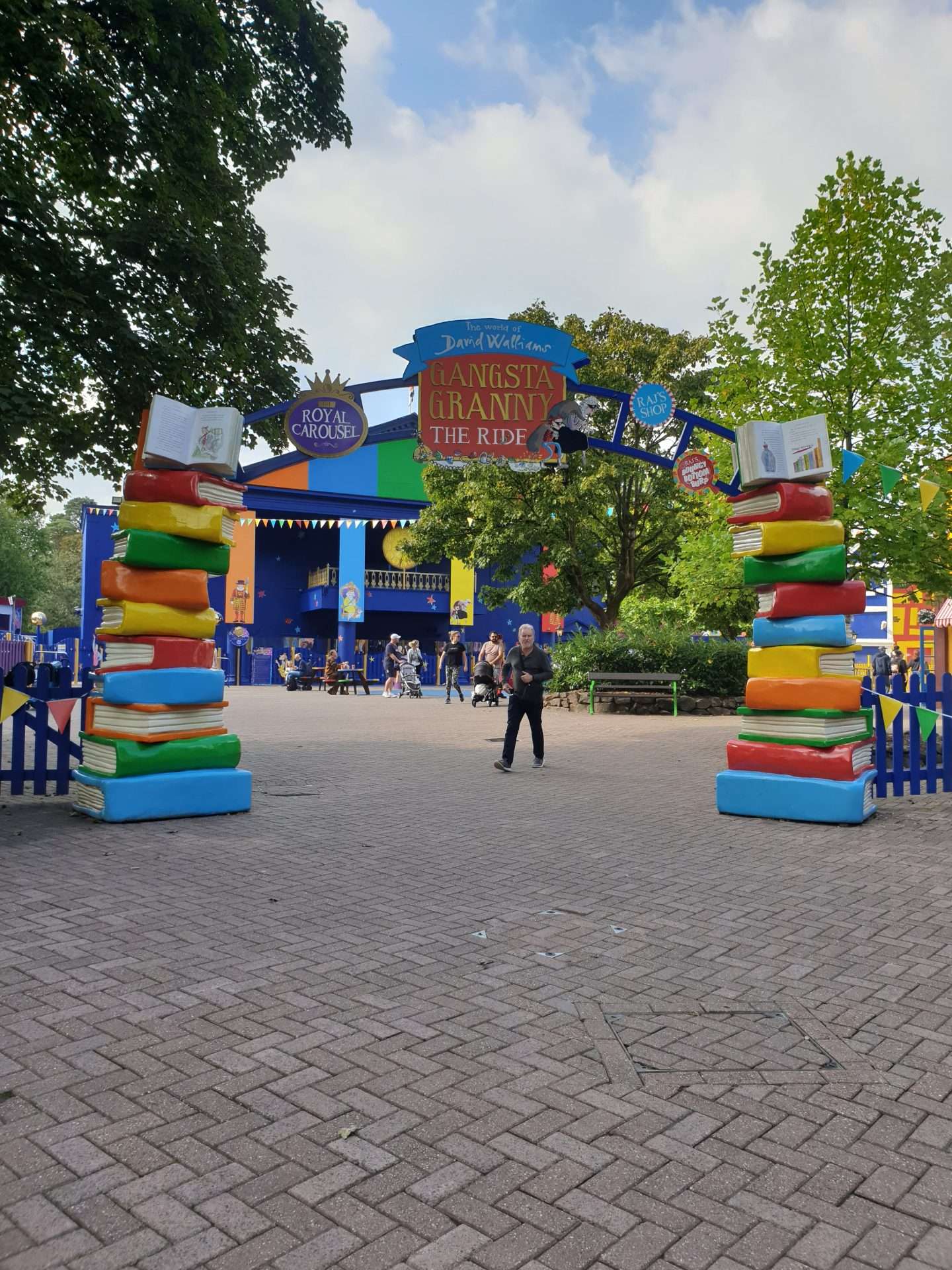 Alton Towers Top Tips
Bring a water bottle or spare one, as you will need it after some of the thrilling rides.
Also, a good thing about Alton Towers is that they have refillable machines across the resorts. Therefore, you can keep on refilling your bottles with either water or soft drinks. When you're going on rides, you have storage/ride cages to put your belonging on, so you can leave them there.
Take your own lunch or snacks to the resort.
Make sure you stock up on your snacks/lunch because the queue can get very long on peak days. Although it may be quieter during off-peak, you can expect long queues and prices just as high. Plus you will have very limited options for food, as I only noticed one restaurant opened. There is an Asda on the way to Alton Towers (roughly 10 minutes), where you can stock up beforehand. However, we did order two wraps from the restaurant called Eastern Express (Halal) as we were hungry. Luckily it was just a 5-10mins wait, so we didn't miss out on much.
Optional (Purchase Express Parking)
If you wish to avoid monorail and wasting time, try to purchase express parking because waiting for the monorail feels like it takes forever for your turn. I can only imagine the queue during peak time being insanely long. As it took us around 20 to 30 minutes to arrive inside the theme park. That was off-peak time even after the restrictions were lifted. However, I did take a chance and parked at the standard parking area. Probably worked better for us as we were done with most things by 4 pm.
Try to arrive as early as possible
If you're visiting the resort, be sure to download the Alton Towers app. Making you aware of what rides are available and where there are located. The app will also show you the live queue time for each ride, thus you can plan your next ride accordingly.
Download the Alton Towers Resort app or take a picture of the map
If you're visiting the resort, be sure to download the app so you're aware of what rides are available and where they are located. The app will also show you the live queue time for each ride, thus you can plan your next ride accordingly.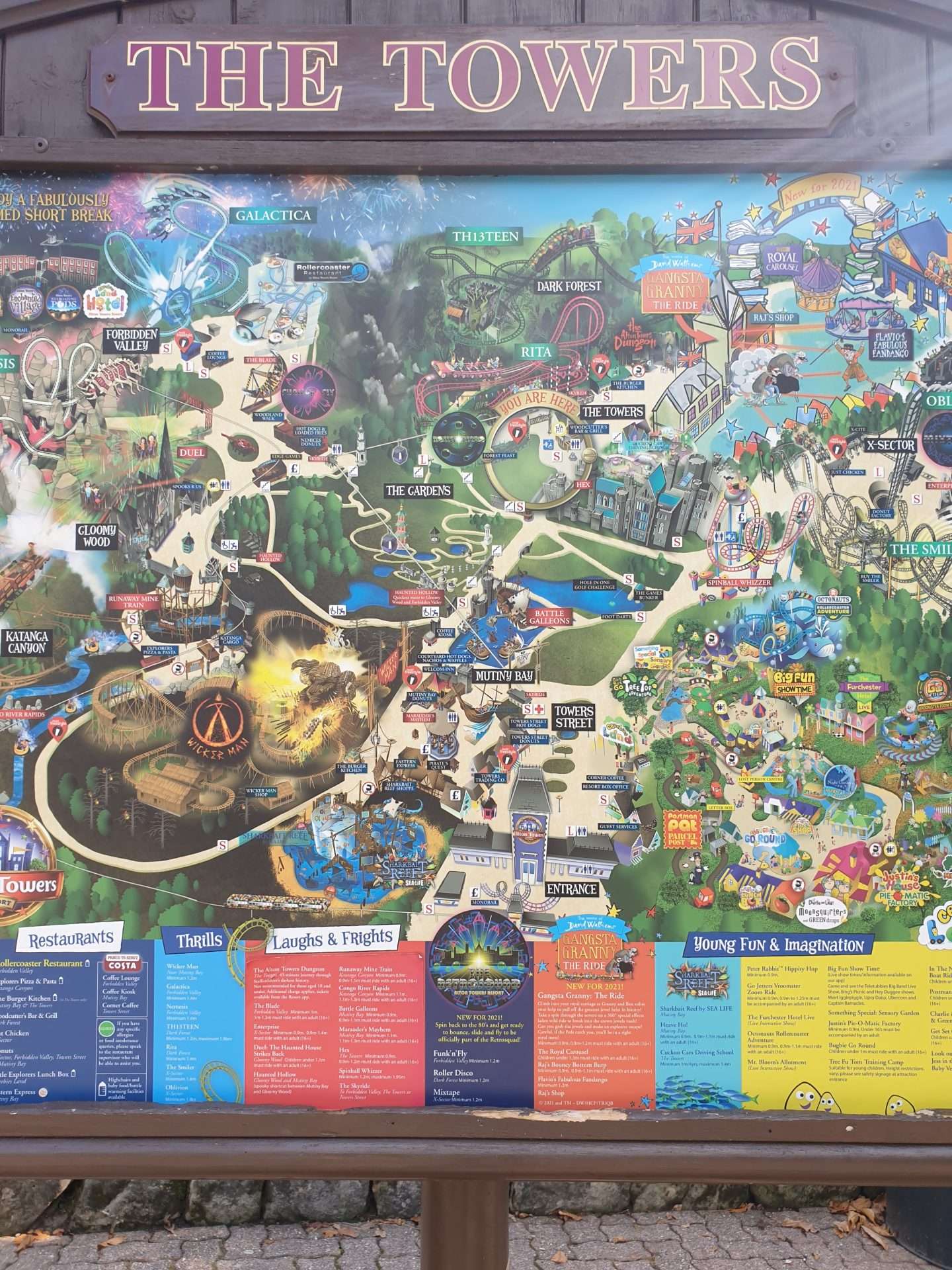 This is because well-known rides like Oblivion, Rita, Wicker Man, and The Smiler tend to have big queues all day. Therefore try and get those out of the way before enjoying the rest of the others.
Book your visit outside of the school holidays
You will no doubt have the best time when visiting off, as I did. I would recommend visiting between Mon-Thursday because that's when it's less busy off-peak times. Plus you will manage all the rides you want in good time as they will be barely any queues.
Buy Alton Towers digital photo app rather than printed photo vouchers.
If you looking to purchase photos of your experience on rides, get the digital photo app as that works out cheaper. As you can just print them out yourself as buying a printed version works out expensive.
Alton Towers Experience
When we arrived at 10:30 am, we had to queue for 30 minutes or so, for our turn for the monorail as we parked at the standard parking area. However, once we were inside the queues were empty, so the first thing we did was head over to the Th13teen roller coaster, which had no queues. As I can't handle fast rides, I had my eyes closed throughout most of it, whilst my partner had the time of her life.
Rollercoasters
Thereon, we went exploring and running around the park to see where we could go next. We did avoid Oblivion, Galactica and The Smiler. As I couldn't handle those rides, but we did go on all the other rides that were there. One not to be missed was The Wicker Man rollercoaster, such a brilliant ride, arrive here sooner as queues are usually long here.
They give a virtual scare before you enter the ride. One of my favourites was the Runaway Mine Train. The staff makes you go around 3-4 times announcing 'Choo Choo' on the mic every time you go past.
There were a couple of rides, I looked forward to going on. This was the Congo River Rapids & Gangsta Granny, both turned out quite disappointing. Congo River Rapids was pretty boring going in circles, whereas Gangsta Granny's effects were too short-lived. Bit of 4D action with just blowing air and twisting around in your seats.
If you have any specific rides in mind. Try and take the Sky Ride, known as the cable car. This will save you the journey from walking from one end to another. That's how we found the Gangsta Granny area and Retro Squad. Towards the end of our visit, we went on the Spinball Whizzer and then Hex which made me feel dizzy.
Alton Tower's Sharkbait Reef By Sea Life
Sharkbait Reef by Sea Life was a little tour, as you walk around looking at sea life creatures in person. Ideal if it's raining during your visit, as you can spend some time looking at fish and sharks. I enjoyed capturing a bit of the sea life world as we saw many creatures in their habitat.
You have staff members talking on the mic about all the sea creatures, and you can listen to them and ask any questions you are unsure about anything.
Tickets
You can grab and book student discount tickets on UniDays or Totum App for £20. Otherwise, tickets cost £34 each online on the Alton Towers website. I got the student discount tickets for both of us, so totalled £40 for the two of us.
Conclusion
Overall, Alton Towers was brilliant and great for all ages as we had such an adrenaline rush going from one rollercoaster to another. This was my first time visiting here. I recommend coming to the UK's largest theme park as there are lots to check out as a couple, with friends or families. We managed to ride 90% of the rollercoaster from my list excluding rides that go upside down before we both got tired.
The Hex was a very cool ride as it takes you through a virtual journey before ending up spinning in circles in the dark. Also, you will spot many local funfair rides here. Hence, I recommend saving your £££ from local parks if you're planning your visit by going on the retro rides at Alton Towers instead.
Thanks for reading this guide to visiting Alton Towers in 2021.
You can check my latest vlog from Alton Towers.
You may also like to read about my visit to Peak District: