Crome London
Crome London is London's first french toast cafe located in St Christopher's in London. You can find this latest trendy cafe and try some of the yummiest french toast made with brioche bread. They were seriously good!! You can decide whether you want Savoury or Sweet from their menu. I tried one of their french toast of my choice, after being invited to come down.
As I opted for a Savoury dish called 'Smashed Avo Hollandaise'. If you're looking for your next Insta/TikTok cafe, you have to check this spot out. It's filled with picturesque food and neon signs. The seating area can be tight inside. Hence they have plenty of seating areas outdoors. In addition, you can check out the French Toast prepared on the grill at the front. Providing a live experience of how it's cooked in front of your eyes.
HOW TO GET THERE?
The best way to arrive at this cafe is via tube. The closest train station is 'Bond Street Station' which take the Central Line or Jubilee line. As you come out of the station, head towards St Christophers Place, where you see Crome alongside other cafes. Crome is open from 11 am until 11 pm, so you'll have plenty of time to enjoy lunch or dinner there.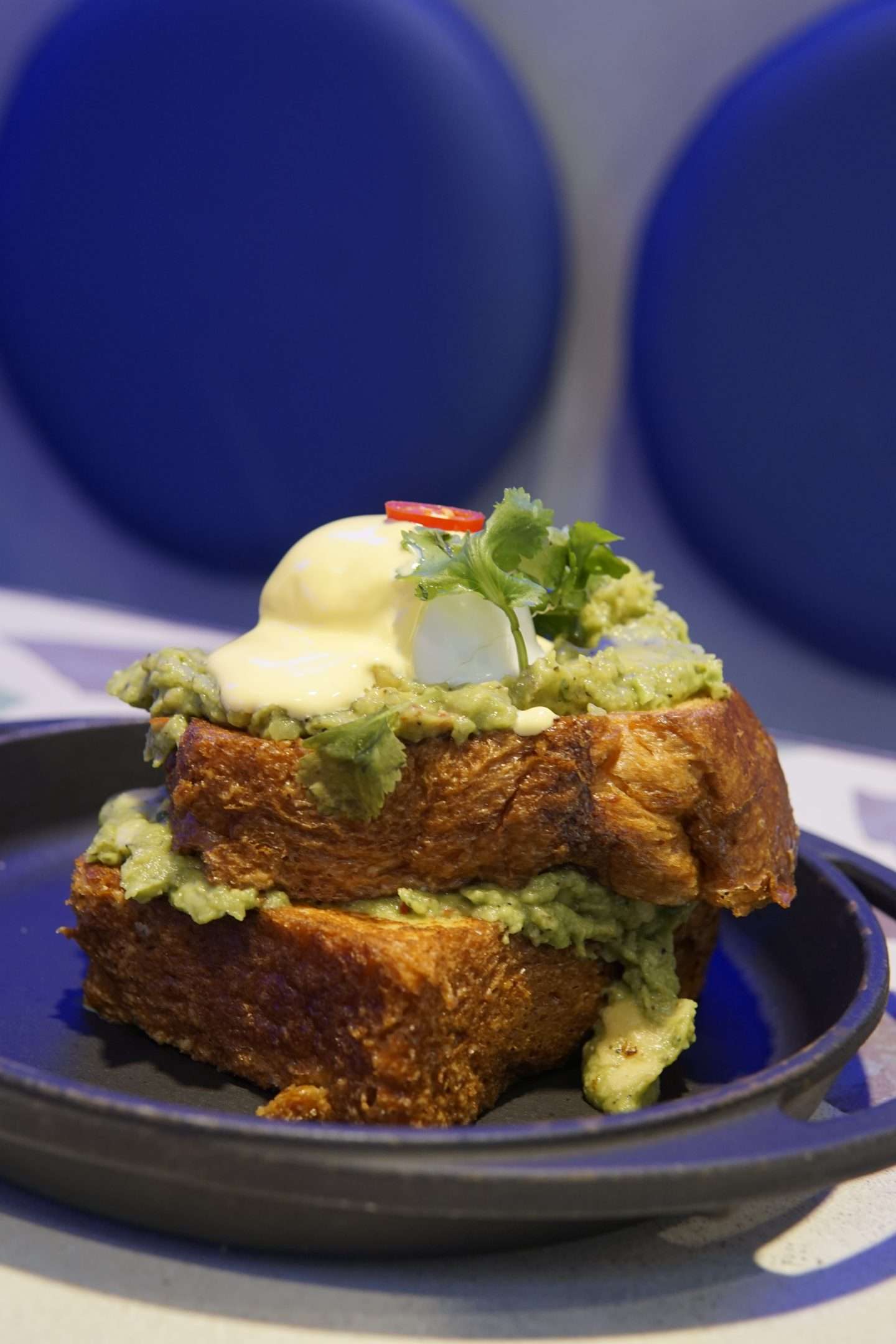 CROME LONDON EXPERIENCE
I arrived first thing in the morning when it opened up at 11 am. Hoping I could get a seat inside and take photos of the neon sign etc. Luckily, the cafe was empty when I arrived, before it became hectic to dine indoors. When I came in, the manager welcomed me after introducing myself. He gave me the option to sit inside or out. I chose to dine indoors, as they were more photo opportunities. Before visiting Crome London, I had in mind already what I wanted and that was the Chilli Cheese Cheeto's but unfortunately, they ran out of cheese for time being.
Therefore, I had to think quickly about what to get, and I ended up opting for 'Smashed Avo & Hollandaise French Toast instead. The drink I wanted Matcha In Blue was available, which tasted so yummy. In addition, it looked incredible and perfect for the gram too. Even though it is a small place, they do have a customer-only toilet to use inside the cafe for those who require it.
As I patiently waited for my food and Matcha to arrive. I decided to wander around the cafe and record videos before my food/drink arrived. Once the food and Match came, it was the camera who ate first. Whilst I took plenty of photos of the French Toast and Matcha. The rest was history as I indulged in the deliciously made French Toast after complimenting the chef on my way out.
CROME LONDON MENU
You can view their sweet and savoury menu here alongside their drinks. At the cafe, you can scan the QR code to view the menu or you can have a quick view of it behind the counter.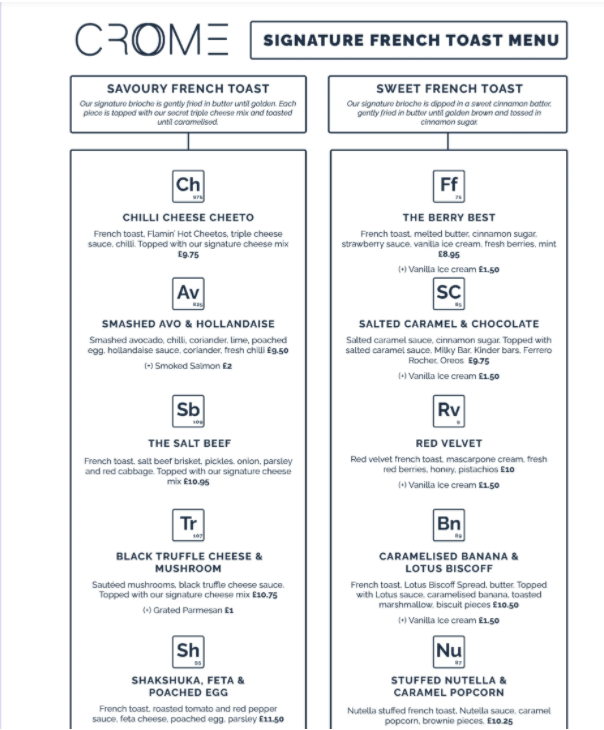 What I ordered:
Smashed Avo & Hollandaise
Matcha In Blue
Smashed Avo & Hollandaise £9.50
Made with brioche bread, this was yummy and filled with smashed avocado, chilli, coriander, lime, poached egg, hollandaise sauce, and fresh chilli. It was the perfect brunch to have. The bread was soft to eat and cut into, mixed with poached egg and hollandaise sauce. I would recommend it if you love avocado. I would love to try the 'Chilli Cheese Cheetos' next time if it is available.
Matcha In Blue £6.95
One of the finest drinks I have tasted, picture-perfect as it states. Matcha in Blue did not disappoint as you swirl the ice around, making it picturesque for the camera. I truly enjoyed tasting the matcha-flavoured drink. If you enjoy drinking Matcha flavoured then you have to try this here.
This Matcha in Blue contained Blue and Green Matcha, Lavender syrup, Milk and Milk foam.
CONCLUSION
Food: 9 out of 10
Service: 10 out of 10
Price: 7 out of 10
Experience: 10 out of 10
Presentation: 10 out of 10
Overall: I've given this cafe a 9.2 out of 10.
In conclusion, Crome London was worth visiting. Even though I would have loved to try the 'Chilli Cheese Cheetos'. The Smashed Avo & Hollandaise was reasonable to eat and for the photography. I feel like all of the French Toast at Crome is picturesque. Regardless of what you decide to choose, you will find any of their French Toast great for the eye. If you are exploring or shopping around Oxford Street, you can find them close by. The food was delicious and I enjoyed the softness of the bread mixed with egg and avocado.
The service was smooth since I was given utensils on my table, which were accompanied by drink and food. The price was reasonable, with Shakshuka, Feta & Poached Egg being the most expensive French Toast at £11.50. However, they do add a 12.5% service charge, bearing in mind. The experience was good as I enjoyed capturing the neon signs, the food and the cafe outlook. Finally, the presentation was outstanding as the French Toast looked amazing, as did the other choices, that were being made. That is why it has been a hit with social media as everything is instagrammable.
Crome London Address: 36 James Street, St Christopher's
Place, London, W1U 1ES
Website: https://www.cromelondon.com/
Nearest station: Bond Street (Central Line/Jubilee Line)
📍HALAL FOOD IS AVAILABLE AND SERVED HERE
You may also like to read the latest food reviews from:
https://adilmusa.com/copper-chimney-review/