Christmas Shopfronts in London
Christmas Shopfronts are back and whether you're in London or looking to visit this upcoming Christmas holidays. You have to check out and witness some of the most stunning Christmas shopfront displays currently around in London. There are various dazzling light displays, trees and shops to enjoy.
This year it seems like stores have really up their game in Central London, with eye-catching displays. Earlier this month, I went exploring the city during this month. This made me think why not showcase all of the spots in London, before tourist visits or for the locals to see during this upcoming Christmas holidays?
Top 10 Christmas Shopfronts Displays/Installations in London
Cartier
You can spot this beauty on Bond street alongside a few others which will catch your eye. Cartier always goes above and beyond each Christmas festive season. The giant ribbon with gold ornaments has made the perfect touch to this year's display.
175-177 New Bond Street, Mayfair, W1S 4RN
2. Tiffany & Co.
This display at Tiffany's & Co. on Bond Street next to Cartier looked like a fairytale from a book. They had the Moon and purple clouds decorated simply an eye-catchy theme for your Insta game.
25 Old Bond Street, Mayfair, W1S 4QB
3. Fenwick
You can spot Fenwick from a distance, which has a simply elegant display this year. However, during dusk, the white feather looks incredible when switched on.
63 New Bond Street, W1S 1RQ
4. Annabel's Mayfair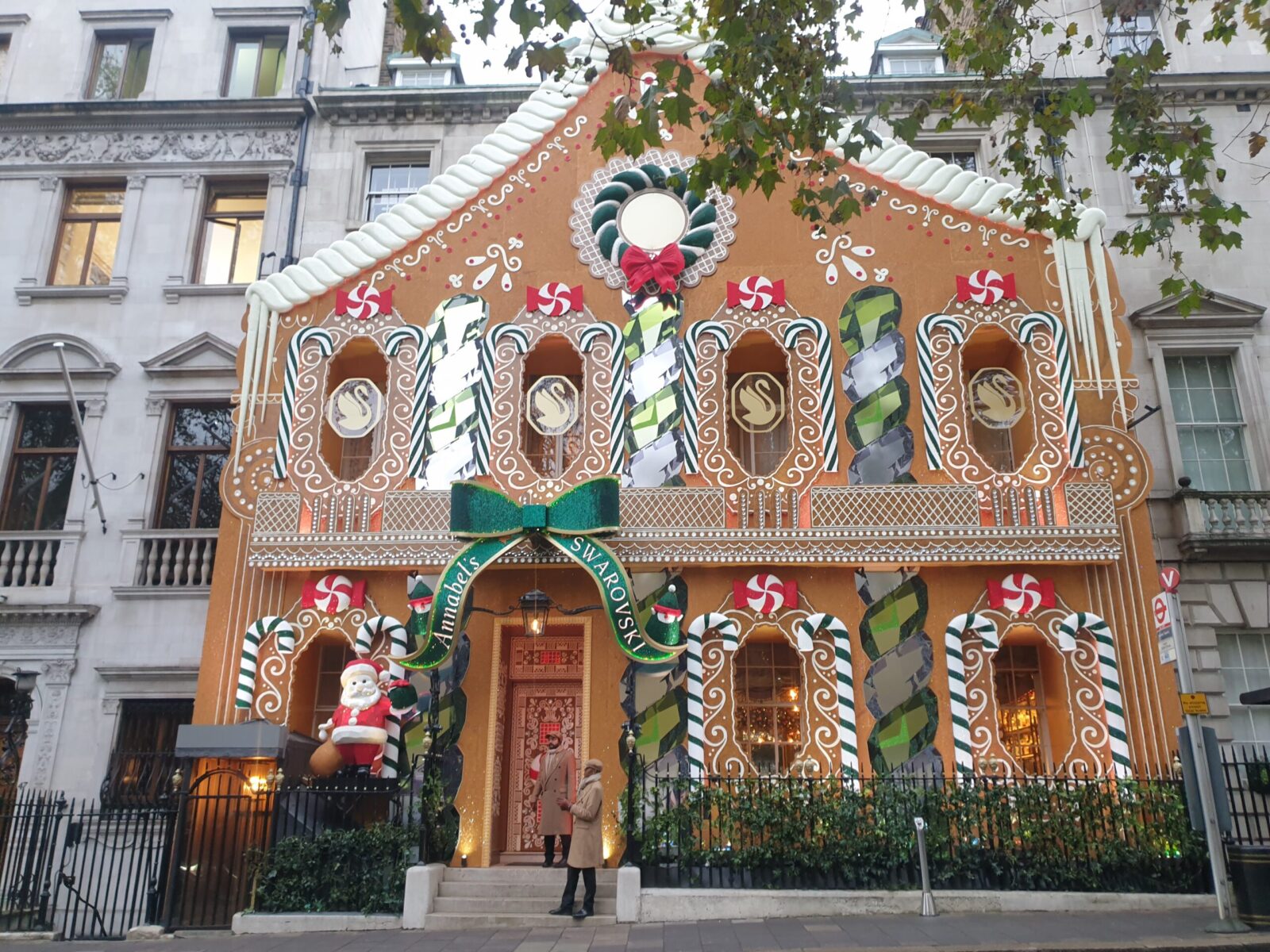 You can see that Annabel's Mayfair never disappoints each festive season. This private club seems to get better and better each time. This year for Christmas they have partnered with Swarovski and it has truly gone beyond people's expectations with this cute gingerbread house display.
46 Berkeley Square, London, W1J 5AT
5. Covent Garden Infinity Chamber
If you love Disney's Frozen, you're bound to love going through this tunnel at Covent Garden. One of the most popular chambers that leads from one path to another. The colours these years are spectacular and perfectly fitted for the Christmas theme.
Conduit Court, Covent Garden
6. Covent Garden Christmas Shopfronts
Covent Garden has the prettiest displays during Christmas, with the humongous tree, market and displays. This time they have Disney's Frozen and Lego displays all around the area. You're bound to love this spot as well as street shows to witness, which happens every so often.
Covent Garden, WC2
7. Mayfair Burlington
If you're a fan of 007, you will want to visit this pathway at Burlington as it's sparkly and coloured in gold. There are plenty of shops alongside for those shop lovers.
51 Piccadilly, London, W1J 0QJ
8. The Royal Arcade
An old pathway through to Old Bond Street, you can expect this colourful installation when you walk through Bond Street.
28 Old Bond St, London, W1S 4DR
9. Carnaby Street
This street off Oxford Street became the first spot to switch on their Christmas Lights, as their festive spirit is filled with butterflies and colours. You can shop around and see the coloured of Carnaby Street from each corner.
Carnaby Street, London
Last but not least, although not a shopfront, I had to include this absolute peach of architecture. This year at Natural History Museum will be the last time this stunning Ice Rink will be held. This one to cherish for memories as they won't be this magical ice rink available after this year.
Cromwell Rd, South Kensington, London, SW7 5BD
There are plenty of other places to explore around the City of London.
The Chelsea Ivy Garden
Harvey Nicholls
Jo Loves
Liberty
Neil Strain Floral
Peggy Porschen
Let me know your favourite spots during the festive Christmas season.
If you're looking to see what it was like last year, you can check out my post below from last year's Christmas displays in London.