Lightopia at Crystal Palace Park
This year's Lightopia London was held at Crystal Palace Park earlier in the year. It began on November 19th and will end on January 2nd, 2022. Visiting here brought back memories of going to watch Garden Glow in Dubai. As you go down the path of dazzling displays, you'll see a series of light creations that can be captured brilliantly in your lens.
Lightopia Experience
As you wait in line to scan your tickets, the Lightopia sign will be illuminated. After you've scanned everything, you'll see three rides, two for adults and one for children. This cost between £3 and £5 for each person. If you want to buy something, there are a few stalls as you progress. Otherwise, as you continue farther up the trail, there are plenty of different stalls such as a food bar, hot chocolate, and souvenirs. The first thing you'll notice is a Christmas tree surrounded by brightly coloured presents. After that, you'll have the opportunity to engage with a variety of interactive displays, including flowers, animals, trees, dinosaurs, and much more.
The Crystal Palace Light Show was one of my favourite parts of the attraction. As you get closer to the conclusion, you'll notice a large mansion filled with interactive-themed art. Also, the Phoenix trail looked great; you'll notice this near the beginning because the colours were even better in person. If you adore photography, you will enjoy these exhibits because there are so many photo chances.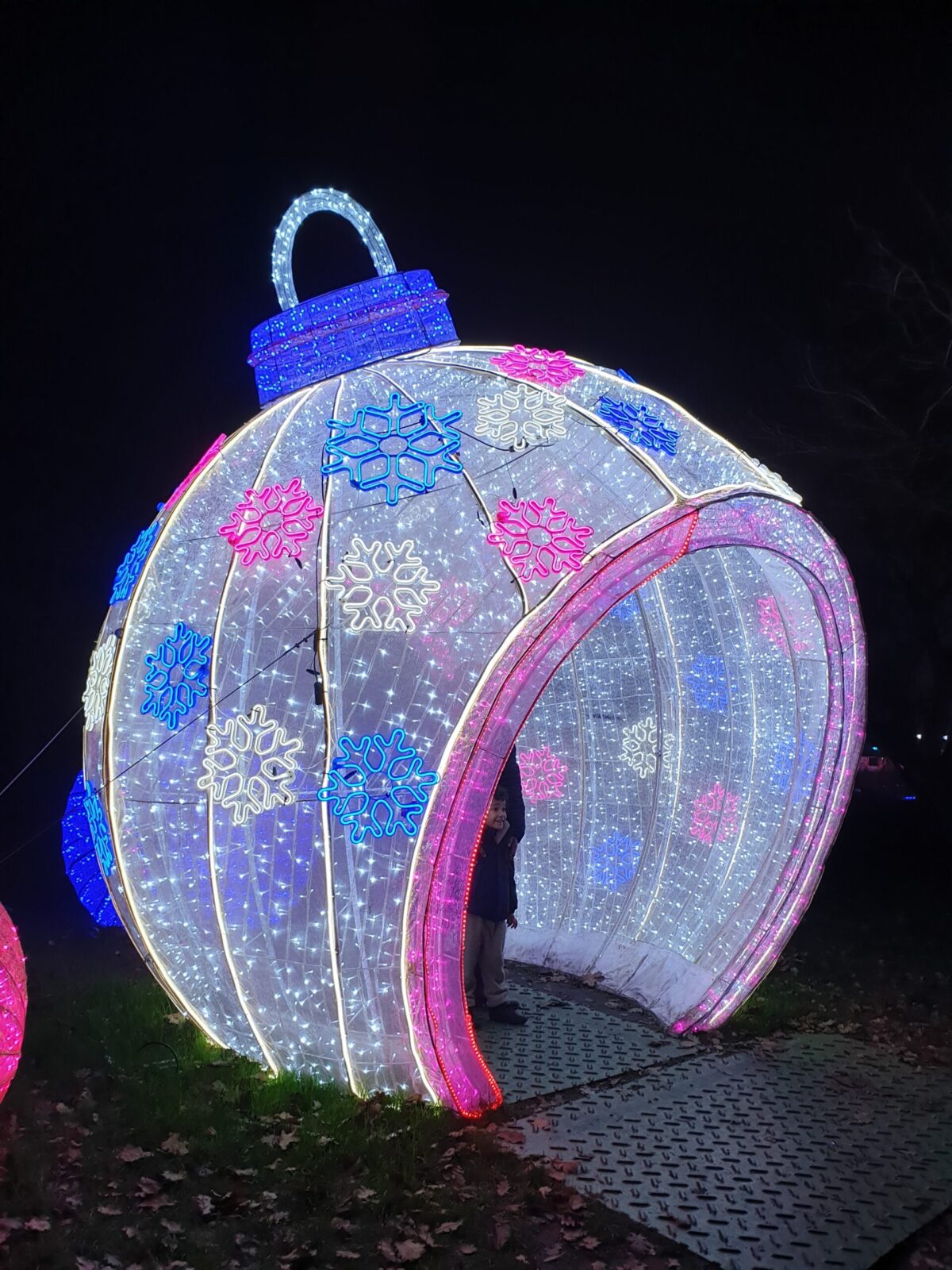 Conclusion
I hope you enjoyed all of the above colour installations. Overall, if you're looking for a good evening out around the holidays, this is the place to go. Then I recommend going with your family or friends around the Christmas holidays to add this to your list of activities. The average time spent walking around the trail is 2 hours or less. The light shows were pretty similar to the ones I saw at Glow Garden in Dubai, so some of them brought back memories of my vacation there. There is plenty to see and do as you stroll through the park, as each show has something for everyone.
I've uploaded a walkthrough experience at Lightopia London on my YouTube channel.
https://www.youtube.com/watch?v=jPJErmGseDo
If you liked this post, you will love the Christmas Displays around London and Dubai's Garden Glow.
https://adilmusa.com/christmas-shopfronts-in-london/
https://adilmusa.com/dubai-garden-glow/
Address: Crystal Palace Park, London
Nearest Station: Crystal Palace Station (Overground)
Website: https://london.lightopiafestival.com/
Tickets: £22.50 Adult + £1.35 booking fee | Child 3-15 £15.50 + 0.93 booking fee