Bolton Abbey
Address: Bolton Abbey, Skipton BD23 6AL
Website: https://boltonabbey.com/
Summer has officially arrived, so what better way to soak up all the heat for a family vacation at Bolton Abbey?
During the summer period in August, as a family, we decided to go on a long road trip to the north and explore some of the wonders as well as having a delicious BBQ around in Yorkshire.
Family Vacation
Bolton Abbey in Yorkshire has such beautiful scenery, a place I would highly recommend if you ever go down around the area. When it's warm, it tends to become packed as it was last weekend when I visited with the family. However, it was truly a perfect family day out and where you can spend your whole day there. I and my family were organised enough to plan a whole week's trip up north for our holiday before our road trip began. Bolton Abbey was our first stop after the wedding. The scenery was breath-taking and it certainly had some wonderful scenery around to admire and capture.
I truly loved the atmosphere and the people there, as people were sharing food with one another, enjoying themselves playing all sorts of games with their family/friends. It gave it a good vibe to be surrounded by and spend time here.
When we arrived at midday it already began to be busy, but luckily we found a good spot in the middle to light our BBQ up. Whilst our food was being cooked, the rest went to check out the river, with a calm, stress-free sounding water going past the rocks.
Food & Walk though
When it was time for food, we got given a birthday cake by the people next to us as it was someone's birthday next to us, a nice gesture. In return, we gave them some chicken and lamb chops. We fried up burgers, chickens, onions, lamb chops and much more. After the feast, we went exploring the attraction, which had some beautiful sights to see. We started by walking up the hill to get to the other side, where the Church was located. From a distance, it looked nice with all the greenery, but up close it looked even amazing.
However, walking towards the large stone building, I spotted a nice little hidden gem, house on the way, that looked really nice with a bright green grass. Moving on, the surrounding area had some historical items around the church, but we all just walked around the building towards the bridge to cross back to the other side. Near the bridge, they had a stepping stone going across the river, which lots of kids went on instead.
Stepping Stones
I opted against it and walked along the bridge instead, as I did not want to risk getting my clothes wet just in case. Finally, going back to where we parked our car was one tiring walk. As we went through such hills, like a pathway in a worm-shaped. Along the way, they had lots of mini activities for the kids to play on, whilst people rested before moving on to the next one.
After our long walk, we saw a restaurant to dine in, toilets to our left and on the right. I saw a cool pirate ship sitting on a small beach and two huge beach chairs. I and my nephews went and sat on those huge chairs, which looked cool in the pictures. Ideal shot for the gram.
Cooking up BBQ at Bolton Abbey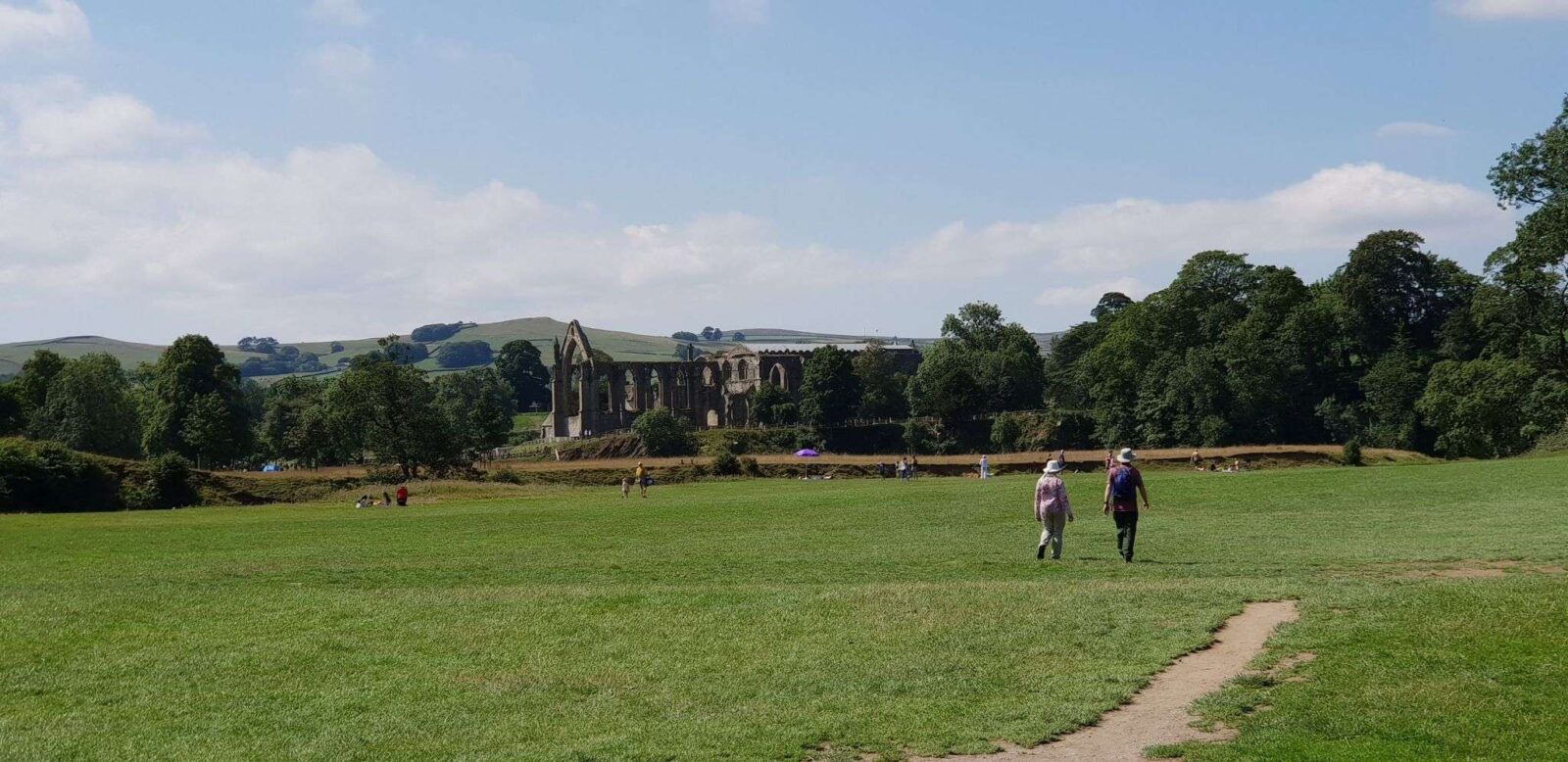 Thanks for reading my post, be sure to keep a lookout for my next few posts. As it will include lots of scrumptious food from the places I've visited whilst my visit up north.
Adil Musa