Feya Cafe
Address: 23 James Street, London W1U 1DT, England (Marylebone)
Nearest Station: Bond Street Station
Website: www.feya.co.uk
Telephone: 020 7858 0858
Looking for the prettiest cafe in London to visit? Make sure to add this to your list.
Feya Cafe Review
The cafe is named after the owner's daughter's name Sofia, which I found really beautiful.
After eagerly waiting for this new cafe to open, ever since noticing how pretty they looked on my Instagram newsfeed over the past month. I finally took a trip down to Central London to Feya Cafe last week and I was really impressed. They have only been open for about nearly 2 months and the responses to their cafe have been overwhelming and really good. Long may it continue.
It was really inspiring speaking and hearing about the plans and aspirations for their cafe. Such as helping a charity organisation with their overstocked food so the leftover food does not get wasted, which I felt was so beneficial to hear and unique about them to do so.
Some people may compare this cafe to Elan or Saint Aymes but this place has its own unique identity and is always open for any kind of improvement and people's opinions. They have their very own uniquely designed gift box, which you can find below with the rest of my images.
Experience
The moment I arrived, I saw a whole row of some of the delicious desserts for you would see on my left and a beautiful floral decoration across the room with paper butterflies decorated hanging off the tree. As I had a reservation in place beforehand, I was seated by one of the staff members, who kindly showed me my table. The atmosphere was really relaxed and calm with couples, family and friends sitting around the room. It's a perfect place for a hangout, meeting or just a casual walk by.
Menu
Having checked beforehand what I wanted it did not take long for me to order as I already knew what I wanted from their set menu. I've been seeing the most picturesque dishes, many times on social from their menu. Therefore, I opted for the 'Rose Avo Toast' and 'Pastel Rainbow Smoothie' both were the yummiest and pretties choices.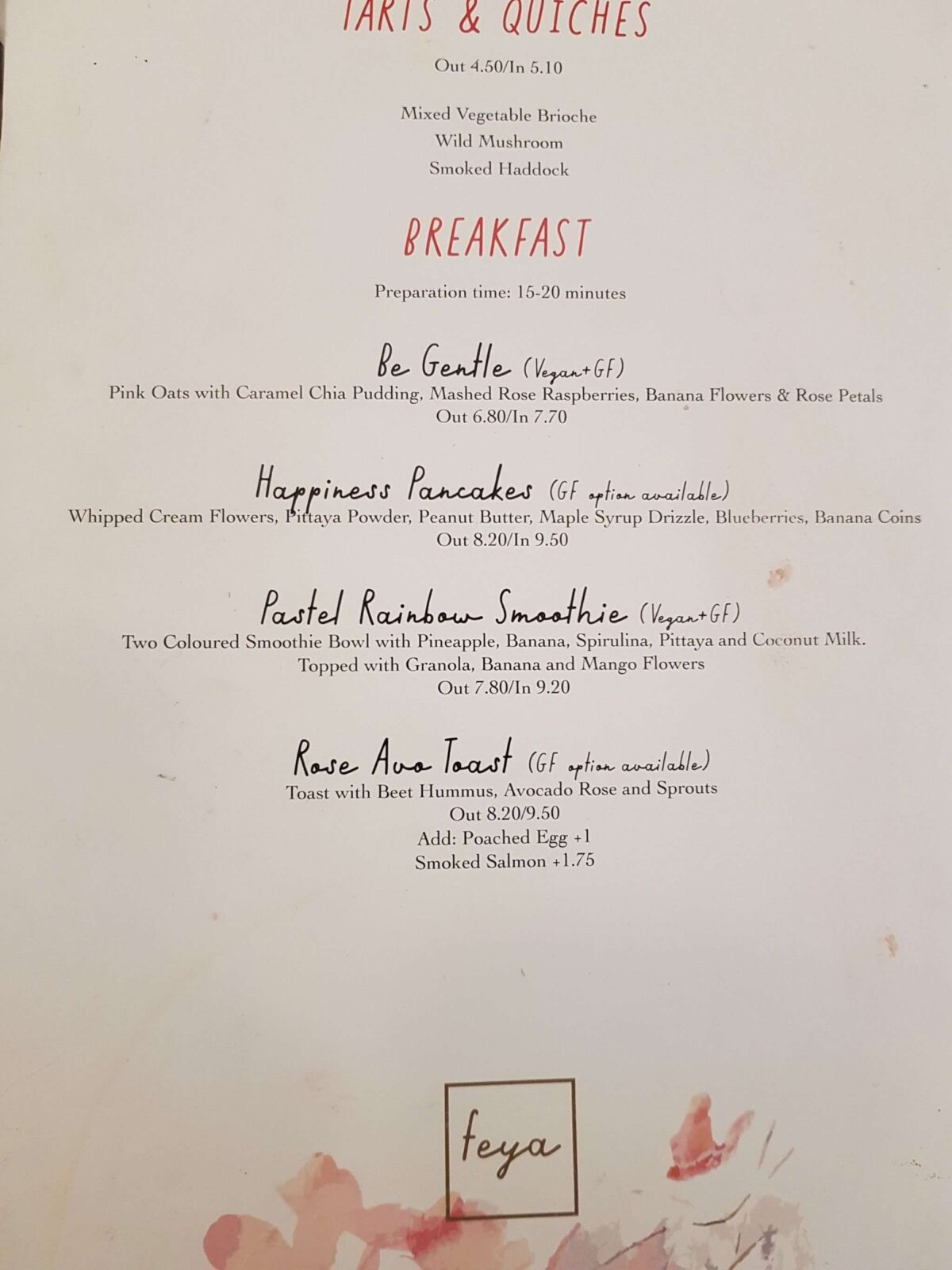 The 'Rose Avo Toast' here for me was perfect as the bread was soft to eat, just how I like it to be. I've had Avocado Toast previously elsewhere and their bread seemed really hard to break. Gluten Free Toast topped with Beet Hummus, Avocado Rose and Sprout shaped like a rose. The rainbow colours of the Pastel smoothie looked really pretty in a grey and pink coloured bowl filled with Pineapple, Banana, Spirulina, Pittaya, Granola, Coconut Milk and completed with Mango Flowers.
This contained so much goodness in one bowl, both of these dishes really filled me up. However, never say never when it comes to desserts, they are always space for a dessert end of a meal. Especially, this one as it was an irresistible and divine looking dessert called the 'chocolate bomb'. This certainly was mouth-watering, softly melted cherry chocolate, which was divine, dripping down once broken in half.
Tea
I loved the fact they had Desi style tea's available on their menus such as the Cardamom Chai and Masala Karak Chai, my eyes lit straight away to opt for the Masala Karak Chai as I've been craving for one ever since Ramadan. Also, on the way home I did take a Cardamon Chai for takeaway both were just as good and refreshing, but I do love Karak Chai any day 🙂
Conclusion
My overall experience, I truly enjoyed it, usually, I don't tend to spend too long at a cafe, but the atmosphere and the people were so nice. It made me stay for much longer than I expected and I would definitely come here again, as it was a great spot to hang out. The presentation and atmosphere was spot on, a really relaxed and family vibed atmosphere and just by the streets of the busiest streets in London for shopping. Whenever you're out shopping on Oxford Street, you can always pop down here for brunch or drinks with your friends and family.
Food: 10/10
Service: 9/10
Ambience: 9/10
Experience: 9/10
Presentation: 9.5/10
Overall Total: 9.3 out of 10
Opening Hours: 9:30am to 10:30pm everyday
*Follow Me on Social Media*
Instagram: @AdilMusa1
Twitter: @Adil_Musa1
YouTube: @AdilMusa1
Adil Musa
Disclaimer: I was invited to review this cafe and all opinions are my own.