Chokhi Dhani
Chokhi Dhani Address: Riverlight Quay, 2 Nine Elms Ln, London SW11 8AW
Telephone: 020 3795 9000
Website: http://www.chokhidhani.co.uk/
Nearest Station: Vauxhall Station or Battersea Park (Victoria Line or Southern Line)
Halal Status: Meat here is halal but they do serve alcohol as well. They do charge you 12.5% for service.
Chokhi Dhani Background
Rajasthani Indian cuisine is a hidden gem based in the surrounding area of Battersea Park and by the River Thames. I was invited by a good friend along with a group of other foodies to dine at Chokhi Dhani for a three-course meal together. Chokhi Dhani has recently opened, which has only been a few months. This is the first overseas venture for chef Kriti Vaswan. After seeing a few foodies and images online as well, check whether the meat is halal. I opted to go ahead to this place, which is not local to me, but it was worth the trip after a long day at work in Wembley. I had a lot of fun and lots of catching up with my fellow foodie friends.
Restaurant Review
The restaurant was well worth a visit, just to admire the traditional stunning gold Indian interiors and food. Inside, there are lots of gold antiques around the room, which they sourced from back home in India and some from Dubai. Guests who visit have the option to dine either downstairs in the bar area or on a luxuriously decorated top floor, which has a nice view of the River Thames.
The staff here are polite and you tend to see waiters dressed up from back home in traditional Indian clothing just to make the experience feel like you are in India. I like how they utilise that and the fact the service will have you treated like a king as they are always waiters there to top up your empty glass. Regardless if you need anything or they take your old plates away if they see it's empty, so they can replace them with a new plate.
There was live entertainment, which was cool, whilst everyone ate, such as, a magician, who did lots of various tricks on everyone with his cards, glasses and keys. Restaurant owners say they are planning to have live singers during the weekend, so you're bound to be entertained whilst you enjoy your meal.
Experience at Chokni Dhani
First, we started off our experience with some refreshing drinks downside, I opted for the 'Berry Berry Nice' mocktail as it was the hottest day in London on Thursday. Funny enough, it was very nice, to be fair that most iced cold drinks would have been nice with the heatwave we have had recently. As we waited for the others to tag along, we had a chat with the owners until everyone arrived together and had their drinks, from there we moved upstairs for our three-course meals.
Interiors at Chokni Dhani
As you go upstairs you have a nice luxurious interior decorated settings table and one side by the River Thames view if you look out the window. As we had the starters Shuruwaat pre-ordered already, we only had to look at the menu for our drinks and our main dishes. The starters started with Papadoms & Chutney, which came with 3 flavoured dips. These were *Avocado, Himalayan Tomato, Mango & Apricot*. Shortly after waiting 5 to 10 minutes for all our starters to arrive at the same time, this made it easier to take those picturesque flat lay shots as we adjusted everything to be close to the middle.
Starters
There were so many dishes, which I had lost count as I could not remember every single one, but the ones I did manage to remember were the Kadak Momo Chaat, Chicken Lolipop, Prawn Kempu Bezule, Murgh Joshila and Tandoori Florets from what I remember. All of these price ranges are from £7-10 very reasonable and filling. Once we had finished taking our photo's, it was time to eat and enjoy our food, which I did and enjoyed the lamb chops and Murgh Joshila both were nice. You can find their menu here from their website and see what they have from drinks to food.
Main Course
The main dish, everyone opted for the Thali dish, which contained either Meat or Veg priced at £32-35. This was pricey for an individual as this literally fills you right up, giving you no space for desserts. However, in this case I and one other foodie were sensible, where we opted for the 'Oudhi Murgh Makhan' known as butter chicken. This was a plate filled with three chicken pieces and curry around it. A Confit Poussin & chicken breast, tomato, butter and fenugreek crush. It was priced at £15 not too filling and perfect to have as a main. Plus, most of the time this dish is usually a safe option to have. It tends to be a good dish to have at any Indian restaurant you go to. This gave me space to have what I had been craving for and had my eye on, which was the 'Chocolate Sphere'.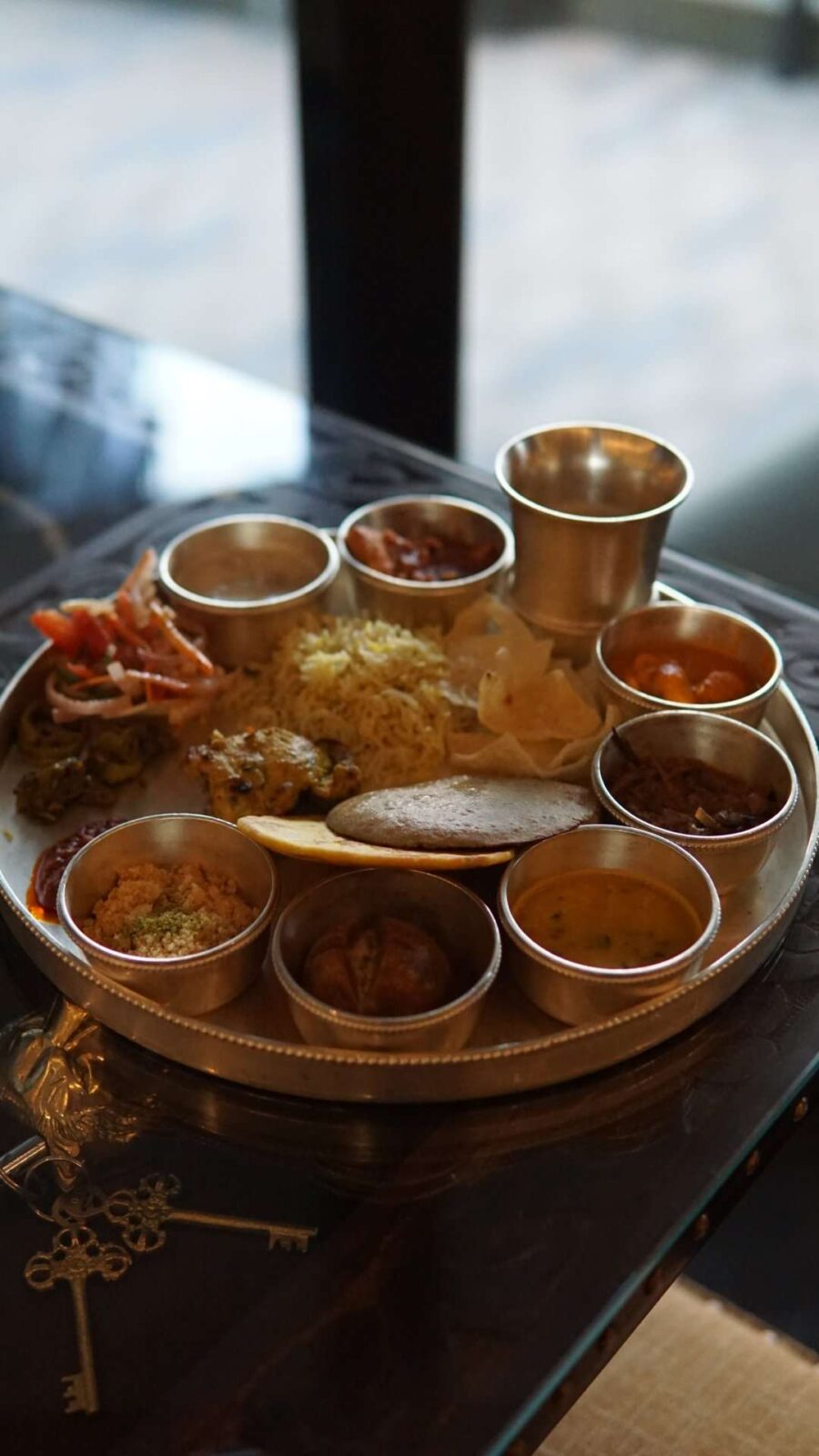 Dessert
The Chocolate Sphere dessert comes with a Pistachio Moist cake and Millet Brittle Organic Milk Ice Cream. The sound of this was as amazing as it looked. It was topped with warm chocolate, which was slowly poured on top of the chocolate sphere, making it melt. The below image is the part inside after the melt with popcorn and berries surrounding it.
There was another dessert on the table, which was ordered called Rose Crème brûlée. It sounded and looked perfect for the gram shot, containing Honeycomb, Balsamic, Rose petal Relish Meringue, Khubhani.
Food: 9/10
Service: 9/10
Ambience: 9/10
Experience: 9.5/10
Presentation: 9.5/10
Total: 9.2 out of 10
Conclusion
Overall, I thought the experience here at Chokhi Dhani was amazing and worth the trip down to Battersea. Although it was closer to where I work, going home was far. This place is hidden away at the entrance, but there are signs, which makes it easier for people to find.
The food had its different flavours and colours, which I always like to see with my food that are picturesque as well as tasty. The service here was really impressive. I could not have asked for a better service making our experience extra special. I am pleased with my experience and would recommend coming down. If you are local or live around Battersea area it's a place to tick off your bucket list of restaurants to visit with so many picturesque items.
Adil Musa
Disclaimer: I was invited to this restaurant along with other food bloggers, but opinions are my own.