Desert Safari in Dubai
The Desert Safari tour is a must-do attraction if you're ever visiting the Arabian city of Dubai. This trip was done on my third day. There are still four days left to cover on my blog for my Dubai trip. Whether you enjoy a bumpy ride in a car, or camel or speeding through the sands in a quad bike.
You can arrange a short four-hour excursion to the desert. A day in the desert would otherwise cost extra for additional activities including a BBQ dinner, belly dancing, and henna tattoos. I pre-arranged this adventure which included a camel ride, quad bikes, sandboarding, and a drive through the desert in a Toyota Land Cruiser. A unique approach to seeing Dubai's desert environment and culture is through a desert safari, a well-liked tourist activity.
Desert Safari what to expect?
Expect a crowd around the Falcon
20 Dirhams per person to take a snap with it
Due to the activities chosen, you have limited time to take a photo with the Falcon
Beware of bumpy rides on the dune bashing (you may feel sick)
Sandboarding you take turns with other visitors around as well
Water bottles are provided
They take you to get cleaned up with air sprays used
Let the driver know your end destination (if you're not going back to your hotel)
Experience
I booked a shared trip for 4 hours for the afternoon session. Therefore we had others in the same car as us to the desert. I and my partner were picked up by the driver first from our hotel, once we were settled. The driver went to another hotel to pick up a family of four from Mexico. Then we headed straight to the desert, which was up to an hour away. Once we were there, first up it was the Quad Bikes and Camel Riding.
As our quad bike was being prepared, you have an opportunity to wear the Arabian-style head scarf. This has to be purchased, but you can try them on if you wish. After queuing up for our turns, we managed to drive our quad bikes for 25mins around the sand.
I booked my trip via Tripadvisor after comparing various sites for the ideal desert experience.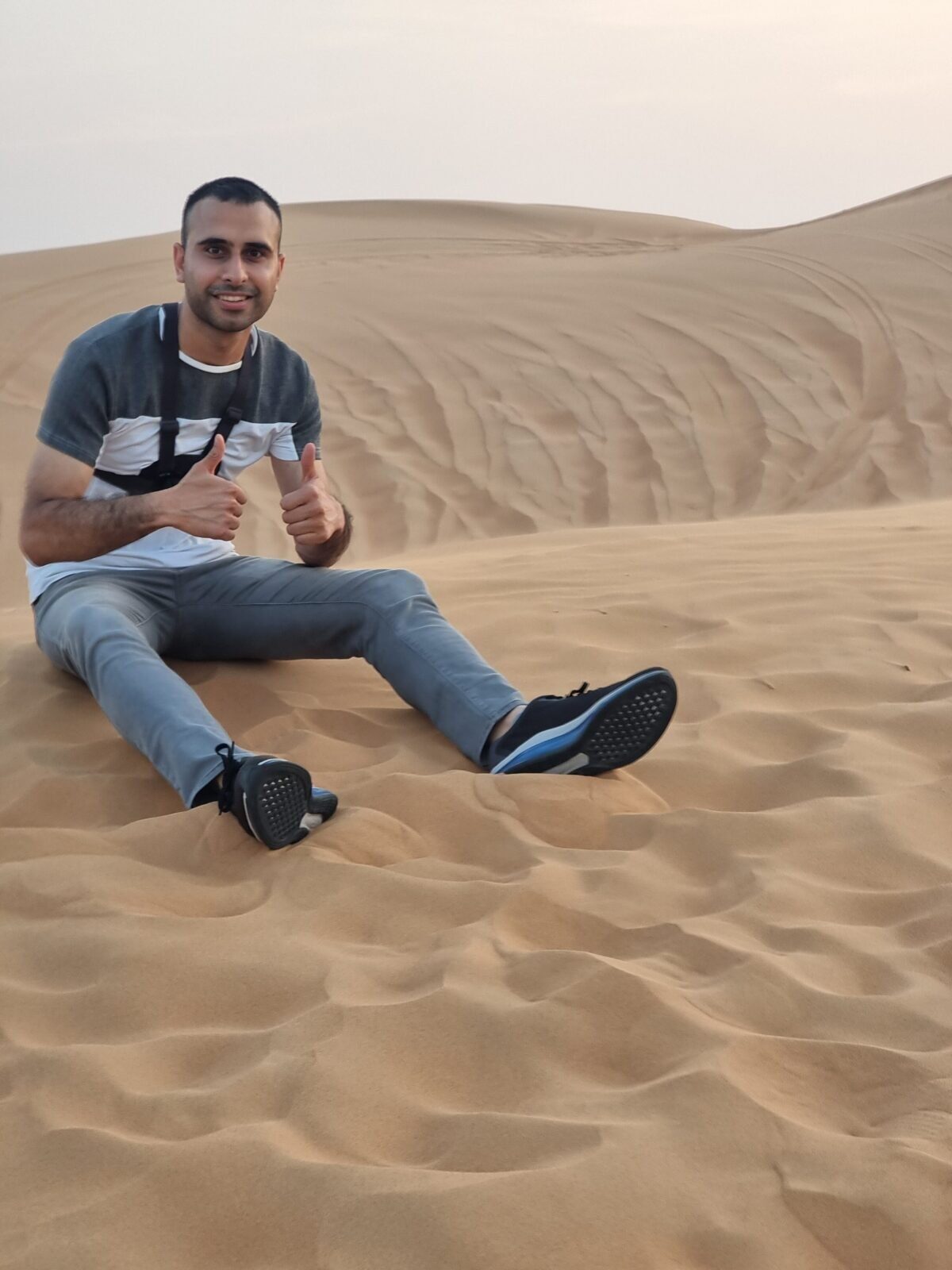 Desert Safari Quad Bikes
The quad bike rides were quite bumpy, but they were so much fun that after a while, I became accustomed to them. With other drivers around, we had 25 minutes to ourselves to drive around the desert. I sped up and down the slopes while recording video and capturing pictures with my camera. The staff notifies you when your allotted time has passed.
In that case, you don't need to worry about keeping tabs on how long you have. Since timekeepers are present, your sessions can be timed.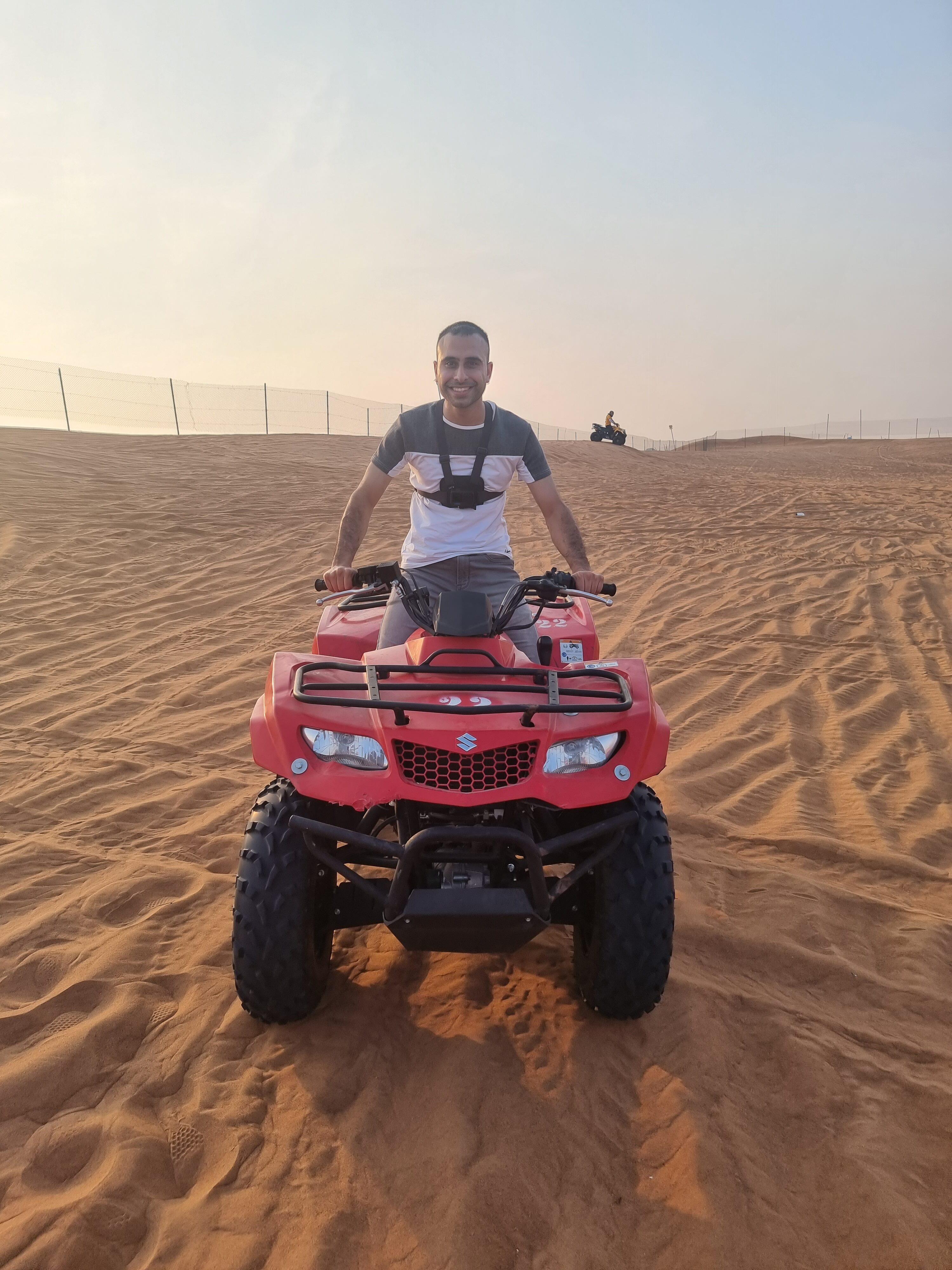 Camel Rides at Desert Safari
Following the quad bike sessions, you head over to the camel rides for a quick stroll of five to ten minutes. It takes place in the same area as the quad bikes. One of the camel leaders drives the camel and leads you on a stroll as you shoot pictures of the ideal moment. While we were riding, I was able to record a few videos. This is visible on my social media posts.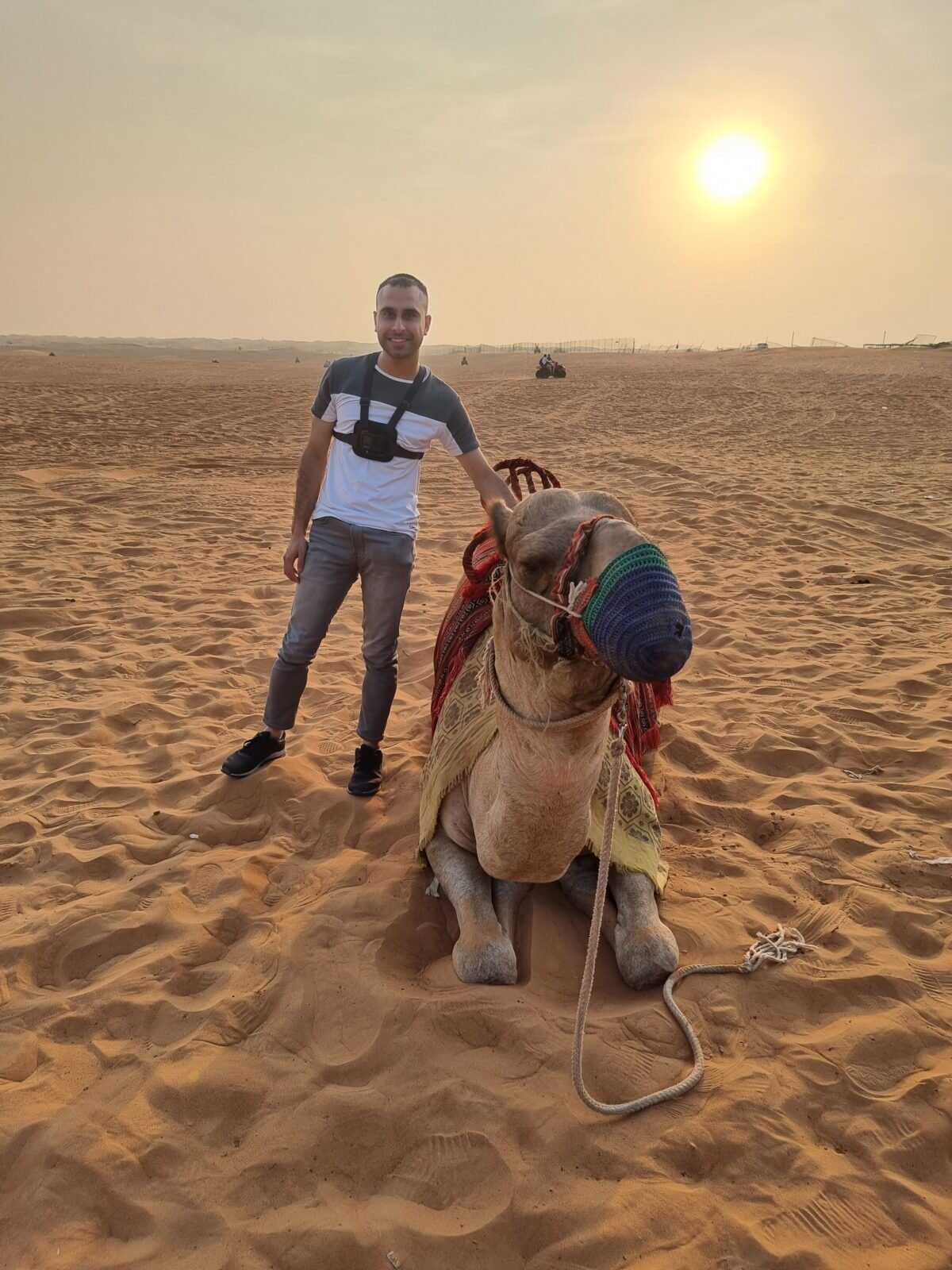 Thrills of 4x4 Dune Bashing
I experienced severe motion sickness the last time I went dune bashing. In order to avoid motion sickness this time, I was prepared and took a travel sickness medication. Our sandboarding target was reached as we navigated a wave of sand while listening to loud music. It may be uncomfortable for some people to experience the Dune bashing because it moves up and down the sand.
The sandboarding was harder than I anticipated because you had to maintain rigidity to drop in a straight line. As I failed the first time but succeeded the second, it's wonderful when it works but when I failed, I was covered in sand, haha! Until we had enough, everyone had a turn.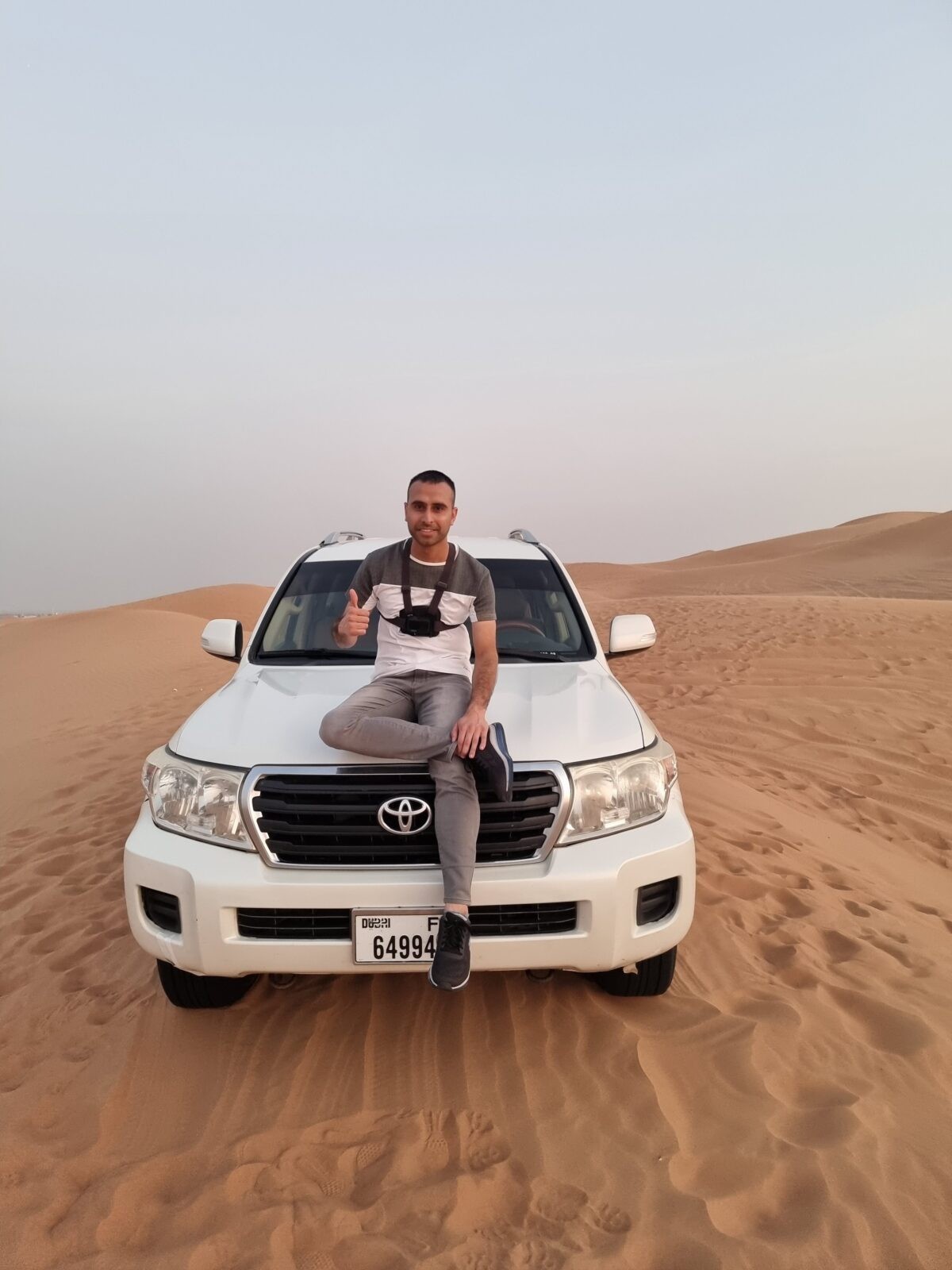 Conclusion
If you're travelling to the UAE for the first time, you must experience the Dubai Desert Safari. The camel and quad bike rides were a lot of fun, and I really loved them. Try the entertainment package with BBQ at night if you have the time. I made the choice not to go ahead with further entertainment because we were both somewhat worn out. We had a little amount of time to spend in the quad bike area after we had finished. Because of that, we didn't have a lot of time to take pictures with the Falcon, so I was a little disappointed. Due to the large crowd, it cost us 20 dirhams simply for 30 seconds of the picture.
Other than that, the tour went extremely smoothly because we were well taken care of. The family in our shared vehicle was incredibly pleasant and amiable.
You may also enjoy my other blog posts from Dubai.
https://adilmusa.com/first-flight-parasailing-in-dubai/
https://adilmusa.com/dubai-frame-picturesque-view-of-the-city/