Parasailing in Dubai
Parasailing is an exciting water sport that involves being attached to a parachute-like canopy and being towed behind a boat. As the boat moves forward, the parachute lifts you up into the air, providing a unique and thrilling experience. This was once in a lifetime opportunity to try it out and have a breathtaking view of some of the iconic skyscrapers from the luxurious city of Dubai.
Dubai is a great destination for parasailing, with its warm climate and beautiful beaches. The calm waters of the Persian Gulf make an ideal location for this exciting water sport. There are several companies in Dubai that offer parasailing adventures, and most of them offer tandem flights with experienced instructors. This is a great option for those who are new to the sport or just want to try it out. If you are an experienced parasailer, there are also options to fly solo.
Location & Booking
Although there are several places in Dubai where you can go parasailing, since I reserved my activity using the Viator app, I chose Jumeirah Beach. This happened with the Sea-Bird Water Sports company. We had to walk around to the rear of Al Rahim Mosque to find our boat. We met our instructor here, who led us to the boat and gave us instructions on what would happen.
Parasailing Experience
I found parasailing to be quite effortless and smooth while I was in the air, which made it an exhilarating experience in and of itself. . Once you're in the boat with the instructor and driver, they explained where they will take you and then prepare you for take off. As safety is of course a top priority when it comes to parasailing. The instructors in Dubai are required to adhere to strict safety guidelines. When the boat took off to the location. This was just beyond the Bluewater Island area. The instructor provided us with the equipment to put on, so we then strap ourselves as tightly as we could.
The instructor correctly checked the equipment once we were ready to go before fastening us to the parachute. We flew and eventually sailed away in the skies above the waves, giving us the opportunity to take in the breathtaking sights of Dubai as the boat picked up speed. I didn't see any of the swimming wildlife that you can occasionally observe.
15 minutes seemed to be sufficient for the activity as you get to see the majority of the surroundings. Eventually, they took us down towards the boat and pulled us aboard for safety after our allotted time had passed. After they unbuckled us, they let us take pictures on top of the boat with the skyscrapers in the background before returning us to the starting point.
Tips for first-time Parasailing
You can take your cameras and phones during your flight (but at your own risk)
Show a sign to the instructor, if you feel uncomfortable
Follow the guidelines and instructor
If you do not make any hand gesture, they move faster and you go higher
Arrive 15mins early in case you can't find your exact location
You can provide your phone to the instructor to take Videos and Pictures.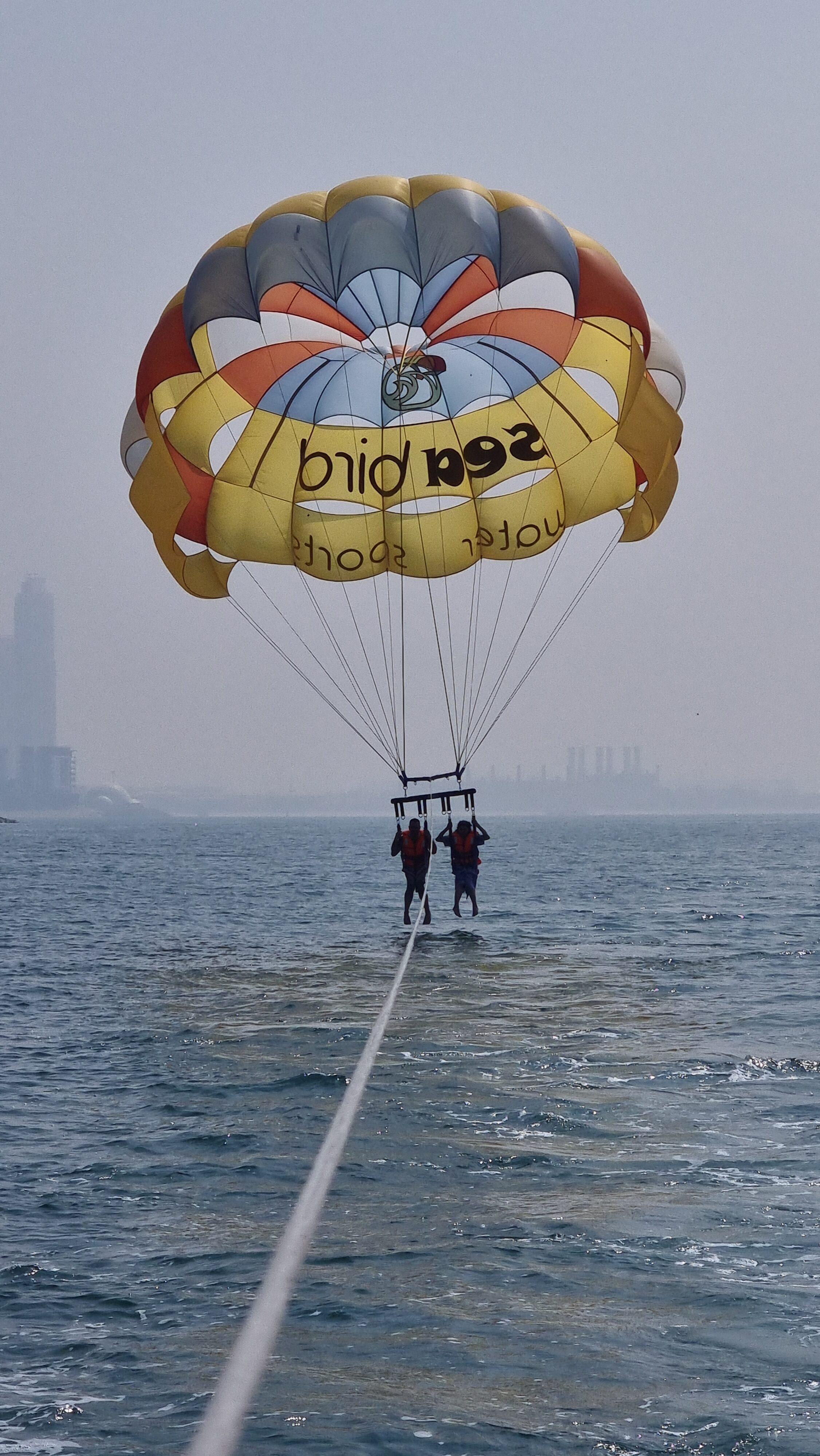 Conclusion
Parasailing is a must-try activity if you're seeking a fun and distinctive way to explore Dubai's stunning beaches and canals. Late summer or the beginning of winter are the best times to do this activity because it isn't too hot for your feet on the boat and too chilly while you are in the air.
Personally, I had a great time and would do it again, but in a different country, to fully take in the aerial views. Very simple to perform, as long as you don't have a fear of heights, most young children and adults could manage this. Additionally, it provides you with the enthusiasm and vigour to do new things.
You may also enjoy other posts from Dubai.
https://adilmusa.com/dubai-frame-picturesque-view-of-the-city/