Things to do
Istanbul has to be one of my favourite cities I have visited. There is so much to see and do in Istanbul, such as visit Blue Mosque. I visited this city for seven days with my family as there were nine of us on holiday. However, I think staying 3-4 days is enough to cover all the main attractions and places as we managed to cover all the main areas of the city within a short space of time.
However, looking back I probably missed seeing a couple of small areas, as Istanbul is that huge to travel around. This city is divided into two Europe and Asia across the Bosporus sea, wherein Europe you will find all the modern cultural environment, shops, attractions and in Asia side you will find Turkish very own old traditional attractions and stores.
Exploring the City
I loved exploring the city, even if you got lost wondering if there were people so friendly willing to help you get back on the road by asking any questions and it is such a colourful, vibrant place. By the time we left Ataturk Airport, we could see how clean and colourful the city is.
Most importantly, allow yourself time to explore all the places you want either by having a list printed off or on your device with you at all times, so when you're out each day you can tick off all the places you've visited. Makes it less stressful to try to remember each restaurant or attraction you want to see.
Day 1 in Istanbul
On our first day, we arrived in Istanbul pretty tired as our flight was very early morning from Heathrow with British Airways at 10 am. I arrived via the tube pretty early 3/4 hours before the flight, therefore I just explored around shops like Harrods and other major stores within terminal 5 before heading to check-in.
As we boarded our flight, we managed to arrive in Istanbul at 4:30 PM turkey time as there were two hours ahead of us in London, we stumbled across a huge queue of people in hundreds going through security. Coming out of the airport check-in it took us two hours to get out as there were so many planes landing at the same time as us, which made the queue longer.
Airport Transfer
Luckily, I managed to book our transportation for 7 people ahead of time via istanbulairporttaxis.com. Who was quick to arrange our pick up at our hotel in Sirecki, once we arrived there at the arrival terminal had my name on display, from there on we got shown to our pick up vehicle. Definitely recommend them if you ever need an airport transfer.
The following day, we started with our Turkish breakfast served from our hotel, which was not too bad as we had plenty of cheese, jam, fruits, eggs, cereals and hot drinks to choose from. Thereon, we started our tour of the city as we first covered all the nearby attractions likes of Blue Mosque, Hagia Sophia, Topkapi Palace, Basilica Cistern and Gulhane Park were within our footsteps from where we stayed at. Then to end our day we took the boat across the Bosphorus sea to the Asia side to see the 'Maiden Tower'.
Sultan Ahmed Mosque (Blue Mosque)
The Blue Mosque, also known as the Sultan Ahmet Mosque, is one of Istanbul's most iconic historical buildings and an essential part of Istanbul's skyline with its six magnificent minarets.
The mosque is well known and posted online on social media by many tourists a thousand times. The beautiful thing about this mosque is you get to hear the *Azaan*, call to prayers five times a day heard out loud. They do have a section for women to pray for and the men at the front. However, during prayer times, visitors are not allowed to go inside the main hall until the prayers are completed.
Want to learn some interesting facts about the Blue Mosque heading over to Istanbul Tour Studio linked below.
https://istanbultourstudio.com/things-to-do/blue-mosque
You can also spot my blog on their website too.
Hagia Sophia
The Hagia Sophia, which means "holy wisdom," is a domed monument. Originally built as a cathedral in Constantinople (now Istanbul, Turkey) in the sixth century A.D. It has two floors centred on a giant nave that has a great dome ceiling, along with smaller domes, towering above. The best views to capture the interior designs of the museum are from the second floor if you are ever wondering for those perfect Instagram shots. You can oversee the museum, which looks truly stunning from the top. However, one thing to note is that Hagia Sophia is not open on Mondays.
However, it is open daily between 09:00 – 17:00 except on Tuesdays. During the summer period, it has longer opening hours (until 19:00 usually) and might be open 7 days a week, depending on the high tourist request. Currently, admission to the palace costs 40 TLs for adults and another 25 TLs for the Harem.
Istanbul Tour Guide
Have provided some interesting facts and what you should not miss about the Hagia Sophia, which you can check out from the link below.
https://istanbultourstudio.com/things-to-do/saint-sophia-museum-istanbul
Basilica Cistern
Topkapi Palace
The Topkapi Palace is the biggest and one of the most popular sites to visit in Istanbul. It was built between 1466 and 1478 by Sultan Mehmet II. On top of a hill on a small peninsula, dominating the Golden Horn to the north. The Sea of Marmara to the south, and the Bosphorus Strait to the northeast, with great views of the Asian side as well. The palace was the political centre of the Ottoman Empire between the 15th and 19th centuries. Until they built another stunning building called Dolmabahce Palace by the waterside.
Opening Hours
The opening hours during the summer period are from 9 am to 4:45 pm. Your last chance to grab a ticket will be by 4 pm as the ticket office will be closed. Please note that the palace is closed on Tuesday, no matter what the season is. The ticket price cost 40 TLs to enter here. If you also want to visit the Harem section, there's another added 25 TLs to enter. Unless you have a museum pass it is valid to enter both.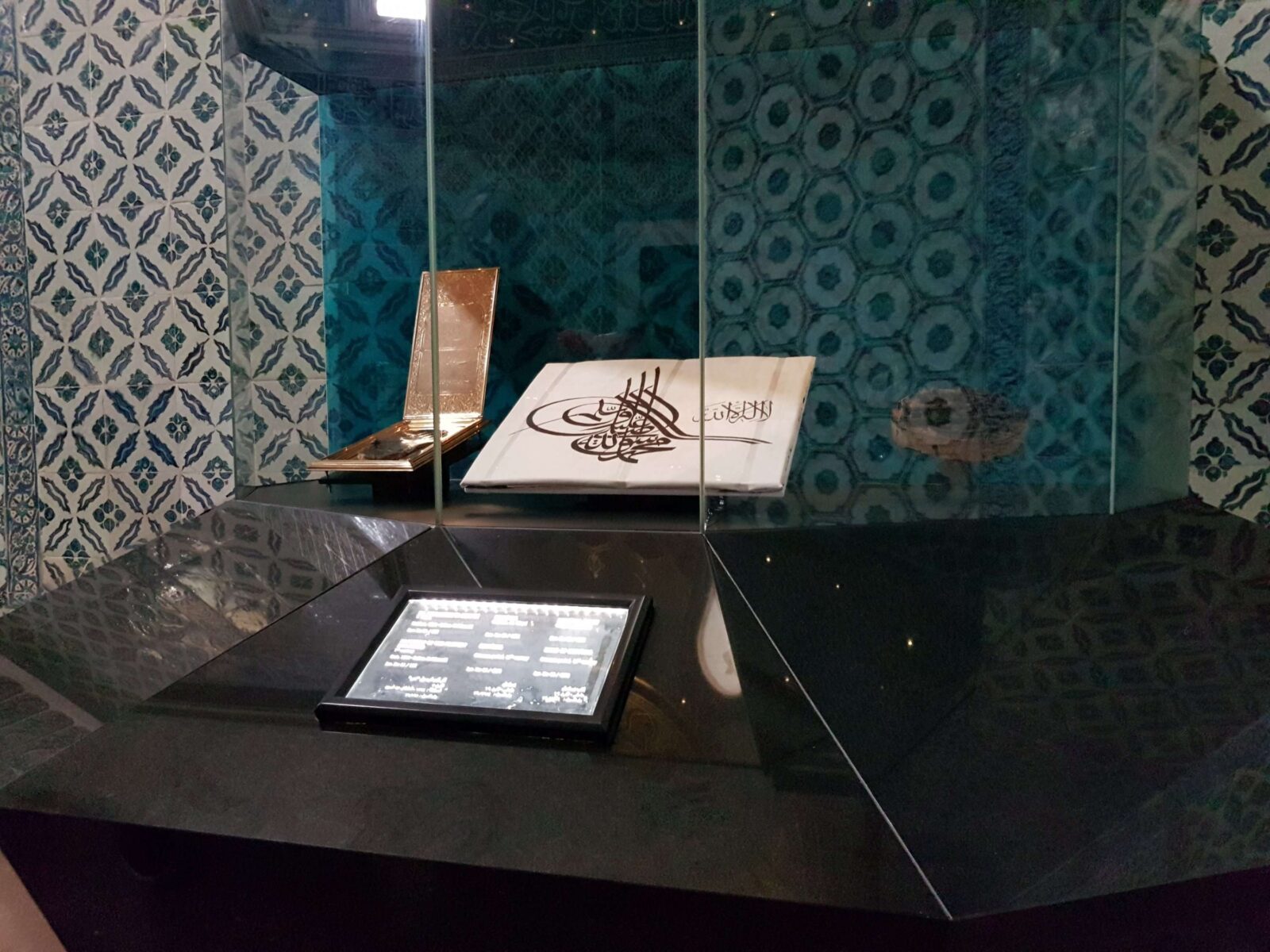 This palace is a must-visit when visiting Istanbul, as there are so many historic Islamic pieces to see and witness of our prophets including his clothing, swords and other historic items. You can easily spend up to three to four hours here, so make sure to take a map or have a list of everything you would like to cover.
Open daily between 09:00 – 17:00 except on Tuesdays. During the summer period, it has longer opening hours (until 19:00 usually) and might be open 7 days a week, depending on the high tourist request. The museum shuts down visitors during the morning of the first day of religious holidays. Currently, admission to the palace costs 40 TLs for adults and another 25 TLs for Harem.
Topkapi Palace has some interesting facts and certain spots, which you do not want to miss out on.
Head over to the Istanbul Studio Tour to gain some interesting insight from the Topkapi Palace.
https://istanbultourstudio.com/things-to-do/topkapi-palace
Maiden Tower
The Maiden Tower is located off the coast of the Salacak neighbourhood in Üsküdar district, at the southern entrance of the Bosphorus.
The Maiden Tower is a well-known tourist place. It has a fantastic restaurant that offers 360-degree views of the Bosphorus and the Old City. Especially at night with the night lights switched on. There are several shuttle boats going through to the tower at certain times. This is from Kabatas neighbourhood on the European side of Istanbul and from Salacak neighbourhood on the Asian side. You do need to pay to go across to the Maiden Tower, although as we were all tired from walking, we just walked across the river and saw the Maiden Tower from the edge.
I did spot people shooting balloons as part of their activities. As they were floating around the river, people had a go with a gun aiming to pop as many balloons as possible.
If you are visiting the Maiden Tower, it is shut down on Mondays.
Thanks for reading my blog post. I hope you all have benefited and now know where to visit when touring Istanbul. Feel free to leave your comments below, what you think of Istanbul and what you like to see in my next blog post.
Adil Musa