Saffron Street
Saffron Street Address: 448-450 Cranbrook Rd, Gants Hill, Ilford, IG2 6LL
Website: https://www.lovesaffronstreet.com/
Nearest Station: Gants Hill Station (Central Line)
Tel: 020 8518 5444
Saffron Street is bringing Indian street food to London at a whole new level.
A sister company to Saffron Kitchen, if you're looking for a good-looking Indian-style restaurant, check out Saffron Street. The experience will make you feel right at home. This new street food restaurant has been buzzing ever since it opened in Gants Hill. People around London simply can't get enough of the stunning interior and experience that comes with it bringing home vibes.
Having found out about the opening of this new street food restaurant. I tried my luck by going here late at night a couple of times but due to the queue for a table, the wait for a table was over an hour at times. After being established for a good few years, they now have a branch in Leicester.
You can find the London restaurant open during the evening only from 5 pm till 11 pm. However, I thought to myself this time I will decide to arrive super early at 6 pm. Even then it was buzzing full of people just an hour after its opening hour. Luckily, the third time around when I went up to the staff, I managed to get a table for 2 straight away. That is why, on the recent visit I decided to book a table in advance, so we don't have to sit for a long time for our table, which was better as we had our seats straight away after arriving even though it was busy.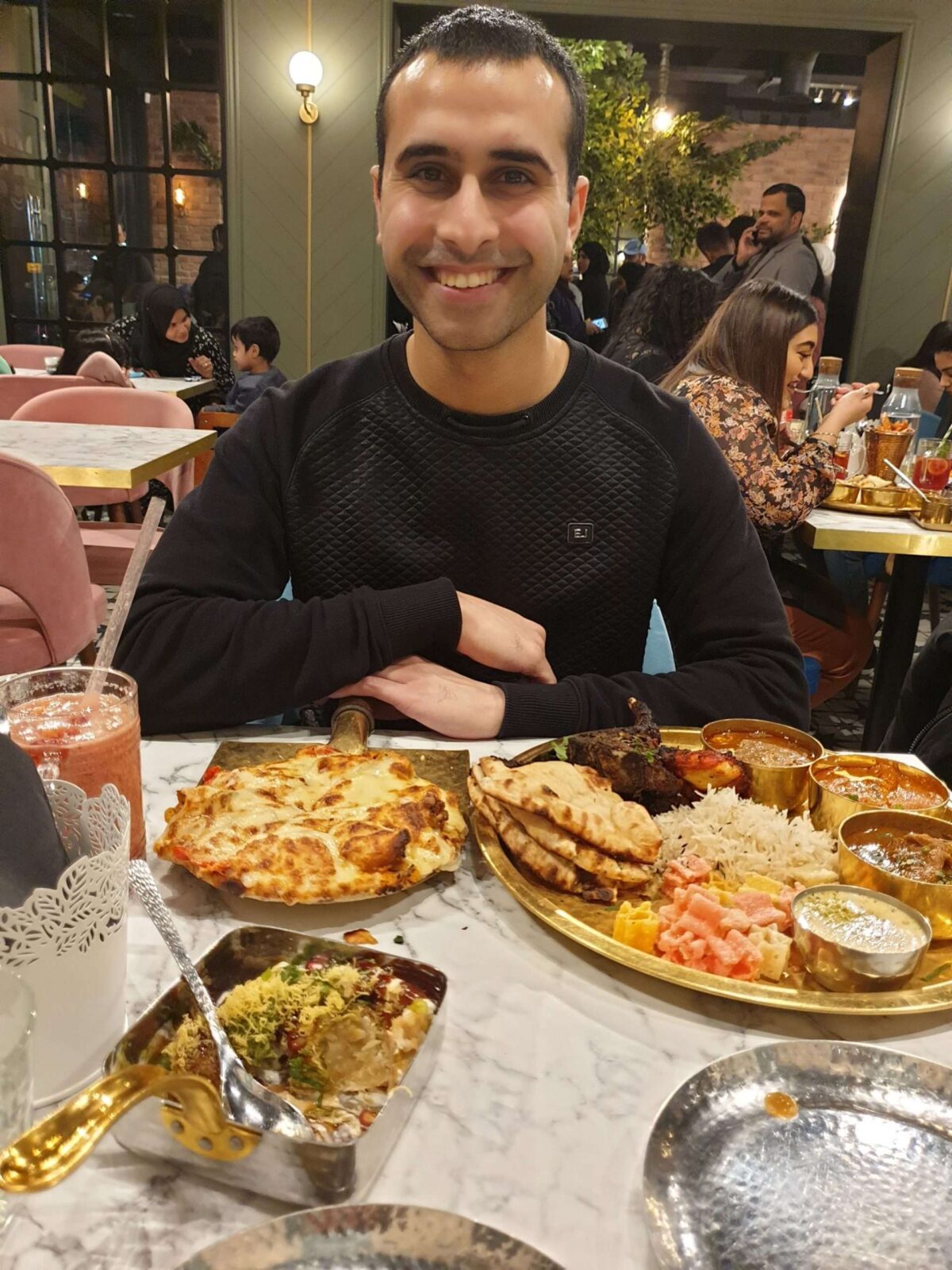 Saffron Street Experience
As we sat by the window, I noticed the whole room was full of people dining already. The first thing myself and my Mrs did was have a look through their menu. However, I did some research beforehand by looking at their Instagram page and others. As I knew what to order for myself beforehand. The wait time for our food was slightly longer than I expected. This was due to how busy all the tables that required serving were, which was expected, although it felt like around 10 mins or so for the drinks and the starters to arrive.
The Samosa Chaat was pretty delicious but was disappointed with Thaali as it was tasteless, but the only good outcome with it was shared amongst two people. I noticed around the other people ordered the Masala Chips and Pani Puri, which seems like a real hit down here. The second time around, I found the Naanza and the Mixed Grill pretty reasonable, the pizza-style starter was nice to indulge in, along with the different choices of meat in the Mixed Grill.
On the other hand, the live food show on your table will make you want to come back for more and experience the rest of their menu. Likes of Biryani show you in a round pot poured out on your plate and with tea, they have a bit of food entertainment, these are a few of the items which happen at your table.
Saffron Street Menu
The prices have increased majorly for most of the items listed below since the last time I reviewed this place, so do check the site for an updated menu. For example, Thaali was £20, now it's £28 for the same one.
However, they do have plenty of street food to choose from. However, I would just recommend trying their starter dishes rather than just going for the main dishes as it's very pricey for a small portion of the dish.
What we ordered (updated):
Lucknowi Dabaari £20
Samosa Chaat £5
Chicken Jalfrezi Naanza £9
Strawberry Daiquiri £5
Palak Chaat £7
Karahi Gosht £13
Mixed Grill £24
Mango Fire Mojito Jug £14
Tandoori Naan £2.5
Garlic Naan £3.5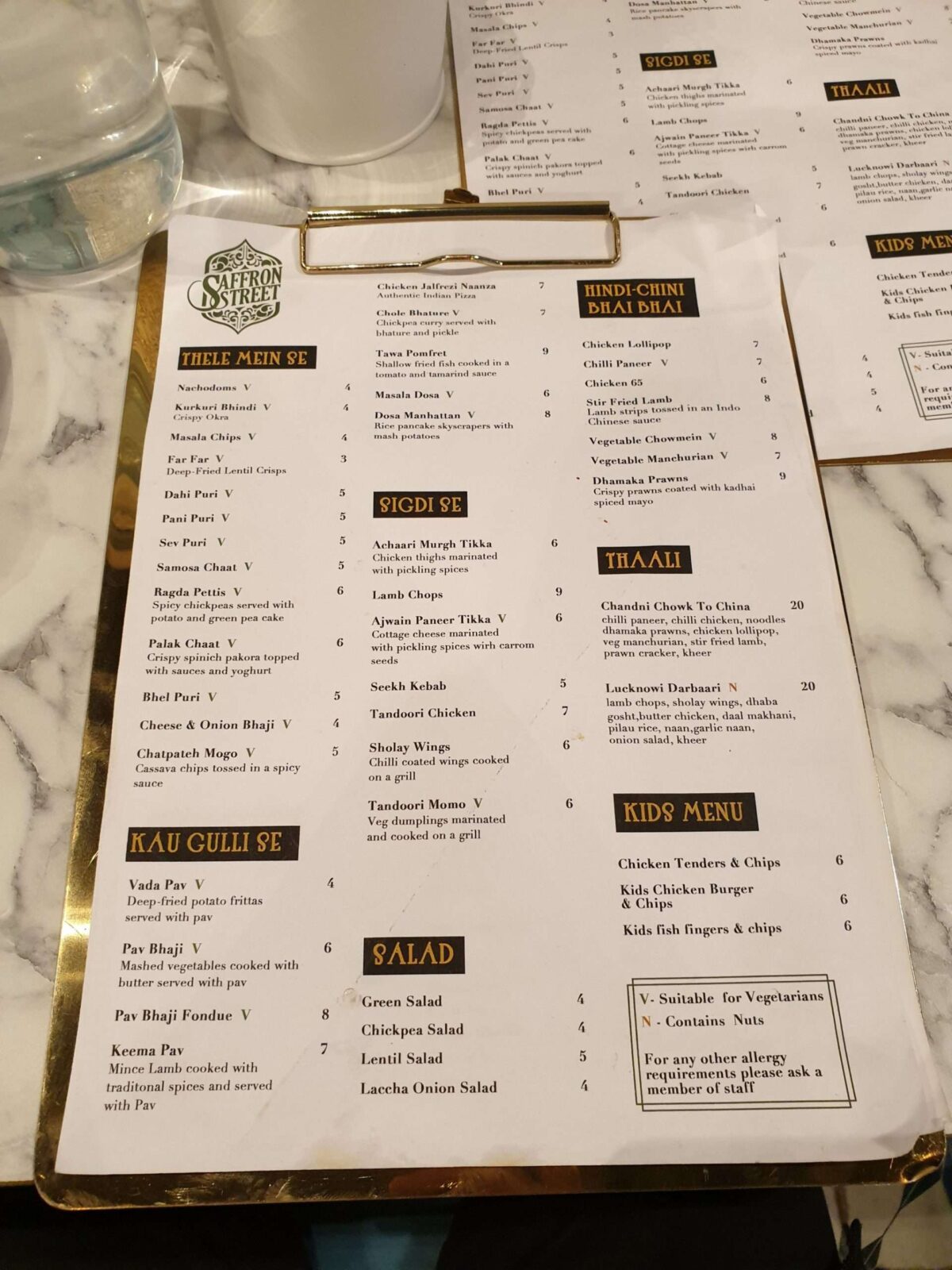 You can have a look at their main menu above, or on their Instagram page. As there are plenty of choices to choose from and try, it's a better idea to go as a group if you want to try out other dishes. As the prices here per dish are quite high. After taking some shots from my camera of the starters and the Strawberry Daiquiri. The mains arrived in time, so I could shoot all of the food altogether including 'Chicken Jalfrezi Naanza' and Thaali.
Saffron Street Food Photography
The Chicken Jalfrezi Naanza is an authentic Indian pizza, filled with chicken pieces and a mixture of veg fillings or in other words a pizza-style naan bread base, topped with chicken jalfrezi.
Lucknowi Darbaari Thaali
Lucknowi Darbaari is just one of the three Thaali options you can opt for from their main menu. This one contained Lamb Chops, Sholay Wings, Dhaba Gosht, Butter Chicken, Daal Makhani, Pilau Rice, Naan, Garlic Naan, Onion Salad, Kheer.
They do have a veg option called 'Chandni Chowk to China'. This dish has Chilli Paneer, Chilli Chicken, Noodle Dhamaka Prawns, Chicken Lollipop, Veg Manchurian, Stir-Fried Lamb, Prawn Cracker, and Kheer. Also, they have a Veg thaali option for those non-meat eaters.
Palak Chaat
Crispy Spinach Pakora topped with sauces and yoghurt. This dish for the starter was very nice but felt similar to Samosa Chaat, but served differently. Both are just as good, so there is no preference on what you go for.
Mixed Grill
In this mixed grill, you had various types of chicken and lamb in one tray, a colourful touch with the options of Pahandi Murgh Tikka, Lamb Chops, Sheekh Kebab, Tandoori Chicken and Sholay Wings. It an ideal for sharing dishes for ¾ people as everyone can have a piece of each meat.
Karahi Gosht
This was a spiced lamb, slow-cooked to perfection on the bone in a thick sauce. To be honest, the portion for the value wasn't worth it as most of the plate was filled with onions, peppers with little meat and curry. In an ideal world probably serve just two people at max. However, the meat and curry did taste nice but just weren't valued for their money.
Saffron Street Mango Fire Mojito
The Mango fire was very refreshing, so we decided to order a jug as it was better value than ordering separate drinks amongst the four of us. Torched with a lighter with Laung (Indian spice) with lemon slices inside.
CONCLUSION
Overall, the wait for this restaurant was okay. I wasn't fully impressed with the food but happy with the experience as it was really busy the entire restaurant. The staff members who were serving food were in full Indian wear, making it extra special and like you're in India. I was told that the chef is from Mumbai, which makes the food pretty authentic, just like you would find food back home.
Although Thaali wasn't as nice for the price I paid. However, you're more or less paying more for the interior and experience than anything else. I was glad this time around as I managed to get a table straight away. The starter options were nice, so I recommend ordering either the Pani Puri, Masala Chips, or Samosa Chaat.
The bill came up to be £37 altogether, which I felt was way overpriced for the portion you receive as it's not that filling. If you're looking for quality food then I wouldn't recommend coming here, unless you're thinking of gathering with mates for a snack and chat. The second time I visited the bill came up to £78 in total for four people.
Food: 8 out of 10
Service: 8 out of 10
Price: 5 out of 10
Experience: 8 out of 10
Presentation: 8 out of 10
Overall: I've given this restaurant a 7.4 out of 10.
Thanks for reading my blog post. I hope you've enjoyed reading this honest new Indian street food in Gants Hill review.
You can read my other food reviews: