Copper Chimney
Copper Chimney is an award-winning Indian cuisine located in Westfield's Shepherd Bush. This popular Indian restaurant serves some of the most delicious-looking North Indian cuisines. Also, this restaurant is the first one to be opened up in the UK. If you're looking to experience luxury dining in front of the kitchen, where you can see the food being made freshly by the chefs. Then this one spot you have to check out. The atmosphere here was cosy and vibrant to dine in, as I witnessed the place pretty packed as the day went on.
Copper Chimney Experience
After a day of shopping in Westfield, we ended our day dining at a popular Indian restaurant called Copper Chimney located in Southern Terrance. When I arrived inside, I was greeted by the staff member, who showed us to our table. Already noticing the place being busy, this was always a great sign and as soon as we left the tables were pretty much full. That goes to show they are doing well and people enjoy their food. The interiors at this restaurant can be found with a bit of an Indian and modern style theme.
As we surfed the menu for some time, we decided to order the dishes we wanted in one go so I could take photos of the meal. The experience of witnessing the chefs next to our table, cooking and tossing Roti's was a nice touch. Alongside the staff being around us ensuring everything was fine and whether we needed anything else. I couldn't have been more satisfied with the service as all the staff serving us were helpful whenever we needed it. The food and drinks were succulent from the presentation, the taste and even the drinks were pretty refreshing.
Copper Chimney Menu
You can view their menu below from their restaurant or click here for the online version. As you can see there are plenty of options to choose from and try out from their range of dishes available.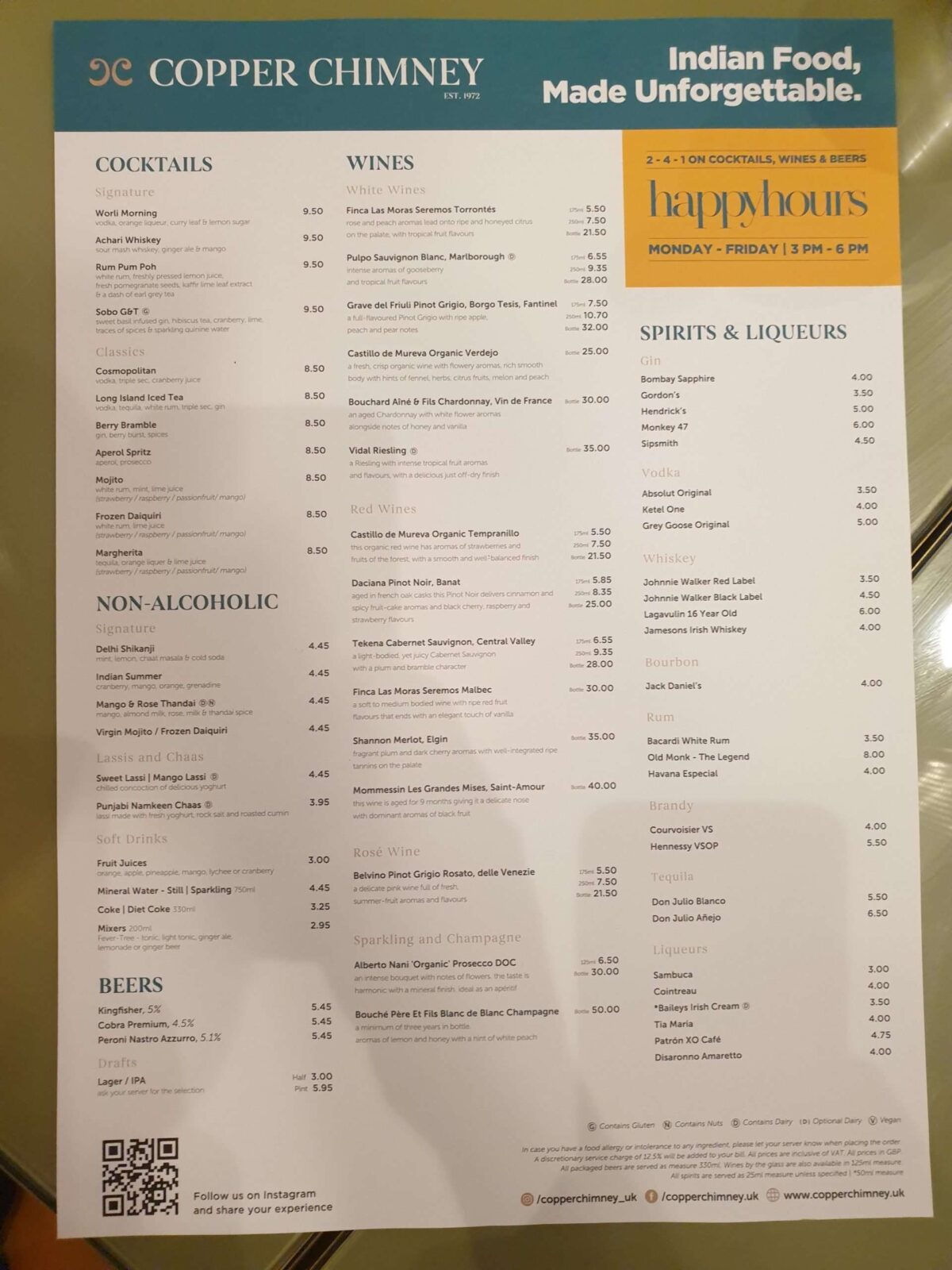 What did we order?
Chandni Chowk Chaat
Minced Lamb Patti Samosa
Green Peas & Aloo Samosas
Grilled Burrah Chops
Lamb Rogan Josh
Chicken Tikka Dum Biryani
Jeera Potatoes
Tandoori Roti
Garlic Naan
Multigrain Chura Paratha
Gajar Pistachio Crumble
Gulab Jamun
Indian Summer (Mocktail)
Mango Mojito
Karak Masala Chai
Copper Chimney Chandni Chowk Chaat £6.95
From the streets of Old Delhi, Chatpata chickpeas, spiced potatoes, and fresh yoghurt layered with sweet & spicy chutney.
I felt this was one of the uniquely presented dishes. The taste was creamy until you hit the bottom of the cup with the crunchy chaat coming into play. Overall a great-looking dish if you're a fan of chaats. Mrs enjoyed this one the most as it had its unique look.
Minced Lamb £7.25 & Aloo Samosa's £6.25
India's all-time favourite snack, stuffed with a melange of green peas and potato. The meat lovers' version of India's all-time favourite snack,
filled with minced lamb.
A popular snack of Indian food, these two samosas were delicious and tasted dipped in green chutney sauce. I enjoyed the minced samosa's triangle-shaped crunchy snack the most as I prefer the meat version. Both were just as good, I recommend ordering one or the other for starters if you're looking for non-veg or vegetarian snacks.
Grilled Burrah Chops £6.45
Perfected over the decades, cinnamon-scented, tender lamb chops marinated for over 8 hours, seared and chargrilled.
These chops were simply delicious, from the look of them and the softness. When I saw the picture online, I had to choose this dish for my blog. The lamb chops were very juicy, flavoured and enjoyable to indulge in. If you're looking for chops, then this has to be one of the best lamb chops out there in London.
Lamb Rogan Josh £15.50
Boneless lamb, marinated for over 6 hours in our secret 21-spice blend and slow-cooked with Rogan, a special Kashmiri chilly spice-infused oil.
The Lamb Rogan Josh was chosen based on eating out the previous day at Asiatique. As I had plenty of chicken dishes ordered with my family before visiting this spot. I just thought it would be best to try out a lamb dish this time. Then again, when it comes to meat, I always go for either boneless or chicken legs as they are my go-to dishes when it comes to Indian food.
However, the Lamb Rogan Josh is the only lamb dish curry on the menu, which makes it an easy option to choose. This dish had a nice little kick of spice, with the boneless meat, it did taste better with the naan bread.
Jeera Potatoes £5.95
Tender baby potatoes tossed with aromatic seasoning in a light home-style preparation.
These were soft potatoes just like the home-cooked potatoes my Mrs and Mum make. It tasted nice and soft, which went well with the roti. This vegetarian dish is usually made in most Indian households.
Chicken Tikka Dum Biryani £13.95
Tandoor-roasted chicken tikka, layered saffron rice, topped with crispy fried onions and ginger.
One of the most popular chosen dishes from the menu at Copper Chimney is the Chicken Tikka Dum Biryani. I truly loved indulging in this, as I ate this dish the most after the lamb chops as it was yummy. I highly recommend choosing this dish if you're a rice lover. Also, the fact that it tends to be home biryani that usually tastes better, but I thought it was just as equal to it.
Dal Maharaja £8.95
Whole black lentils, tomatoes and spices slow-cooked for hours, finished with a dollop of ghee.
Dal Maharaja was provided to us as an extra dish, by the lovely staff who looked after us through the evening, which turned out pretty tasty with Roti. We couldn't finish all of it, as we were stuffed with the other dishes I ordered, although I got to share it with my parents at home, they enjoyed the taste of the dal. The ghee drops around the dal made it look nice to indulge in.
Mango Mojito £4.45 & Indian Summer £3.75 (Copper Chimney Mocktails)
The Indian Summer drink contained cranberry, mango, orange and grenadine. Although I preferred the Mango Mojito instead, the Indian summer was a better-looking drink overall. Funny enough I ordered the Indian Summer for myself, which turned out to be a drink my wife had instead. As I preferred the mango mojito she chose.
Tandoori Roti £3.45 & Garlic Naan £3.95
Alongside the curry, I ordered the Garlic Naan & Tandoori Roti to try to have a taste of both pieces and see what they taste like. I felt that Garlic Naan tasted better along with the curries than the roti, due to the deliciously melting bread.
Copper Chimney Desserts - Gulab Jamun £4.75 & Ghajar Pistachio Crumble £5.45
Finally, the desserts at their best, the Gulab Jamun looked simply mouth-watering on its plate poured in syrup. Golden fried milk dumplings steeped in rose-scented syrup. These were both of our favourite treats, and by having a short break from eating all the delicious food ordered previously. We eventually made space to finish these treats.
The Ghajar Pistachio Crumble was on the bland side. If it was softer and melted together with ice cream may have tasted better. Although my Mrs is a Kulfi lover she did her best to complete it as I finished off the Gulab Jamun. However, I loved how the plate was provided for the Ghajar, really presentable and unique.
Karak Masala Chai £2.75
There's always time for chai at an Indian restaurant, a brewed masala chai - an all-time favourite. At first, it tasted slightly bland, but after I added two cubes of sugar, it tasted sweet and flavoured. Personally, loved the chai, as it was the perfect touch to finish our amazing experience at Copper Chimney.
Food: 9 out of 10
Service: 10 out of 10
Price: 7 out of 10
Experience: 9 out of 10
Presentation: 8 out of 10
Overall: I've given this cafe an 8.6 out of 10.
CONCLUSION
In conclusion, Copper Chimney gave us a wonderful experience and it's a great spot to dine with those looking for Indian cuisine around White City. I highly recommend visiting, if you're shopping around Westfield London. Thanks to Samphire Communications for organising a lovely meal for us. We truly enjoyed every moment of my time here. Especially celebrating our 2nd marriage anniversary, a nice treat for the both of us with all the delicious food we had.
The food I ordered tasted all delicious, I enjoyed the Chicken Biryani and Burrah Chops the most, whilst my Mrs enjoyed the samosas, raita and chaat the most. The service was top-notch, as we provided extra dishes to try out and were treated well with any help required. The price range at an Indian restaurant is probably a reasonable one, depending on what you order. Some dishes are well affordable as supposed to curries etc. The presentation of each dish was as good as it tasted since most of them looked good on camera, especially the desserts.
Copper Chimney Address: Southern Terrace, Ariel Way, London, W12 7GA
Telephone: 020 8059 4439
Website: https://copperchimney.uk/
Nearest station: Shepherd Bush (Central Line or Overground)
Halal Food is Served, but Alcohol is present on-premises.
You may also like to read other food reviews from:
https://adilmusa.com/spice-village-drive-thru-croydon/