Naan Staap
Naan Staap is a Pakistani theme-based café located in heart of East London. Ilford is the location of their third branch, which opened recently. Naan Staap provides it all, whether you prefer savoury or sweet foods. This one-of-a-kind eatery serves real Naan bread loaded with various fillings and beverages.
How To Get Here at Naan Staap?
The train or bus is the quickest and most convenient way to get to this eatery. The nearest train station is TFL Rail's 'Ilford Station.' As you depart the station, proceed straight ahead to Sainsbury's Supermarket, where the Naan Staap cafe will be found. You'll have plenty of time to enjoy on-the-go snacks or dine in because it's open from 11 a.m. to 11 p.m.
Naan Staap Experience
Following an offer to dine at the newly launched Ilford branch. I accepted the offer to dine at Naan Staap since it was within walking distance of my home. Despite the fact that I had previously visited their first-ever branch in Forest Gate, which was many years ago. This was a fantastic opportunity to try a wide range of dishes, and it did not disappoint. When I came, it was just half-full, which was perfect because I was able to sit where I wanted. However, if I had arrived 30 minutes later, it would have been too late because, after Half 6, it became very crowded.
I had made a list of items I wanted that I had planned ahead of time. As a result, all I had to do was inform the helpful and cheerful workers at the counter of my order. Therefore I thought the service was excellent. We had to wait a while because it was busy, which I didn't mind because I was able to film the interiors and environs in the meantime. Our dinner arrived at our tables after around 20 minutes of waiting.
Naan Staap Menu
You can see a list of their menu items below, which you may order directly from their café. You can select from a variety of options, including Vegetarian, Lamb, Chicken, Sweet, and many others.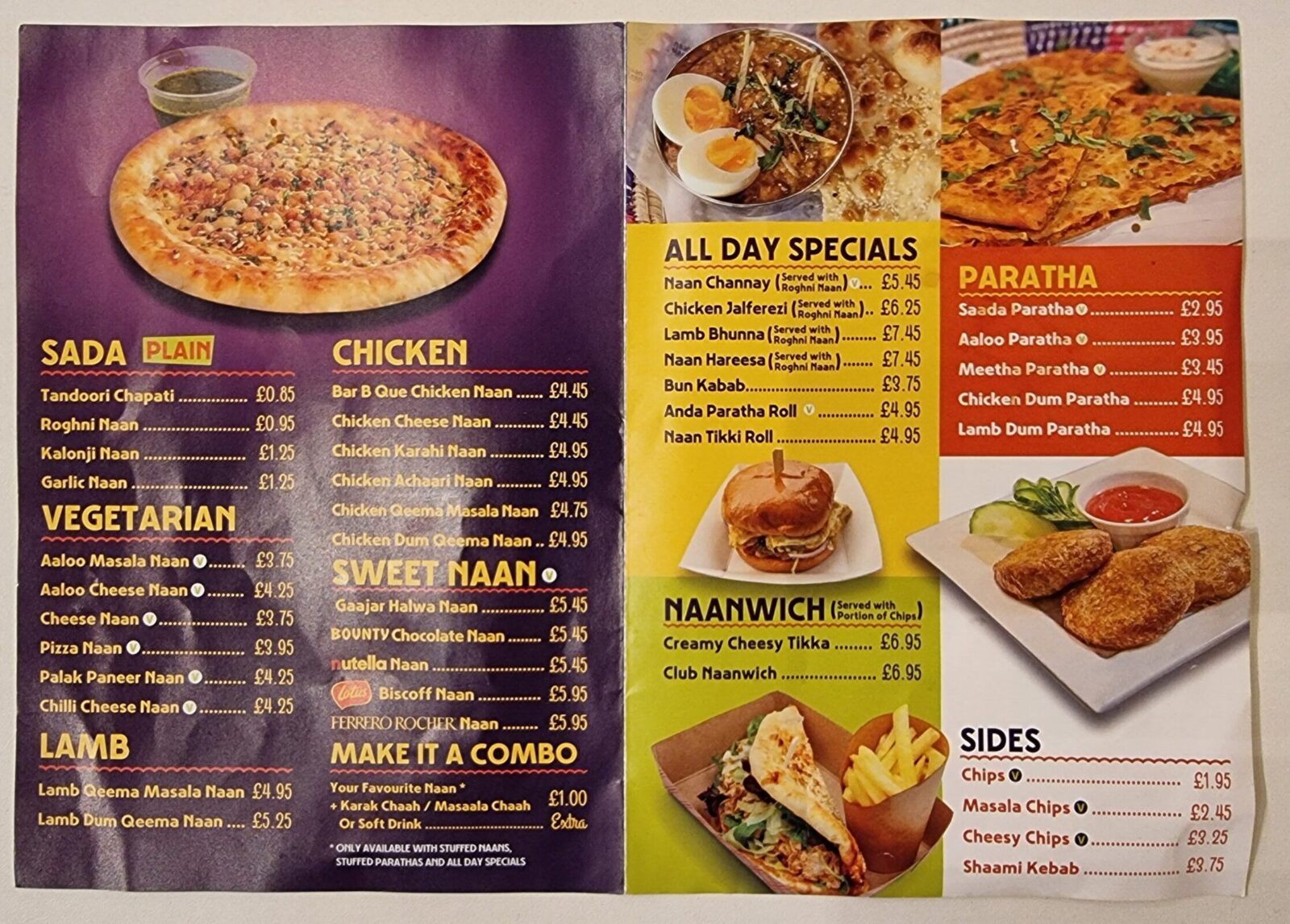 What I Ordered at Naan Staap:
Chicken Jalfrezi Naan £6.25
Aaloo Cheese Naan £4.25
Biscoff Naan £5.95
Shaami Kebab £3.75
Cheesy Chips £3.25
Vanilla Chaah £2.25
Mango Lassi £3.25
Chicken Jalfrezi Naan £6.25
The Chicken Jalfrezi was served with Roghni Naan, which was rather filling; after half of a Naan, I was quite full. This item will appeal to those who appreciate a flavourful boneless chicken curry.
Aaloo Cheese Naan £4.25
The greatest option was the Aaloo Cheese Naan. This dish is a delectable cheese pull item that I highly recommend because it's a wonderful combo for a melt-in-your-mouth sensation. Mint sauce is also available alongside this dish.
Shaami Kebab £3.75
A three-piece Shaami Kebab was a yummy and soft, round-shaped Tikki that could be dipped in sauce. This was one of the four side dishes they offered.
Cheesy Chips £3.25
Between the other chips, which included regular fries and masala chips, I preferred the cheesy chips. With melted cheese and herbs on top, these chips were delectable. If you're looking for a good side dish, this is the one to go for.
Biscoff Naan £5.95
Biscoff Naan was delicious, quite soft and sweet. If you're searching for a sweet meal, this is the place to go. This was served hot from the oven. It was a unique experience to try Lotus in a Naan, and I would highly suggest it.
Mango Lassi £3.25 & Vanilla Chaah £2.25
The beverages I chose, and both were delicious. Mango Lassi wasn't too sweet and had a fantastic flavour. The Vanilla Chaah was a lovely flavoured tea that I really enjoyed with the Naan.
Food: 8.5 out of 10
Pricing: 9 out of 10
Atmosphere: 9 out of 10
Presentation: 8 out of 10
Experience: 9 out of 10
Service: 7 out of 10
Overall, I gave Naan Staap a rating of 8.4 out of 10.
Naan Staap Address: 209 Ilford Lane, IG1 2RU
Website: https://www.naanstaap.co.uk/
Tel: 020 8637 4050
Opening Hours: 11 am-11 pm
Conclusion
Overall, I had a pleasant dining experience at Naan Staap. It seems to be fairly busy and a wonderful cafe to catch up with friends or family based on my personal experience. The food and drink options were plentiful, with the Aaloo Cheese Naan and Cheesy Chips being a personal favourite. The pricing range was fairly cheap, with most dishes costing less than £5. The Lamb is the most expensive, at £7.45, which is an excellent price range for those seeking a desi breakfast or afternoon high tea.
As I mentioned before, after half 6, where parking is free, the mood grew quite lively. I felt the presentation was nice, I liked Lotus Biscoff's appearance, and it tasted even better. The service was excellent as well since I had no trouble getting a table or placing my order. We weren't rushed, so I was able to enjoy myself while filming the menu items and spending time with my wife.
You may also like to read other latest cafe reviews from:
https://adilmusa.com/chaiiwala/