HS&Co
For numerous years, HSandCo has provided the best Halal steaks in Stratford. This unique concept of serving Halal South American Beef and producing recipes reflects the cosmopolitan nature of today's London. The Mocktail bar offers a diverse selection of non-alcoholic beverages. This restaurant, known for its Josper Grill, hosts one of the most distinctive grills. Only premium choice charcoal is used to heat this grill, giving it a distinct flame flavour not found in any other grill.
The Josper Grill will be visible from your tables, allowing guests to watch their meal being prepared right in front of their eyes.
How to Get Here?
The train is the shortest way to get to this restaurant. Stratford Station is the closest railway station. As you exit the station, go towards Stratford's bus station, then walk straight through the road past the traffic lights until you reach Stratford's High Road. You'll see the HSandCo restaurant from a distance. It's open from 12 p.m. until 10 p.m., so you'll have plenty of time to eat.
HSandCo Experience
HS&Co graciously invited me to dinner on a weekday evening, so I graciously agreed and decided to treat my wife after work. We believed we'd be able to dine for their Valentine's Day special, but that wasn't the case. Because it hadn't been released yet, we had to reconsider and choose alternative selections from their primary menu. The starters and main courses both had a variety of alternatives, so I went with the Sirloin steak while my partner went with the Lamb's ribs. To begin with, we were unsure, so we asked a member of the staff to suggest a few good possibilities for the starters.
The design of HS&Co is rather good, with hardwood tables and chairs and a little floral decor strewed about the place. We requested the waiters to take our orders once we had settled on our menu. Our beverages took around 5 minutes to arrive, followed by our appetisers 10 minutes later. We eventually dove into our appetisers, while I clicked away with my camera from various angles. The Courgette Fritters with Sauce and 6 Honey Wings were the items we ordered on the menu.
The honey wings were delicious and photographed well. After finishing our appetisers, our mains arrived 30 minutes later, along with the sides. Before we ate, I decided to video and photograph our food from the finest angles available. After patiently waiting, we were able to sink into our delectable supper.
HSandCo Menu
You can have a look at their menu here from their website, but they will have updated menus at their restaurant or on their social pages.
FOOD ON THE TABLE
We decided to order the following for dinner.
Courgette Fritters £5.50
HS&Co 6 Wings (Honey Flavoured) £5.50
Sirloin Steaks + Cheesy Chips £16.50
Sticky Lamb Ribs + Roasted Vegetables £16.50
Kiwi Cooler £5.95
All I Want Mocktail
Sticky Lamb Ribs W/ Roasted Vegetables
Slow-cooked lamb ribs with a spicy-sweet sauce paired with roasted veggies. You may order any side you like, so we went with roasted vegetables. The Lamb Ribs was great, and I would recommend it since it was sweet and had just the right flavour for your taste buds. The roasted veggies were tasty, although my wife enjoyed it more than I did.
Sirloin Steak W/ Cheesy Chips
A salad accompanied the medium-rare Sirloin Steak. Despite the fact that the steak I ordered looked fantastic, I was a touch disappointed. It was quite tough to break and had a rather bland flavour. I did enhance it by adding Parmesan cheese, but I wasn't really pleased. When you choose steak, it comes with a side, which was a great decision because the Cheesy Chips that came with it were fantastic. Dipping the chips into the melted cheese was delightful.
HSandCo Wings
If you're searching for a delicious appetiser, try these honey-flavoured grilled wings. Choose one of these wings as one of your starters. As I had a fantastic time eating this, and the quantity size was generous. You do, however, have an option of five distinct flavours when buying these wings.
Courgette Fritters
These Courgette Fritters fried balls were made of courgette & Italian cheese. This starter was recommended by the staff, which wasn't too bad, not something I would try again though. You do however have various sauces to dip these into.
HSandCo Mocktails
For the mocktails, I opted for the Kiwi Cooler. Although I heard the Disney Star Martini suppose to be good. However, the mocktail was refreshing and perfect alongside our food. My wife, on the other hand, chose a cherry-flavoured Mocktail.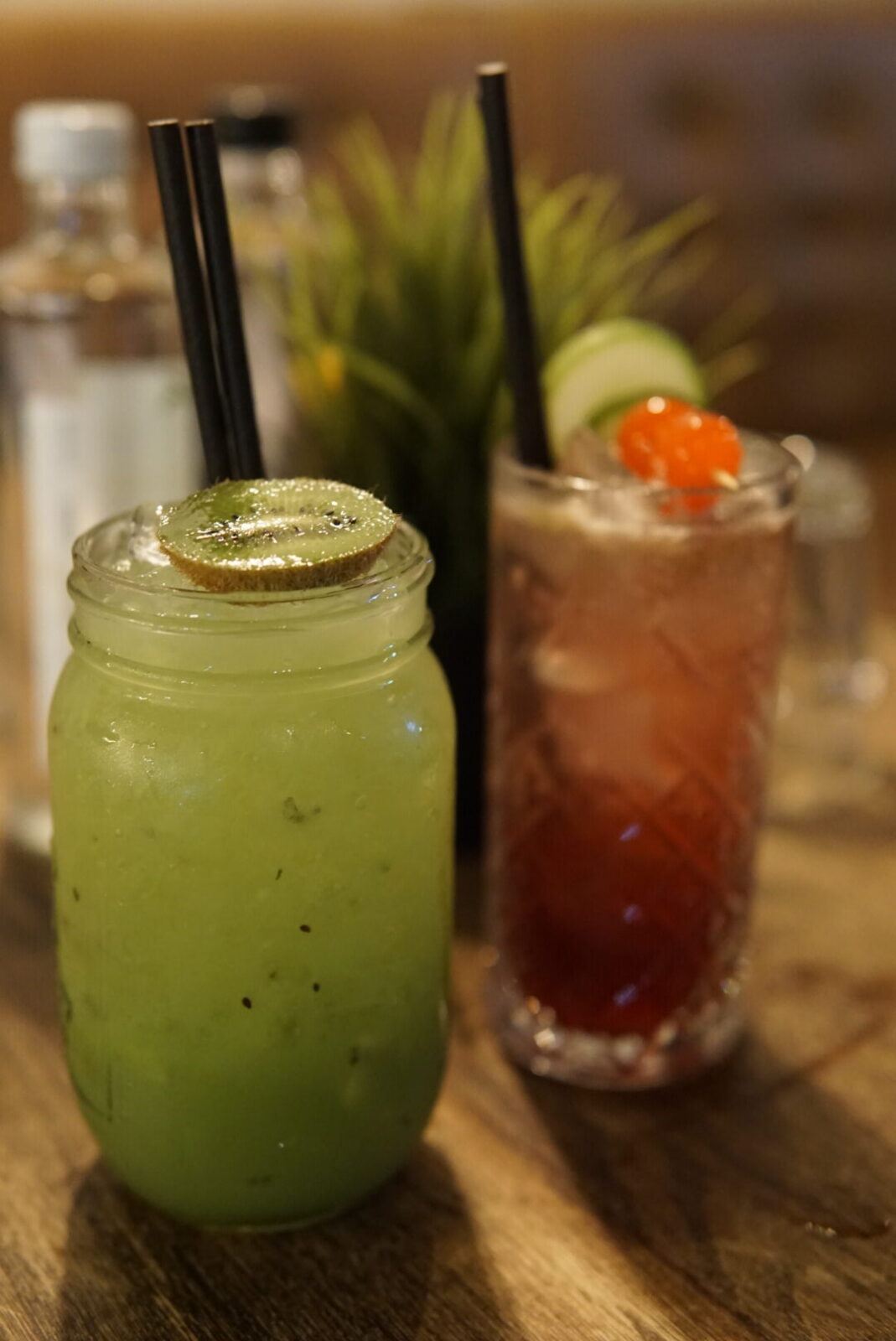 Food: 8 out of 10
Pricing: 7 out of 10
Atmosphere: 8 out of 10
Presentation: 8 out of 10
Experience: 9 out of 10
Service: 9 out of 10
Overall, I gave HS&Co a rating of 8.1 out of 10.
HS&Co Address: 405 High St, London, E15 4QZ
Website: http://hsandco.co.uk/
Tel: 020 8555 3322
Opening Hours: 12 pm-10 pm
CONCLUSION
Overall, I had a pleasant time; the restaurant was rather quiet, with about 3-4 tables occupied. It was mid-week, so it was to be anticipated compared to weekends. I must say that the majority of the meal was amazing; my favourites were the lamb ribs, appetisers, and chips. We couldn't eat all of the lamb ribs, so we took the remainder home to share with the rest of the family. The pricing would be a mixture of reviews, some things appear to be costly, while others appear to be adequate for the portion size. The ambience is pleasant since they have nice lighting and hardwood settings, as well as candles lit at your tables.
The majority of the foods we ordered were presented well; the main drawback was the dim lighting. Aside from that, almost all of the meals looked delicious. Finally, the service was wonderful I felt since we were given ample time to pick what we wanted and asked if we had any special requests.
Thank you for taking the time to read my review of HS&Co restaurant.
You may also like to read other latest cafe reviews from:
https://adilmusa.com/ribeye-steakhouse-review-manchester/