Mi Chaii
Mi Chaii Address: 125 Ilford Ln, Ilford, IG1 2RN
Telephone: 020 8215 0448
Website: https://michaii.co.uk/
Opening Times: 9 am – 11:30 pm
Mi Chaii is the place to go for desi tea & snacks. If you live in or around East London, you must visit Mi Chaii's newest location. With a terrific price range, desi breakfast, Indian Street Food, and much more, you will appreciate what they have to offer. They not only offer a wide range of hot and cold beverages. You can enjoy a one-of-a-kind afternoon tea set, which I chose for my experience. From their set menu, you have two options to choose from.
This is the place to go if you're looking for your next Insta/TikTok cafe. It's brimming with antiques from the British Empire. Customers will be transported back to the time of the British Empire in the subcontinent in 1964 when the British Empire enjoyed afternoon tea on the railway services. To replicate the interiors here, Mi Chaii drew inspiration from bygone eras. As you can see, there are a variety of antiques on the walls, as well as lovely interiors.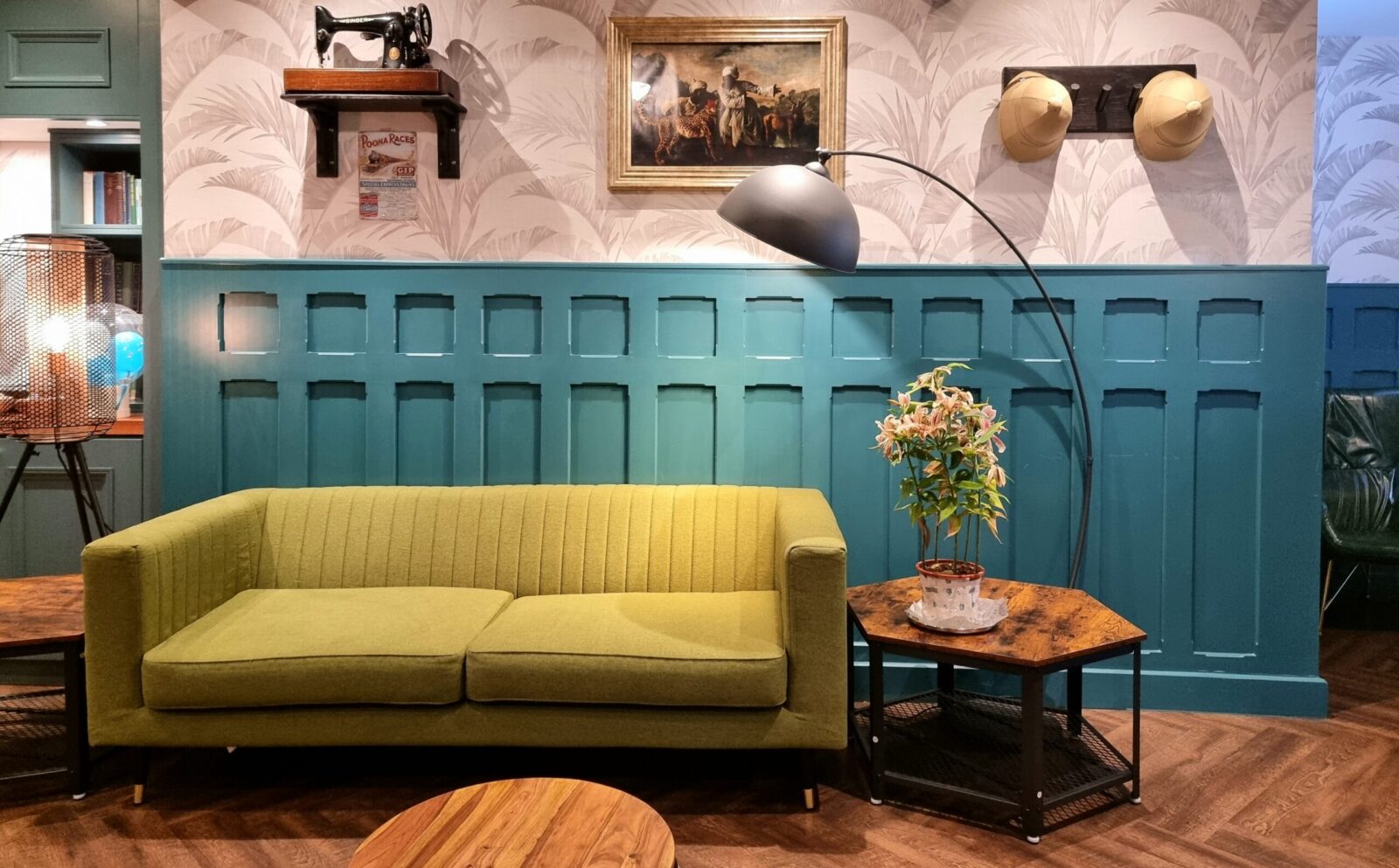 How To Get Here?
The quickest and most convenient way to get to this cafe is by tube or bus. TFL Rail's 'Ilford Station' is the nearest train station. As you exit the station, head towards Sainsbury's, and the cafe will be located on the road ahead. It's open from 9 a.m. to 11 p.m., so you'll have lots of opportunities to have breakfast or afternoon tea there.
Mi Chaii Experience
As I approached, I informed their social team that I would be there at 4 p.m. I was quite aback by how busy the cafe was at this hour. The atmosphere was vibrant, with 80% of the tables occupied by a pair. I liked how open it was and how the seating was distributed differently throughout the cafe. I did, however, wait 5 minutes before sitting down, which was fine because I was filming some of the interiors.
After glancing at their menu, I was determined what I wanted from each set menu. After that, I had to proceed to the desk and place my order. When the staff at the counter asks for your table number, be sure you know it so you can remember it when serving. My afternoon tea set arrived after around 10-15 minutes of waiting. It was time for the camera to eat first when it arrived, so I clicked away for a bit before diving into our afternoon delights.
Mi Chaii Menu
You may see their full menu from their cafe below, or go to their website to see their online menu.
What did I order:
Afternoon Tea For Two £21.99
Brunch Selection: Chicken Tikka Sandwich, Chicken Wrap
Savoury Selection: Samosas, Pakoras
Choice of Tea: Kashmiri Chai
Choice of Chips: Masala Chips
Dessert Selection: Red Velvet & Gajar Halwa
Food: 9 out of 10
Pricing: 9 out of 10
Atmosphere: 9 out of 10
Presentation: 10 out of 10
Experience: 10 out of 10
Overall, I have given this cafe rating of 9.4 out of 10.
Conclusion
Overall, I was pleased with my experience, especially because I was able to sample the new and interesting Afternoon Tea. The Samosas, Red Velvet, Masala Chips, and Chicken Tikka Sandwich were among my favourite dishes. I definitely recommend these dishes because they were great to eat. Although the chicken wrap was a little dry, I should have ordered the kebab roll instead, but that's for another time. The pricing range is fairly reasonable, with the Full English Breakfast being the most expensive item on the menu at £6.49. When compared to most cafes or brunch spots, you will be stuffed for the price you spend, which is why people enjoy eating here.
The environment seemed to be alive, with music playing and people chatting and having a good time. I thought the presentation was fantastic since I cut all of the products in half so that I could share them with my wife. The overall experience was positive, with the manager looking after us and explaining the cafe's history.
You may also like to read the latest cafe reviews from:
https://adilmusa.com/chaiiwala/