Ribeye Steakhouse
Ribeye Steakhouse Address: Unit 1A, Number 8 First St, Manchester M15 4FN
Hours: 5pm-10:30pm/5pm-11:30pm/5pm-10pm
Website: http://www.ribeyesteakhouse.com
Ribeye Steakhouse Food Review
Earlier this week, I went down to Manchester for an overnight stay for work. As I had a chance to dine out I thought about what better chance to dine at some of the new spots that opened around town. Therefore 'Ribeye Steakhouse' was the spot for me to visit this year as it just opened a few months ago.
Located opposite the well-known 'Tiffin Room' restaurant, you will well be stunned at how amazing they have gone above and beyond with their interiors. It truly was beautiful to look at with the lightning making it feel all luxurious. If you are looking for fine art dining, this is a place you have to check out as you won't be disappointed. As their food sure looks like a piece of art when presented to your table. That is one of the reasons why it attracted me to visit as soon as I saw their pictures online.
Experience
The restaurant wanted to bring a premium experience for its customers with in-house fine steaks. If you are not into steaks at all, they do have other dishes such as veg options to choose from. One thing you need to experience here is the dry drinks bar as you will be amazed by the theatrical experience bought to your table.
As I entered I noticed a blossom tree, which I thought was a nice touch to the entrance along with the lights. You can tell they have invested a lot in this restaurant, as having marble decor tables around the whole place is not cheap. However, the outcome for customers to witness all of this and dine here is simply brilliant. They have a drinks bar next to the kitchen which is open and can be seen by the people how their food is being cooked.
Ribeye Steakhouse has two floors, with plans to have outdoor seating, weather permitting. When I visited earlier this week it was really busy inside on both floors and I can see why as the food/experience is so good.
Menu
Let's get to the business end with my order, once I was sat down on a table of 2. I had a look through their starters, mains and drinks menu. After skimming through, I chose what I thought would look nice on camera, although the lighting wasn't on my side, I tried my best to get a good enough shot for my blog post.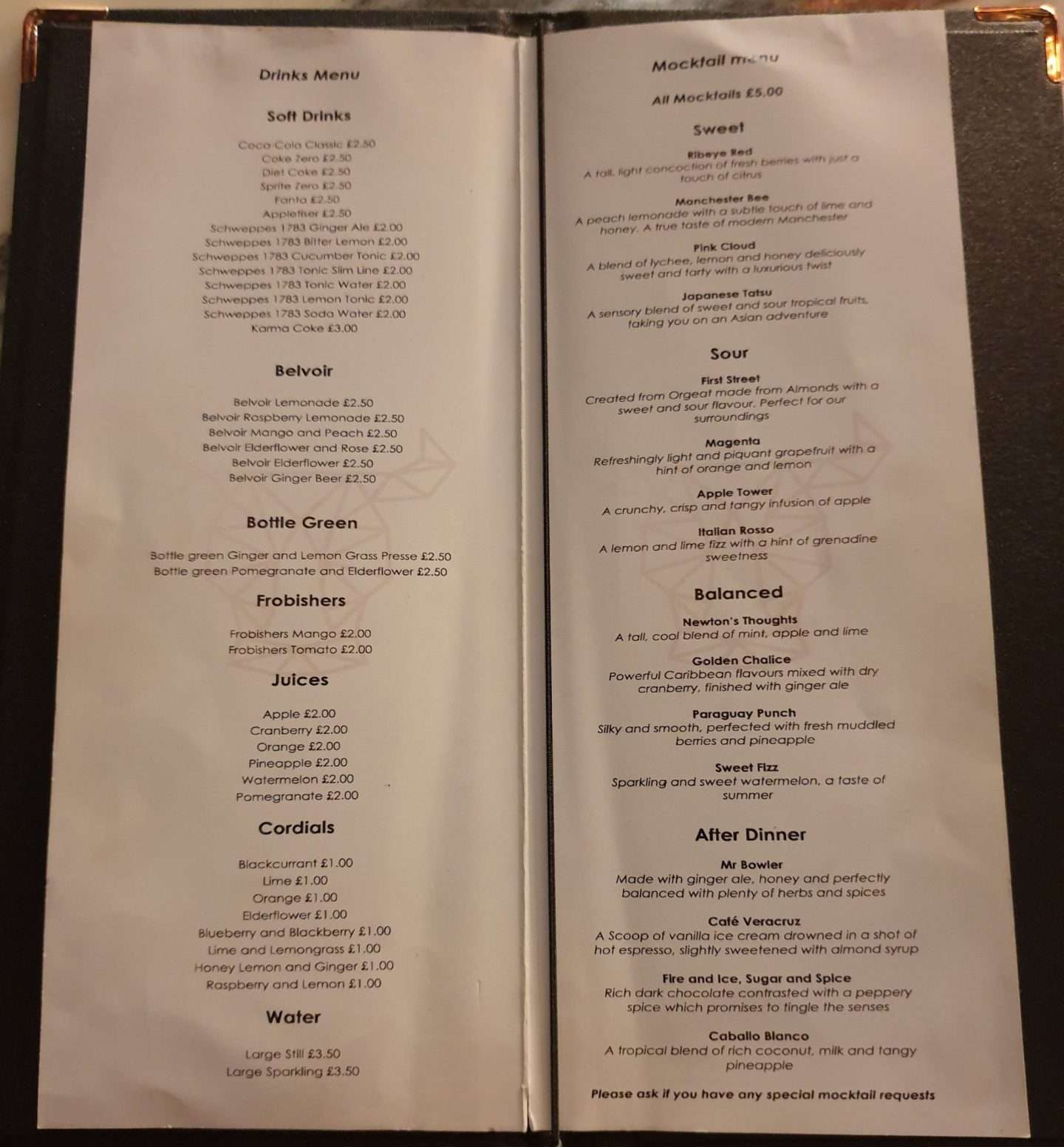 Starters
First, I chose to start with the 'Deep Fried Halloumi' priced at £8 for my starter. Crunchy tasting fried halloumi served with tomato salsa relish, this went down well as I enjoyed every bit of the halloumi.
Once I was done with my starter, I thought a good idea would be to order a drink. As I knew if I ordered a steak it would take a while to come through. For that reason, I opted for the Mocktail called 'Ribeye Red' from their drinks menu priced at £5. It was pretty heavenly and tasted good. As stated on their menu, a tall, right concoction of fresh berries with just a touch of citrus.
There were a few other flavours which sounded nice or if you are into sour drinks they were available on their menu as well.
Steaks
Once I sipped my drink, it was time to order the mains which I had been craving all day for it which was a steak. There are three different types that can be ordered its either Aberdeen Angus, Creekstone or Wagyu which is mega expensive. In the end, I opted for Aberdeen Angus Fillet Steak as I saw how it looked online and it sure looked nice. The pricing for steaks was ranging from £23 up to £65 with Wagyu steak. Hence they meant premium as they have got one of the best meats in town.
You decide whether you want your steak 'Medium' or 'Medium Rare'. I prefer my steak soft and easy to break when eating so I decided to go with 'Medium'. Also, you choose the type of sauce you would like to have with the steak and I would recommend the peppercorn, as it was delicious!
Conclusion
This place has left me coming back for more. I would have loved to have experienced and seen the theatrical making of the drinks but due to the cost of things, it was turning out to be quite a lot for one person. The luxurious, unique settings here have won me over with the food as well, just beautiful.
Regardless of not being a steak fan, you have to experience this place for maybe dessert or drinks at least once as you will not be disappointed. As I would say, the food was just divine along with the presentation. The atmosphere here is really busy as you see couples, friends and families dining together. However, I thought the pricing was on the high side as it seemed like London prices in terms of food, but overall my experience it was lovely and I would come back for sure just for the drinks and desserts.
My total bill turned out to be £51.15 in the end just for myself for dinner. That's mostly because the Angus Filet Steak with peppercorn costs £29.50 on its own. They do charge an extra 10% of the service charge on your total bill. The rest were reasonably priced as Chips were £4, the Mocktails were all £5 and the Halloumi came to be £8. It was like London prices here but honestly, the food was worth it, which counts in the end.
Food: 9 out of 10
Pricing: 5 out of 10
Atmosphere: 8 out of 10
Presentation: 9 out of 10
Experience: 9 out of 10
Overall, I gave this restaurant a rating of 8 out of 10.
Thanks for taking your time out and reading my latest food review post.
Adil Musa