Rump 'N Ribs
Rump 'N Ribs steakhouse is the only place that offers Halal Aberdeen Angus Beef. Built in 2013, this spot has come far with many familiar faces dining here. The restaurant has a luxurious feel to the place, where you can dine in with a range of dishes having a taste of experiencing fine dining. The ribs here are a well-known dish as everyone that has been to this steakhouse recommends it, including the chef.
During seasonal terms, they have a rotating menu, in which you can find new dishes when there's a new season upcoming. Rump N Ribs prides itself on providing customers with a unique environment and dynamic dining experience.
Rump 'N Ribs Experience
This restaurant came to mind, as I had a list of places recommended to me. I felt that it would be nice to enjoy a good steak, whilst staying in Manchester. As I walked in, I saw the owner of the restaurant. They greeted us and asked whether we had any reservations. As we didn't, they placed us at the back of the restaurant. After taking our seats, we took a sneak peek of the menu and then ordered what we thought would be enough.
As we waited around 10 mins at our table, the drinks and starters arrived. Then came the main, which was the sirloin steak. Whilst, I got caught up in taking photos of my food, we saw more people turning up as it started to get busy after 8 pm. The owner had a good laugh with the customers. It seemed like a good atmosphere around, with a mixture of young and old dining.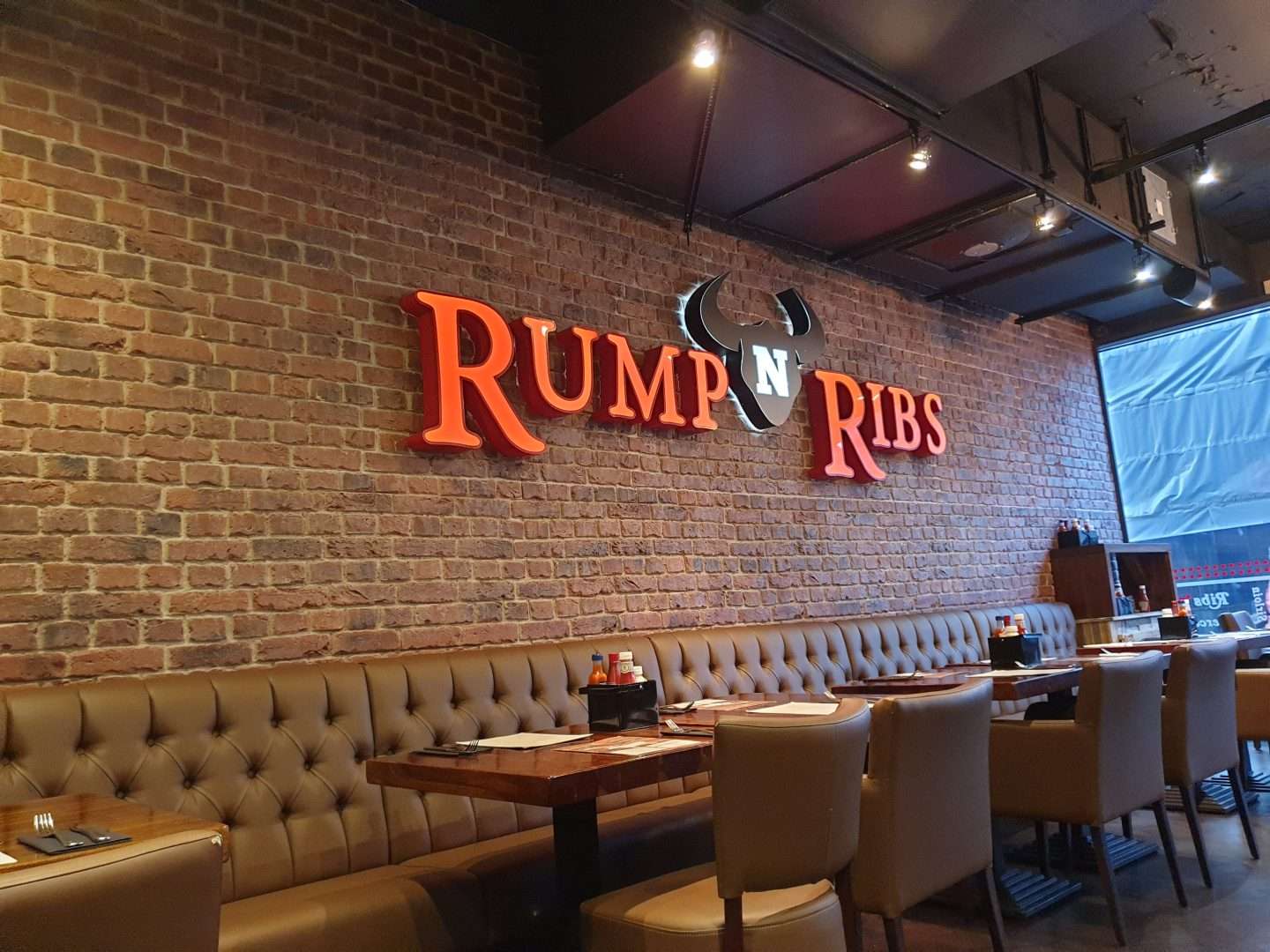 Rump 'N Ribs
Food Menu
If you wish to see their full food menu, you can look at their site below.
https://www.rumpnribs.co.uk/wp-content/uploads/2021/09/Rump-n-ribs-food-menu-bj.pdf
Combo Platter for 2 People £15.50
This combo platter provides you with a selection of ribs, chicken wings, prawns, and chefs' signature starters with a dressing rocket salad. I can't recommend this item enough if you can't decide what you want. Order the combo platter with a choice of all-in-one plate. The ribs and prawns were simply delicious enjoyed indulging in those. This place is known for its mouth-watering ribs, so we had to order it.
Pina Colada (Mocktail) £4
Tropical Punch mocktail containing a refreshing blend of Mango, Passion Fruit, and Pineapple Juice. This Tropical Punch was one of my favourites out of the two. An exotic drink, which makes you want more.
Tropical Punch (Mocktail) £4
A refreshing blend of Mango, Passion Fruit, and Pineapple Juice. The tropical Punch mocktail was one of my favourites out of the two. An exotic drink, which makes you want more.
Rump 'N Ribs Sirloin Steak £19
The Classic Steak, rimmed with a thin layer of marbled fat, is superb in texture, moist and meaty. The steak I chose was recommended to me, hence I opted for it. Between the two of us, I ordered only one steak as the platter was more than enough for both of us. Whilst, I was disappointed with this steak as it turned out very chewy and seemed undercooked.
Food: 7 out of 10
Service: 7 out of 10
Price: 6 out of 10
Experience: 8 out of 10
Presentation: 7 out of 10
Overall: I've given this restaurant a 7 out of 10.
CONCLUSION
Personal experience, coming down to this place. I should have tried some of the dishes, the chefs recommended on their website beforehand. As it looked like those dishes would have provided me with a better experience. Although coming to the food itself, the starters were delicious. The two things I would recommend would be the mocktails and platter. However, the steak was on the downside for us.
The service was ok as we were provided, with everything we required. Although we were told to sit at the back next to the toilet entrance, I wasn't happy about it, making it difficult to take photos with the light. The overall prices here, I found were pricey, just like in London. As steaks were priced at £19+, the mocktails were reasonably priced. The experience was good, as it was lively and busy when it got late towards the evening. Finally, the presentation I thought was more tasting than picturesque. Only the steak and drink looked decent enough.
Rump 'N Ribs Address: 73/83 Liverpool Rd, Manchester, M3 4AQ
Telephone: 0161 228 2284
Website: https://rumpnribs.co.uk/
Opening Times: 5 pm – 10:30 pm
You may also like to read the latest food reviews from:
https://adilmusa.com/archies-manchester-arndale/