Cheesecake Factory Dubai Mall
Ever been to the most delicious looking place than the Cheesecake Factory? This restaurant will have your mouth watered with the size and choice of food you have available.
Dubai Mall
The first day I arrived in Dubai, I had this place on my restaurant's list of food places to visit. The first afternoon exploring around the Dubai Mall, I found this restaurant near the souk area. It has two entrances so you can't miss it, opposite the Dubai Aquarium and the Souks. The place was buzzing and filled with lots of people dining. As they always say, places that are always busy tend to be the best spots to be at.
Below are the interiors and how huge the restaurant was. I just loved the fact of how clean and spacious it was. A perfect place to dine as a couple or with a big group of family/friends. The restaurant is well ventilated and as you immediately enter you are greeted warmly by the friendly staff members.
Menu
I looked through the menu wondering what I should go for, as there were so many options. They had food like steaks, burgers, pasta and much more. For foodies it was pretty much an endless choice of food to pick from as they all looked so good.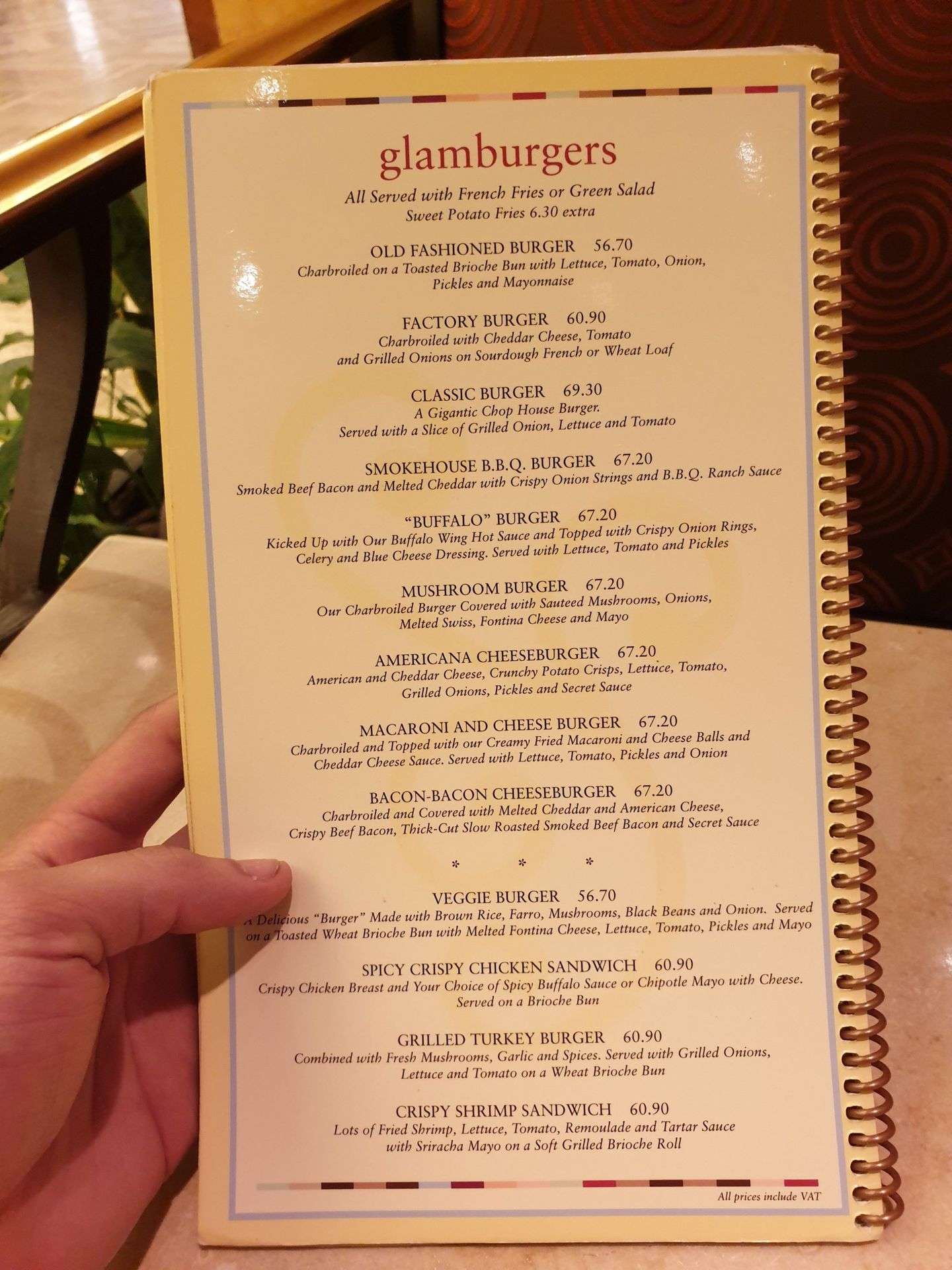 However, for roughly 5-10 minutes. I finally made my decision with the drink and food I wanted. I opted for the 'Island Cooler' for my drink but, wow, I did not expect the drink to be that huge. The portions here really surprised me, but it was totally worth it. Also, with the food option I opted for the 'Americana Cheese Burger' this was so huge and filling, but so good.
American Cheeseburger
All of the burgers came with chips, but a meal alone for me personally was more than enough. The burger I ordered was filled with American and cheddar cheese, crunchy potato crisps, lettuce, tomato, grilled onions, pickles and secret sauce. It certainly looked mouthwatering and tasted amazing. Dubai is known for its beef, so it's best to order those options as they tend to be really good for the taste buds.
I know why now my sister told me they ordered the kids meal. The sizes you get here for kids are the same portion as London. However, the regular sizes are huge and will be more than enough to fill you right up for the day. I would certainly recommend trying out the glamburgers for sure, but there are other options available.
Cheesecake
Even though I was completely full from having the burger, the staff was convincing and kind enough to offer me a cheesecake. Waiters in Dubai usually tend to ask or offer you more food until you say stop.
The choice of the White Chocolate Raspberry Cheesecake Truffle was recommended to me by the waiters, as I thought I had enough from the mains. However, they told me it's a must to have cheesecake, so I thought it's best to go all out and try it as how often do I visit Dubai Hey?….
The cheesecake I had was really light, luckily, so I was able to finish my dessert. This was certainly one of the most scrumptious looking and tasty desserts. It's a dessert, where one bite that makes you want more.
My bill came up to 126 AED in total with the 5% VAT included. I did find it quite pricey for just one, especially if there are more of you as a group, but it's worth the experience of the food.
Food: 9 out of 10
Ambience: 8 out of 10
Decor: 8 out of 10
Service: 8 out of 10
Price: 6 out of 10
Experience: 8.5 out of 10
Total: 7.9 out of 10
Personally, this was a favourite of mine and I would 100% recommend it to anyone visiting Dubai. From the food, staff and interiors it was truly a great experience. The food was beyond my expectations and would certainly come back to try something different. The place is so chilled and has a family-friendly atmosphere.
Address: The Dubai Mall, Financial Centre Road – Dubai – United Arab Emirates
Website: https://thecheesecakefactory.com
Tel:+971 4 419 0227
Opening: 10:00am-1am (Everyday)
Adil Musa