Spice Village Drive-Thru, Eat-In
Spice Village Address: Grand Sapphire Hotel, 45 Imperial Way, Croydon, CR0 4RR
Website: https://spicevillage.co.uk
Nearest Station: Waddon (National Rail) or Parking available inside
Opening Hours: 5pm-10pm
Tik Tok Famous and UK's first-ever drive-thru dining came to South London. Based outside the stunning Grand Sapphire Hotel. Spice Village has taken the initiative to utilise the indoor lockdown. That occurred for the past six months by bringing delicious Pakistani cuisine outdoors to their cars. Ever since this drive-thru started, it has been booming as tons of people have driven across the UK to experience this unique dining and atmosphere in Croydon.
I've uploaded a short vlog from this restaurant on my YouTube channel, you can have a look here.
Experience
Spice Village is known for their various type of halal cuisines and desserts. Usually, they cater Indian, Lebanese & Pakistani food for weddings. However, the Drive-Thru menu had non-veg and veg Indian/Pakistani cuisine with plenty of options to indulge in the comfort of your car. As I drove for over an hour, I finally made it to my first ever drive-thru experience, where I saw a sign at the front entrance "Welcome to Spice Village, Croydon, Drive-in Dine experience".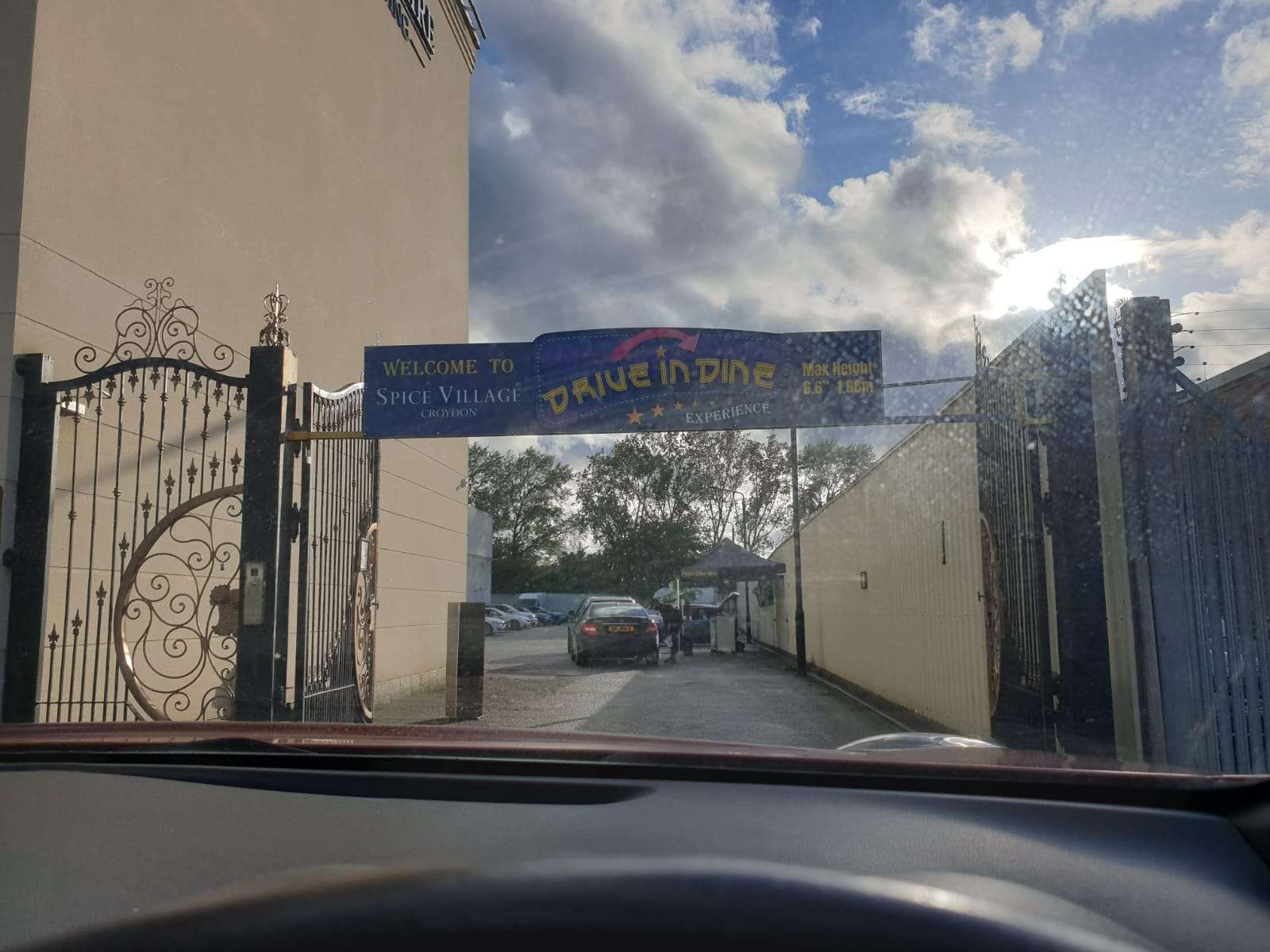 As we went past the sign, we were asked to place our orders at the front. They take down your orders on a tablet device, where you're given a table number to place at the front of your car. As I knew I was coming here, I had my choice of food listed on my phone to tell them. The waiting time was approx between five to ten minutes before being directed to our parking slot. As we waited for our food, we were free to go inside the hotel for either prayer or washing our hands or toilets. Therefore, I had a glance around the space and took some videos of the inside hallway.
Glossy Table
Once we parked. The staff provided us with a glossy white table slotted through both windows and across our front seats. I thought they were simply perfect for the photography and food settings. When I got comfortable, our food arrived pretty swiftly and everything we ordered looked so good. Both of us were excited to indulge as I snapped away many shots for the perfect shot before trying out all the food.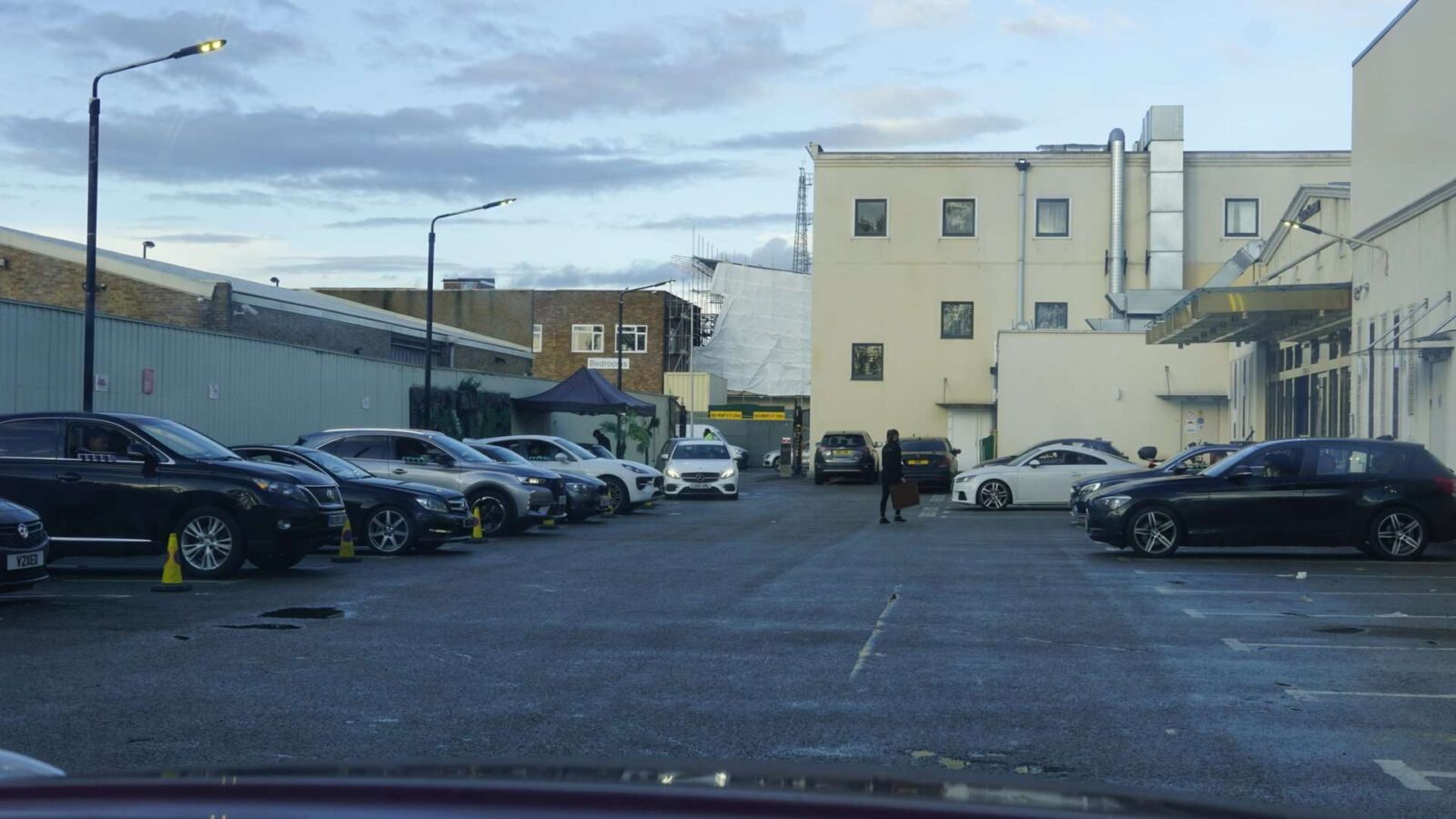 Menu
Below, I've listed what we ordered during our Drive-Thru experience.
Blue Lagoon
Strawberry Delight
Pani Puri
Aloo Papri Chaat
Mixed Grill Special
Chicken Tikka Masala
Chicken Biryani
Garlic Naan
Also, you can find the Spice Village Croydon menu here as they are now open for dining as of 17th May. Restrictions in the UK have been lifted with hospitality, cinemas, museums and more opened up.
As the glossy table was being set up in our car, the staff bought us our plates with cutlery and mains arrived along with it.
Aloo Papdi Chaat £6.99
This was one of the starters we ordered, one we would recommend. Popular Indian street food and one my Mrs adored alongside the Pani Puri. This crunchy papdi mixed in yoghurt was one for the sweet tastebuds, to kickstart your appetisers.
Pani Puri 6pcs £5.99
This was by far the best Pani Puri we've ever had in the UK so far, as the crunchiness and taste were yummy. Provided in a tray filled with six mouth-watering cups to pour into your puri's. To eat this you can either gobble them up in one shot or two bites.
Garlic Naan £2.50
Rather than ordering your regular naan bread, I opted for the Garlic Naan, which restaurant naan tends to taste great, with these was soft and buttery. They were perfect to indulge in the chicken tikka masala.
Chicken Tikka Masala £9.99
This dish was simply my personal favourite. I was debating whether to go with butter chicken or this. However, I'm glad I opted for this as it was so delicious. The chargrilled chicken tikka cooked with tomato & herbs was the perfect combination. Highly recommend you guys try this dish if you ever visit.
Village Special Mixed Grill £18.99
The mixed grill was a popular dish amongst many people. Hence that swayed me to opt for this dish during our visit. You have a bit of everything on a platter. The platter includes seekh kebab, chicken tikka pieces, lamb tikka and lamb chops. The perfect dish to share if you're a meat-lover. I enjoyed the kebabs and chicken tikka both were nice and chewy.
Blue Lagoon Mocktail £4.99
These were stand-out drinks for me at SV. The Blue lagoon with sparkling lemonade was a delight. Alongside Strawberry Delight, which was a red-coloured drink made with strawberry juice, fresh strawberries and ice inside. Both were refreshing drinks and eye-catchy drinks.
Chicken Biryani £8.99
Finally, like you're ordinary Biryani you have at many Asian homes. We opted for the chicken biryani as the main's, since it was a good one to share, the chicken was boneless and tender. This Biryani served on a plate looked great, provided it was a large portion it wasn't easy to finish. Therefore, we took the rest home to indulge in and share with the rest of the family.
As the evening went on, the atmosphere became lively as the music started playing. The outdoor lights of the Grand Sapphire hotel lit up. It was the perfect time to shoot, as the hotel looked great from the outside. You had a car park full of cars and a great atmosphere to capture.
Food: 10 out of 10
Service: 7 out of 10
Price: 7 out of 10
Experience: 10 out of 10
Atmosphere: 10 out of 10
Presentation: 10 out of 10
Overall: I've given this restaurant a 9 out of 10.
CONCLUSION
To conclude, the concept I thought was brilliantly thought of being Covid safe. The unique tray service was a well-thought process that fits through any car window. I thought the food was simply tasty and filling. As we managed to take the rest of the leftovers home. Chicken Tikka, Chaat, Mocktails and Biryani were simply delicious. Each dish at this place I'd say was recommendable. As I gave it a 10 out of 10 for the food. I felt the service was good as our food arrived in good time and all together.
Although, one thing that could have been improved is having one waiter per one or two cars. I noticed most were scattered around in the middle. Also, a few of them didn't know where the table numbers were. Maybe, in the future, they could have a pole in each car parking slot to mention the table number to make life easier. I felt the price was reasonable as you would pay for dining inside a restaurant. However, the extra 15% service charge made it slightly costly. The starters and drinks were roughly £5. The main dish was around £8-10 with a mixed grill being the highest cost. The total bill ended up becoming £91.91, which includes the service charge.
The experience and atmosphere were exciting since they lived up to the hype. You had music playing, plus on odd days they had special guests for entertainment purposes. I was impressed by their presentation as each dish looked delicious and Insta-worthy. My Mrs was so impressed by the Pani Puri and rated it the best she's had in the UK so far that we ordered another one.
You may also like to read other restaurant reviews:
https://adilmusa.com/copper-chimney-review/