48 Hours in Palma de Mallorca
Last Friday afternoon, I went on a short weekend trip with Toyota UK down to the beautiful island of Mallorca in Spain. Everything for the weekend was scheduled by the Toyota team. People from across the world came to experience the various styles of the Toyota Corolla. I managed to get my hands on the remarkable red flame hatchback as shown below. Everyone was given different models of Toyota cars.
Park Hyatt
I stayed at one of the most incredible hotels with a 5-star rating in Mallorca. This was one of the best places I've ever stayed before, called the Park Hyatt. As you have some of the most incredible views from the balcony and the room I stayed in was pretty insane. I loved every moment of my 2-night stay and seriously did not want it to end. As I entered my room there was a nice little welcome treat from the Toyota team on the table with a chocolate cake and other goodies. The cake was super yummy to have!
Experience in Mallorca
The first Saturday morning, I woke up bright and early. Therefore, I could check and capture some good photos of the hotel I stayed at. Park Hyatt is certainly one of the most picturesque places, you don't need to go far to take good shots. The further you go up the better the view you get.
As we had to meet up at 9 to head off to our first activity, which was the museum. I went and had breakfast early on and was ready well before 9ish. The breakfast was like a buffet so you had to grab a plate and choose some pretty great choices. There were options for fruits, sweets and savouries.
You can ask for eggs and tea separately if you ask one of the staff members. I felt spoilt for choice with the options they had for breakfast. However, I mainly just opted for Nutella on bread and a few other savoury treats to have with tea. Once breakfast was over, we got into our chosen cars and drove to the museum. The best part was that when we arrived at various places, the Toyota staff were already there to park up for us.
Museum
The museum we went to was called 'Miro Mallorca Foundation'. It was a nice little spot to explore and see the art of a historical family. This was where a man who built a legacy for his family to live on once he passed away. As it happens, his grandchildren still live outside of the museum, so when people walk past they tend to wave back.
After the museum tour, it was time to head over to the restaurant by the river. Not the best experience as I was waiting for a long time for my food to arrive. Also, the fact that they couldn't remember if I was a vegetarian or not wasn't ideal.
Food
I wasn't too satisfied with the food option and as I ate very little. They provided me with spinach rolls, bread with dips and one other veg dish. Although, the only part I enjoyed was the dessert as they gave us a chocolate slice. The only part which was delish!
The view outside of the restaurant was pretty beautiful. As you walk past and see a river filled with boats everywhere. However, if you walk across the road you see a sea with cruises driving past.
Exploring Mallorca
After our lunch meal, we had a couple of hours of free time to go and explore the island of Mallorca. The purpose of this trip was to capture the car for our social channel. Therefore I and a few other influencers decided to drive towards our hotel as we were an hour drive away.
Anyhow, on the way up the hills nearby from our hotel, we found a stunning cave called 'Coves D'Arta'. This was the perfect opportunity to shoot our cars with a stunning backdrop and sunset views. We spent roughly 45mins shooting and trying to get as many best shots as possible with our Toyota cars. Once we were done with our shots, I went back to the hotel for a little break. Before going over for a paella tasting event at our hotel an hour later and then dinner at Asia restaurant.
Finally, to end the first day in Mallorca. It was time for dinner and boy it was a completely different experience compared to lunch. I was provided with a lot of portions, especially greens, then bits of halal chicken on a stick and matcha for dessert. As we all sat until midnight, I felt exhausted after a long day so I went to bed. Whilst the others stayed for a bit longer for drinks.
Aquarium in Palma
On my last day in Mallorca, I got up bright and early again. This gave me an opportunity to visit the ever so popular Aquarium in Palma. You can find my experience and post from the Aquarium here.
Returning Home
As on this day we had free time, we were allowed to go whatever we wanted until 4 pm. However, I needed to go back to the hotel and grab my luggage before 4 as my flight was at 5:30. Therefore, I decided to take a long drive to the Aquarium and spent an hour or so. Before checking out a halal Indian restaurant called Nawaabs Pak Ind restaurant.
I've been craving something good and halal for the past two days. Therefore, finding a place made me quite happy to find a halal place nearby to the Aquarium. The place was quite fancy, the price was reasonable but for the portion very debatable. As one dish was not enough to fill a person up. You would have to order 2-3 dishes depending on your appetite.
Nawaabs Pak Ind restaurant
Saying that I ordered chicken karah and lamb chops. As I said, the portion I found was very small, but to be fair, overall it was nice. However, I wouldn't recommend ordering the lamb chops as it was cooked properly and I was not a fan of how it was made. I did manage to find some time for dessert as I walked up the streets. Over there I found Haagen Daz store, where I ordered 'Cookies N Cream' and oh my word it was divine. The dessert looked the part and it tasted so good!
When I arrived back at the hotel at Park Hyatt, I spent the last hour packing my suitcase and making sure I had everything. Thereon I went to explore the spa, I had hoped I would have time to go and visit the spa but unfortunately, I didn't. Although, I just admired the views before heading back to home sweet home in London.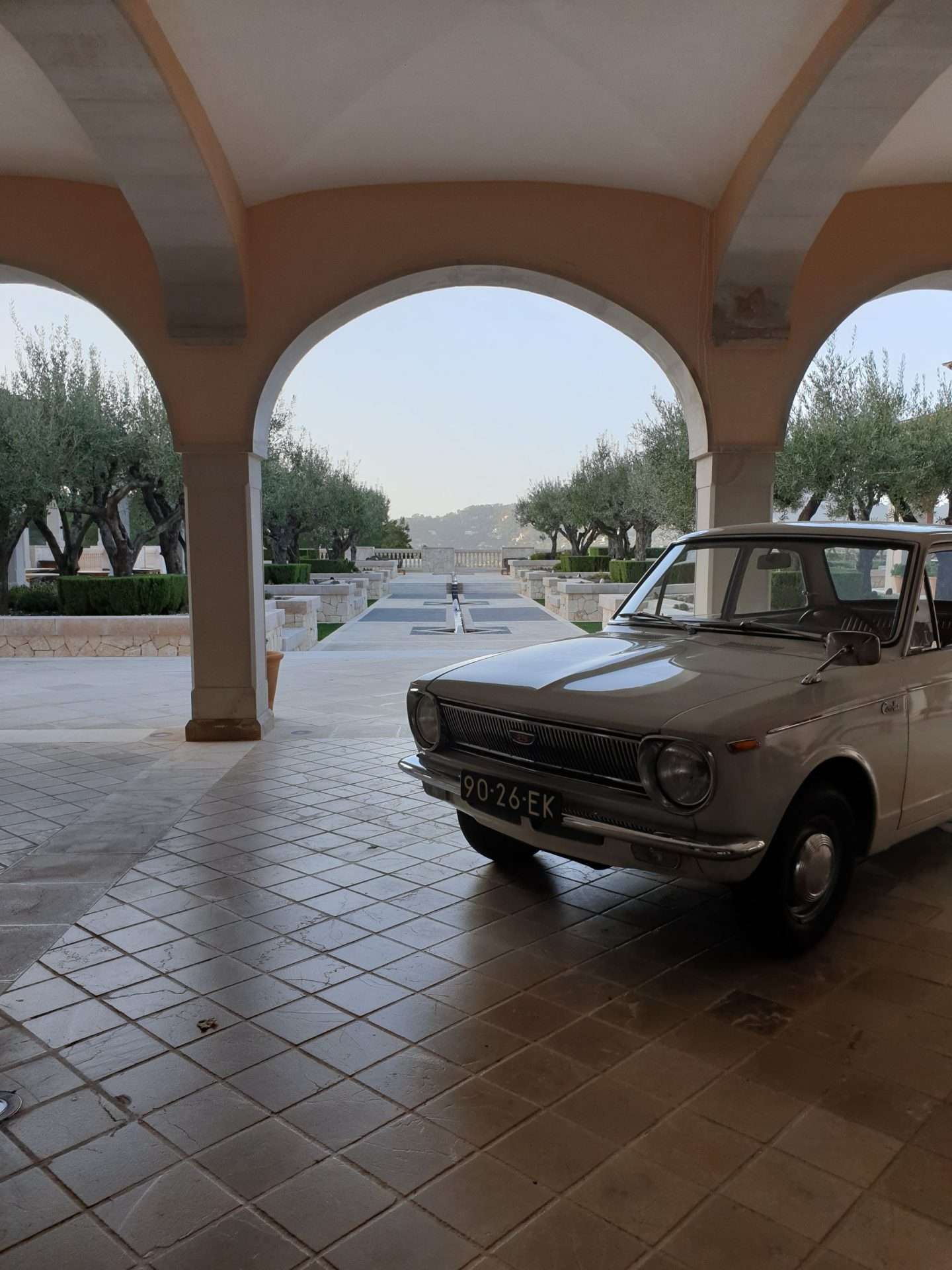 Conclusion
I hope you enjoyed the experience in Mallorca. This short trip was the most enjoyable I've been on and would do so again. Meeting new people and exploring new things was one of the best parts of it. I even got to drive the new Toyota on my own for the first time in Palma de Mallorca. Finally, I overcame my fear of driving in a new country! Whoop! Whoop! 😀
Until then, you can check out my other latest blog post from the incredibly huge Aquarium.
You can have a view of my vlog at Mallorca
https://www.youtube.com/watch?v=J1ar8ZLKKs4
Thanks for all the support and views you have provided so far! I truly appreciate it
I shall be back to uploading my amazing experience from Dubai, once I'm done uploading on my social pages from the Spain trip.
Disclaimer: This was a sponsored press trip to Mallorca with the Toyota UK team.