Dubai Garden Glow
Dubai Garden Glow was one of the first attractions I visited. This garden is filled with an artificial garden full of wonders made from eco-friendly items. This was a place for both kids and adults to enjoy themselves with colourful displays.
You can find this park in Zabeel Park, not very far from the huge Dubai Frame. Ideal to cover the Dubai Frame just before sunset, then head to the park for the glow.
Dubai Garden Glow
Dubai garden glow attractions are shown in three separate theme parks as Garden Glow Park, Dinosaur Park and the Ice Park. Besides these parks, there are some entertaining and food spots for everyone to experience something different. I've managed to capture as many pictures as possible to share with you all from Dubai Garden Glow. I have handpicked those that looked nice enough to feature, so I hope you enjoy all the pictures below.
On top of that, I have just recently uploaded a Vlog of Garden glow and Miracle Garden together linked here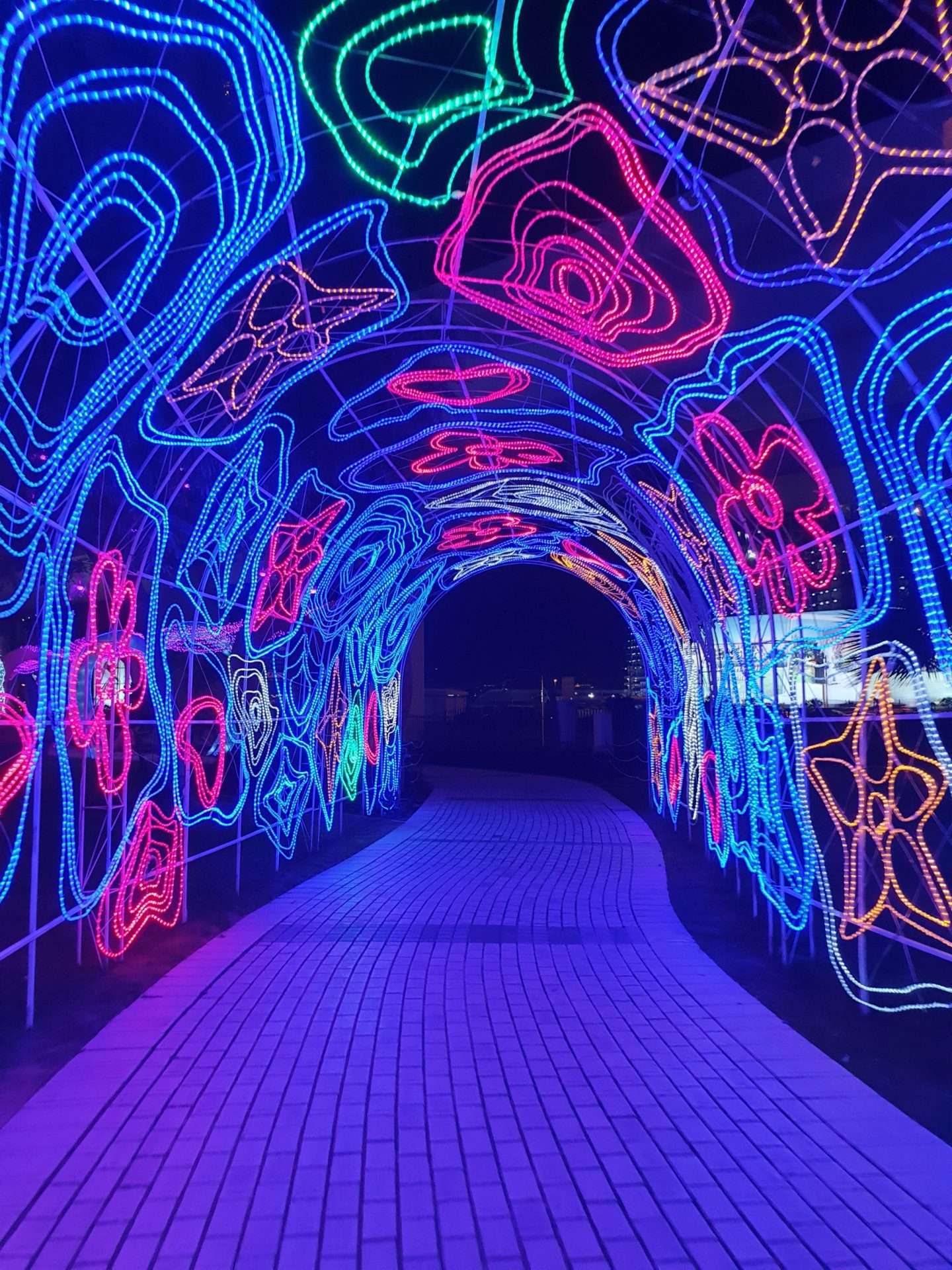 Installation
Every year there is a different theme for the season. This year there was the 'Glowing Safari' theme, where wonderful installations and light play take you through a magical safari trip. The new attraction of the season was the Art Park, adding a gem to the glow park, bringing its uniqueness. These creations were made up of 500 thousand different types of recyclable materials.
Dino Park, Dubai
This Dino Park is for the fans of dinosaurs. Here you can discover the world of dinosaurs with the most magnificent creatures on earth. I know for a fact kids would have enjoyed it, as I saw plenty of them walking around looking at different types of dinosaurs. With 120 animatronic dinosaur models that are much like those majestic creatures in primitive times, this park is the first of its kind in the Emirates.
The little explorers can look at and cuddle the real sounding Dinosaurs behind a fence. This season, the park offers a more engaging and interactive hub like the dinosaur labs. As well as a dinosaur museum that shows a replica of dinosaur skeletons.
Ice Park Dubai
This ice park is the biggest in the Middle East. This ice park takes a contrast as it hits minus temperatures as you enter like -8 degrees Celsius. Created using 5000 tons of ice, where 150 artists across the world have worked on these icy sculptures.
The ice park was one of the coldest places in Dubai. As you enter you feel like you're coming out of there as soon as possible. It was literally freezing in there, but OMG! I tried to stay there as long as I could but it was literally impossible. You need to be fully wrapped up if you can. The jackets they provide you with are nowhere near enough to keep you warm.
Conclusion
Overall, Dubai Garden Glow is an experience you can add to your list when in Dubai for sure. Exploring and capturing so many colourful artistic displays was wonderful. Personally, I enjoyed it because I managed to capture so many photos for my blog and Instagram. Plus this was something different and unique to those light festivals I've been to here in the UK. Therefore, it was a worthwhile visit with tons of entertaining things to see and explore. There were also lots of food stalls and shops for the families to just relax and admire the views around.
Opening hours:
Saturdays to Wednesdays: 04.00 PM – 12.00 AM
Thursdays, Fridays & Public Holidays: 04.00 PM – 1.00 AM
Address: Zabeel Park, Gate No- 6 & 7 Area – B, Dubai – United Arab Emirates
Tickets
60 AED is charged with a single entrant + 5% VAT (Dinosaur Park + Glow park)
15 AED extra for Ice Park
Entry will be free of cost for children under the age of 3
I hope you all enjoyed the images I captured from my experience. I highly recommend adding Dubai's Garden Glow to your list of attractions when visiting Dubai. It's a place to visit during the night, as the lights glow stunningly. It's a must if you visit as a family, as it's something for all.
Adil Musa