List of Top Restaurants in London
I thought it was an ideal time to compile a list of Top 10 Restaurants or at least some of my favourite restaurants based in London on one page as an annual review. All of these restaurants are either Halal or Suitable for Veg options so you can all perhaps check out for yourself next year.
Start off in no particular order.
Riverlight Quay, 2 Nine Elms Ln, London SW11 8AW
The stunning traditional Indian restaurant, by the river, has the most luxurious and stunning-looking food. You won't be disappointed, there are plenty of dishes to enjoy and indulge in. As well as entertainment on odd occasional days.
16 – 20 High Road, Wood Green, N22 6BX
The new Mediterranean Grill restaurant in Wood Green, north-west London, serves halal meat in its huge two-story restaurant. It has a rooftop for greater viewing during the summer. Turkish favourites can be found here alongside fusion dishes, with a family's love of cooking at the restaurant's core. You'll easily fall in love with their presentation and food, definitely a favourite of mine.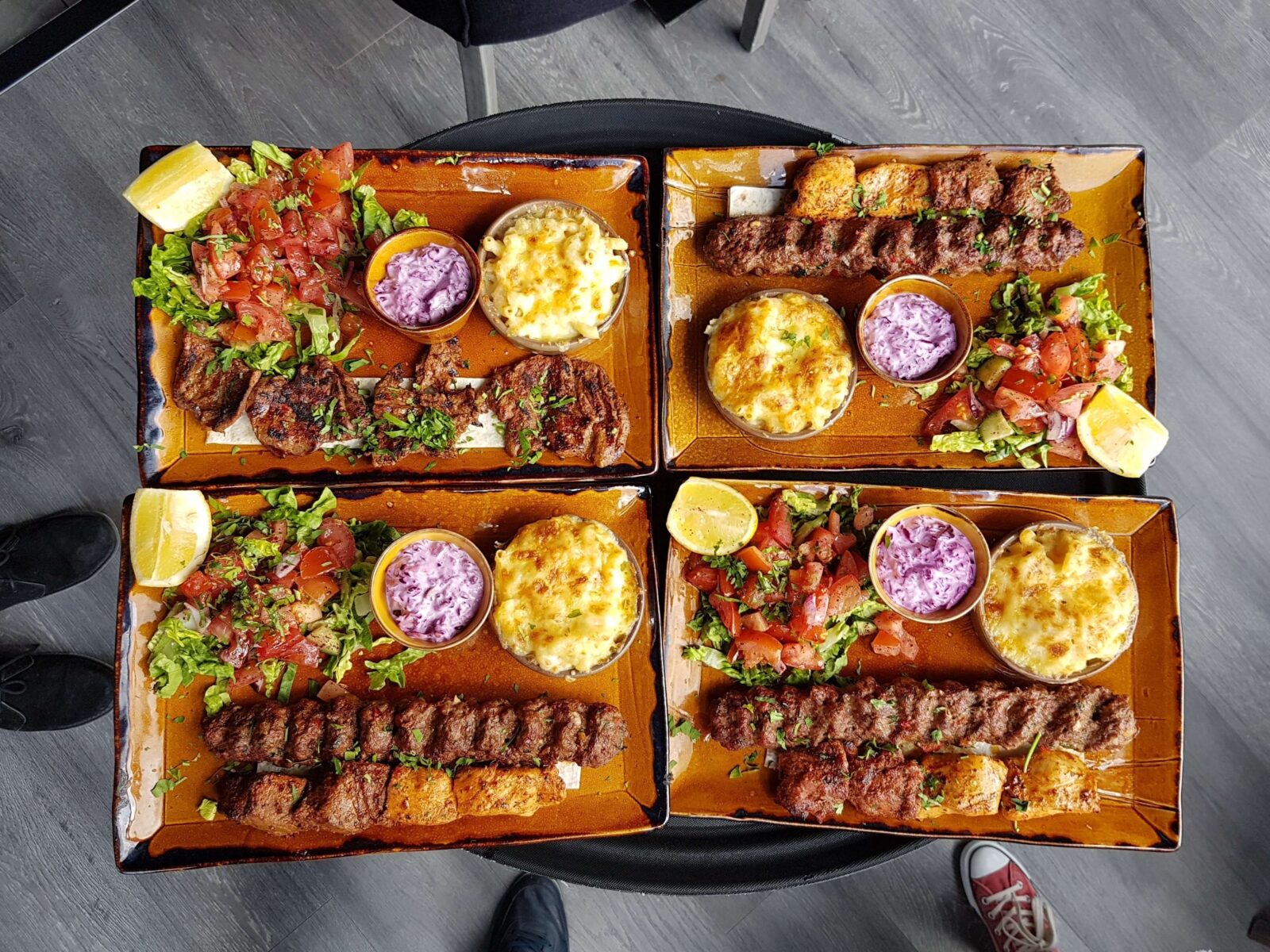 The Great Chase
316 St John St, Clerkenwell, London, EC1V 4NT
A fine dining experience with plenty to choose from on their menu, it offers something for everyone. Whether you're looking for brunch with your friends/family or seasonal food, seafood or veg options, they cater to all kinds of people enjoying a feast.
Hankies Marble Arch
61 Upper Berkeley St, Marylebone, London, W1H 7PP
Hankies is a casual Indian street food restaurant serving Indian tapas and specialises in serving Roomali Roti. A classic Indian roti, which is hand spun until it's thin enough to read through, is cooked on a burning hot Roomali Tawa and folded into 'Hankies'.
Band of Burgers
154 Hoe St, Walthamstow, London, E17 4QH
The burger spot, which recently moved into Walthamstow after opening its third branch. There are various burger and grill options to choose from for those who love their burgers and steaks. Keeping you satisfied, as the food does look delish and really fills you up 🙂
Dishoom
4 Derry St, Kensington, London, W8 5SE
If you love spicy Indian food then you will love Dishoom in the heart of London and recently just opened a new branch in Kensington. Brunch, lunch and dinner, you are sorted. Highly recommend this for a work or group gathering.
Chai Ki
Crossrail Place, Canary Wharf, London, E14 5AR
Another Indian restaurant serving Modern Indian Soul Food combines traditional ingredients and cooking techniques from across the Indian subcontinent with contemporary touches.
Dum Biryani
187B Wardour St, Soho, London, W1F 8ZB
The Indian dining room specialising in Dum Biryanis. Located in the heart of Soho. It's an experience to check out and try a different style of biryani if you're ever exploring Central/Zone 1 in London.
Siirgista Bros
19 Rupert St, London W1D 7PA
Another burger joint, but this one is located opposite Baker Street station. Siirgista Bros are now re branded with an more upmarket fast food eatery filled with lots of simple yet delicious burger goodness and perhaps a shake on the side too.
Pide Oven
45 Charlotte St, Fitzrovia, London, W1T 1RS
This place reminded me of my trip back to Istanbul as plenty of restaurants served Pide as it's a traditional Turkish item. If you're looking for comfort food and delicious looking Turkish Pide pizza, then you'll enjoy a meal here.
Thanks for reading my top list of restaurants, I hope you've enjoyed these top list of restaurants in London and now have a favourite spot to experience when in London.
I would love to hear your thoughts on your favourite place to indulge in and leave your comments below.
Adil Musa