Haute Dolci - Ilford
By launching a third new location in London, Haute Dolci Ilford becomes the latest branch, which continues to grow, where I was born and raised. I find it quite surprising that this is placed here rather than in the city because the professional and elegant interiors will astound you as soon as you enter. People lined up to get seats on opening day while being greeted by colourful balloons at the entryway. Additionally, there was a live violinist performing as guests dined and waited.
Similar to the Wembley settings, they have two floors, providing seats for smaller groups downstairs and seating for larger groups upstairs. Additionally, they recently debuted their brunch menu after only serving supper and dessert for the previous two weeks. Along with their dessert selection, you may discover burgers, wraps, sandwiches, pancakes, waffles, and much more.
Haute Dolci Ilford Interiors
The staff will welcome you as you enter the establishment and will ask you to have a seat while they set up a table for you. The upper floor has a gorgeous staircase, a swing chair that is photogenic in the corner, and a table with desserts to your right. There are several little booths with LK Verdant flowers interior on the bottom floor's left side. You can see the big screen at the rear as well as the kitchen, where the food is being prepared, while the rest of the floor is occupied by little tables for 2-4 people.
With sofa-style seats and flowers all around it, the opulent seating area for large groups is upstairs. They have a private space for meetings, celebrations, and other special occasions as well, as for corporate appearances. Inside the private room, you can also see their well-known neon sign, "Food, Fashion, Lifestyle."
Experience at Haute Dolci Ilford
after visiting the Wembley location and observing the development of this new location. It seemed incredibly eye-catching, and I was eager to be among the first to check it out, so I was absolutely eager to go as soon as it opened. Since it is now closer to my house, I no longer have to travel to Wembley and can come whenever I want. I had a positive personal experience because I was first shown the restaurant and given permission to take pictures in the private room by the staff.
After I finished using my camera, we headed downstairs and took a seat in the centre area. We made our decision to purchase our preferred meals while we perused the menu. Despite the fact that I had various brunch options in mind, some of them weren't accessible at that particular moment. So, we decided to get something else. I chose to walk around and snap pictures in the booth while it was vacant to pass the time as we had to wait for around 15 minutes, which consumed a significant portion of the time. Before we tucked into our delectable meals when the food arrived, I made the effort to capture as many noteworthy images as I could.
What I Ordered at Haute Dolci Ilford:
Chicken Cheetos Burger + Peri Fries (£10.80)
Nutterly Delicious
Strawberry Velvet French Toast (£7.80)
Milk Hot Chocolate (£4.30)
Fruits of the Forest (Mocktail) (£5.90)
Sizzling Chicken Salad (£7.60)
Dynamite Chicken £8.50
English Breakfast Royale £14.50
Haute Dolci Ilford Cheetos Burger
This was a perfectly fried chicken fillet sitting on a bed of fresh salad with iceberg sauce. Topped with Monterey Jack cheese, red onions,
cheese sauce, fiery Cheetos, and chilli sauce. This was highly recommended, as I've tried this at Archie's and I loved it, so having this here was a must, it was just as good, some may argue that it needed a bit more sauce.
Strawberry Velvet French Toast
I went with a wonderfully prepared French toast. This delicious brunch treat consisted of a thick cinnamon brioche bread that had been toasted with strawberries, Belgian milk chocolate, and melting vanilla gelato.
Sizzling Chicken Salad
A picturesque chicken salad for dinner, as this was chosen due to its presentation. A fresh salad filled with cherry tomatoes, cucumber, sweet peppers, and radish, as well as sweet chilli and crispy fried chicken. The fact it looked good, it wasn't too bad of a choice, especially for the price was kind of worth it if you're a salad lover.
Nutterly Delicious
A fluffy American waffle was used for this dessert, and Hazelnut and Ferrero Rocher bits were added as a garnish. A delicious treat for chocolate lovers that is served with hazelnut ice cream. After our main meals, a nicely presented dessert was served.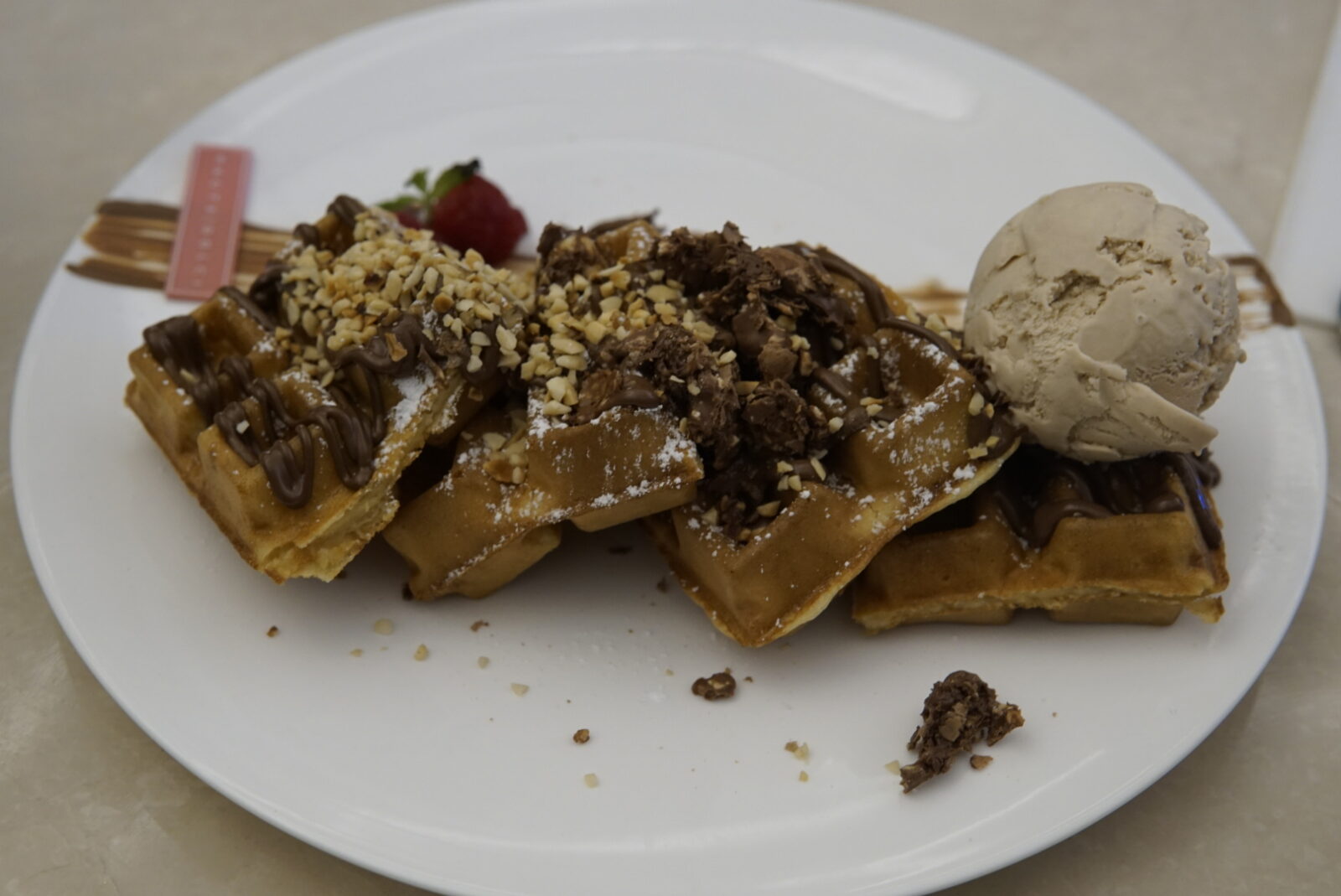 Milk Hot Chocolate & Fruits of the Forest (Mocktail)
For drinks, there was a refreshing mocktail, for a warm day. This drink included lime twisted with juicy raspberries, strawberries, and blueberries and finished with crushed ice, fresh mint, and a dash of fruit syrup. Also, the hot chocolate was delicious to indulge in as I truly loved the presentation of this topped with whipped cream, fluffy marshmallows, and cocoa dust.
Dynamite Chicken
On my second visit, I ordered two dinners. They were both from their new menu. This was Dynamite Chicken. The appetisers was great, and the dynamite sauce was fantastic, especially the presentation. However, I didn't think the pricing was worth it due of the high price and small portion size.
Succulent fried chicken smothered in signature dynamite sauce. Finished off with amaranth and watercress.
English Breakfast Royale
I was browsing for some good halal breakfast locations when I noticed this on the menu. As a result, I chose this for supper instead of the usual wraps or burgers.
The meal was absolutely worthwhile. Everything on the platter was amazing, including the hashbrowns, eggs, and sausages. You have the option of selecting multiple ways to prepare your eggs and bread. As well as the cost, which came to be £14.60 for the whole thing.
English breakfast with an option of sausage, fried, poached or scrambled eggs, crispy hash browns, tomatoes, spicy beans, sauted mushrooms, beef rashers and choice of bread.
Food: 8 out of 10
Service: 9 out of 10
Price: 8 out of 10
Experience: 10 out of 10
Presentation: 10 out of 10
Overall: I've given Haute Dolci Ilford an 8.9 out of 10.
Conclusion
In conclusion, I strongly suggest visiting the Haute Dolci Ilford location if you appreciate fine eating. All of the food we ordered was tasty, in my opinion, but the Cheetos Burger was my favourite. I would get it again. The service was excellent because I was shown around the facility before being seated with other guests nearby. In relation to the surroundings, the prices for certain foods weren't too bad, but some dishes were expensive unless you were eating something very light.
Overall, it was a nice experience because I got to eat some amazing cuisine and view the entire facility. Finally, everything we ordered, especially the french toast, was very delicious, and the presentation was excellent.
I hope you've enjoyed this review, let me know your thoughts.
Haute Dolci Address: Multiplex, Unit 5, Iscene, Ilford, IG1 1BP
Website: https://hautedolci.co.uk/
Nearest Station: Ilford Station (Elizabeth Line)
Opening Hours: 3 pm-11pm
You may also enjoy other reviews on my blog:
https://adilmusa.com/nayla-cafe-brunch/