Motiongate Dubai Parks and Resorts
Motiongate Address: Park and Resorts - Sheikh Zayed Rd - Dubai - United Arab Emirates
Website: https://www.motiongatedubai.com/en
Tel: +971 4 820 0000
Opening: 11 am- 8 pm
Motiongate Dubai is a theme park located in Dubai. The park features a variety of rides and attractions based on popular Hollywood movies and animated films. One of the park's main attractions is the Smurfs Village, which allows visitors to step into the world of the beloved blue creatures. The village features a walkthrough experience, where visitors can explore the iconic mushroom houses and interact with the Smurfs. Another popular attraction is the Hunger Games: The Exhibition, which offers a behind-the-scenes look at the popular film franchise. Visitors can see costumes, props, and other memorabilia from the movies, as well as participate in interactive challenges.
For thrill-seekers, the park offers several exciting roller coasters, such as the Dragon Gliders and the Zombieland Blast-Off. These thrilling rides will have you screaming with excitement.
How to reach Motiongate
By Metro: The closest Metro station to Motiongate is Jebel Ali. From airport terminal 3, you can use the Red line metro service to get there; travel time is up to an hour. To go to Motiongate from there, you'll need to take a Careem, Taxi, or Uber.
Drive: The approximate driving time from Dubai International Airport to Motiongate Dubai, if you have a car, is about 40 minutes.
Entrance Fee at Motiongate
You can find their ticket prices online on Motiongate's website, if you purchase a ticket before it's cheaper than at the door. In addition, after researching many sites I found 295 AED for two resorts, which included a complimentary lunch to be the cheapest. These tickets were bought via the Cobone website. As a result, this price worked out well and was definitely worth it if you can visit two resorts in a single day. As you spend 2-3 hours at one resort before moving on to the next.
Attractions
Furthermore in Motiongate Park, there are four distinct zones: DreamWorks Animation, Columbia Pictures, Lionsgate, and The Smurfs. At each location, there are rides specific to that location. If you're an adult, 4 hours should be sufficient to tour all the areas, but if you're travelling with the younger kids, it's generally preferable to set aside a whole day. You can find a full map view of the resort here.
In Dreamworks Animations, you can find rides like those listed below and much more.
Shrek
Madagascar
Kung Fu Panda
How to Train Your Dragon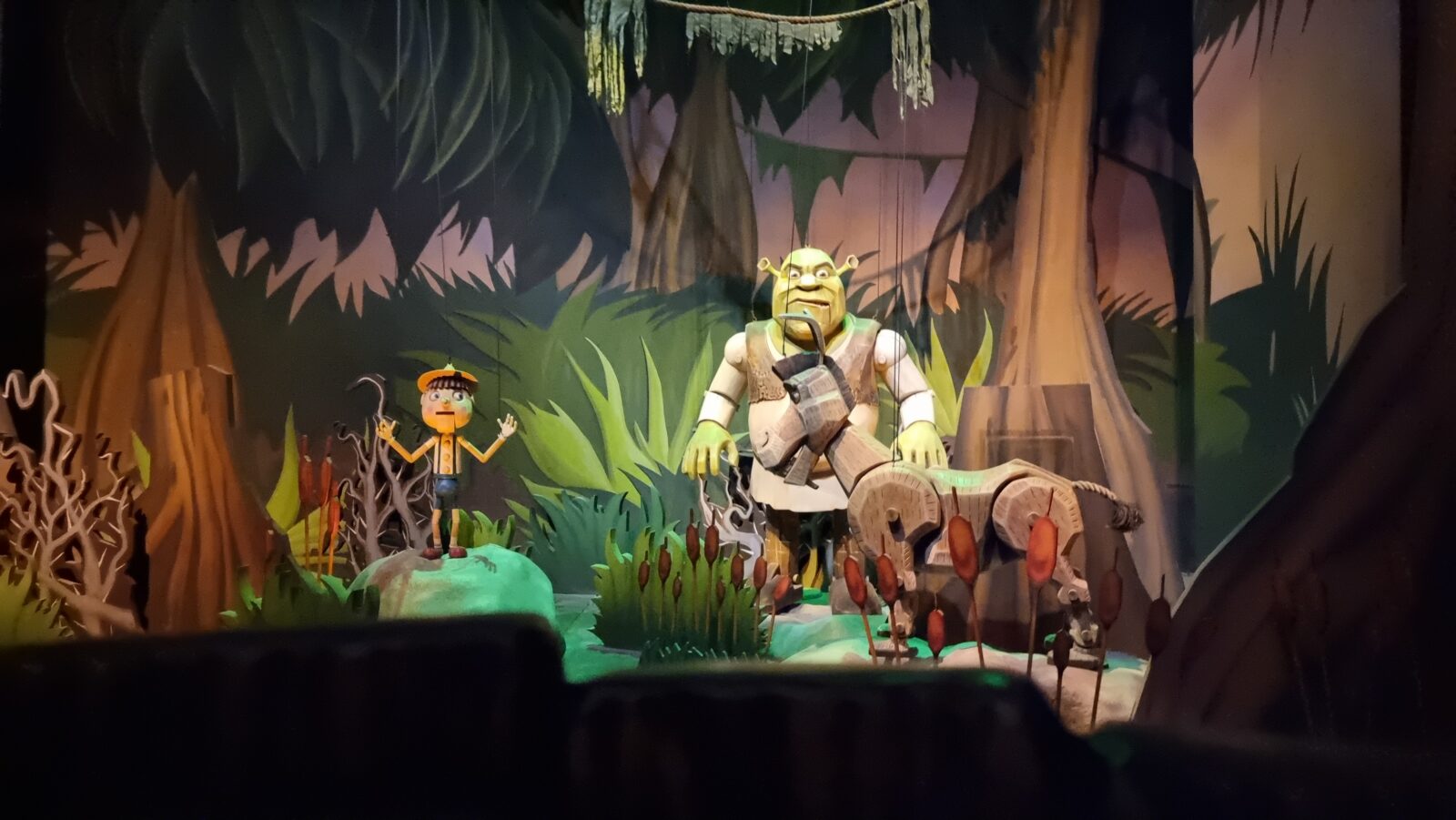 Columbia Pictures
Cloudy with a Chance of Meatballs
Hotel Transylvania
Ghostbusters
Zombieland
The Green Hornet
Screen Gems' Underworld
Lionsgate
Step Up Dubai, All In! - a live show
Panem Aerial Tour - a motion simulator
Capitol Bullet Train - a Mack Rides launched coaster
John Wick: Open Contract - a 4D Free Spin coaster
Now You See Me: High Roller - a Spinning coaster
Smurfs Village
Smurfberry Factory - a play area
Smurf Village Express - a Gerstlauer junior roller coaster
Smurfs Studio Tours - a traditional dark ride
Woodland Play Park - an outdoor play area
Smurfs Village Playhouse - a live, animated interactive show
CONCLUSION
Finally returning to Bollywood Parks a second time. I personally thought Motiongate was better because there were more rides and areas to explore. Bollywood Park, on the other hand, only offered a few rides and a ton of live entertainment. One day will not be enough if you want to explore every ride available due to how long the lines are. Only if you are selective and choose your rides, you can complete the theme park in a single day. The best time to visit is during Nov-March. As the queues are fewer and it's not too warm then, since these resorts are outdoors.
The scariest ride at Motiongate is probably the Madagascar Circus. As it looks easy to go on, but the speed it moves will make your eyes tear. There are roughly 20 rides to go on at Motiongate, as the rest of the time can be spent meeting and greeting animated characters. Moreover, all the rides were open, but we did have issues with Ghostbusters, as they had technical issues with the rides. Other than that, every ride was working as normal.
You may also enjoy other posts from Dubai.
https://adilmusa.com/la-perle-by-dragone-dubai/
https://adilmusa.com/dubai-frame-picturesque-view-of-the-city/