Bollywood Parks Dubai
If you love Bollywood movies or in general you have to check out Bollywood Park in Dubai. I've been a Bollywood fan since childhood. However, in the past few years or so have changed a lot. Ever since I haven't been up to date or as excited about upcoming movies.
At Bollywood Parks, you will see everything from comedy, romance, music and action. There is so much to see and experience, along with Miracle Garden which was definitely worth my time. The park is open from 1 pm to 10 pm every day, so plenty of time to catch your favourite heroes and colourful scenes. There are different zones of the park and each of their own has vibrant displays of cafes and entertainment.
You can catch the 'Bollywood Parks Dubai Vlog here'
Bollywood Boulevard
This is the first zone where you enter Bollywood Park. Here you witness such colourful buildings filled with cafes and live entertainment surroundings.
Mumbai Chowk
In this zone, you see the classic Victoria railway station and the rickshaw making you feel like you're in India. Those live performances on the roof of Mumbai Express are the ones to look out for, really bought good memories of those songs played. I even caught a lookalike Amitabh Bachchan, now how about that? You have to check out those 3D films, this area had a Shahrukh Khan's Don screening.
Rustic Ravine
This little area has some of the best classic film blasts from the past with Lagaan, Dabangg and Sholay. Although the Dabangg ride was closed, I'm not sure why or it seemed closed. I decided to see Lagaan, which shows a simulator of a cricket game, where you go through the Ferris wheel and carousels. This was a really cool experience, as you enter you're told a story by Aamir Khan the actor a story from a clock tower.
Thereon, you take your seat like on a roller coaster ride, whilst watching a cricket simulator, whilst on the ride you feel a wind of air, which adds an extra effect to the ride. I experienced the Sholay ride, where you go a little scene based on a shooting game. Basically, you watch an animated version, which then you try to shoot all the bad guys using a laser gun. You can watch a short clip of this on my YouTube Channel.
Royal Plaza
This was truly a stunning zone, where I saw the Rajmahal Theatre, the iconic landmark of the park, showing a resemblance to the Taj Mahal. I saw a colourful experience of a Bollywood dance routine performed. Nearby you see Mughal-E-Azam which provides some good dishes. The star on the step is where Bollywood dances and songs were performed. This is where people from the crowd get involved too. This was the moment where I saw a lookalike Shahrukh Khan performing his hit songs. There were so many people crowding him trying to get pictures, which was quite hilarious.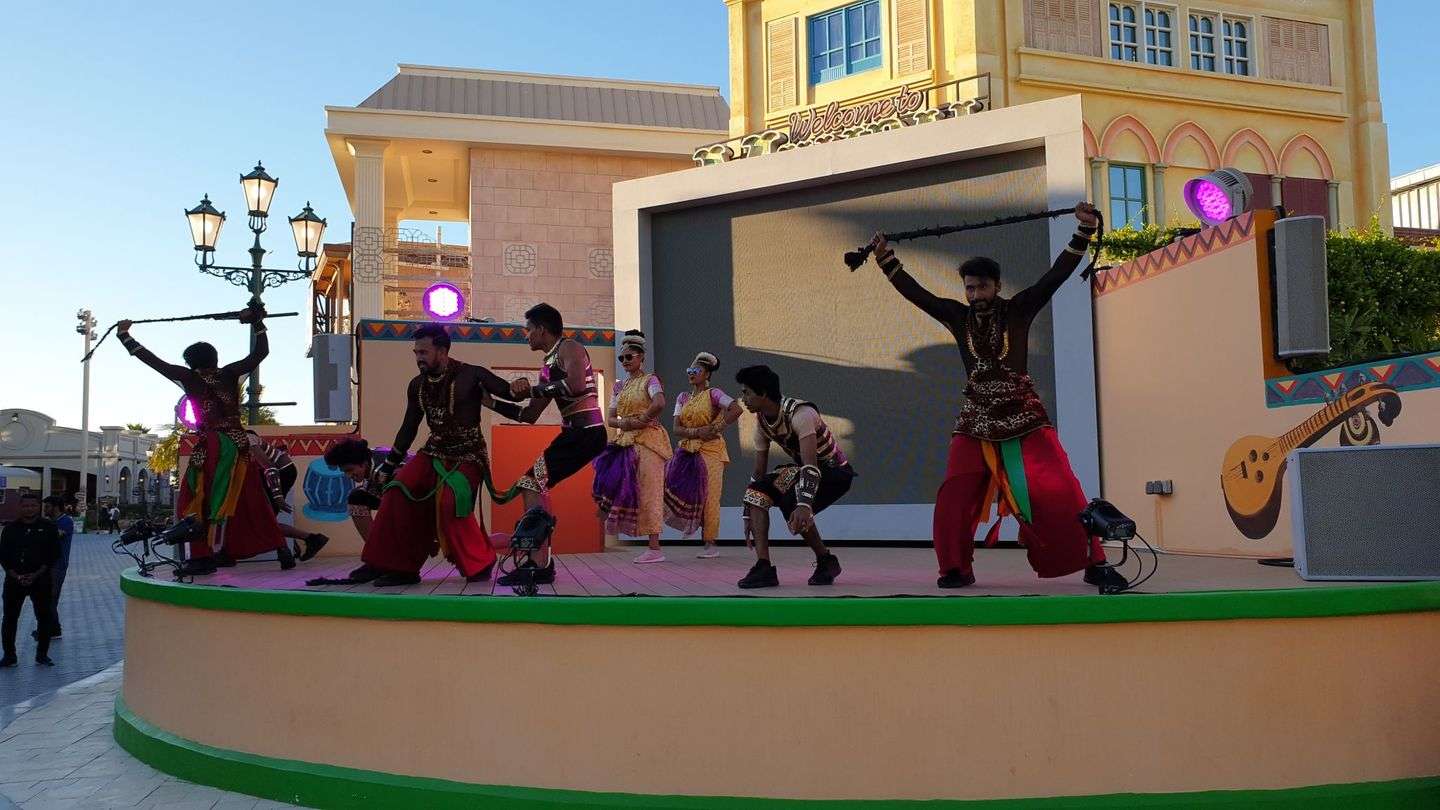 Bollywood Film Studios
In this zone, you experience the heroes of Bollywood from RA One and Krissh. Watch those heroes from a cinematic 4D view, as if you're flying on the ride. There was one place not sure exactly what zone, it was in. However, people from the crowd had to take part in 'Zindagi Milegi Na Dobara' scenes.
The scenes were hilarious, because the people who had to take part were so funny. As each scene the director elects people to act certain scenes from the film, which eventually made it into a short movie. The parts, I can't explain how funny it was but the volunteers acting were beyond hilarious to watch.
Conclusion
Overall, I truly enjoyed my experience here at Bollywood Park in Dubai. If I wanted to I could have easily spent more time here than I originally did. However, since I wanted to see other places such as the Global Village. I had to cut short my time at Bollywood Park. I can not recommend this place highly enough. You should add this to your list of attractions because you won't be disappointed.
If you enjoy the Indian culture, the music and dance or just like a bit of Bollywood. You will certainly enjoy your time and have a great laugh. Although I went on my own, I thought this place was perfect to explore for an afternoon outing, especially if you go with the family or have kids.
The ticket prices are fairly high I have to say for an individual adult ticket. It seems pretty expensive, but how often or when will I come here again? That was the thought in the end, hence why I paid such a price. The cost was 167 AED for an Adult ticket to explore around here. Otherwise, if you pay 191 AED and you get to choose another park for that price, which is Legoland or Motiongate.
Thanks for all your support and for taking the time out to read my posts. I hope you have enjoyed the experience and vlog, which has been uploaded so far. This should have hopefully provided you with good insights into what you can see and do.
If you have time, be sure to check out my other Dubai experiences on the blog. Until then I will write about the Global Village experience next on my blog.
Address:
Dubai Parks and Resorts,
Dubai, United
Arab Emirates
Adil Musa
Disclaimer: All opinions on here are my own, I was not paid for this post.