Winter Lights Festival
Winter Lights (Nearest Station): Canary Wharf (Jubilee Line/DLR)
Winter Lights
Winter Lights are back again this year at Canary Wharf. Running until the 26th of January, you wouldn't want to miss the spectacular light installations. Especially when it's FREE!! and the fact that you have the opportunity to capture amazing pictures for your Instagram feeds such as submergence. You don't want the opportunity to pass by.
Submergence
I missed last year but went the year before. However, seeing that they have Submergence installation this year motivated me to go this year and I'm glad I did. I captured some amazing shots for my blog and Instagram. I decided to visit the winter lights festival on the first day it opened, which was yesterday. From my personal experience, if you enjoy photography, you will love it. Make sure you're wrapped up because it becomes really cold as the night goes on.
The Submergence installation is amazing! Turn it on every 8 minutes and when it does, the colours it changes into are simply magical. I literally spent half an hour grabbing as many shots as I could and it turned out to be so good.
You can see for yourself below how spectacular the lights are.
Purple Submergence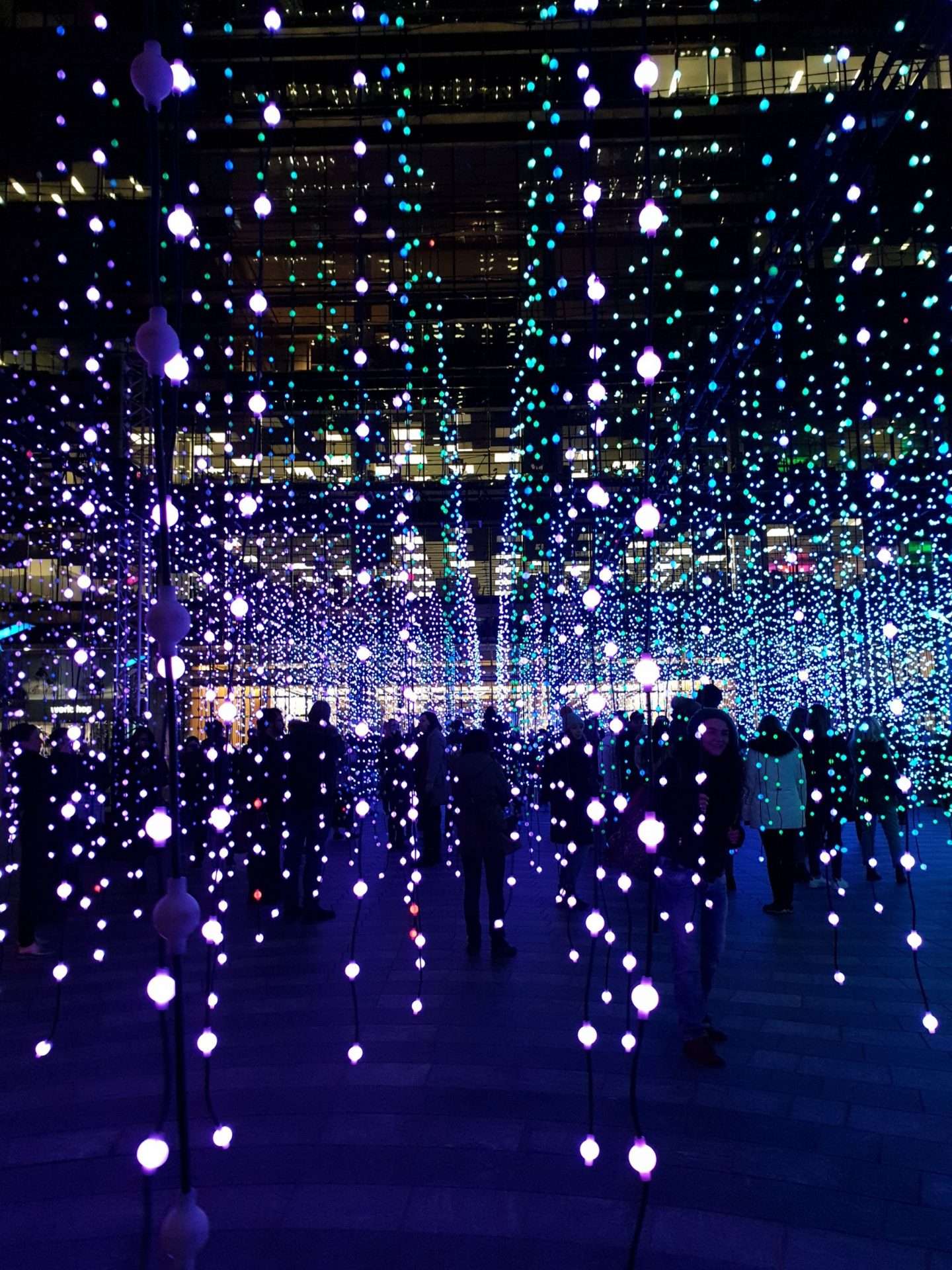 Light Installations
I'd say the lights are totally worth a visit during the evening as they run from 5pm till 10pm every day until the 26th of January. I literally spent a couple of hours trying to look for all the light installations, where there were 21 to see altogether. It's great for all the kids and adults to witness them and have fun.
The list of these 21 installations can be found here, or you can download the winter lights map to find out exactly where each one is located here.
This map will make it easier to guide you to each installation as they are located across the entire Canary Wharf. There are always staff hanging around each installation handing out maps, so you can always grab one then too.
They do have a small eatery section near the Canary Wharf DLR station filled with food trucks serving hot food and drinks for the foodies, you can find them all near the light maze.
Hope you like some of the magical photos I captured below and you can also check out my Instagram stories/highlights for clips.
Conclusion
Let me know your thoughts on the Winter Lights Festival. Have you been there before or will you be going this year?
You can find the vlog here
Thanks for reading my post. I really appreciate all the support you have given me over the years. Let me know where you would like to see me go next to review on my blog or Instagram. Suggestions are always welcome or feel free to get in touch to discuss anything further.
Adil Musa