Azura London
Azura London Address: 265 Hampstead Rd, London, NW1 7QX
Website: https://azura.london/
Nearest Station: Mornington Crescent (Northern Line)
Tel: 020 3404 8080
Azura London Restaurant is a heavenly for food enthusiasts and connoisseurs alike. A bustling a bar and restaurant offers a posh experience in Camden. The restaurant's tasteful interior decor offers a stylish and welcoming backdrop. Creating the ideal environment for an unforgettable culinary adventure. The total sensory experience is enhanced by subtle lighting. Opulent furnishings, and an air of understated elegance.
The food selections at Azura London Restaurant are amazing in every way. Led by a group of creative and competent chefs. With care and originality, the menu combines foods from throughout the world. Including the freshest seafood, the best pieces of meat, and locally grown products. The menu offers a wide variety of selections to satisfy all palates. Showcasing a combination of traditional recipes and contemporary adaptations.
Every meal is a work of art, and they are all exquisitely presented to you. As you savour carefully prepared appetisers that tickle your appetite. Enjoy significant meals that highlight the chef's skill in the kitchen. As well as, tuck into rich sweets that serve as the ideal way to cap off your meal.
Azura Experience
I was graciously invited to eat at this luxurious restaurant located in Camden, the heart of London. As I walked in, I was warmly welcomed by waiters. Who were dressed in business attire when I entered. They led both of us to the waiting room, where we immediately took a seat in the booth area.
As we looked through the menu to see what we could get. I asked the staff for recommendations, and they suggested the beverages and chicken souvlaki as the most well-liked dishes. After that, we placed our starter and main course orders. I strolled around the restaurant to take pictures and videos because it had a really lavish and lovely atmosphere. As I arrived before the evening rush. It was quiet, so the food and beverages didn't take very long to arrive.
We were left alone to enjoy our dinner as we dived into it. We had desserts after we were done, and I thought the chocolate cake was excellent. I must admit that everything here was expensive. Its not cheap for the average customer. Although you pay for the experience and the lavish presentation and surroundings. Additionally, I have to say that the plates and presentation were perfect. The cuisine was presented beautifully, and it was amazing to see on camera. We stayed here for slightly over an hour. There was Shisha as an option, but because I don't smoke it, we decided not to take it.
Azura Interiors and Exteriors
Menu at Azura London
The menu at Azura London is quite small compared to other places and pricey. However, the range of dishes presented are all mouth watering to choose from.
You have starters, mains, sides and dessert to pick from a range of options.
The dishes I ordered for between two are listed below:
Chicken Caesar Salad
Saganaki
Chicken Souvlaki
Sirloin Steak
Passionate - Non Alcoholic Drink
Tropical Frost - Non Alcoholic Drink
Baklava
Chocolate Hazelnut Cake
Chicken Caesar Salad £13.95
I chose chicken salad as my first course. As the salad always goes nicely with the sauce and chicken pieces. This dish was delicious until there was only salad left. All of the greens that were left were eventually consumed by my wife.
Chicken, parmesan, croutons & salad
Saganaki £12.95
Despite having an amusing name, it was surprisingly wonderful. These cheese balls had honey and truffle oil on them. Soft on the interior and crunchy on the outside. These were attractive and nice-looking, but they were excessively expensive for only four cheese balls.
Cheese Balls with Honey & Truffle Oil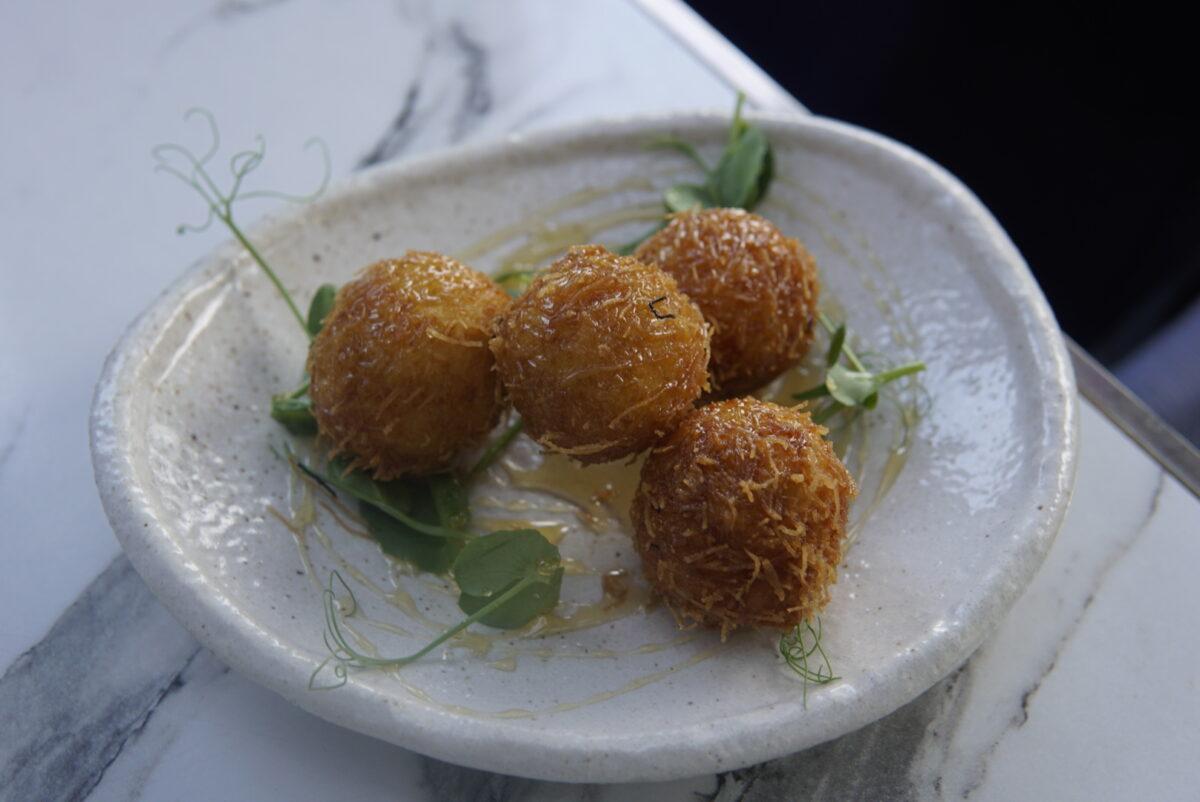 Tropical Frost £10
Since there weren't many images available, I wasn't entirely sure which mocktail to choose. As a result, a member of the Azura staff assisted us in choosing our beverages. One of them includes "Tropical Frost," which is flavoured with exotic fruits. Although it looked reasonably fine, I wasn't too fond of it. Nevertheless I barely got any drink out of it, since the majority of it was just frozen ice.
Passion fruit, mango, pineapple, lychee, strawberry, citrus (served frozen)

Passionate £10
'Passionate' was the other alcohol-free beverage we selected and advised. This was not as good as the tropical frost. I took a sip of this and wasn't too impressed by the flavour. I basically handed this to my partner to finish because it had a combination of sweet and spicy flavours.
Passion fruit, cinnamon syrup, honey, lemonade
Chicken Souvlaki £18.75
This souvlaki was made of chunky chicken. On the other hand, the pepper sauce was fantastic! It was delicious to dunk these chicken sticks into the sauce once it had been poured. Having this with the pepper sauce truly satisfied my appetite.
Robata-grilled chicken breast & pepper sauce
Sirloin Steak £27
The steak was my final main selection from Azura. Even with the peppercorn sauce, it had a little bland flavour even though it looked beautiful on camera. As advised, I had my medium well done split into slices to make it easy to enjoy. I did appreciate how they made the cut appear gorgeous.
Sirloin Steak served with green peppercorn sauce
Chocolate Hazelnut Cake £11
Now comes the dessert to end our luxurious experience. This chocolate sponge cake was so good, softly broken from a spoon and presented in a picturesque way. I truly enjoyed this dessert as a option and definitely recommend it too. Finished with raspberry and blueberries around the cake.
Chocolate sponge cake, fresh pastry cream, roasted hazelnuts
Azura Baklava £12
Lastly, we had the baklava a traditional Arab dessert. This was sweet as it should be and tasted really nice too. Filled up with pistachio and cream when broken into pieces. It was the perfect treat to end along with the cake.
Thin layers of filo pastry with pistachio and cream filling, sweet syrup
Food: 8 out of 10
Service: 7 out of 10
Price: 5 out of 10
Experience: 10 out of 10
Presentation: 10 out of 10
Overall: I've given Azura restaurant and bar an 8 out of 10.
Conclusion
Personally, Azura Restaurant and bar was a good experience. I managed to captured great shots on camera making the experience really good. The food, most of the choices were good. Although the drinks were reasonable. On the other hand, the price is very high as you expect from a high end restaurant. For small portion you're paying double the amount. Let that not be the downfall as you will definitely have a good time with your friends and family that's for sure. As you can have Shisha and enjoy each others company.
Additionally, they frequently have singers and dancers perform at night. In addition to the background music that plays throughout the time, this provides additional entertainment for the consumer to enjoy their meal.
Just to make you aware, they do add a discretionary service charge of 12.5% to your bill at the end.
if you enjoyed this review, you may enjoy my other food reviews.
https://adilmusa.com/dil-pasand-restaurant/