EL&N London Cafe
EL&N Mayfair Address: 48 Park Lane,
Mayfair, London,
W1K 1PR
EL&N London located right opposite the stunning Dorchester Hotel I made a trip down Central London, mainly to visit the Instagrammable EL&N London Cafe. This was probably the best choice I made to visit as their food and drink were delicious.
A small cafe in Mayfair opposite Hyde Park, where you can notice the wonderful lights of Winter Wonderland Theme Park during the winter. Elan has been open quite recently and it's already booming with lots of celebrities, influencers and tourist attendees paying a visit to this beautiful cafe.
Experience
Elan cafes have expanded and grown so fast over the past months. Now they have opened a new branch on Brompton Road, in Knightsbridge, where I paid a visit along with a good friend of mine (@alphafoodie). A few weeks later another branch opened. You can have a look below at the pictures from the different locations I've visited so far.
This branch is simply Insta-worthy heaven, especially if you go back as it has the most stunning floral display making a perfect spot to take food or lifestyle shots. This definitely has to be one of my favourite Insta-worthy cafes as it's filled with lots of floral-decorated walls, marble tables and pastel bikes.
I've managed to capture plenty of shots from both branches, which you can see below and tell me to know your thoughts which you feel is the better-looking branch.
Halal
The best part of it all is the fact that their food is all halal and vegan (including gluten-free), so it's literally heaven for vegan lovers. It's rare to find a place that's solely vegan-friendly. As you enter the cafe you are enlightened by all their delicious desserts displayed on your right. This includes cakes, croissants, chocolate brownies and many more. Yum!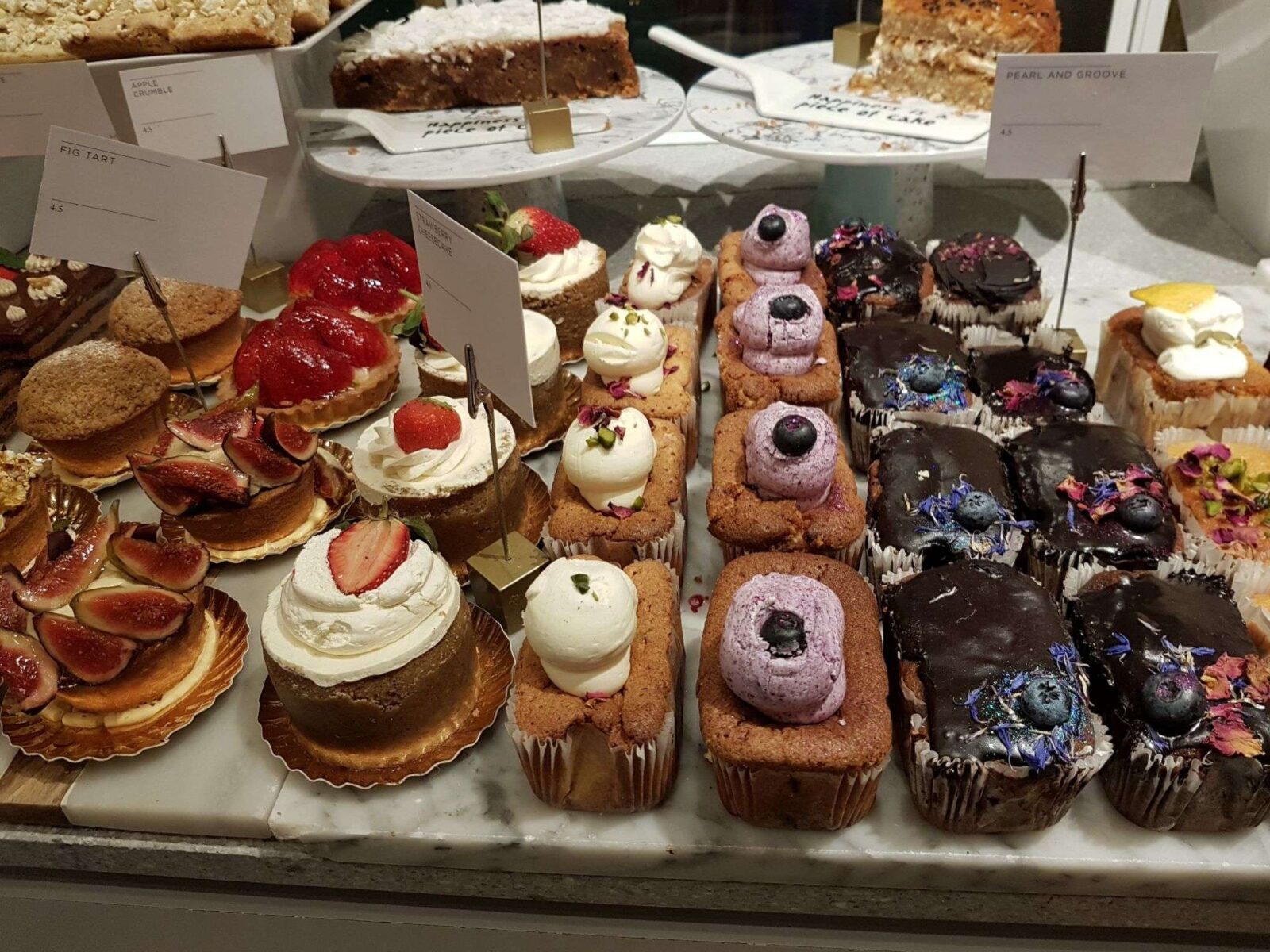 Menu
Whilst upstairs was filled with people, I was only made to wait a few minutes before being taken downstairs, which was more spacious. Luckily, I had a quick read of the menu before visiting Elan. Therefore, it took me minutes before I ordered my food and drink.
My eyes were on capturing the colourful croissants from the start, but guess what? They only had one croissant available and that was the Hazelnut flavour, this was the last one! How lucky was I? The taste was flaky and soft, I really enjoyed it. My other thoughts were to have one of those coloured teas.
Hence, I opted for the Golden Turmeric filled with cinnamon, cardamom, vanilla, ginger, chilli, pepper and milk. Finally, to end my visit I chose the healthy option 'Acai Bowl' as good as it looked, and I eventually tucked into a mixture of fresh fruits filled with bananas, strawberries, blueberries, coconut and granola.
Conclusion
Personally, I loved my time and experience at both branches here in Elan. I would highly recommend this place as its literally Insta heaven. All the staffs were super kind and welcoming, happy to start a conversation with you too, which was nice.
Alex Miller, the founder of Elan Cafe, has done an immense job in such a short space of time. Since opening one branch back in August and working very hard to open a second branch opening in Knightsbridge. It's been growing and becoming a very popular place for new tourists and Londoners.
The food I ordered at the Brompton branch was the Warm Cookies with a chai tea ice cream, which cost £6.50 but the total was excluding service charge as they included an extra service charge for all orders. I have to say the warm cookies looked really picture worthy, which I'll be uploading very soon on my Instagram page.
However, eating the warm cookies was a bit disappointing since the cookies were really hard to eat as it just would not break into pieces so I couldn't finish it.
My bill came up to just over £20. Yes, it's pricey, after all, and this is based on the very posh surroundings of Park Lane, Mayfair and Knightsbridge. Elan has many more items on their menu, so you're spoilt for choice and would definitely make you come back for more.
Food: 5 out of 10
Service: 8.5 out of 10
Atmosphere: 8.5 out of 10
Price: 5 out of 10
Experience: 8.5 out of 10
Overall: 7.5 out of 10 for this cafe. Although it may look stunning, the pricing for the food seems overpriced and the taste of the food here is not as good as it looks.
Food at EL&N
Brompton Road, Knightsbridge
EL&N Cafe additional branch has yet another stunning interior decor. People have become totally in love with the floral backdrop decor and I totally don't blame anyone as it's really stunning to shoot anything in front of it. Have a look for yourself with the pictures below or check the place out on the famous streets of Knightsbridge.
Oxford Circus
Elan cafe has now introduced two new cafes around London, which you can find below. I've already visited their third branch at Oxford Circus, where I ordered a Spiced Chai Latte. The interior and outside looked quite incredible. I managed to capture some great shots from here. They have their famous floral backdrop inside, which I'm sure everyone would love to take a shot here.
Regent Street – Soho
EL&N Cafe has teamed up with L'Occitane to open a new store on one of the busiest streets of London 'Regent Street'. You can find products of L'Occitane along with a take out on the ground floor and a cute cafe upstairs, where you can dine with the stuffed animals. You can find their menu linked here.
For my birthday I decided to treat myself and visit this branch by tasting one of their new items on their menu. The 'Pink Ribbon Pasta' is meant to be good for your skin, as it supports radiance and makes your skin look youthful. I thought the pasta tasted good as it looked the part. This had one other woman tempted to order whilst looking at my food. I also ordered the Red Rooibos Latte, which is a picture-perfect latte just for the gram.
They have a selfie booth filled with teddy bears. Also, giraffes display all around the floor, which makes your surroundings look fun and picturesque.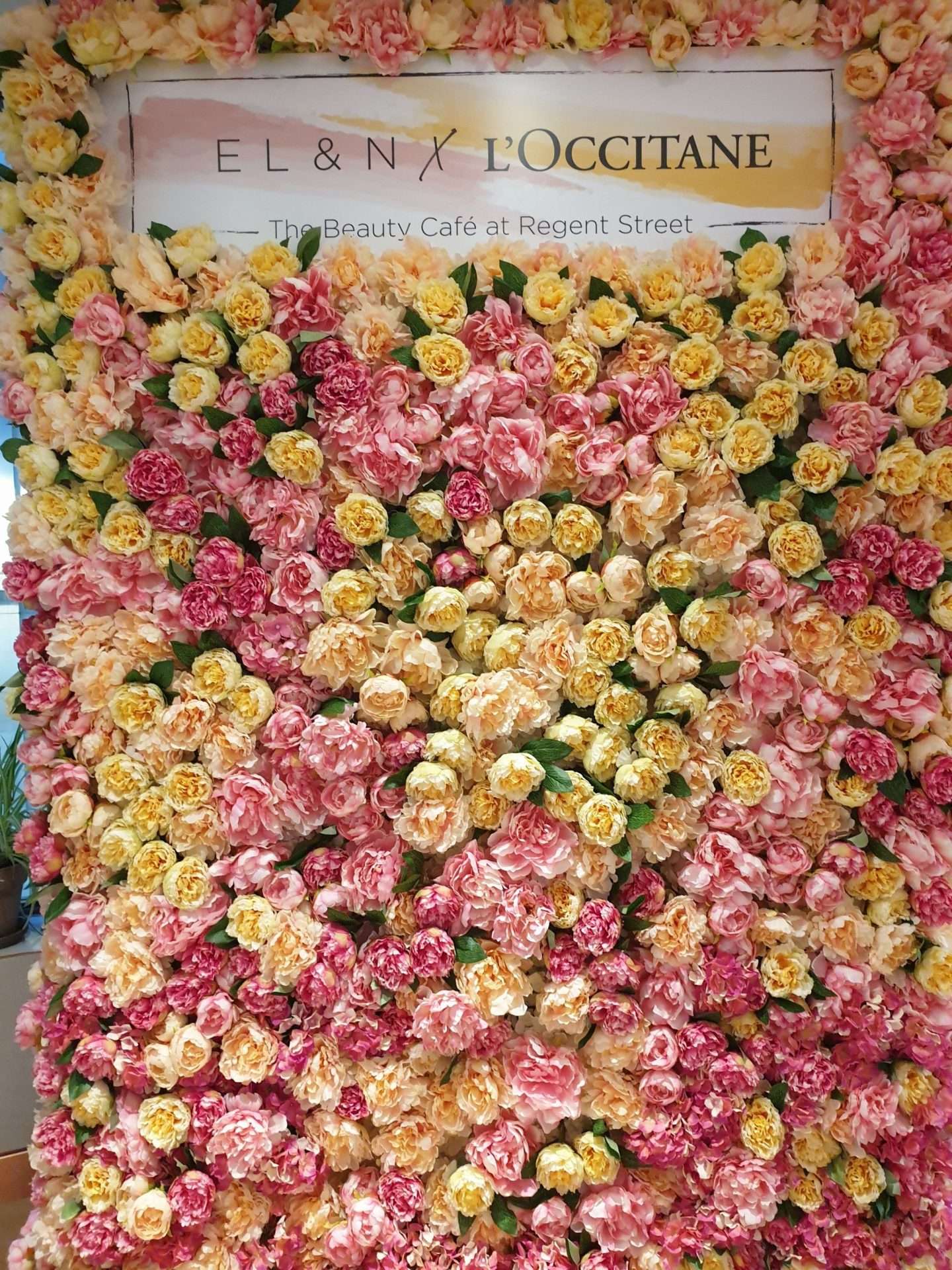 They have now launched in 8 different locations and have rebranded from being named Elan Cafe to EL&N London, which stands for Eat, Nourish and Live. You can find a list of EL&N London as listed below including the new branch on Regent Street and Bicester Village.
EL&N London locations:
Knightsbridge Address: 239 Brompton Road,
Chelsea, London
SW3 2EP
Oxford Circus Address: 9 Market Place,
Oxford Circus,
W1W 8AQ
Selfridges Address: 400 Oxford St, 4th Floor, Selfridges
London,
W1A 1AB
Knightsbridge Address: 42 Hans Cres, Knightsbridge,
London,
SW1X 0LZ
Belgravia Address: 25G Lowndes St,
Belgravia, London,
SW1X 9JF
Regent Street Address:
74-76 Regent St, Soho, London,
W1B 5RL
Adil Musa