The Carlton Tower Jumeirah Afternoon Tea
The Carlton Tower Jumeirah Address: 1 Cadogan Place Ground Floor, London, SW1X 9PY
Website: https://www.jumeirah.com/en/dine/london/afternoon-tea
Nearest Station: Knightsbridge (Piccadilly Line)
Tel: 020 7858 7185
The Carlton Tower Jumeirah is an oasis of luxury and indulgence in London's famed Knightsbridge area. This iconic hotel, nestled among the colourful cityscape, offers an afternoon tea experience that epitomises elegance and charm. As I discover the fascinating world of afternoon tea at the Carlton Tower Jumeirah, prepare to be whisked away on a fantastic voyage of tantalising foods, gorgeous surroundings, and superb service.
The Carlton Tower Jumeirah Experience
I was graciously welcomed to the beautiful Carlton Tower Jumeirah, a five-star hotel in Knightsbridge. This was a chance to try their Afternoon Tea menu. After winning an Instagram competition sponsored by the Carlton Tower Jumeirah and Afternoon Tea pages. The elegant tea set that paid tribute to nature. Here I will show how it all went.
I was welcomed and shown to a lovely room near the window and door. We were introduced and told about the entire Afternoon Tea as we sat. We then selected our teas. This was followed by five different courses of food. While enjoying tea and food, we noticed an Indian wedding taking place at the hotel at the same time. I felt the food was good, but the amount of sugary treats we had filled us up completely. However, at the end, I did prefer the croissant and desserts platter. Although, it became too much in the end, and we brought the remainder home.
The interiors were exquisite, as you approach, you find the centre filled with flower pots by Moyses Stevens all around the table. On top of that, the chandelier over the flowers was gorgeous. When you enter the afternoon tea room on the right, you will notice a Royal British-style room for your afternoon tea experience.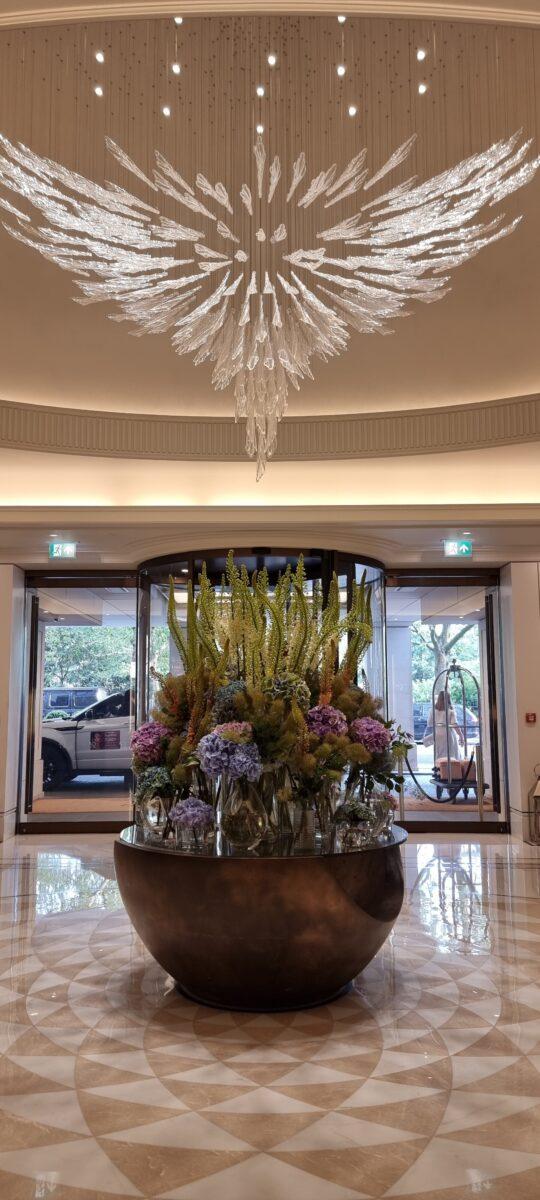 Sandwiches
The sandwiches were the first thing offered by the food, with three options. The Savoury Truffle Croissant, which is packed with duck egg and black truffle, being one of them. In addition to salmon and greens. The croissant was my favourite because it was the most traditional of the bunch.

After that, they offered a palette cleanser to prepare for the rest of the meals.
Mucicao Sorbet
This was both refreshing and sweet for the teeth. Mucicao Sorbet with Fermented Cocoa Beans. It took a while to finish, but it wasn't one of my favourites.
The Carlton Tower Jumeirah Chaï, Chandernagor, India & Wedding Imperial Tea
These were the tea selections we made. I preferred the Chai Chandernagor since it had the stated masala flavour. The wedding imperial was made with Malty Assam, chocolate, and caramel. This was what my Mrs ordered.
Scones Experience
Scones were a characteristic British ritual. A colourful and tasty combination. There was a lot to choose from, and I really liked the coffee-flavoured at the end and the classic custard cream.
Plain Scones with Clotted Cream
Lemon Verbena Scones with Almond Cream
Malt Scones with Pastry Cream
Iranian Saffron Scones with Rhubarb Jam
Patissieres
A variety of options for two individuals to enjoy. These patissieres were among my favourites because I enjoyed them all.
Strawberry "Tarte Fine" and Crème Fraiche - Puff pastry, strawberry jam, lemon & almond cream, crème fraiche, fresh strawberry, candied ginger
Raspberry Tart with Anise Seed and Watercress - Anise seed sweet pastry, anise & almond cream, raspberry jam, watercress pesto, caramelized fennel seeds, fresh raspberry
Cereals Éclair - Cereals choux pastry, cereal & almond praline, cereals pastry cream, buckwheat tuille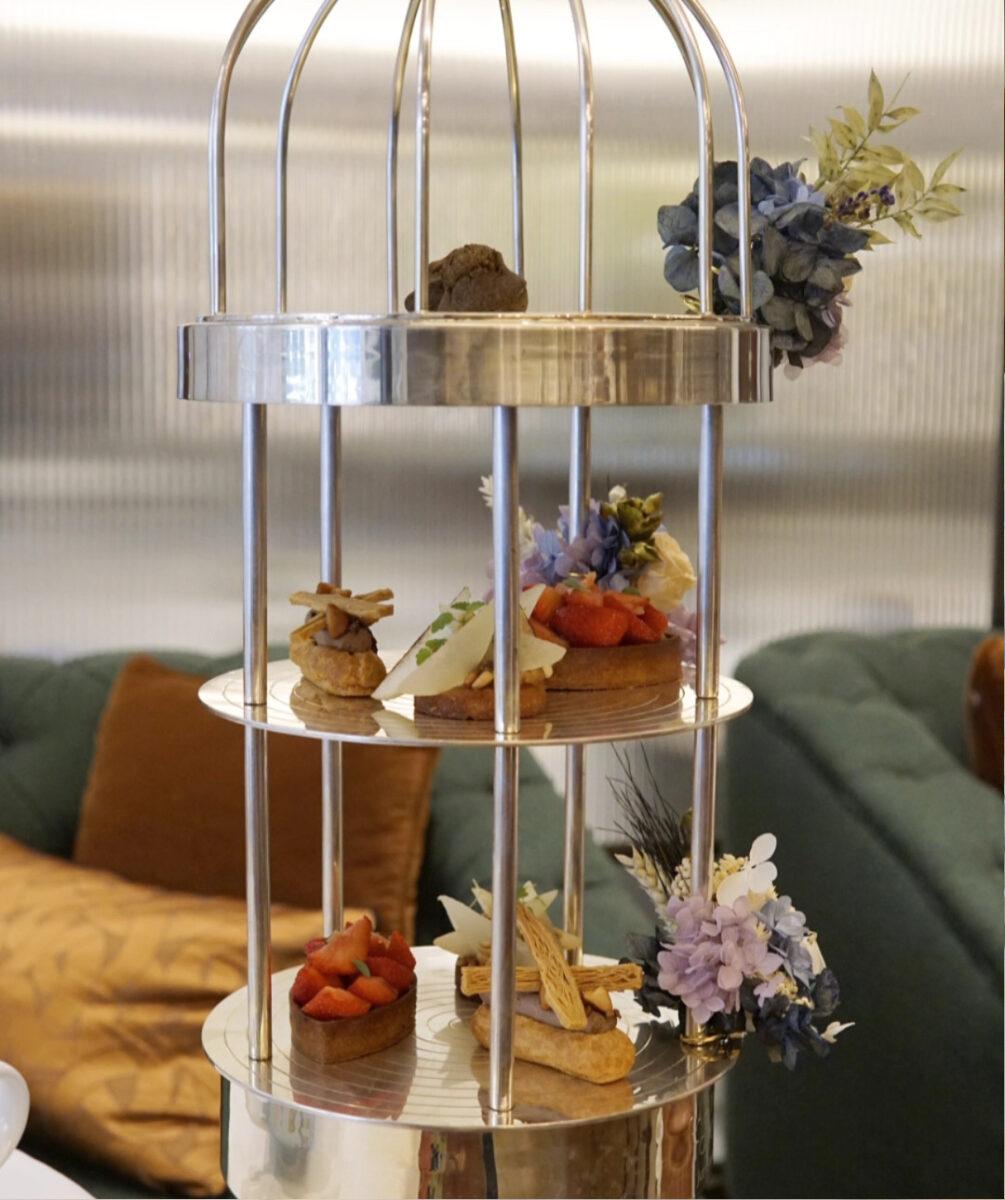 You can find the afternoon tea menu here Afternoon Tea Menu at Carlton Tower Jumeirah
The Carlton Tower Jumeirah Conclusion
Afternoon tea at the Carlton Tower Jumeirah in Knightsbridge is a time-traveling experience that transports you to a realm of refined elegance. Every detail, from the historic settings to the carefully curated tea selection and fine foods, is precisely prepared to provide an unforgettable experience. So, whether you're looking for a tranquil getaway from the hustle and bustle of the city or celebrating a special event, the Carlton Tower Jumeirah offers an outstanding afternoon tea experience that will leave you with cherished memories for years to come.
I truly enjoyed my experience at the hotel, and atmosphere was quite and gentle with soothing background. One side was full, whereas the seating we had it was only one other couple who were there. The pricing was £75 per person, although you would easily be filled up by it.
if you enjoyed this review, you may enjoy my other food reviews:
https://adilmusa.com/mi-chaii-ilford/
https://adilmusa.com/azura-restaurant-bar-restaurant-review/