Louvre Museum
Louvre Abu Dhabi Address: Saadiyat – Abu Dhabi – United Arab Emirates
Website: https://www.louvreabudhabi.ae/
Abu Dhabi is home to some of the most spectacular few architectural sites such as the 'Louvre Abu Dhabi' and I didn't want to miss this opportunity coming all the way here to see either of them. Therefore, during my short visit to Dubai, I took a cab straight to the Sheikh Zayed Mosque and explored all around the city from thereon.
Louvre Museum is the smaller version of the museum in Paris, but do not let that stop you, as inside it truly is one of the most memorable architectural places that will make your visit worth it.
As soon as you arrive, the one thing which will capture your eyes right away is the huge dome. It weighs just as much as the Eiffel Tower (7,500 tons) to be precise. However, the interior of the dome will have you stunned by the beautiful effects. I didn't know before, but after reading online that you can access the museum by boat, which is quite cool.
You can grab a map when you enter to see where everything is located, in case you miss anything whilst roaming around. They have an interactive room for kids, which you can catch some glimpse of on my vlog here.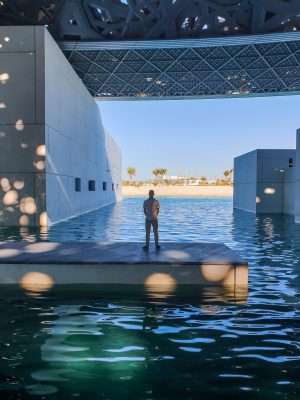 There is one spot inside the Louvre, which makes you feel like you're floating in water under a rain of light. it includes a path to walk and take photos, a perfect opportunity for an Instagram photo like I managed to get for the gram! This museum was built very recently as well last year 2018 and they have paid a chunk of money to use the name 'Louvre' for the next 30 years.
I guess we all have to wait and see what it might turn out to be after 30 years or whether they still keep their name?
Louvre Museum Gallery
Ticket Price
Louvre Abu Dhabi museum entry costs 63 AED for general admission fee (around £13.80)
Opening Hours
Monday: closed
Tuesdays, Wednesdays, Saturdays and Sundays: 10 am – 8 pm
Thursdays and Fridays: 10 am – 10 pm
Last entry is 30 minutes before closing time
There is a little cafe inside, if you wish to grab snacks or drinks whilst reading and capturing the arts.
To be honest, it took me less than an hour to go all the way around this building. As it's quite small and exploring on my own, I usually tend to get things done quicker. However, for 63 Dirhams, my personal thought was that it was totally worth it. I got to witness such stunning interiors and grabbed great shots for my Instagram profile. If you are truly into your photography, art or just want to take your kids to an attraction. I would highly recommend this place as you will be amazed by the architectural design.
There is a restaurant just outside with a sitting area by the water. If you wish to buy drinks, snacks and sandwiches, etc, which is great when the weather is nice and warm as you get the breeze from the water surrounding you.
Have you ever been to the Louvre Museum in Abu Dhabi? Let me know your thoughts on the comment below.
Thanks for all your support!
Adil Musa